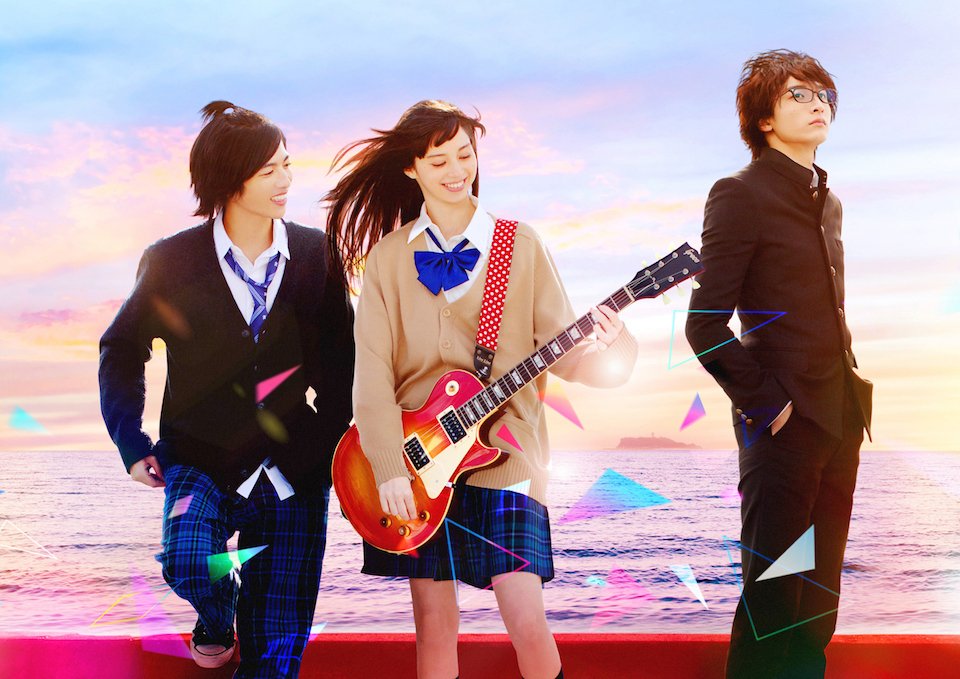 Image Source: 映画『覆面系ノイズ』 on Twitter
Are you Team Momo or Team Yuzu? Whether you agree with it or not, the live-action movie has chosen a winner.
The Anonymous Noise (Fukumenkei Noise) manga got an anime this past spring and now it's come to the big screen as a live-action movie. The story follows Nino Arisugawa, a girl who was separated from her male friend Momo (name meaning "peach") in elementary school. Being deeply in love with him, she loses the ability to sing. It's thanks to her friend Kanade "Yuzu" Yuzuriha ("Yuzu" being a type of citrus), a talented child composer who has lost his voice due to illness, that she's able to get it back. However, he soon disappears as well, and Nino lives her life without these two important figures in her life for six years.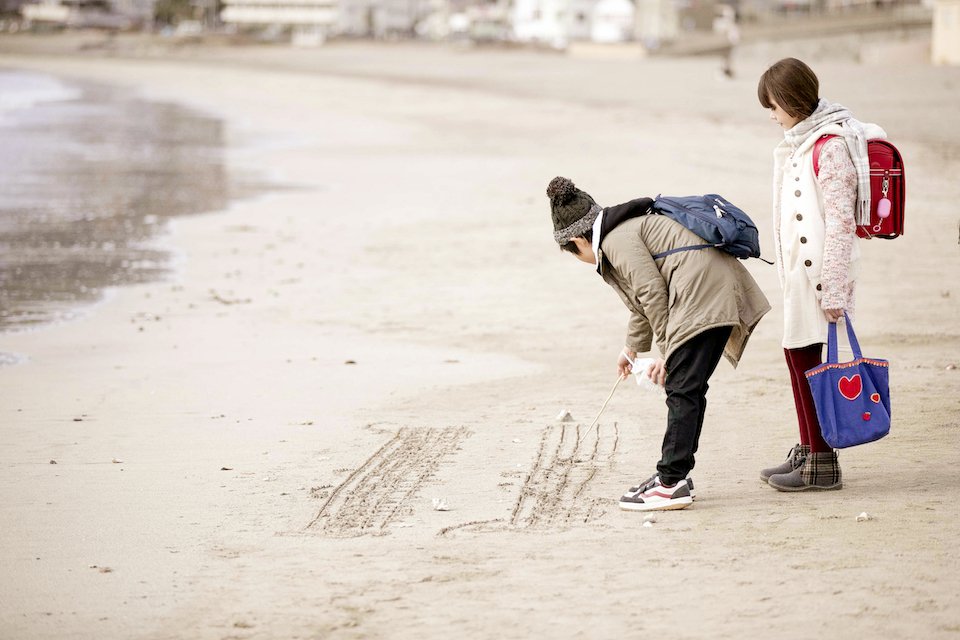 Image Source: 映画『覆面系ノイズ』 on Twitter
Six years after parting with Yuzu—who is such a prodigy that he draws out sheet music in the sand—she reunites with him at high school. Yuzu is secretly the guitarist of the popular up-and-coming "In No Hurry to Shout" (Inohari for short), and wanting Nino—who he calls Alice—as his vocalist at any cost. He even goes so far as to stuff his feelings for her away in order to get her to join. He offers her a platform to let her voice reach the world, and eventually, Momo, whom she wants to see again.
Sounds emo, right? Well, whether it be live-action or anime, yeah, the story of Anonymous Noise is pretty emo. The difference is, it's a bit less comedic when animated as opposed to being acted out by real human beings. When characters tell each other "I've found… my voice" without even blinking an eye, it's nothing more than comedic. And the bad news is, they're not joking. Anonymous Noise may be trying to be a dramatic epic for teens, but it ends up being a comedy.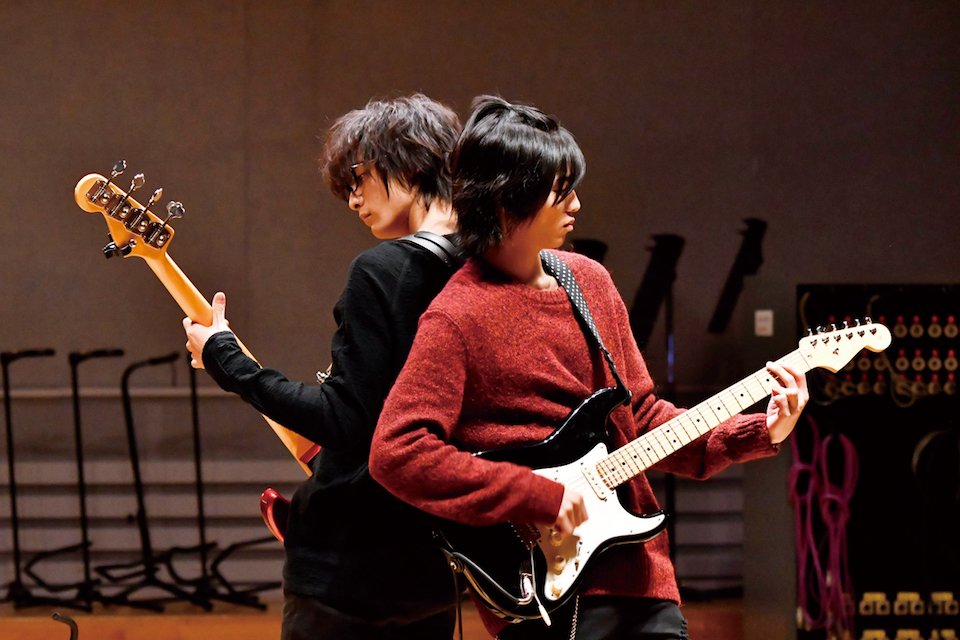 Image Source: 映画『覆面系ノイズ』 on Twitter
What the film handles well about the story, however, is the love triangle. Unlike an anime, a movie has to end without a chance of a second season. There needs to be a story with a beginning, middle, and end. And, since the manga hasn't ended, the movie had to make its own ending. The partner the writers chose for Nino was kind of obvious from the beginning due to the foreshadowing, but despite me being a supporter of the other team since years ago, the scenes of the winning couple together made me feel satisfied when the day was done. The use of flashbacks and current day scenes make for a pretty convincing—and cute—romance.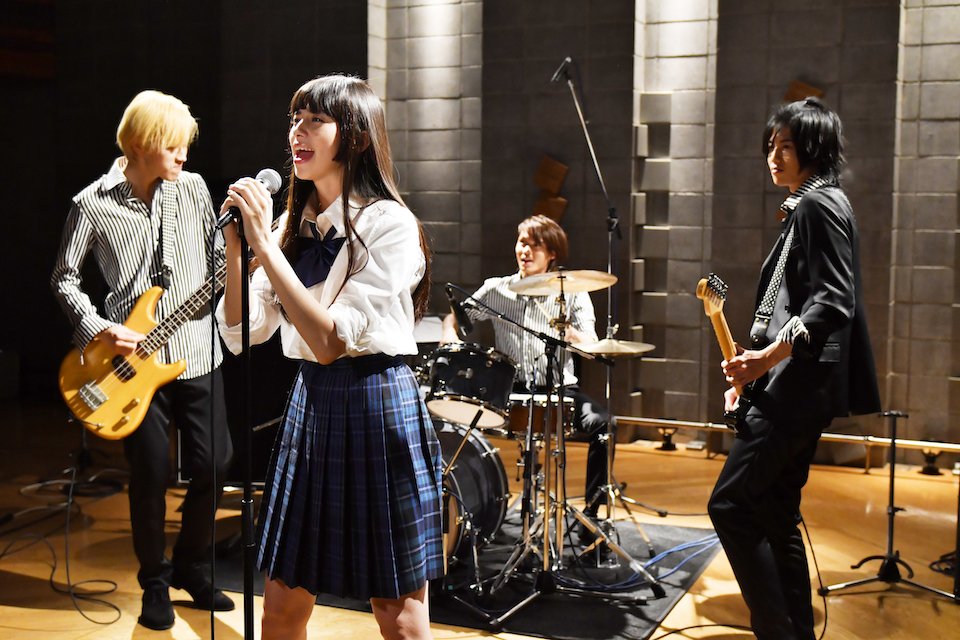 Image Source: 映画『覆面系ノイズ』 on Twitter
But where the film really shines is the music, which is a central theme of the film. The music is produced by Japanese band MAN WITH A MISSION—who have provided theme songs for such anime as Mobile Suit Gundam: Iron-Blooded Orphans and Log Horizon. Ayami Nakajo, a 20-year-old fashion model, surprisingly handles her rock numbers fairly well, making for some pretty engrossing performance scenes. The battle of the bass vs guitar between Yuzu and Momo was also great for a music-lover like me—though it was a bit ridiculous.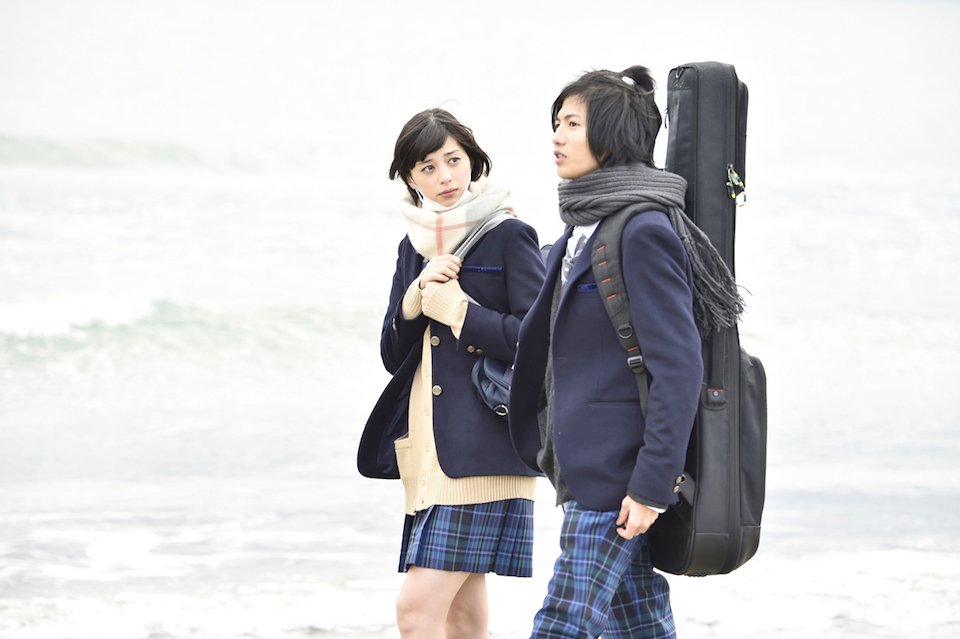 Image Source: 映画『覆面系ノイズ』 on Twitter
Despite the cheesy script, the actors playing the main trio pull off their roles just fine. They also look the part, with half-Japanese, half-British actress Nakajo really pulling off the big-eyed Nino look with her doe-eyes. Momo honestly looks so close to the original character that it's almost like he brought the illustration to life. The only weird choice was Jun Shison as Yuzu. In the original story, Yuzu is a short character. He's shorter than Nino, even. And Momo towers over him. This is why the character always carries milk around with him. He carries it around in the movie, too. Problem is, is that Shison is FIVE FEET AND TEN INCHES TALL. In comparison, Nino's actress is 5'7″. Just seems weird to keep in the "he's so short" part when he's really, really not.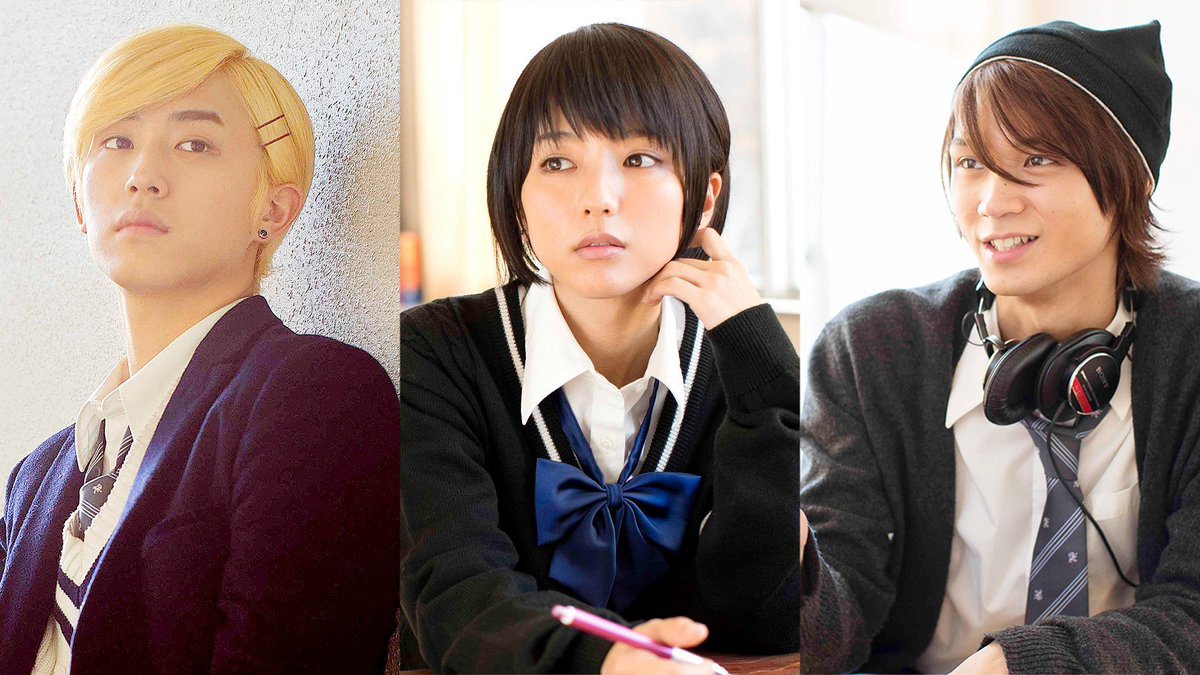 Image Source: 映画『覆面系ノイズ』 on Twitter
The other characters involved with In No Hurry to Shout—including former vocalist Mio and bassist Haruyoshi—also look the part. It's just too bad that they're barely in the movie, making you wonder why they were even there in the first place. There's even a plot thread about Haruyoshi trying to get Mio to be his girlfriend. It ends in the middle with no real conclusion, which is a shame. If they just wanted to focus on Nino's love triangle, they should have just kept unneeded plot threads out of the movie.
The Kizudarake no Akuma Film Is a Well-Acted but Confusing Mess
Anonymous Noise is a harmless flick. It wasn't bad. I wasn't up in arms like I was with P&JK, or god forbid Kizudarake no Akuma. But I can't really say much about it either. If you're a fan of the manga or anime, give it a watch. But if you were never interested in Anonymous Noise and its angsty drama in the first place, this film isn't going to change your mind.
The Anonymous Noise live-action film opened in Japanese theaters on November 25, 2017. There is no word on an overseas release. The Anonymous Noise anime is available streaming in the United States on Amazon's Anime Strike, and on Crunchyroll in Europe.