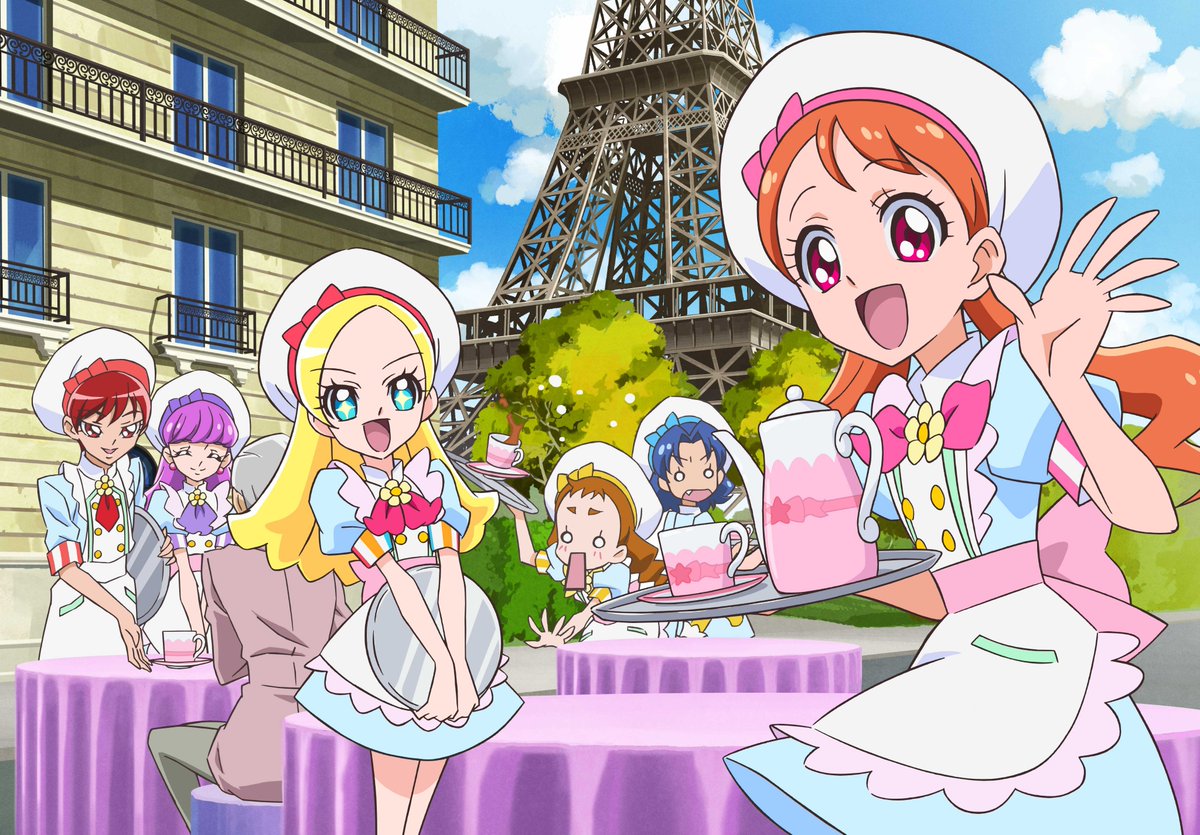 Image source: 映画キラキラ☆プリキュアアラモード on Twitter
Paris may be destroyed in a delicious, pastry filled fashion in the new Pretty Cure move, Kira Kira Pretty Cure à la Mode: Paritto! Omoide no Mille-feuille! But, only the power of six girls working together can restore the city.
[Note: This article contains major spoilers for Kira Kira Pretty Cure à la Mode: Paritto! Omoide no Mille-feuille!]
The annual Autumn Pretty Cure movie takes the girls of Kira Kira Pretty Cure à la Mode to a sweets contest in Paris. But, things go awry when Cure Parfait is left unable to create sweets after a giant whisk attacks the girls. In order to figure out why Cure Parfait has this disability they visit her eccentric mentor for any hints. But, it turns out Cure Parfait's mentor has something special planned for the world and can't be bothered with Cure Parfait or her friends.
Right off the bat we're given our first major action scene and it's a wonder to look at. The six Pretty Cure's (Cure Whip, Custard, Gelato, Macaroon, Chocolate, and Parfait) fight a giant whisk as it zips around and through the Eiffel Tower. By the end, though, we see Parfait has been struck by some mysterious attack with the only discernible effect being she reverts back to her fairy form. As it turns out, though, she becomes a klutz when it comes to making sweets. It may not seem like much at first, but this force Parfait to question her mentality behind making sweets: working together to make the best possible pastries.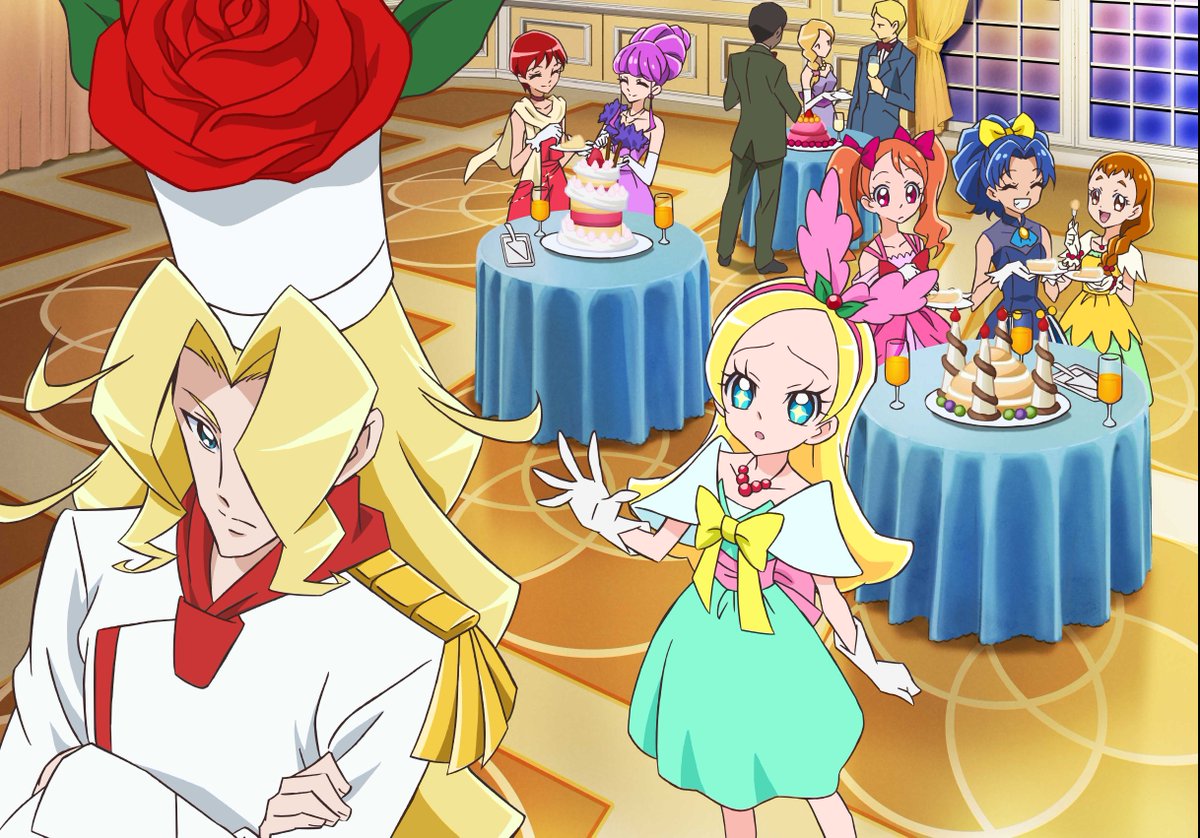 Image source: 映画キラキラ☆プリキュアアラモード on Twitter
Of course, this doesn't mean she's completely useless. In fact the other girls suggest Parfait go from making to a directorial role and instruct them on how to make sweets. Yet, if Cure Parfait can't actively help in making sweets she essentially becomes a fifth wheel for the team. The issue is further compounded when we take into consideration Parfait is someone who enjoys making sweets with her friends. Thus, not being able to bake with her friend further puts her in a negative mindset. Yes, she's helping by instructing, but she's not helping in the way that makes her happy. This leads the characters to visit Parfait's mentor, Jean Pierre Zylberstein, for any advice to get her out of her rut.
However, during the meeting with Jean Pierre, rather than provide comforting words to Parfait he insinuates making pastries is a lonely endeavor; that friends only get in the way. It's as if he's suggesting Parfait should become obsessed with her craft to the point she shed everything that's important to her. It's a stark contrast to Parfaits philosophy in making sweets, but the single-mindedness of Jean Pierre's methods work for him. Although he's eccentric, the beauty in his craft comes from his will to improving to the determent of other thing in his life, like paying rent.
The thing is, it's not as if he doesn't care for Parfait. There's a distinct bond between the two characters. It's just his advice comes from his own personal experiences and single-minded focus. So, while he may not understand Parfait's pain and suffering, it's not as if he doesn't care.
Of course, Jean Pierre's mentality doesn't allow him to sympathies with Parfait. This is accentuated by his project of making "best sweet in the world." A bold endeavor to say the least yet, but since he is focused on the venture, he's forced to forgo everything around him. For instance, after leaving Jean Pierre's shop the girls are assaulted by giant living pastries. They soon realize the culprit is behind the whisk attacks earlier in the movie and associated with Jean Pierre. When Parfait tells him this he actually doesn't care because he wants to see his creation completed, even if that means it will destroy Paris and the world. It may seem selfish, but Jean Pierre is literally the type of person who can't be bothered with these types of trivial matters. For him, making sweets is a battle with himself and any distraction just gets in the way of his "fight."
Here's the thing, though, the act of telling Jean Pierre doesn't work because this exact philosophy. Thus, in order to shatter his beliefs, Cure Parfait needs to show him working as a team is better. It's done in an extremely clever way during the climax of the movie, too. Jean Pierre's monstrosity turns Paris into a literal candy land with building becoming gingerbread and a whole assortment of different pastry houses. As pastry chef's themselves the six girls use all the "ingredients" to make and decorate a mille-feuille. It's a very touching scene because they pool their creativity and talents to make the tasty pastry. It's a true celebrative effort and a reaffirmation of Cure Parfait's philosophy. It's this group effort that breaks the spell over Jean Pierre because he's not only seeing the collaborative effort of the girls, but also tasting it. So, he's not told his philosophy is misguided, but actually shown it first hand.
Of all things, it's not Cure Parfait who needs saving in Kira Kira Pretty Cure à la Mode: Paritto! Omoide no Mille-feuille! She's just a messenger for all of us who've forgotten working together is important. Just like Jean Pierre did in the movie.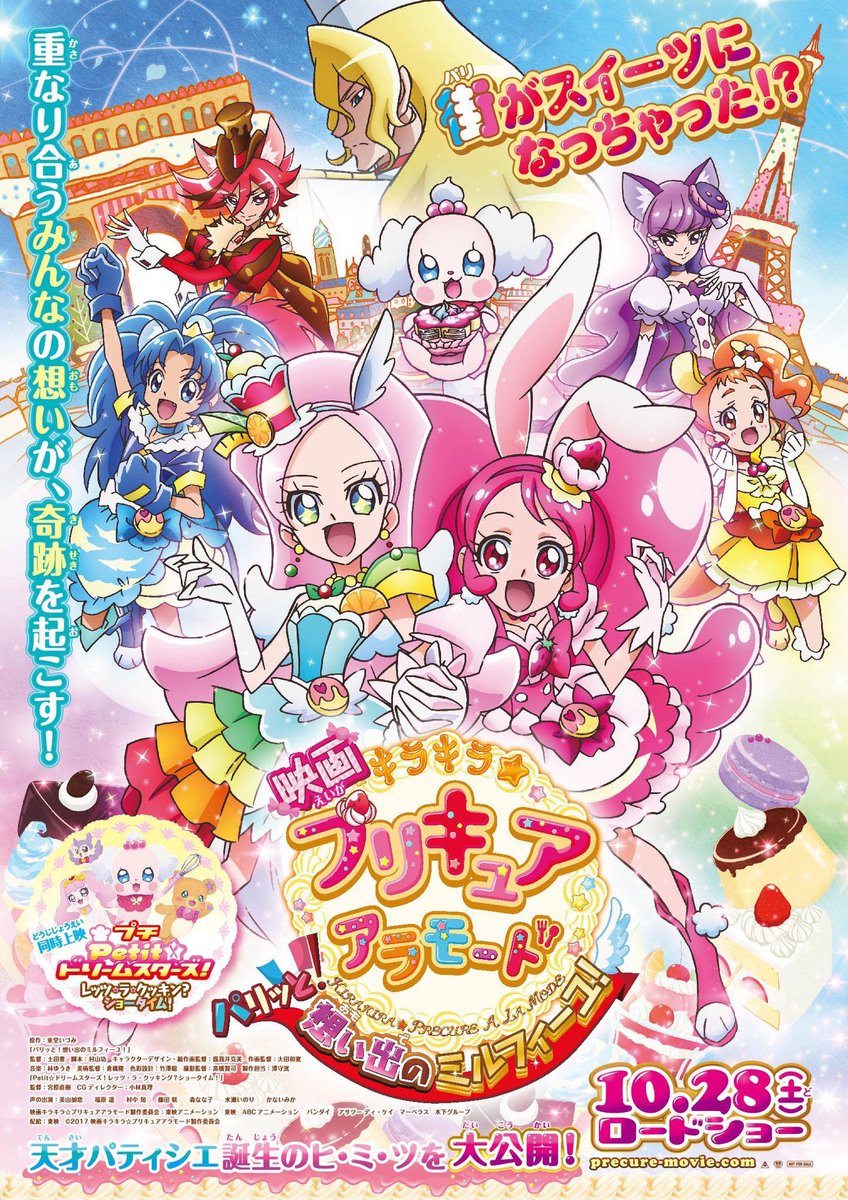 Image source: 映画キラキラ☆プリキュアアラモード on Twitter
Kira Kira Pretty Cure à la Mode: Paritto! Omoide no Mille-feuille! premiered on October 28, 2017. There is no word on an English release. Kirakira Pretty Cure a la Mode is currently not being streamed.