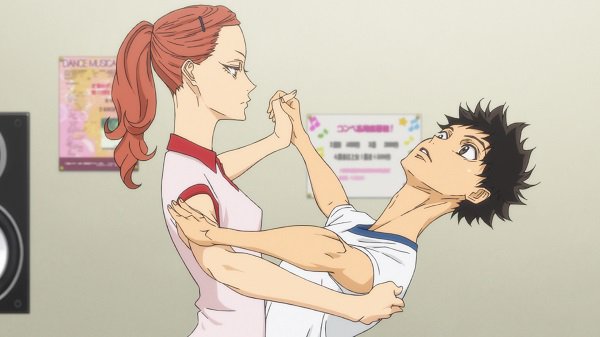 Image source: TVアニメ「ボールルームへようこそ」 on Twitter
Tatara Fujita from Welcome to the Ballroom is finally learning about what it means to be the leader in a ballroom dance pair. And he's got the perfect partner to whip him into shape.
After the Tenpei Cup ballroom dance competition, our hero Tatara Fujita begins looking for a permanent ballroom dance partner. To his surprise, his classmate Chinatsu Hiyama is a former ballroom dancer. Although she adamantly refuses to partner with Tatara at first, Chinatsu begrudgingly changes her mind.
Chinatsu's change of heart comes from one simple fact: Because she was the leader during her time competing in junior ballroom dance competitions, her former partner insinuates that she's more masculine than feminine—in terms of ballroom dance. This statement isn't completely false, though. In ballroom dance, generally, the male in the pair initiates the dance steps and the woman reciprocates those movements by following the lead through a routine. So, as a former leader in ballroom dance, Chinatsu's proclivities are masculine in that she takes control of a routine even if she's supposed to follow. We see this in the thirteenth and fourteenth episode when she dances with Tatara. Where she should be following Tatara's lead, Chinatsu instead makes him follow her. It's a clash of leaders and Tatara lacks the skills to take control.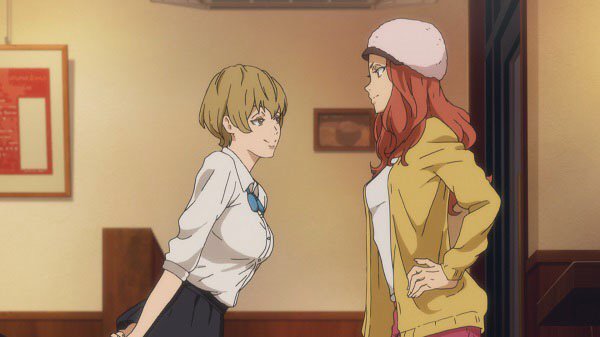 Image source: TVアニメ「ボールルームへようこそ」 on Twitter
Yet, Tatara allows Chinatsu, the follow in their pair, to consistently lead him. We clearly see this in the fourteenth episode when the two are in a novice ballroom dance competition. When the music starts, Chinatsu tells Tatara they're going to use wider steps, then leads him through the routine despite being the follow. Tatara even recognizes he's being led and that leaves him flummoxed—but not because he's supposed to be the lead.
Rather, he wants to collaborate and work together with Chinatsu to present the best performance. In essence, Tatara doesn't want to lead, but wants to work as a team. By having Chinatsu lead Tatara, though, this ultimately forces him to acknowledge he needs to learn to exert himself as the leader in their pair, control the flow of their routine, and mange how he wants Chinatsu to react to his movements.
Unfortunately, control is the antithesis of Tatara's leading style as he's prone to adjust his movements to fit his partner. It comes from his philosophy ballroom dance is a sport where both partners are involved in creating a beautiful performance. In order to do this Tatara believes he has to match his partner's movements—what a follower would do. This is what he did with Chinatsu in the competition and because of it their routine is off kilter. Chinatsu even remakes how it feels weird that Tatara is shadowing her movements. For Tatara, though, he wants make sure the dance routine looks as if it's a team effort by both of them. In the end, he focuses on the outward aesthetics without fully understanding what constitutes a beautiful routine; he's going through the motions and never really demonstrating he's the leader of the pair.
However, for Tatara there're important lesson's he can glean from having Chinatsu lead him. Mainly it forces him to really understand the positions of a lead and follow in a ballroom dance pair. In other words, Tatara, the male in their pair, shouldn't follow. He should lead. Therefore it become imperative for Tatara to fully grasp what it means to be the leader of ballroom dance pair. And the most recent episode gives a glimpse into to this.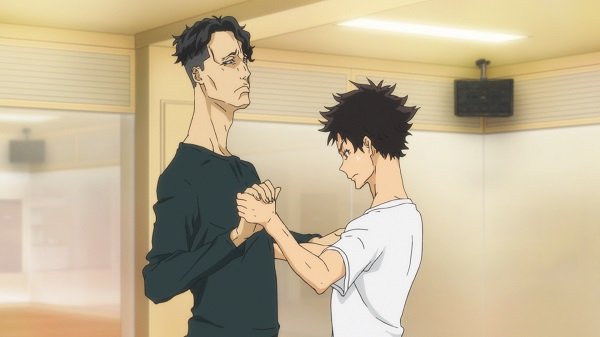 Image source: TVアニメ「ボールルームへようこそ」 on Twitter
While it's overtly stated Tatara has to stop mimicking his partner's movements, it's the idea he's hiding behind his partner that's a shock to him. This is the first time he's being told he's that he's not talking control of the dance—that he literally needs to show the world his dance style, not the philosophy behind the style. This is no simple fix either, since Tatara has been shadowing his partners since he started ballroom dancing. It happened when he danced with his idol early in the series and again during the Tenpei Cup. But, with Chinatsu, mimicking and shadowing just doesn't work. Thus, partnering with Chinatsu pushes Tatara to do better as a lead. It's a harsh truth for Tatara to swallow, but without knowing it, he'll forever be led by Chinatsu.
Welcome to the Ballroom is streaming on Amazon Anime Strike.