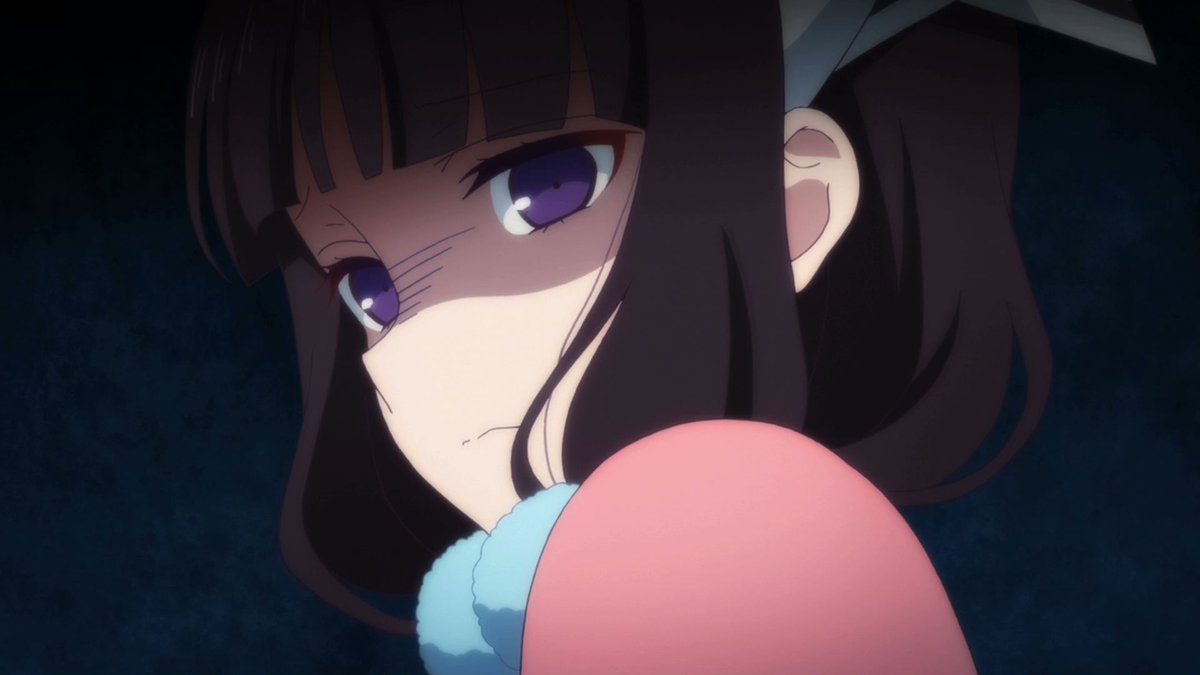 Image source: TVアニメ『ブレンド・S』公式 on Twitter
Blend S has all the outward appearance of a great cute girl anime in the making. However, when it comes to the girls of the Blend S cafe, appearances can very much be deceiving. Regardless of what each girl's personality actually is, at the cafe in which they work, they take on a different "type" associated with anime and fandom culture.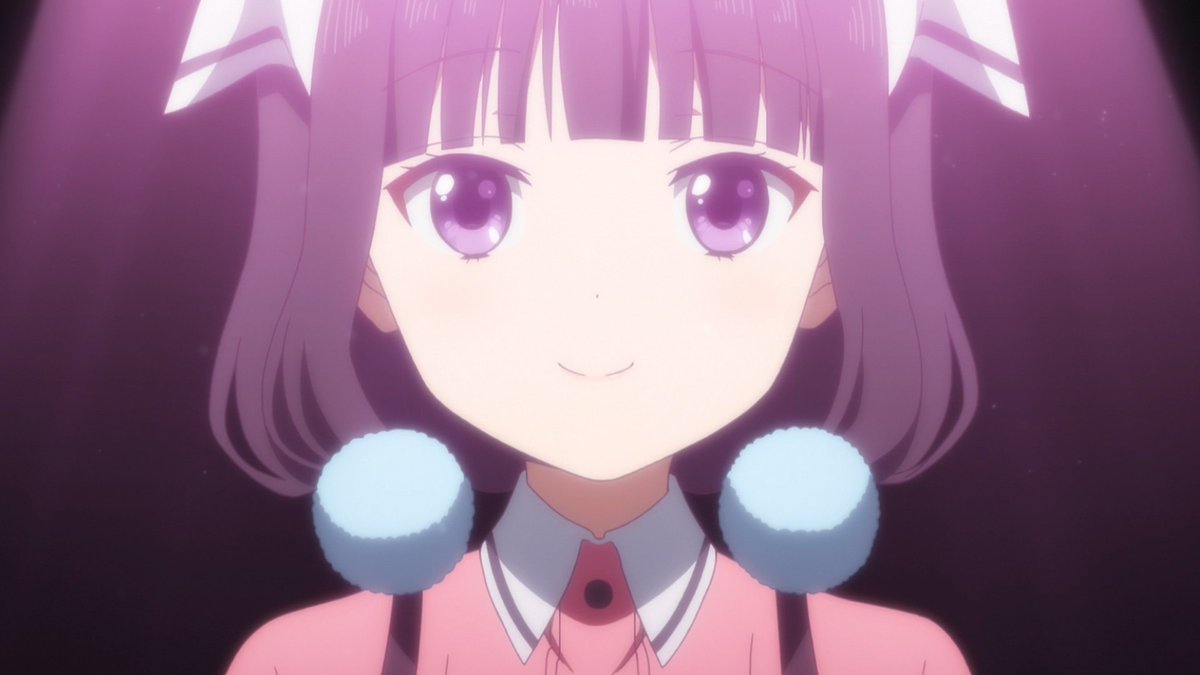 Image source: TVアニメ『ブレンド・S』公式 on Twitter
The story starts with the kind and gentle Sakuranomiya Maika failing repeatedly to obtain a part time work position. Although we see her outside of the professional eye, and thus see the true nature of her personality, she never comes off right in professional settings. The facial expressions she makes are unintentionally full of contempt and loathing. Indeed, her expressions can be, quite accidentally, scary. For this reason she never succeeds in her job search. However, also quite accidentally, she ends up in front of a theme maid cafe making faces at her reflection—a cafe in search of a girl who can play "sadist" character.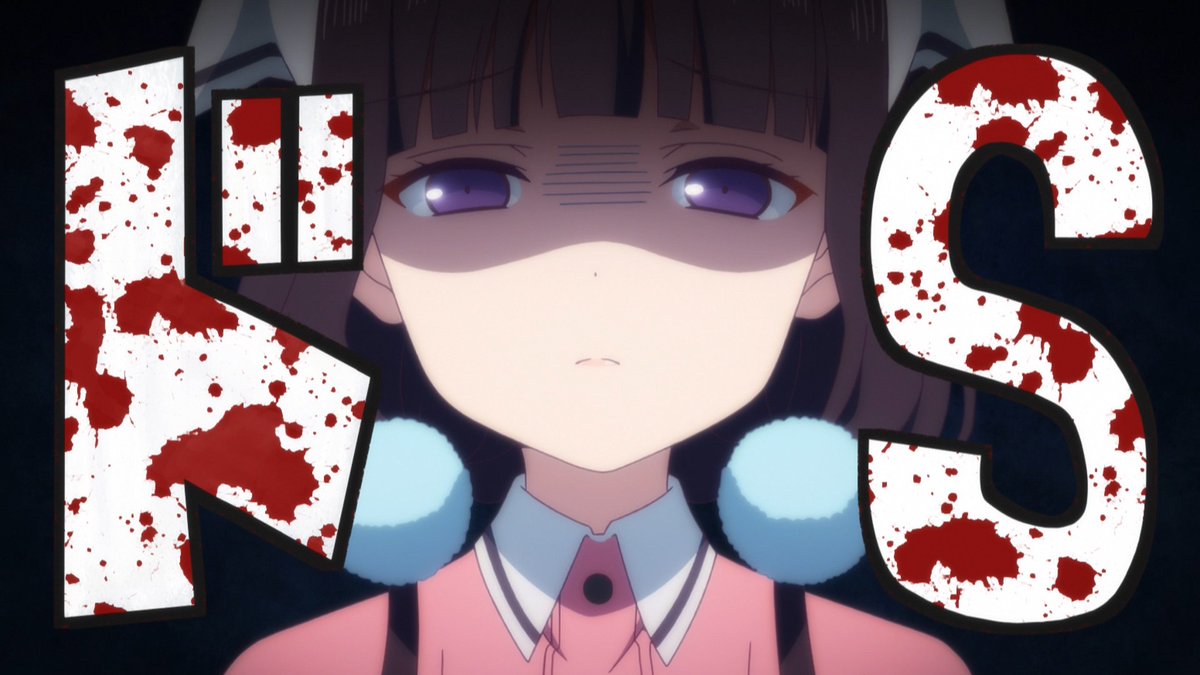 Image source: TVアニメ『ブレンド・S』公式 on Twitter
The humor derives from the fact that Maika, while not intentionally cruel or sadistic, cannot possibly fail this interview. While it's understood that her expressions and actions don't reflect the truth about her character, there is no position better suited to her inability to control how she is perceived. What conflict exists is caused by the fact she is not an actress, and causing offense—even if it's her job—bothers her. Ultimately this struggle is the same struggle her cohorts have—although in different combinations of actual personalities versus the roles they play at the cafe.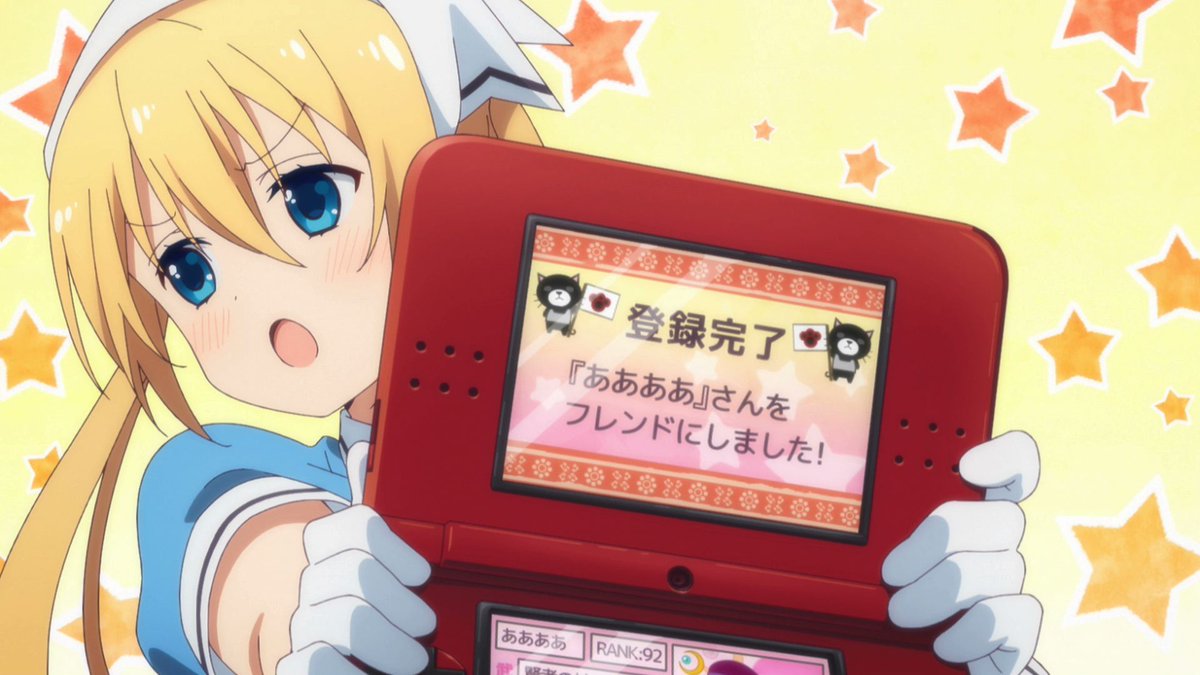 Image source: TVアニメ『ブレンド・S』公式 on Twitter
Kaho, another maid at the cafe, is very much the same as the largely male clientele. She's into the same video games, anime, and subcultures as the customers of the cafe and her natural inclination is to enthusiastically join their conversations. This, however, is in direct opposition of her character, known as tsundere, where a love interest (almost always a girl), will pretend not to be interested in the target of her affections, and make absurd comments about not really being interested—despite all the things she (or he) does which clearly communicates that interest. Kaho forces herself to do this as a matter of the character she plays, so she constantly has to find a way to use tsundere tropes to cover up the genuine and obvious interest she has towards the discussions of her customers.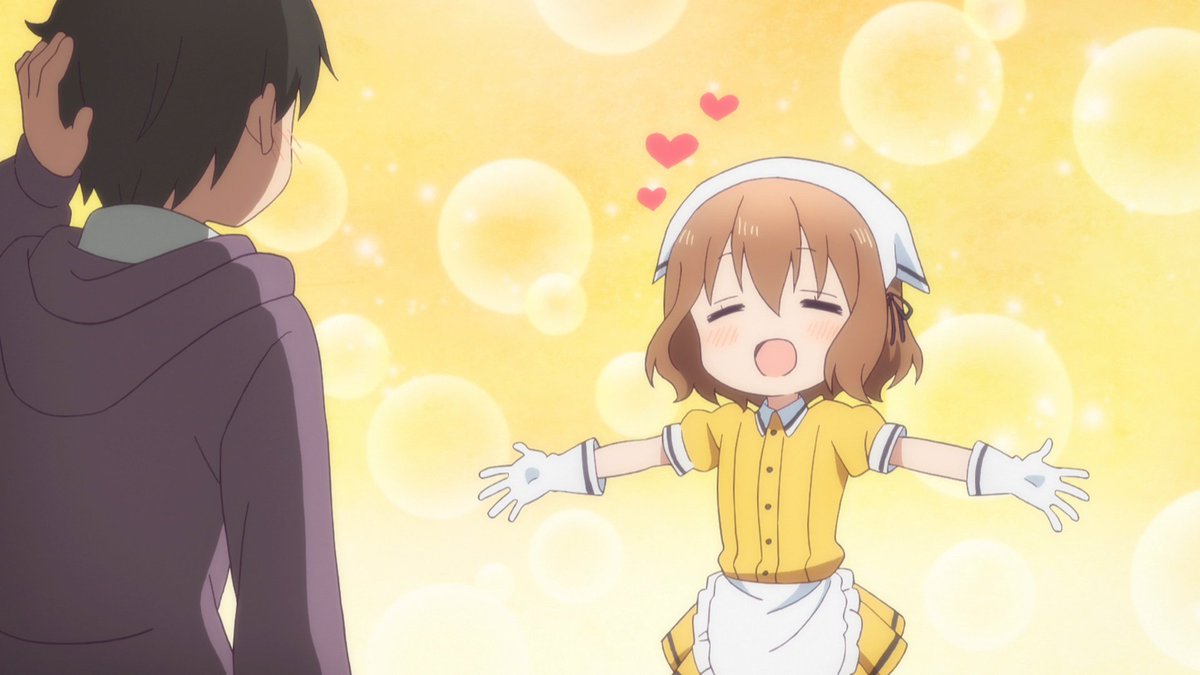 Image source: TVアニメ『ブレンド・S』公式 on Twitter
Then there's Mafuyu who has perhaps the most extreme role in comparison to her actual personality—and general personal aspects. The oldest of the three girls and a university student, she is also the smallest. Often first thought of as a potential elementary school student, Mafuyu takes on the cute younger (very younger) sister role at the maid cafe.
In truth, she is much more like an actual tsundere than Kaho is. Or even a yandere (one who violent towards objects of affection). Of all the characters, Mafuyu's transformation from abrasive adult to childish little sister is the most disturbing. The potential for suggestive comedy certainly exists, but the main humor might derive from her general desire to take the job extremely seriously. Also, despite her own specific subculture interests, Mafuyu is not quite so clearly an otaku like Kaho.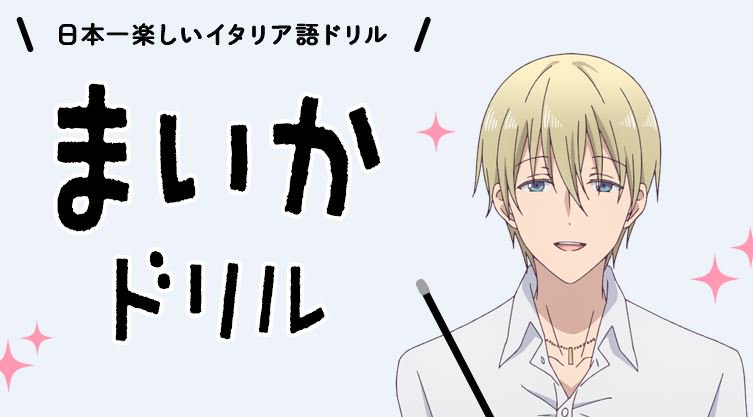 Image source: TVアニメ『ブレンド・S』公式 on Twitter
In addition, we'd be remiss if we didn't talk about at least one of the male characters in the show. They don't exactly fit into this obviously, although I would somewhat like to discuss the "foreign" character of Dino Roma. I put foreign in parenthesis for a couple of reasons. The first is because although Dino is from Italy and has naturally blonde hair and blue eyes (which isn't a typical Italian look to begin with), his behavior isn't really foreign at all. In addition to the obvious fluency of his Japanese, his command of typical Japanese expressiveness and stereotypes (like his nosebleeds), are things that seem to suggest he's very well assimilated. His "foreignness" is partly appearance, and partly his announcement of it.
Frankly, Dino's foreignness, is little more than skin deep. While many of his comments and actions are deeply inappropriate, this is anime, and they'd be as deeply inappropriate from a native Japanese character. I could name a dozen native Japanese male anime characters with a similar personality.
But, just as the girls put on maid outfits and faux personalities, Dino's foreignness is put on because the cafe relies on having an "Italian Chef and Manager." I choose to believe this is a subtle yet scathing commentary of the commoditization of foreignness—reducing a person to a type which has little connection to who they actually are—which fits in perfectly with the girls' situation. This is especially true for Maika and Mafuyu as they are trading on their appearances for their characters.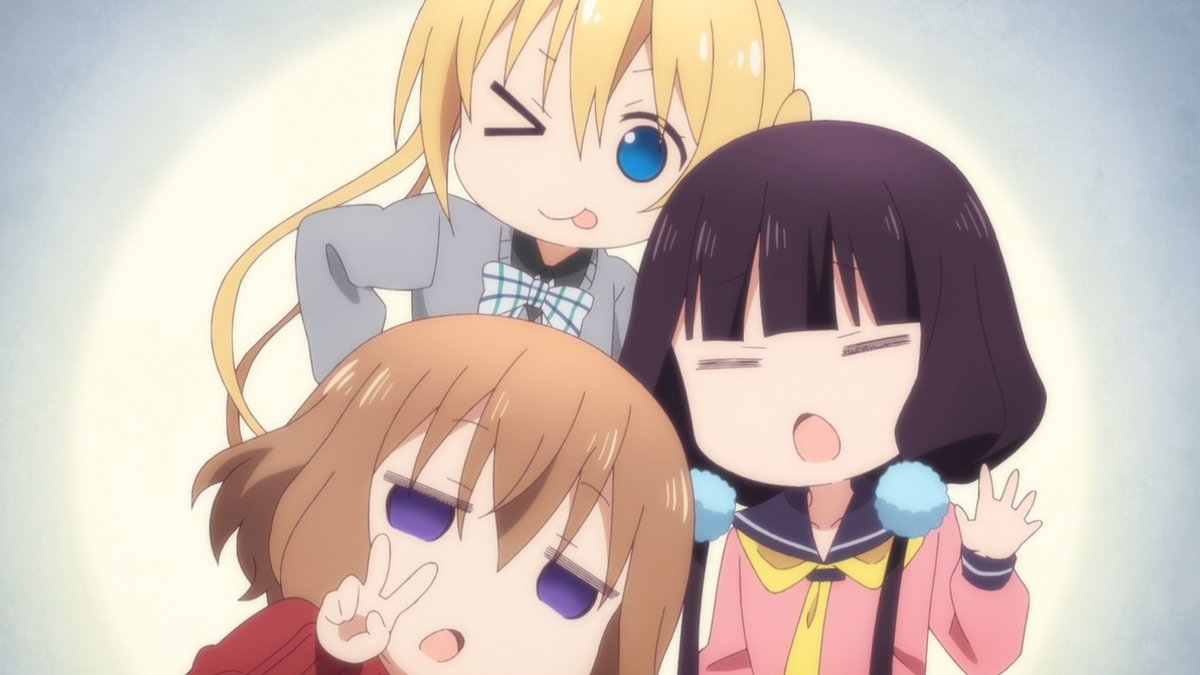 Image source: TVアニメ『ブレンド・S』公式 on Twitter
Blend S honestly tackles the absurdity of stereotype characters in Japanese popular media by showing that its characters are significantly more complex. Regardless of their appearances, their actual identities and motivations are significantly different. Comedy anime, being fiction and often outright fantasy, can rely on these stereotypes to move plot forward, but often in a way that is simply not a reflection of the real world. Try telling that to the customers, though, and they probably won't come back.
Blend S can be watched subtitled on Crunchyroll.