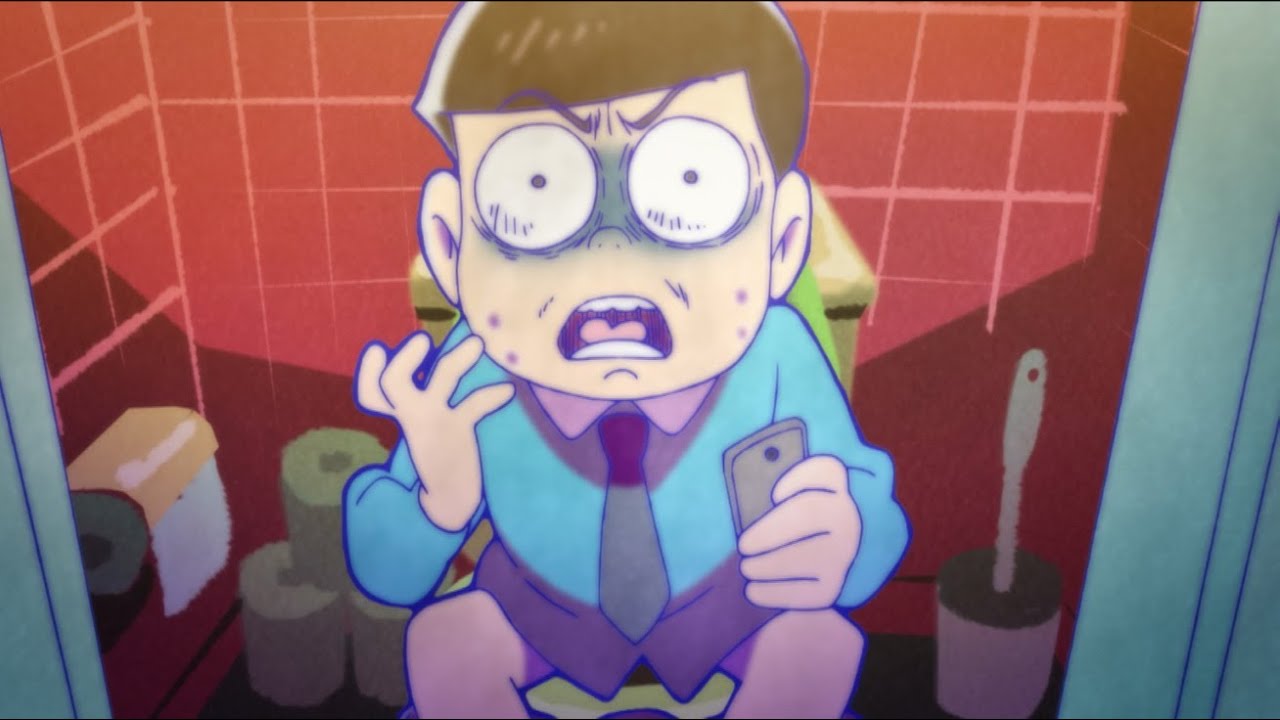 Image source: avex pictures on YouTube
The seconds season of Mr. Osomatsu starts out by upping the ante on the reputation for utter insanity it established with its first season.
Mr. Osomatsu is a slapstick comedy series based on the 1960's manga and anime, Osomatsu-kun, about identical sextuplet brothers. The series is the sequel to the original, with the characters having grown up and the brothers actually developing distinguishing physical characteristics from each other while utilizing various homages and references to the original.
The first season aired in the fall season of 2015, and immediately made a massive impact, pushing the envelope of humor and going a little overboard with its use of parody of other famous series—so much so that the first episode was essentially erased from existence and the third episode was heavily edited upon blu-ray and DVD release. Nevertheless, the series went on to earn itself a huge fan base in Japan—especially among women—who eagerly awaited its return.
Flash forward to this year and the new season of Mr. Osomatsu began with a bang. And what a bang it was. Much like the first season, the first episode opens with a scene parodying the original 60's anime (not even the 80's anime, the 60's anime) shown in old black and white, vacuum tube 3:4 aspect ratio where the six brothers take a look at their future selves.
We're then shown in color, 16:9 aspect ratio a rather meta scene where the brothers have become a smash hit—much like in real life—and all gotten so famous and loved that they've all become mere shadows of the innocent boys they once were. We see them pretty much stepping all over their fans and their fans adoring them for it in one of the most brazen displays of a series essentially dropping its trousers and unloading on its fan base.
Horrified by this future of what they might become, the brothers in the past vow to do things right and be "proper" people. The scene switches to a different present day where we see the eldest brother, Osomatsu has become a proper business man, with a proper job, a proper family, and a proper house of his own.
He then reunites with his other brothers to see how they've grown up to be "proper" people and the episode quickly devolves from there. One has grown up to be a "proper" battle anime hero, turning into a cyborg in the process. Another brother, along with the series heroine, Totoko, have become "proper" romance drama anime protagonists, pulling a Your Name body switch in the process. One brother has grown up to be a "proper" adventure fantasy anime protagonist. Then one brother shows up as a "proper" CG anime character.
CG in anime isn't anything new, but to see the 3D CG movie character among the other 2D hand-drawn anime characters was almost frighteningly jarring. I thought it was nuts. But there was one more brother.
The last brother showed up as a "proper" live-action adaptation. Yes, a real live person, wearing a Mr. Osomatsu character mask showed up in the middle of an anime, like something out of a children's educational program or something. It was about at this moment that my brain melted. Seeing the characters running around on screen and among them a real live person in a mask was jarring and freakish and hilarious all at the same time. The characters then went on to pilot a "proper" mecha that transformed and united with upbeat theme song in the background that was essentially repeating the words "they're proper" over and over again. The whole thing went to entirely new levels of insanity I hadn't thought previously possible. But, then again, after the previous season, this is pretty much par the course for the series.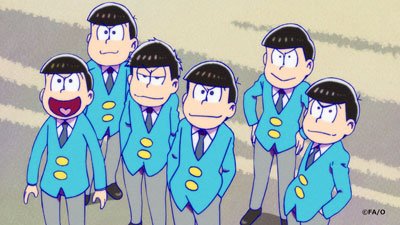 Image source: 「おそ松さん」公式アカウント on Twitter
Mr. Osomatsu started off with an explosion of madness. I was curious to if or how they would manage to top themselves since the fabled first episode of the first season, but they managed to pretty much blow that out of the water with all the nonsensical madness. There are season openers and then there are Season Openers. Mr. Osomatsu is definitely in the latter category.
Mr. Osomatsu can be viewed with English subtitles on Crunchyroll.