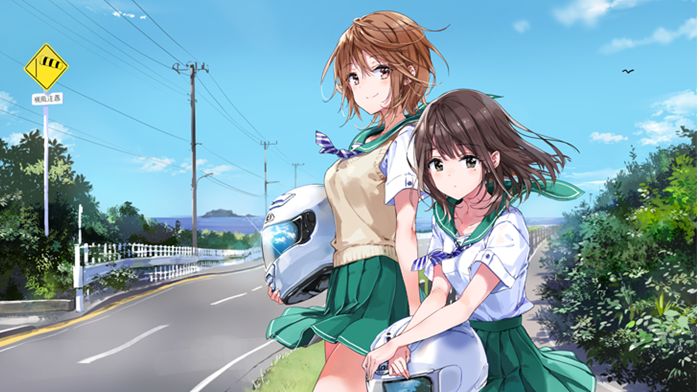 Image source: 『「つうかあ」オリジナルTVアニメ公式 on Twitter
We had a chance to check out the new motorsports anime, Two Car: Sidecar Racing at a special premiere showing, and it's a great combination of friendship, high school club camaraderie, and the never ending pursuit of speed. I feel the need, the need for speed!
Two Car is the story of a pair of high school girls who have grown up on an island where the local sport is racing motorcycles with side cars. Even children have access to small versions of these side car motorcycles. Yuri and Megumi are two best friends who have grown up with a shared love of the racing machines all around them. More alike than they are different, and both enamored of the same local racer and coach, the pair find they are natural fit to represent their school and their community. They take on other pairs from various girls' high schools.
Of course, these are not the 1930s style BMW bikes you might imagine. When I first heard the concept, I thought of some of the side cars I'd seen in the anime works of Fujishima Kousuke, such as Oh My Goddess! and You're Under Arrest!, but this isn't the case. The "two car" motorcycle with side car is a purpose built racing machine available in different sizes depending on the size of the driver and passenger. From small ones for children to professional adult versions. These are, for all intents and purposes, race cars. The only reason they are allowed on the streets of the island is because it is a local pastime. Rather than the local police officer admonishing the girls for their speedy daring do, she actually uses her small engined mini car (known as a kei) as the chase car (a non-racing vehicle that helps in emergencies or repairs) during the races. 
There's no denying that Two Car: Sidecar Racing reaches into a common well of tropes, trends, and understandings about what anime should be or has been, and comes up with an, as yet, undone combination. You have a girls' high school motorcycle sidecar racing team. It might seem that perhaps its producers threw a couple of darts and landed on "high school girl pair," "motorcycle side car racing" and "club activities," but the series is more than the sum of the parts. Much like any good racing vehicle. The series absolutely is about all of these things, but it's not "just" another "high school girl" anime or "just" another "motorsports" anime or "just" another "club" anime. All of these aspects develop as intersections of the other aspects. Change just one, and you have a completely different show. Nothing feels tacked on or extraneous.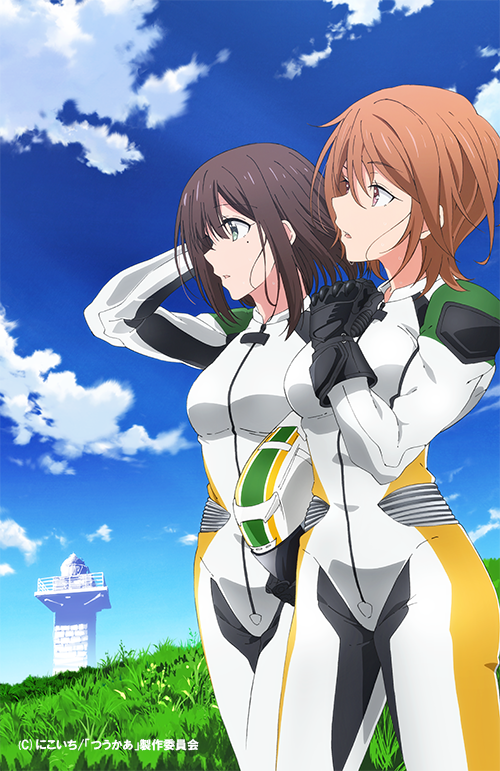 Image source: 「つうかあ」オリジナルTVアニメ公式 on Twitter
In addition to my work covering social issues and anime, I've worked as an automotive journalist, and it would be reasonable to think that my favorite aspect of the show would be the "vroom-vroom,"–hold on, we'll get there–but it's actually not. What I love about the first episode is the character interplay between Yuri and Megumi. Outwardly, they look like types. Yuri seems more feminine, maybe. Perhaps more proper or diligent. Megumi looks more "boyish" and you could be forgiven for thinking she would be more aggressive and less refined. And on both counts, you'd very much be wrong. 
The pairing works for me because they are believable as a pair. I have never been a professional or even amateur racing team member, but I've written about such members. Yuri and Megumi are far more alike than they are different. Their minor quibbles are hilarious because they are so much alike. To them, being teenage girls, their differences appear stark when disagreements occur. And yet to the viewers, this is realistic comedy because there's hardly space enough for sunshine between them. When they are stubborn, it is only because they share that stubbornness. About the only real thing they have that's a major personality difference is that Yuri likes to cook, Megumi likes to eat. 
Yet when their personalities are in sync, they become clearly unstoppable. In side car racing, driver and passenger must work and move as one to shift weight so that the vehicle shaves as close to curves as possible. This concept is easy to understand if you think of a vinyl record. The closer you are to the center, the less physical distance you need to cover, and with constant or accelerating force, you can make a significant time gain with this method. However, too close to the center and you risk going out of bounds or wrecking. The balance between driver and passenger must be exact. Yuri and Megumi are a pair (and best friends) because they naturally have an overwhelming similarity. They're not an odd couple. They're two sides of the same coin. 
As for the view of someone who loves all things "vroom-vroom," we really need to talk about the sound quality of Two Car. Normally, when reviewing anime, one doesn't usually discuss the audio quality of a given series. No doubt there are discussions of the background music, soundtracks, or character song inserts. Rarely though are the actual background sounds, sound effects, etc discussed. Well, this is a racing anime, and take it from an automotive journalist, those sounds are incredibly important to people who like motor vehicles. And the whole audio environment was dead on. Those sweet, sweet engine noises, tire squeals, and gravel crunches totally added to my enjoyment of the racing scenes. That said, of course, you're going to probably need a really nice pair of headphones or a killer speaker set up to get the benefit. Yet I assure you, it is worth it. I am looking forward to watching the series on my projector and hearing it on my Bose speaker set up. It's going to be maaaaaaad (as we gear head people like to say). 
Did I love the first episode? Yes. I did. In fact it was the first thing I said to my editor. I love good characterization. I love club activities in Japan (girls' basketball team represent, even though I sucked at it). And I really, really love ridiculously fast metal and fiberglass cages driven forward by causing a rapid series of controlled explosions. Especially when those explosions sound amazing. Two Car: Sidecar Racing ticks all my boxes. Can't wait to for that start flag to wave next week.
Two Car: Side Car Racing is not currently scheduled for simulcast or streaming, but we'll let you know when it is!