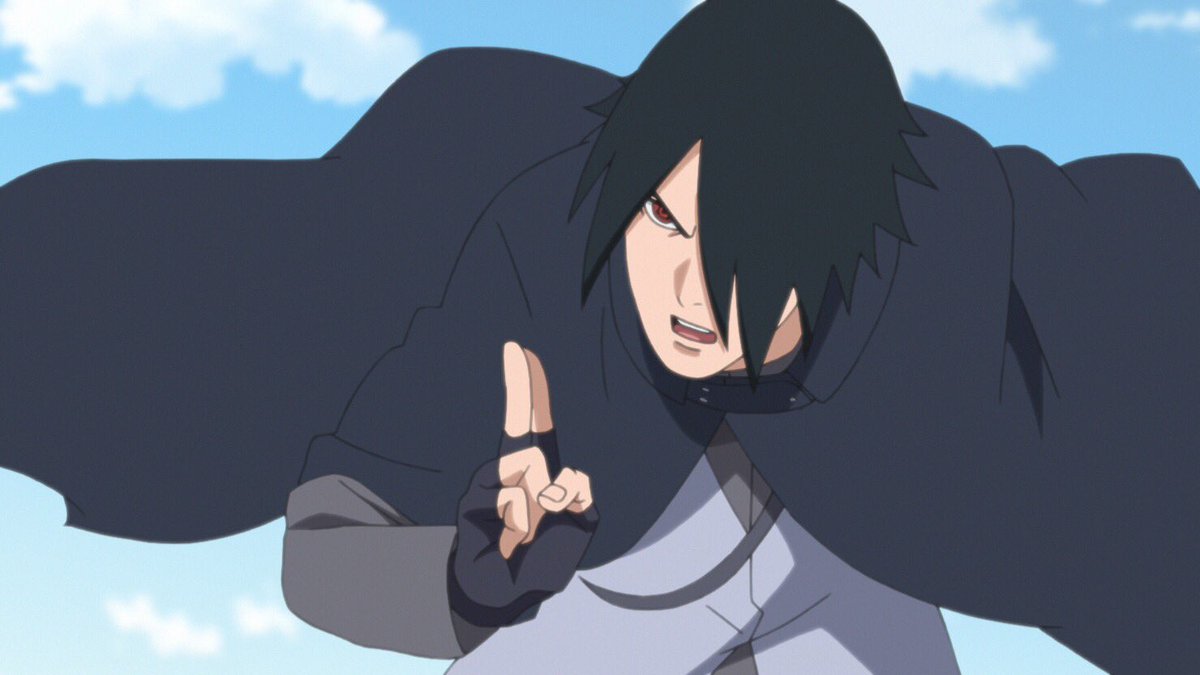 Image source: アニメ BORUTO-ボルト-【公式】 on Twitter
Even as an adult, Sasuke from the Naruto franchise is still a jerk. But, that doesn't mean he has no love for his daughter.
Boruto: Naruto Next Generations steps away from our hero Boruto Uzumaki for a few episodes and instead follows his classmate, Sarada Uchiha. Sarada is disgruntled with her father, Sasuke, who is never around to spend time with her because of his secret mission. So, in order to find out more about her father and her lineage, she sets out on a quest to find him. And when Sarada finds Sasuke, she learns the hard truth: He's kind of a jerk… or is he?
One of the defining characteristics of Sasuke from the Naruto franchise is that he's not the nicest person. But, that doesn't mean he isn't a loving person. Throughout the franchise's history, we see Sasuke express his emotions towards his family. These are generally in flashback scenes, but through them, we see the love he shared with his parents and brother.
This affection extends to wife and daughter as well. The thing is, he's very bad at expressing his emotions. For the character Sarada, Sasuke's inability to express himself is difficult to understand. In her eyes, she sees a man who is uncaring about his immediate family. However, over the course of the last few episodes of the series, we slowly see how Sasuke expresses his affection for his daughter.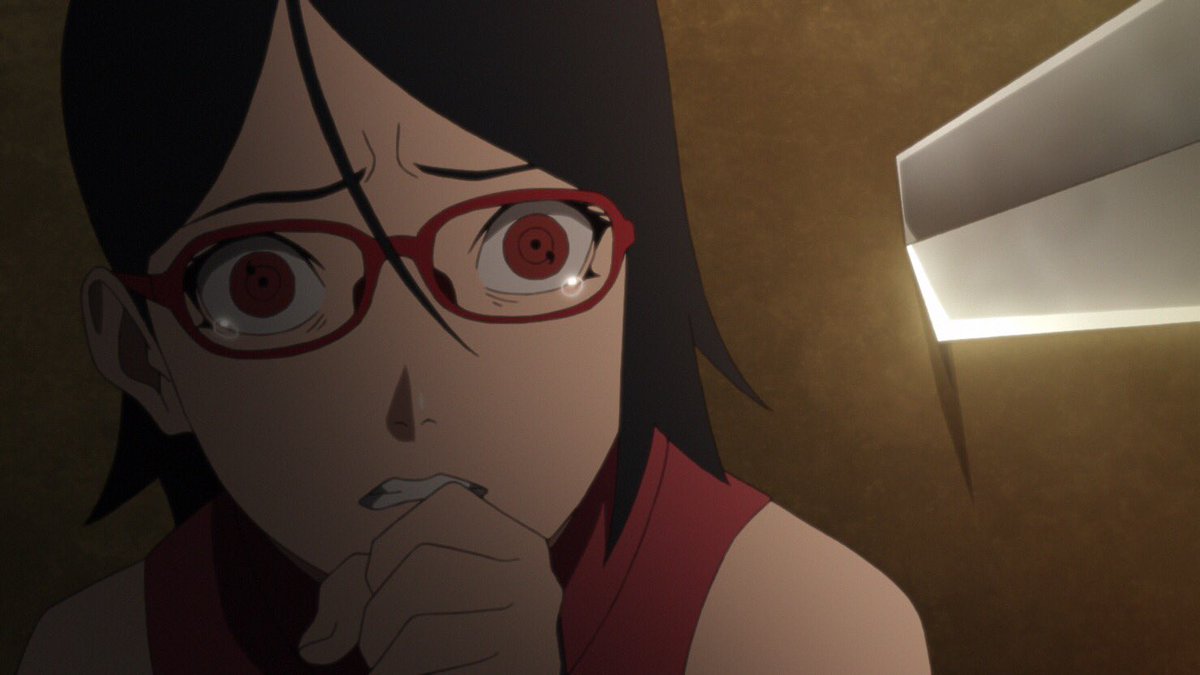 Image source: アニメ BORUTO-ボルト-【公式】 on Twitter
What makes it difficult for Sasuke to express his emotions stems from one basic fact: A portion of his life was devoted to avenging his family. To do that, he essentially killed his emotions. This isn't something he can unlearn is a few days, either, and the issue is compounded when you consider he spends a lot of his time away from people. It's as if he has forgotten how to really feel emotions.
We actually see this come to fruition in the 21st episode of the series, when Sasuke meets his daughter for the first time in many years. After mistaking her as an enemy and attacking her, Sasuke doesn't apologize. He doesn't even have any standard fatherly platitudes for her, like, "You've grown so much," or even, "You look just like your mother." Instead, he berates his friend, Naruto, for bringing Sarada to meet him.
The fascinating thing about Sasuke, however, is how he actually expresses his emotions. He's not the type of character to just say them outright. Instead, he expresses his emotions through his actions. For instance, in the 21st episode, when Naruto and Sarada are being attacked by the villain Shin Uchiha, rather than helping Naruto, Sasuke protects his daughter. Granted, part of that can be attributed to Sasuke recognizing Naruto's fighting ability. However, if he truly didn't care for his daughter, he would have ignored her and attacked Shin. Protecting Sarada is a small act, but one that shows us exactly how much he cares for his daughter.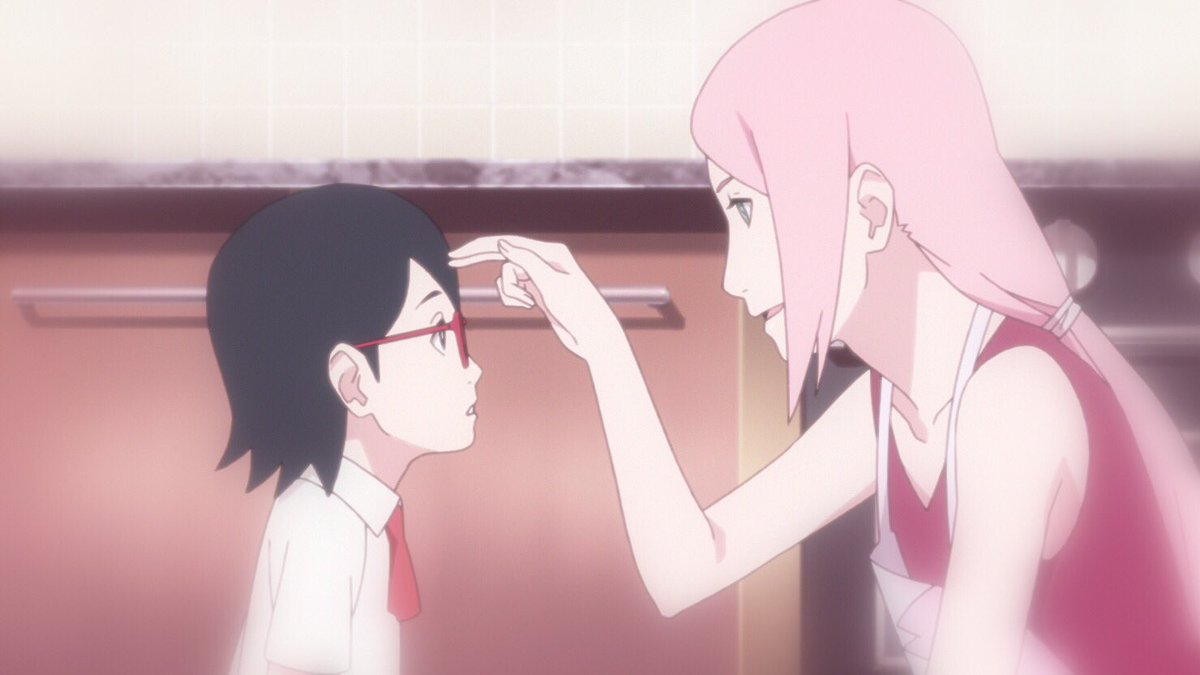 Image source: アニメ BORUTO-ボルト-【公式】 on Twitter
We also see another example of how Sasuke emotes in the very next episode. It's during a flashback scene when Sarada's mother, Sakura, taps her on the forehead. We've seen Sasuke perform this same action on Sakura in the past and the action implies, "You're important to me." While it's Sakura doing the forehead tap to Sarada, there's an intrinsic understanding this is Sasuke's method of expressing himself. Sakura even implies it's better than a kiss. It's a very subtle form of a public display of affection, but it works very well for Sasuke as a character. So, seeing Sakura perform this action on Sarada is actually Sakura showing Sarada her father does indeed care about her, even if he isn't around.
Unfortunately for Sarada, it takes her a bit to fully grasp how Sasuke expresses himself. Sarada's journey isn't just about finding her father, but also coming to understand him better.
Boruto: Next Generations is currently airing and is available to watch for free with subtitles on Crunchyroll.