There are at least 48 new TV anime coming next season. Six of those are idol anime. That's 12.5 percent of the season. Let's take a look at the shows coming and where they come from.
---
Female Idols
Title: Wake Up, Girls! Shin Shō (lit. Wake Up, Girls! A New Chapter)
Studio: Millepensee (Teekyū, Berserk reboot TV series)
Premiere Date: October 9, 2017
This is the third season of the Wake Up, Girls! anime. The series began as a project to revitalize the Tohoku region in Japan after the 2011 Tohoku earthquake and tsunami. Taking place in that region, it follows the exploits of seven idols who are scouted to an agency that has lost all its idols. Just like the voice actresses themselves who passed an audition to debut as voice actresses in Wake Up, Girls!, all the idols are completely new to the business. Together, they form the idol unit "Wake Up, Girls!" (Yes, it's the same as the show.)
The new season of Wake Up, Girls! focuses on three new girls living in Sendai City in Tohoku who have admiration for idols. The three new girls include Ayumi Hayashi, who is calm but has a bright personality, Otome Morishima, an energetic girl who has loved idols since childhod, and Atsugi, who looks cool and composed at first glance, but is in fact kind of an airhead. The three 13-year old girls form the unit "Run Girls, Run!"
---
Title: Love Live! Sunshine!!
Studio: Sunrise (Aikatsu, Gundam series)
Premiere Date: October 2017
This is the second season of the spinoff to Love Live! School Idol Project!!. The Love Live! project initially began in 2010 as a series of CDs and magazine special features, but it didn't really take off until Love Live! School Idol Project!! was adapted into a TV anime in 2012. Since then, it has continued to be a huge seller in Japan, with both the anime and the music raking in the sales. The cover girl for every single is decided by fan vote, making it an interactive kind of project.
Sunshine!! follows a high school girl named Chika who wants to become a school idol, basically an idol that represents a certain school. She gets together some friends who join her in becoming the new idol unit, Aquors (pronounced Aqua). Together, they aim to become the best school idols the world's ever seen. All of the voice actresses in Aquors got their big break in Love Live! Sunshine!!.
---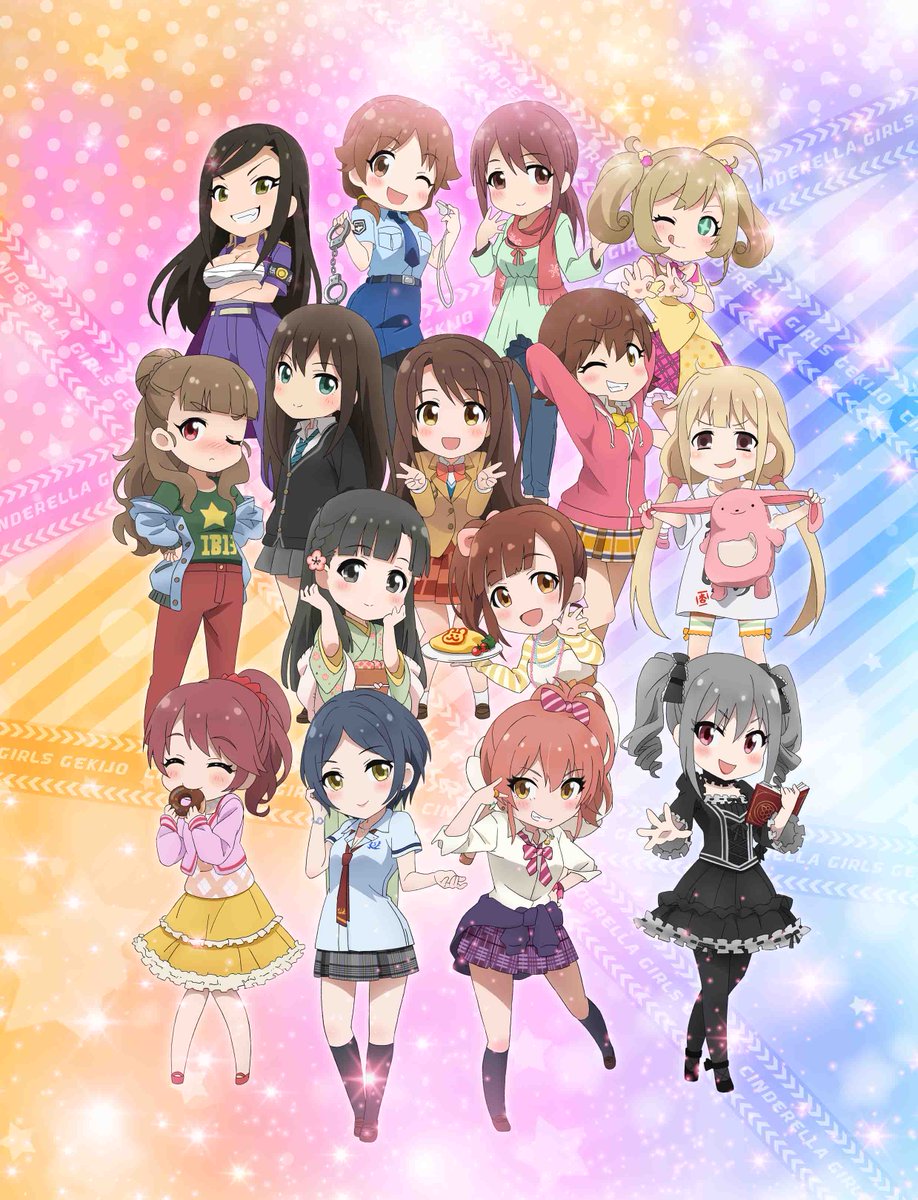 Image Source: DAISUKI on Twitter
Title: THE IDOLM@STER CINDERELLA GIRLS Theater (Season 2)
Studio: Gathering (Puchimas! -Petit Idolm@ster-, Bananya)
Premiere Date: October 3, 2017
This is the second season of the spinoff short anime to THE IDOLM@STER CINDERELLA GIRLS, which follows a huge number of female idols who began as normal girls without any connection to the idol world. While the main anime that aired a few years ago has a more dramatic story, Cinderella Girls Theater is pure and innocent fun that gives the idols a chance to shine in a variety of ways away from the stage.
Some of the idols include Kanako, a slightly pudgy girl who loves sweets; Minami, a former member of a college rugby team; Ranko, a gothic lolita girl who speaks in poetic language; and Takumi, a rough-and-tough former delinquent with a bit of a bashful side. Some voice actresses include Aya Suzaki (Tamako Market's Tamako), Maaya Uchida (Rikka from Love, Chunibyo & Other Delusions!), and Saori Hayami (Sword Art Online's Sachi).
---
Male Idols
Title: TSUKIPRO THE ANIMATION
Studio: PRA (first solo project)
Premiere Date: October 4, 2017
Remember Tsukiuta? The anime about the months of the Japanese year turned into male idols? (Actually, there were female idols as well, but they weren't featured prominently in the anime.) Well, it turns out that this multimedia project has quite a few other versions, including Tsukipro and Tsukikura. Both are basically the same concept: handsome male characters with speaking and singing voices provided by cute voice actors who do performances themselves.
In the world of TSUKIPRO—one that the official website describes as one that exists in the "2.5th dimension"—there exists a talent agency called "Tsukino Talent Production" that houses a number of singers, actors, actresses, announcers, and TV personalities. TSUKIPRO focuses on four of the agency's male idol units: SOARA, Growth, SolidS, and QUELL. Some of the voice actors involved in the project include Chiharu Sawashiro (Miyuki Sawashiro's younger brother and the voice of Takeru in Cheer Boys!!), Daiki Yamashita (Yuzu in Anonymous Noise), and Natsuki Hanae (Taichi in the Digimon Adventure tri. series of films).
---
Title: DYNAMIC CHORD
Studio: studio Pierrot (Naruto, Tokyo Mew Mew)
Premiere Date: October 5, 2017
DYNAMIC CHORD is another anime that blurs the line between reality and anime, with voice actors that sing as well as voice their characters. Created by developer honeybee black and published by Asgard, DYNAMIC CHORD is a romance simulation game for women.
DYNAMIC CHORD follows progressive rock band rêve parfait, emotional rock band Liar-S, rock band with a vicious sound KYOSHO, and a band that mixes rock with dance numbers, apple-polisher. (Yes. apple-polisher. I don't make this stuff up.) The anime takes a look at the everyday activities of the 16 members of these four bands. Some of the voice actors include Nobuhiko Okamoto (Bakugo in My Hero Academia), Tetsuya Kakihara (Natsu in Fairy Tail), and Takahiro Sakurai (Suzaku in Code Geass).
---
Title: The iDOLM@STER SideM
Studio: A-1 Pictures (The iDOLM@STER, Sword Art Online)
Premiere Date: October 7, 2017
Basically the male version of The iDOLM@STER Cinderella Girls, this anime is based on a mobile game that turns men with other careers into idols. The first male (not crossdressing) idols in The iDOLM@STER franchise were those that were part of the unit Jupiter that debuted 6 years ago. This time around, we'll also be seeing the other many, many idols that can be found in the mobile game.
Some of the characters include Teru, a lawyer who has looked up to heroes of justice since childhood; Kaoru, a former doctor who is skilled at singing and often sang to his late sister when she was in the hospital; and Tsubasa, a former pilot-in-training who was on the verge of giving up his dream of flying for reasons unknown before being scouted as an idol.
Jupiter, on the other hand, will have their own solo anime special before the anime starts. They also appeared in the The iDOLM@STER anime that premiered in 2011, which is available to watch on Crunchyroll now.