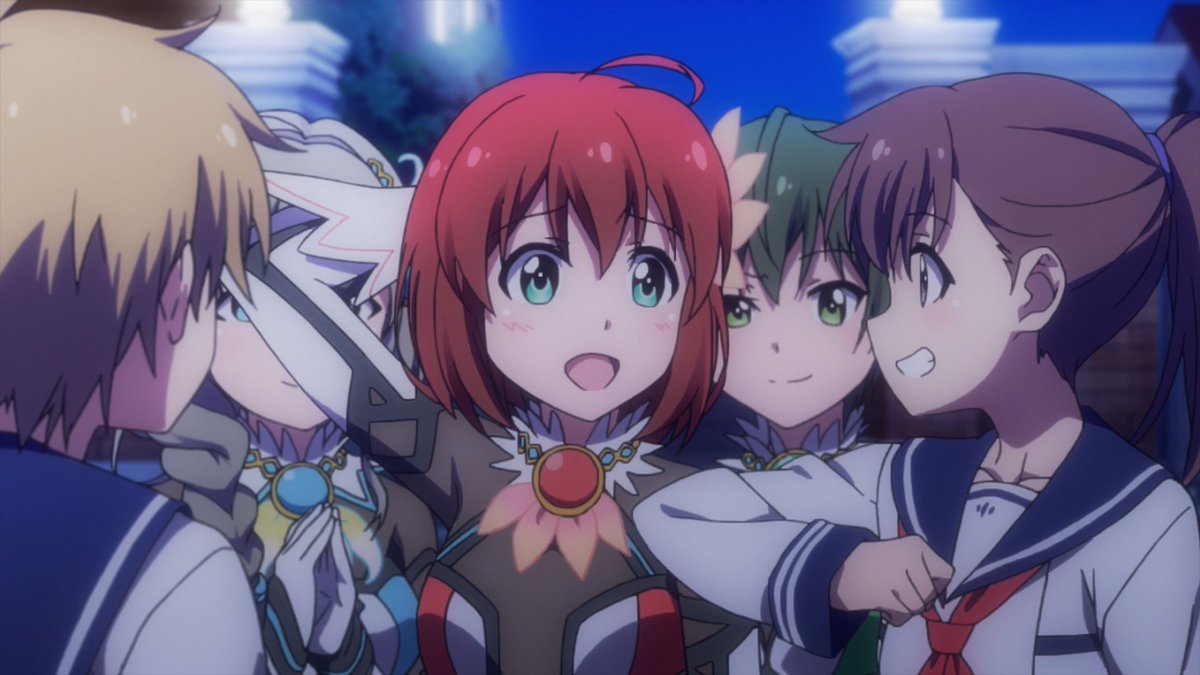 Image source: 【公式】バトルガール ハイスクール on Twitter
Battle Girl High School draws from multiple sources in order to successfully tap into established anime fan demographics. It's a fun series that requires little introduction because most fans should be able to recognize the influences. There's pretty much something for everyone—unless of course you want male characters.
Okay, in fairness, there actually is one male teacher. His character is responsible for the team schedule and he does appear in every episode. However, he doesn't really count. He has very few lines. In fact, he doesn't even have a name! He's literally just referred to (and listed in the credits) as "sensei."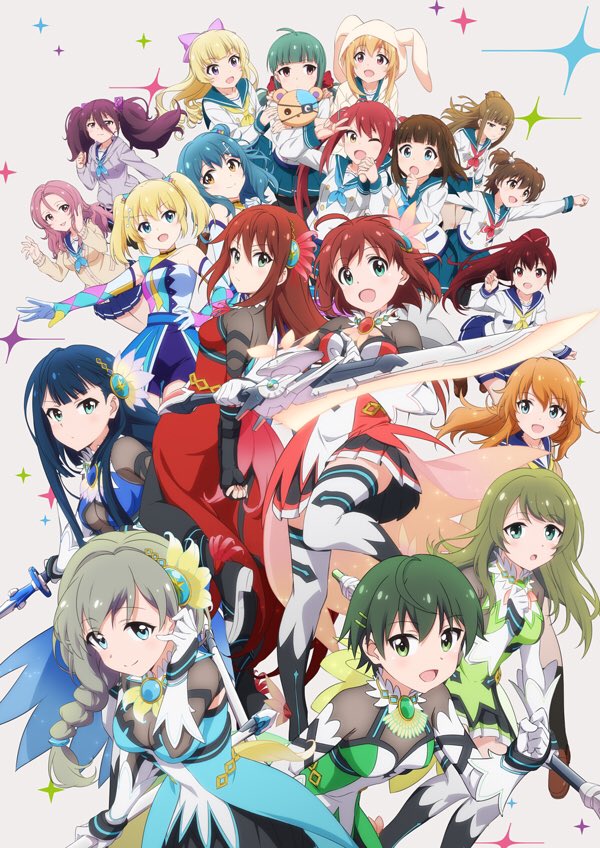 Image source: 【公式】バトルガール ハイスクール on Twitter
The series takes place after the devastation of the Earth by alien invaders, known as Irous—a common storyline going back at least as far Space Battleship Yamato (Star Blazers). There is a chosen team of girls in a special class, Hoshimori (planetary protectors), at a combined junior and senior high school. The opening monologue of the series draws upon several of these classic anime shows when talking about the girls' mission and their camaraderie.
The Hoshimori girls' relationships with each other—their costuming, transformations, and teamwork—allude to many shōjo anime tropes (like those from Sailor Moon, Magic Knights Rayearth, Madoka Magica, Idolmaster Xenoglassia, etc). The girls combine magic abilities supplied by the Holy Tree, as well as exoskeletons and weaponry during transformations provided by advanced human technology.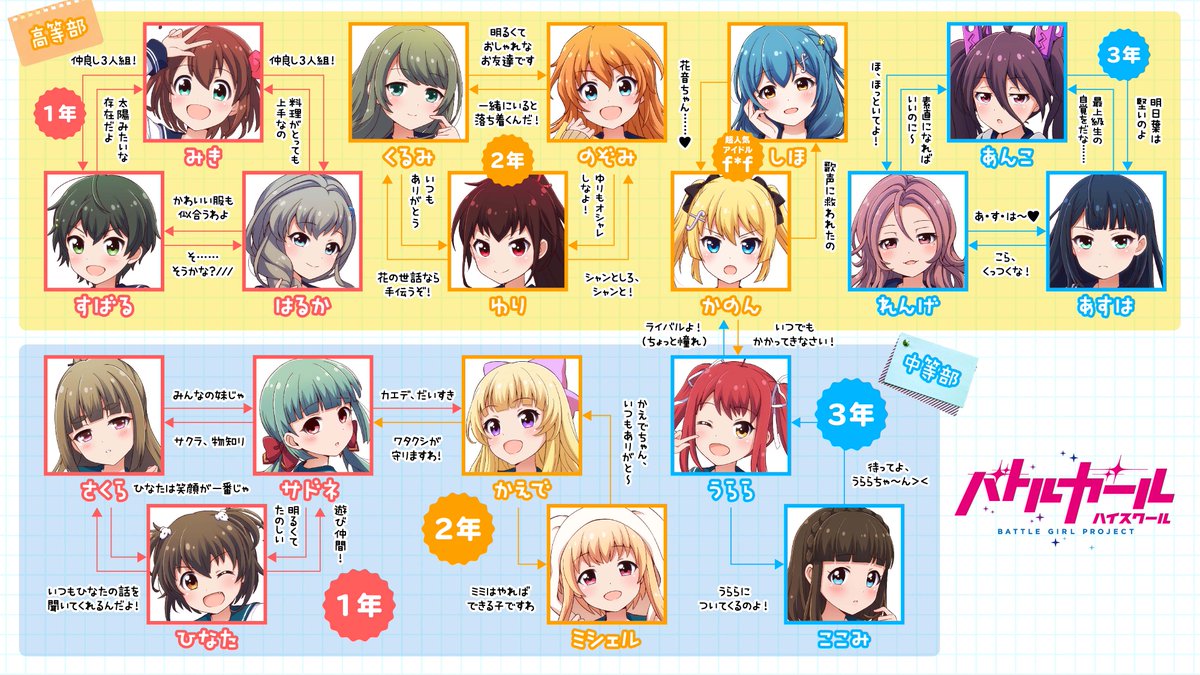 Image source: 【公式】バトルガール ハイスクール on Twitter
Like Idolmaster Xenoglassia (of which I am a fan), the series is a take-off of a game. It has a large cast of female characters, some of which are specifically singers. There are also episodes specifically where the girls must spend time doing dancing and singing choreography in order to defeat Irous. In addition, there's a successful idol duo called Fortissimo who are senior members of Hoshimori, and seem to be amongst the most highly trained and capable. This seems to be because of how in sync they are due to their musical act.
With significantly more female characters of various types than Xenoglassia, Battle Girl High School seems to be clearly a take-off of Love Live and similar shows. There's not much hiding this, and it's why the cast is so large. There's a girl for everyone (assuming you're into girls, and many fans very much are). Battle Girl High School also makes no attempt to hide its clear references to yuri with some of the characters—most specifically Renge, who is "girl crazy."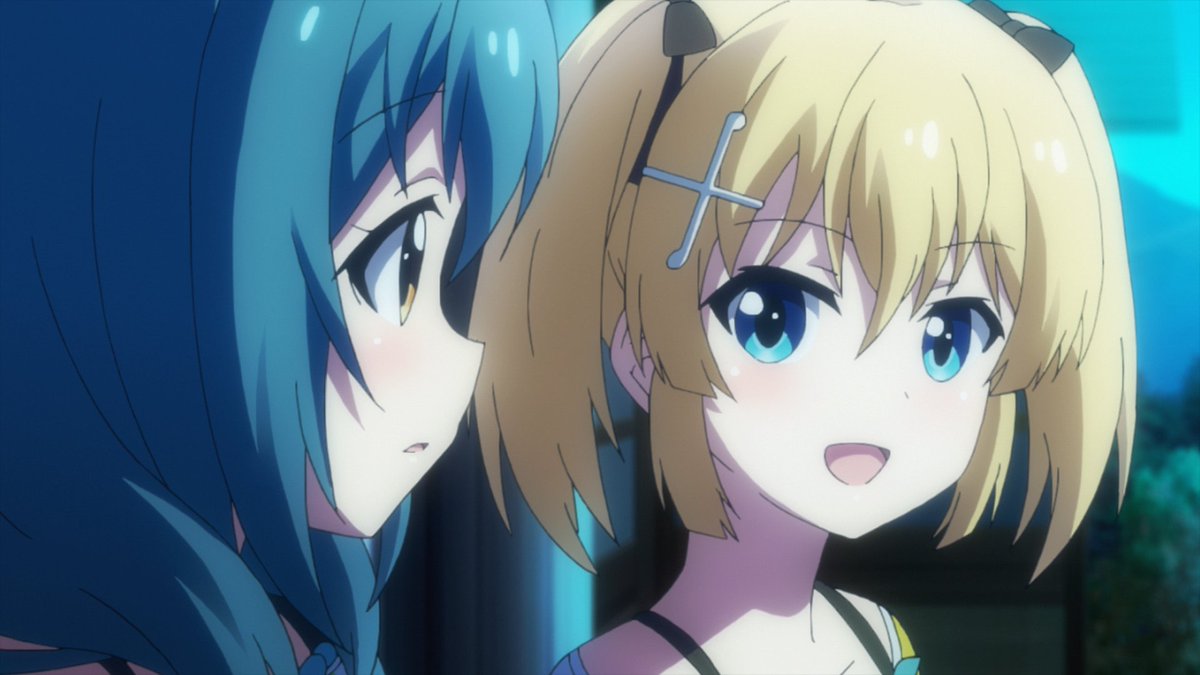 Image source: 【公式】バトルガール ハイスクール on Twitter
Even I have a favorite character, Subaru, an aggressive tomboy character who challenges the nature of what it means to be a girl. While I realize that women are not the target demographic of Battle Girl High School, I can appreciate there there is a rather wide variety of female styles and personalities present.
There's also a lingering mystery. Most of those shows that Battle Girl High School seems to draw from have origin stories for their teams. Either the exploration is done specifically in the episodes, or there is discussion of how the team was chosen or developed their powers. Hoshimori exists at a school with normal students and represents essentially only one class out of a massive school. Some students appear to have special histories, abilities, and connections to the Holy Tree, while others appear to be nearly incompetent with no actual desire to train or fight. Why these girls? We don't know.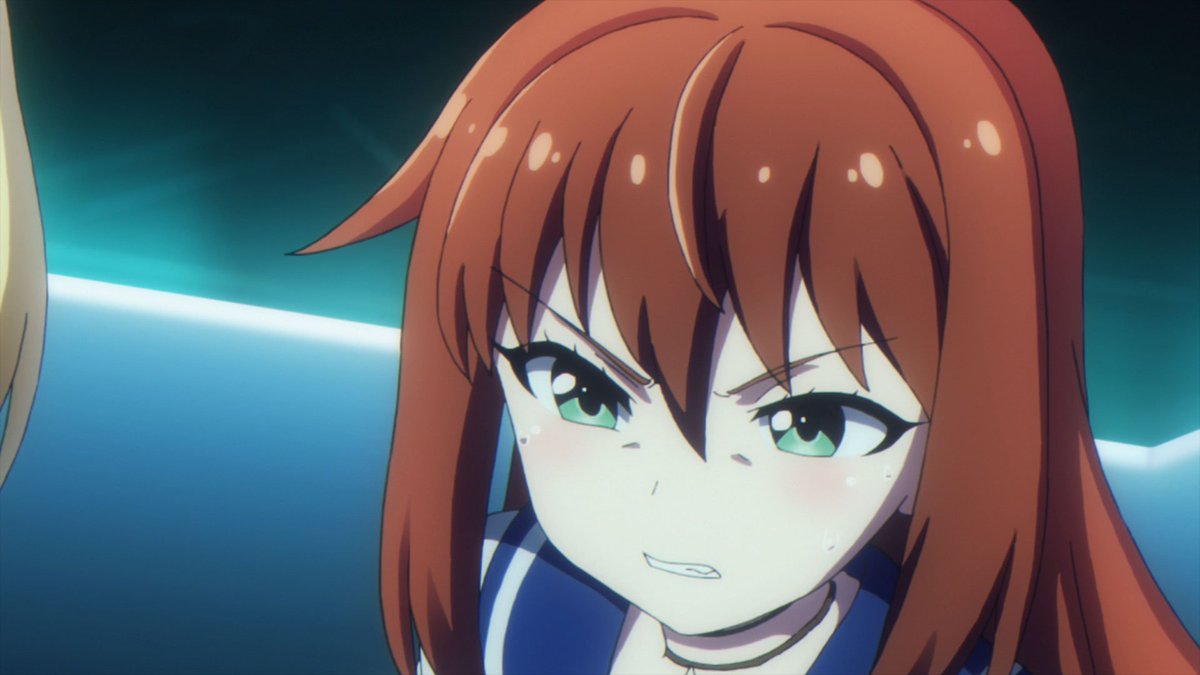 Image source: 【公式】バトルガール ハイスクール on Twitter
Battle Girl High School tries to have something for everyone, and it largely succeeds. I generally avoid series that offer a large cast of girls. I know I'm not the target demographic, and it just isn't my type of show. However, I'm a huge fan of magical girl teamwork (in addition to my enduring love of Sailor Moon, I'm very much enjoying Hina Logic), and Battle Girl High School roped me in based on that.
If you're watching the series, how were you brought in? Let me know in the comments.
Battle Girl High School can be watched on HIDIVE.