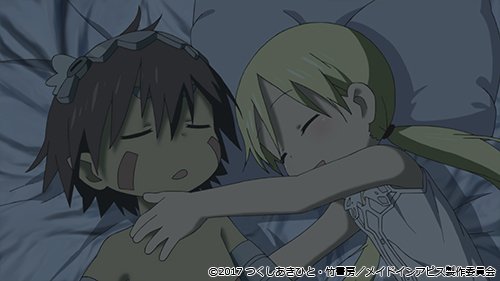 Image source: TVアニメ「メイドインアビス」公式 on Twitter
There are few anime series I enjoy that I generally think are suitable for pre-teens, outside of Ghibli movies or obvious kids shows, but Made in Abyss is certainly one of them. A surprising number of shows with child characters don't really focus on child agency. Made in Abyss does.
Update 9/11: Originally the paragraph above stated Made in Abyss would be suitable for "elementary school students." By this, I meant "elementary school students the same age as the main characters—i.e., 10-11"—as is mentioned later in the article. However, as this word choice has caused confusion, I have updated the above paragraph for clarity.
Update 10/05: This article was written back during episode 6 and some have wondered if, now that the series has finished, I still believe that this is still a good show to watch with your children. The answer is "yes" with a "but." Due to the some of the more graphic scenes in the final episodes, I think a slight age revision is in order. While some 11 year olds or 12 year olds could watch it with strict parental supervision, 10 would be too young. Or, in movie terms, I'd say this one is PG-13.
[This article contains spoilers for the first six episodes of Made in Abyss.]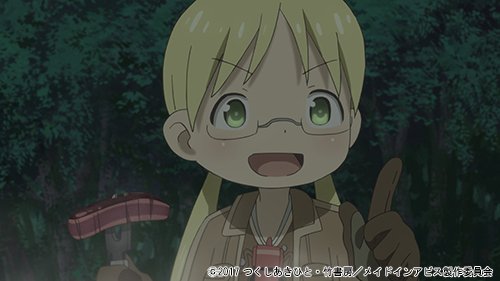 Image source: TVアニメ「メイドインアビス」公式 on Twitter
Made in Abyss is the story of children who live on the precipice of a giant hole, called the Abyss, on an island. The story primarily focuses on Riko, an orphan whose mother was a famous explorer of the Abyss. In addition to the other children at the orphanage (also the children of other explorers), the other primary character is Reg, a "robot" "boy" that Riko found in the Abyss. Riko believes her mother may actually still be alive at the bottom of the Abyss, so she and Reg set out on a journey.
From the beginning, it is clear from the focus and the cinematography that the children are the primary actors. There are adult characters, but they are literally peripheral. They seem to exist only as they affect the child characters, specifically Riko and Reg—which is very refreshing, because too often in many series, it is the opposite with child characters only existing to affect the adult characters. Often child characters in most complex media, anime included, are not really presented as complete enough people for real children to identify with. Young adult literature (such as Harry Potter or The Hunger Games) is a notable exception.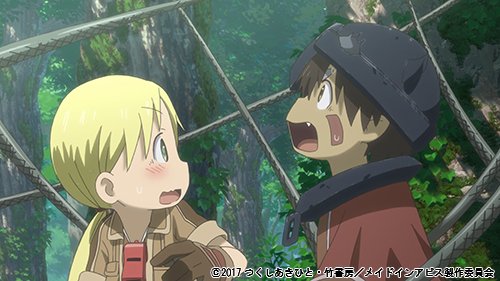 Image source: TVアニメ「メイドインアビス」公式 on Twitter
Riko and Reg (as well as their other friends they meet at the orphanage or along the way) act like children, because they are. They make a lot of silly and outright dangerous decisions. However, they also act like real children who are also fully real people. The problem with depictions of children in many media is that they are either unrealistically ignorant or stupid, or they are essentially small adults. As someone who regularly deals with children, especially those on the cusp of or just at adolescence, Riko especially rings true. She's impulsive, immature, and stubborn, but she's also knowledgable, intelligent, and compassionate.
Reg is a bit different. While he "resembles" a child, and certainly, in my view acts like one because of with whom he spends most of his time, he may not actually be a child at all. Of course, he's consistently described as a robot, but I don't think that's true. At least, not entirely. He certainly has robotic parts: his arms extend, and his legs seem rather clunky. It seems that if we go by what we know from Riko's mother—and what Riko herself believes—Reg could be merely "child-like" as his actual chronological age may be unknown.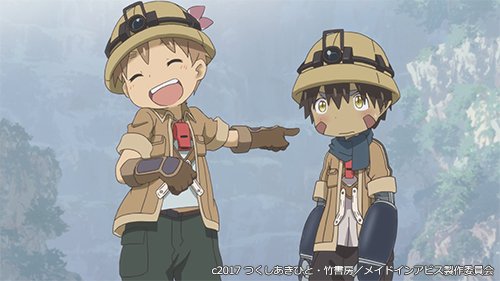 Image source: TVアニメ「メイドインアビス」公式 on Twitter
I'm of the opinion that Reg is definitely not a robot. He's some kind of cyborg (part organic, part artificial) maybe, but there are clear clues he's a person in the organic sense (not just "person" in the "sentient being" sense, which he also clearly is). Despite his elfish, Vulcanoid pointy ears, I actually think he's human. An equal amount of time is spent both on Reg's clearly human parts and his robot parts. In addition to clearly having the majority of his body (head, neck, torso, upper arms, pelvis, upper legs) resembling what you would expect of a typical human male child, he also has nipples, a belly button (which suggests a placenta once existed), and a penis.
Perhaps some readers, especially in Western countries, might be concerned about showing Made in Abyss to children with conversations which focus on the fact that Reg has a penis. It's discussed openly multiple times. However, some children do actually have penises, so this won't come as much of a surprise to the age group demographic I believe Made in Abyss would appeal to (namely the age of Reg and Riko or slightly younger). Trust me on this, your children would be equally conversational upon finding out a robot had a penis. I guarantee it.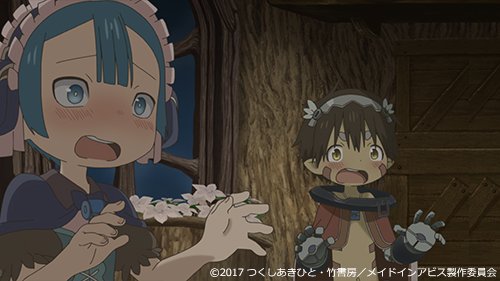 Image source: TVアニメ「メイドインアビス」公式 on Twitter
Amusing discussions about certain body parts aside, Reg, Riko, and their cohorts represent heroines and heroes in which children can easily seem themselves. Representation absolutely matters, and when it comes to adventure and fantasy anime, too often the stories presented about children get children wrong. They either appeal to children much younger than the characters themselves, or they offer characters much older than the intended demographic. Made in Abyss avoids both of these tropes, instead presenting a complex world, an amazing quest, and believable, relatable children who are peers to those who should be watching.
Made in Abyss can be seen on Anime Strike!