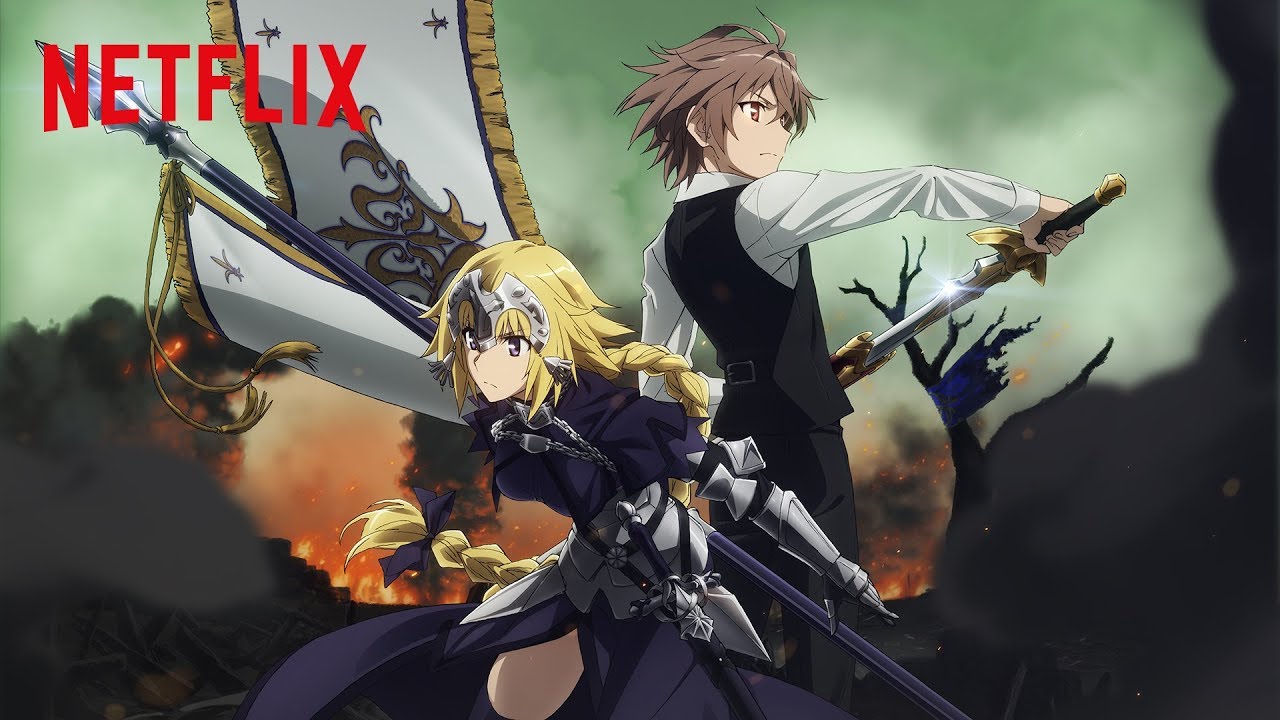 Image source: Netflix Japan on YouTube
If you have been keeping up with anime-related news, you will have seen a spike in the number of announcements regarding anime productions related to Netflix over the last few days—some being newly-licensed properties, and some being original, all-new content. While I will not go through every one of the announcements, rest assured that there is going to be a lot of exciting stuff for Netflix-subscribing anime fans in the pipeline for the remainder of this year and going into 2018. All of these news items were presented at the Netflix Anime Slate 2017 event in Tokyo International Forum.
The event was a lavish affair, with seemingly no expense spared—an enormous "NETFLIX" logo adorned the set for the first section as CEO Greg Peters gave an introductory speech which resembled a TED talk in both its motivational theme (though, of course, centering on the future of entertainment and Netflix's role in it) and in its visual impact. In Japan, TED talks are often seen to serve as useful training to become a skilled public speaker—which is a major goal on the road to achieving success in business on the global stage. So it is only fitting that the overall theme of the entire day's worth of content was, what else, the internationalization of Japanese animation.
Now, of course, I want to be clear that at no point was it spelled out that this would be the overarching subject across all three sessions that the event was split into, but it obviously was a topic that was returned to and highlighted again and again. Indeed, there was a lot of new content shown and it seemed somewhat overwhelming at many points, but certainly the "globalization" factor is the thing that really appeared to tie everything together. I would therefore like to go through several ways in which Netflix is suggesting that the anime industry become more accessible and renowned around the world.
Peters described himself as "a huge anime fan," who has spent the last three years living in Japan. He defined the ultimate goal of Netflix as providing "the best possible video entertainment experience to our members around the world. Wherever they are, whenever they want to watch, on whatever device they are using, and whatever content they want to watch." He alluded to a consumer-led "transition to a new world of entertainment" and that old models are no longer sustainable—emphasizing that once people get a taste of seasonal release patterns and take advantage of binge-watching, they never go back.
One major key to success in this new model is availability of new content. And, in turn, a key role in that game is played by anime. As 2017 marks the centennial of Japanese animation, it is only fitting that it should therefore be a revolutionary year, a milestone for the medium which would see content diffused across the entire world.
Obviously, an important characteristic of Netflix's service is that, as a global service, its recommendations algorithm provides the opportunity to introduce more people to anime—even if they had never shown an interest in the medium before. So we can surmise that the global expansion of anime viewership, away from the "niche audience" image, is a vital step in the long-term goals for Netflix. The variety in the amount of languages available, as well as the diverse format variations in user interface tailor-made to suit each region (right-to-left scrolling for Hebrew and Arabic regions, for instance) are one way in which this is realized.
Highlighting the importance of the global market, Peters points out that 90% of anime viewership on Netflix is happening outside Japan. This is to be expected, as the major ways to watch anime within Japan remain televised broadcasts. This is, however, changing at a brisk pace, with the increase of streaming services displacing broadcasts due to regional networks not carrying certain shows. I predict we will see a bigger shift to online providers soon and if Netflix wins out in the diversity game domestically, then we will see it capture a real advantage in terms of international distribution.
However, it remains to be seen how much of the binge-watch activity is compatible with busy Japanese audiences, who traditionally are accustomed to one half-hour a week—even many of the current digital streaming services stick to this pattern (though this is to not override the priority that TV stations are given).
Some competitors like AbemaTV go out of their way to give a simulated TV experience, on the device of your choosing, with dozens of channels featuring scheduled broadcasts and interactive chatrooms (so that you can enjoy the shows together with others online at the same time). On-demand services are provided, but behind a paywall. It certainly remains highly intriguing just how the Japanese viewership will respond to increasingly more anime being released a season at a time.
In particular, the animated Castlevania mini-series, was the highlight of the second stage of the event. Producer Adi Shankar and voice actor Ryotaro Okiayu (Trevor Belmont) joined the stage to talk about the show.
Shankar explained that growing up in Singapore, he was exposed to many anime and it played a big part in his childhood. He lamented the situation of animation in the United States, where it is thought of only as being something for kids. So even though he has been trying to get the Castlevania animation off the ground for a whole ten years, he only managed to do it due to the arrival of Netflix onto the scene.
Shankar, whose favorite Castlevania game is Symphony of the Night, also described his disappointment at a previous attempt to dramatize the game: he was approached to make a live-action Hollywood adaptation, but turned it down because he felt the studio did not appear to respect the franchise or the fans. Meanwhile, he said, Netflix let him make the show for fans of the game, and as such, it is "a blessing for the arts."
In this sense, we can see that the Japanese element of Castlevania is not only inherent in the source material being a Japanese game, but also the fact that in spite of its US-led project planning, it has a clear anime-inspired look to it. One can say that it is the right look to have in order to do justice to the source material. At the same time, the franchise has an in-built global audience, spanning three-decades now—not necessarily anime fans. It is thus a great example of globalizing anime, and expanding its audience, through the power of internationally-minded producers.
LeSean Thomas and Fumio Kaneko at Netflix Anime Slate Event 2017 on August 2nd in Tokyo
In a later section, Cannon Busters creator LeSean Thomas (The Boondocks) took a seat with animation producer at studio Satelight, Fumio Kaneko, to talk about the international atmosphere at the studio. Again, Thomas—who has previously worked in animation in the US and in South Korea—reiterated what Shankar had implied earlier, that in the States, animation is mostly targeted to 6- to 11-year-old boys, so there is no space to explore other genres using the medium. Meanwhile, Japan boasts a wide diversity of genres, including "fantasy, comedy, film noir, psycho-thrillers… That's why I want to operate here." And Satelight was lauded as a studio with a very open-minded approach to creativity, committed to captivating global audiences.
LeSean Thomas at Netflix Anime Slate Event 2017 on August 2nd in Tokyo
Kaneko added that the studio currently employs eight people from around the world, including China, France (namely Thomas Romain, who is currently under a lot of attention on Twitter with his father-and-sons workshop) and the US, so it is very globally minded. He quipped that studio head and Macross creator Shoji Kawamori even went to Russia recently!
The rest of the event featured plenty of exciting titles still forthcoming, with Netflix veteran partners Polygon Pictures—an anime studio a fifth of whose staff is from outside Japan—showcasing a new teaser for their animated Godzilla project, also Rilakkuma's new stop-motion animation, live-action versions of Erased and Death Note, as well as a live-action sequel to Blazing Transfer Student. Also, a new action thriller by Production I.G, B: The Beginning, was showcased, which features music by former-Megadeth guitarist Marty Friedman, and was described as looking "like a Hollywood TV drama series."
©雨宮慶太・井上敏樹・木根ヲサム・HERO'S/ソードガイ製作委員会
The event wrapped up with a brief talk session by Masaaki Yuasa, director of next year's DEVILMAN Crybaby series, and cast members Koki Uchiyama (Fudo Akira/Devilman), and Ayumu Murase (Ryo Asuka).
I came away from the event very excited about the prospect of expanding the possibilities of animation far beyond the key demographic of the typical "anime fan," and inviting viewers from all walks of life, even those without an ounce of previous interest or knowledge of Japan or its animation culture, to the diversity available within the art form. In fact, much of this was actually already attempted throughout the 1980s with numerous co-productions between Japan and Europe and North America. Ulysses 31, The Mysterious Cities of Gold, and Little Nemo in Slumberland headline the many co-productions of the day, (and even Kimba the White Lion, back in the 1960s, was technically a US-Japan co-production), while Transformers, Thundercats, Inspector Gadget and many, many more were productions outsourced to Japanese studios. There are plenty of stories out there detailing both the successes and the trials and tribulations of these projects.
Creative staff from Japan and overseas, working together, to create new content geared for a global audience.
Some key questions may eventually need to be faced, such as, at what point does "anime" stop being Japanese? There were certainly many hints of attempts to balance the Japanese typical aspects of anime with Hollywood writing and storytelling conventions, while always maintaining the Japanese roots of the art form/medium. In particular, the Knights of the Zodiac: Saint Seiya project was clearly billed as a collaboration between a Hollywood scriptwriter (Eugene Son, who worked on Avengers: Secret Wars) and Japanese anime action.
Whatever happens, Netflix appears to remain committed to the cause for the expansion of anime's influence on the global entertainment landscape. As a result, it may actually help alleviate some of the working conditions brought on by domestic business models, as I touched upon in an earlier article.
A Closer Look at the Problem of Low-Paid Animators and Suggested Solutions
It is refreshing to see another full, wholehearted attempt at taking an initiative for the global potential of anime, while at the same time, it is worth remaining cautious, as we may be seeing another rift between the Japanese market and other international markets.