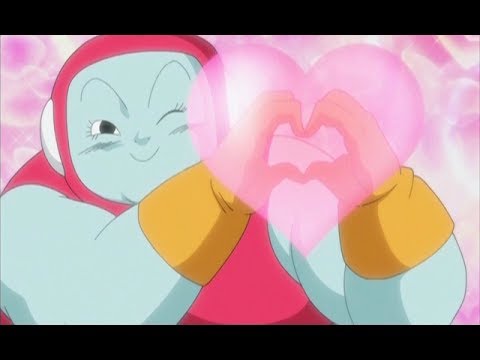 Image Source: 東映アニメーション公式YouTubeチャンネル on YouTube
The current arc of Dragon Ball Super has blessed us with new Super Saiyans, surprising 11th hour team members, and now the Dragon Ball version of magical girls.
Dragon Ball Super's Hundredth Episode Shows Just How Badass Our New Female Super Saiyans Are
[This article contains spoilers up to episode 102 of Dragon Ball Super.]
Dragon Ball Super is currently centered on the Tournament of Power: a battle royale in which eight ten-person teams from different universes all battle for the right to be the one universe not erased at the end of it. Of course, Goku and our heroes—i.e., Team Universe 7—are battling for their universe's survival, but there are other interesting teams in the mix. One team is Universe 6's: A mirror to Goku's own universe with Saiyans and even a Frieza-like fighter on the team. But the team to take the spotlight this past week was Team Universe 2: The magical girl team.
Who Our Heroes Are Up Against in Dragon Ball Super's "Tournament of Power"
And let me be perfectly clear. When I say "magical girls" I mean straight Sailor Moon/Pretty Cure-style magical girls—though with a bit of a Dragon Ball twist.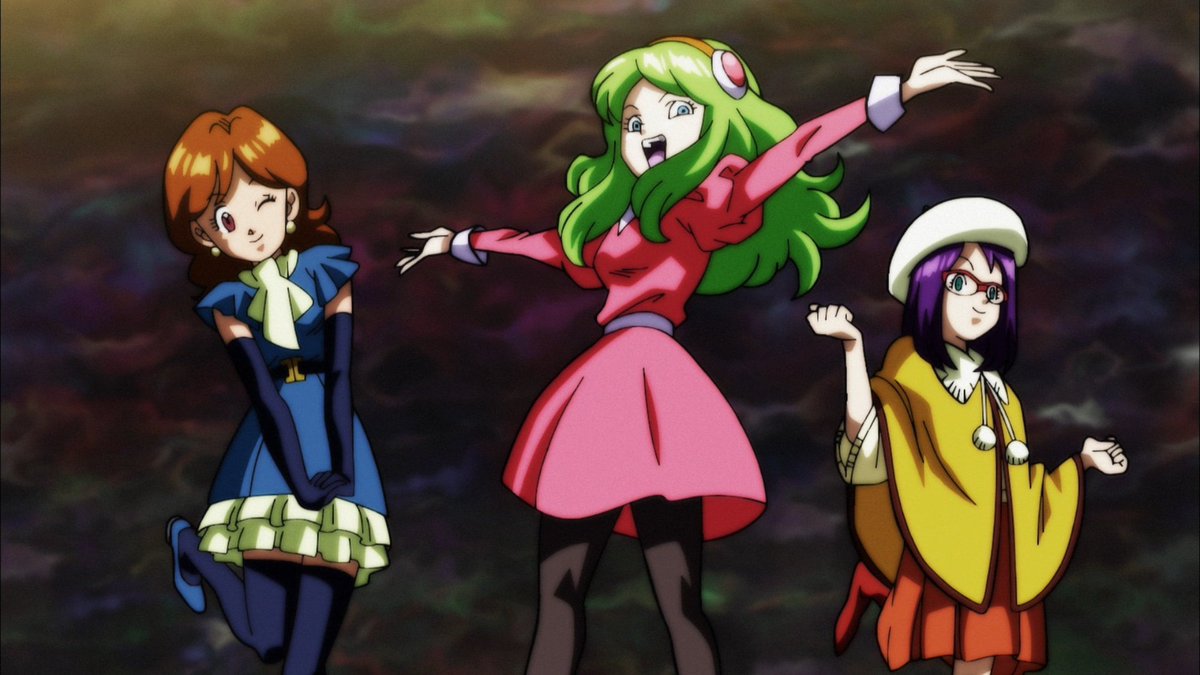 Image Source: 「ドラゴンボール超」公式 on Twitter
With Universe 11 failing to take out Goku, Vegeta, and the Universe 6 Sayians, magical girl trio Brianne de Chateau, Sanka Ku, and Su Roas decide to take center stage. Of course, as magical girls, they must transform before waging battle. What happens is exactly what you'd expect to see, the girls go to a high point on the field (so they can be seen by everyone), make a dramatic pose, and begin their lengthy transformation sequence.
And what a sequence it is: sparkling background, clothes becoming a single color, more dynamic poses while the music swells—well until an energy smacks into them mid transformation.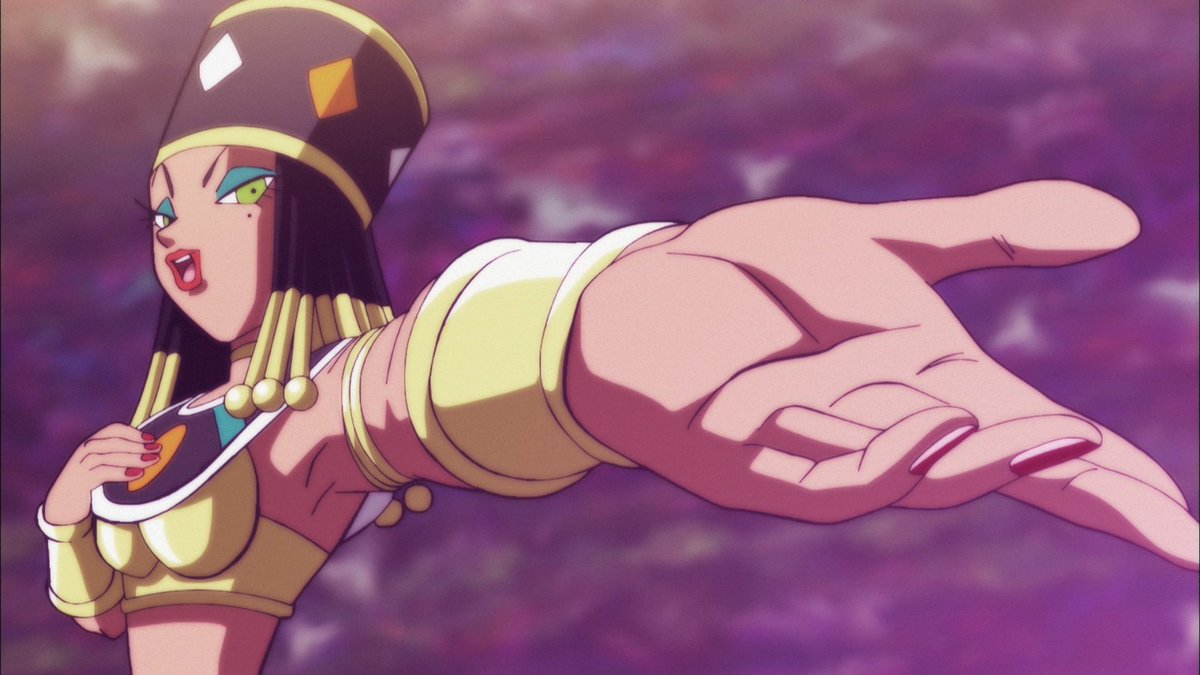 Image Source: 「ドラゴンボール超」公式 on Twitter
Anyone who has ever watched a magical girl anime (or any Japanese transforming hero show) has asked at one point or another why the enemies don't attack during the transformation scenes. Sometimes there is an explanation, but most times, it is simply part of the suspension of disbelief needed for the genre in general.
In Dragon Ball Super, it's just a matter of politeness. The magical girls and the gods of their universe are appalled that someone would be so rude as to attack them mid-transformation—in this case Andriod 17. Of course, from his point of view, they were simply leaving themselves wide open for attack. The super sentai team of Universe 11—the thematic pair of Universe 2—are likewise appalled. After all, they are no strangers to poses and catchphrases. And as for Goku, he's all about letting the group transform: He wants to fight the strongest people he can find, as always.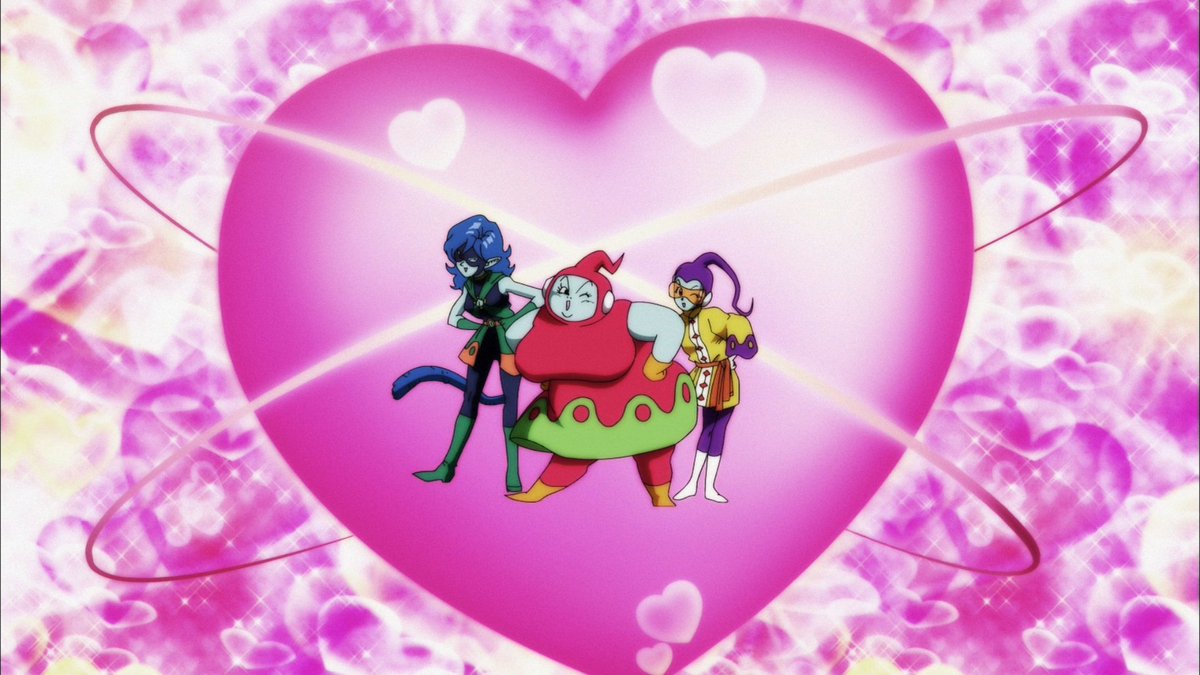 Image Source: 「ドラゴンボール超」公式 on Twitter
So with everyone agreeing to wait this time, we watch the entire transformation sequence again from the top—just to hammer the gag home. Of course, it's at the end of the sequence that we see the second twist on the typical magical girl formula. Transformed, the trio don't exactly look like "typical" magical girls.
Sanka Ku turns into a green-skinned beast girl with a costume suited more for a luchador than a magical girl. Su Roas has blue skin and wears a sci-fi kung fu outfit. And as for Brianne, she looks more like a big blue version of Majin Buu in a dress than anything else. And while our heroes think the trio looked better before transforming, it's clear that many of the other universe's fighters disagree.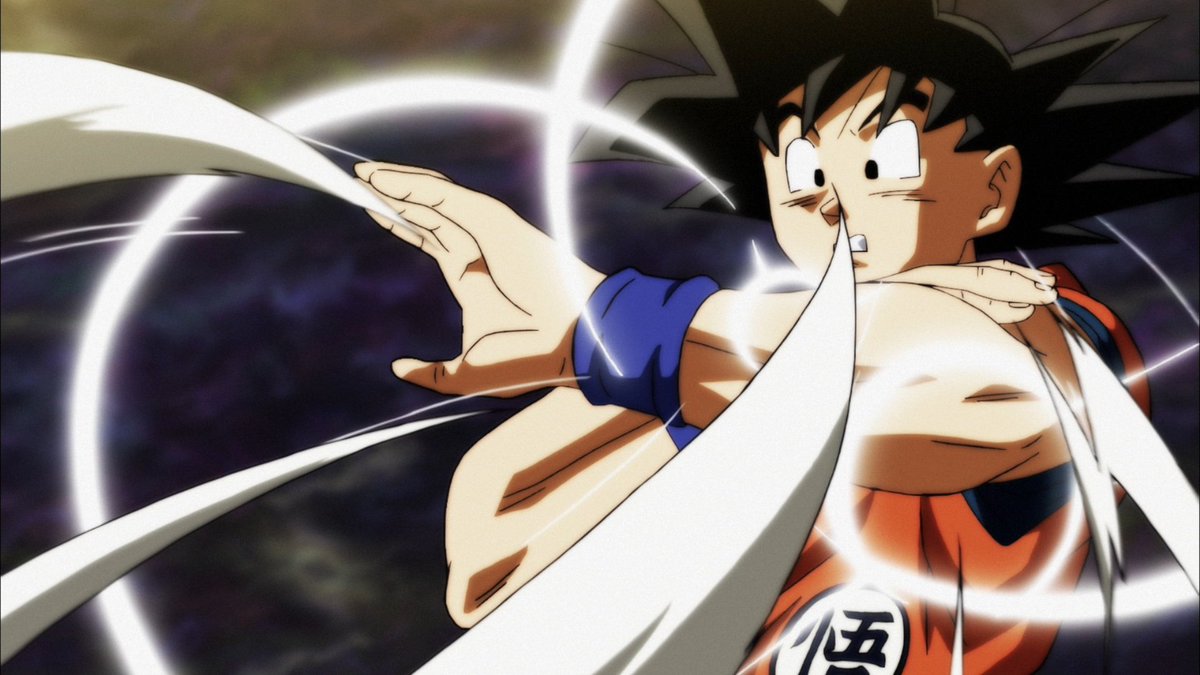 Image Source: 「ドラゴンボール超」公式 on Twitter
Soon though, the point is moot as we see what the magical girls can do in a fight. They begin with the first of many heart-shaped attacks: a giant heart that shoot smaller hearts—because of course it does. It also produces a mist that brings the less "stoic" to a lovelorn stupor.
Pretty much every attack from the girls is somehow connected to the theme of love or the purity of a maiden's heart. And yes, that includes Brianne somersaulting so fast she becomes a speeding ball a la Sonic the Hedgehog (in a display that grosses out Vegeta so much, he can't even force himself to punch her). Su Roas' fists of fury are even described as "gentle and at times intense—flexible attacks like the heart of a maiden."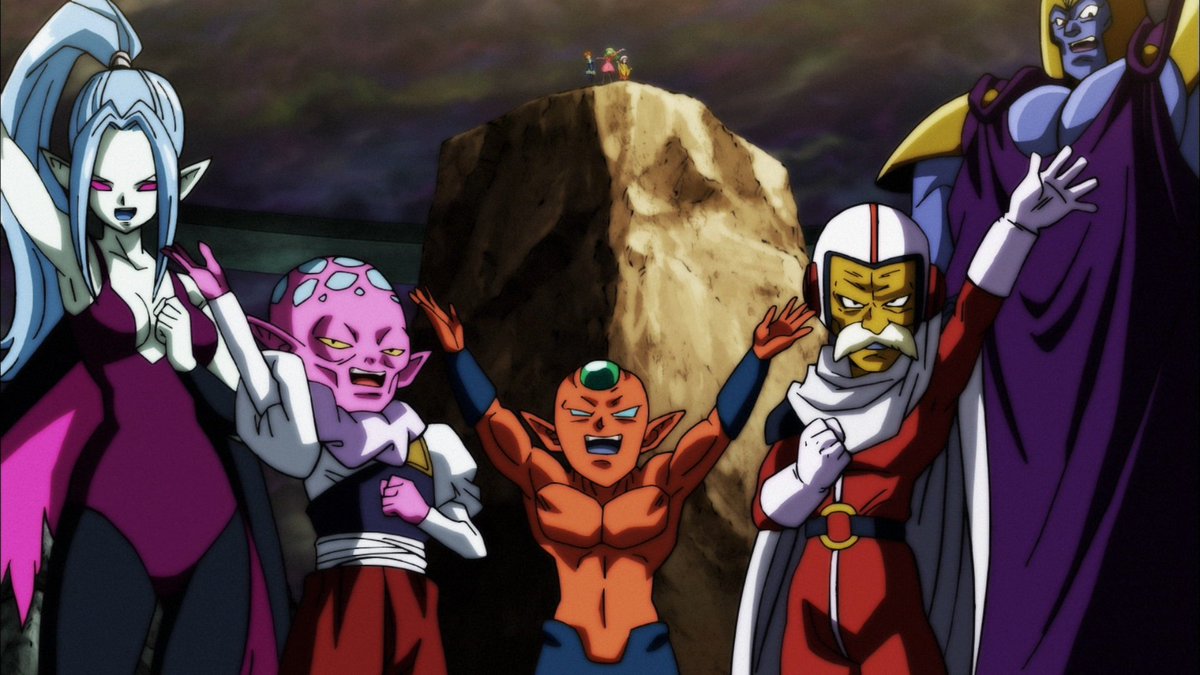 Image Source: 「ドラゴンボール超」公式 on Twitter
It is in the ensuing battle between Sanka Ku and Android 17 that we learn the role of the rest of Universe 2's team: support for the magical girls. When Sanka Ku should be thrown out of the arena by Android 17, Universe 2 flyer Vikal pushes her teammate back in.
We are then treated to a brief scene torn straight out of any number of magical girl anime where the entire background becomes sparkling pink with blooming roses as the two stare lovingly at each other. The Universe 2 gods even comment on the pair's bond of love while their own eyes sparkle like those in the classic romance manga/anime of the 70s and 80s.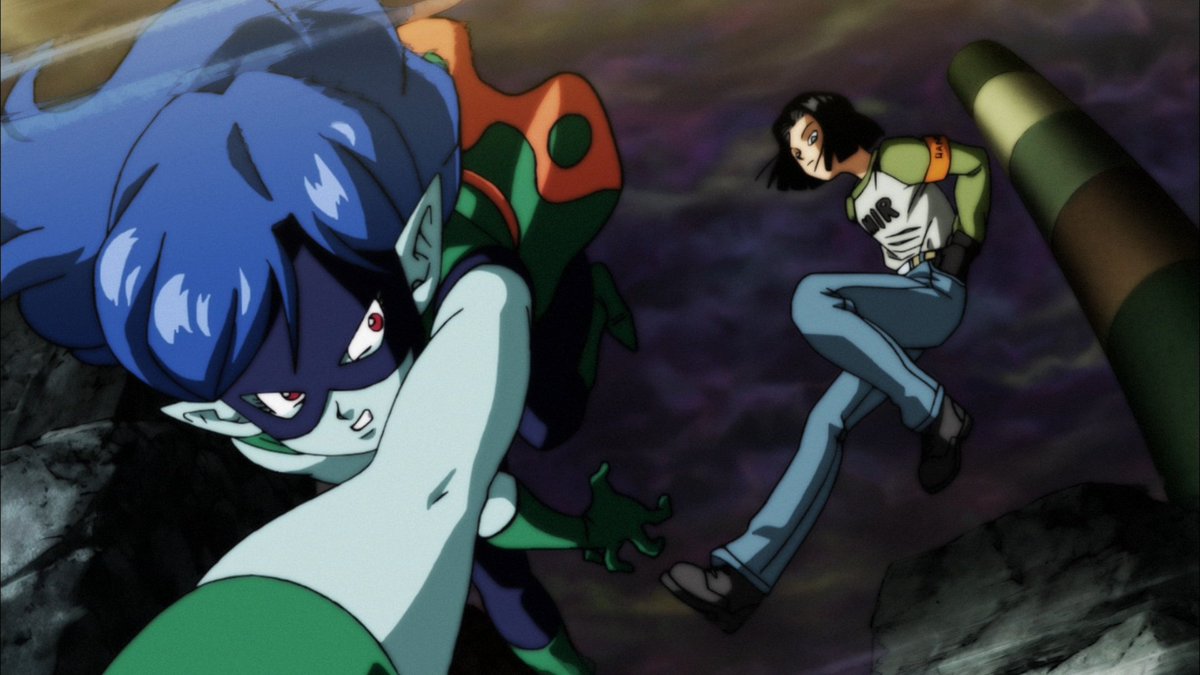 Image Source: 「ドラゴンボール超」公式 on Twitter
And when Android 17 promptly knocks Vikal out of the ring, it is Sanka Ku who asks Brianne to stay out of the fight so that she can avenge her friend in the name of love.
Of course, that does nothing to stop Android 17 from knocking Sanka Ku out of the ring in short order.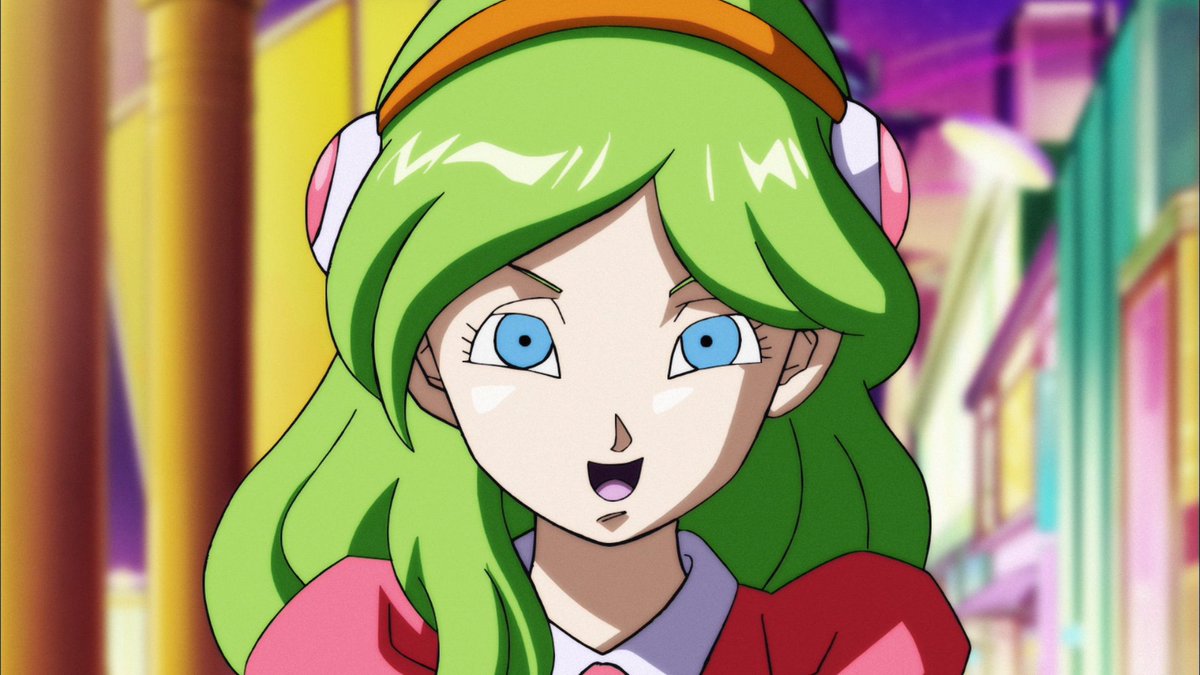 Image Source: 「ドラゴンボール超」公式 on Twitter
All in all, our first full episode focusing on the Dragon Ball Super version of magical girls is a laugh riot. While often a parody of magical girl conventions, the characters themselves fit well into the Dragon Ball world and—especially in the case of Brianne—seem like a real possible threat to many of our heroes. If you're a fan of Dragon Ball or magical girl anime, there's a lot to love in this episode of Dragon Ball Super.
Dragon Ball Super is streaming on Daisuki, FUNimation, and Crunchyroll and is airing on Cartoon Network's Toonami with an English dub.