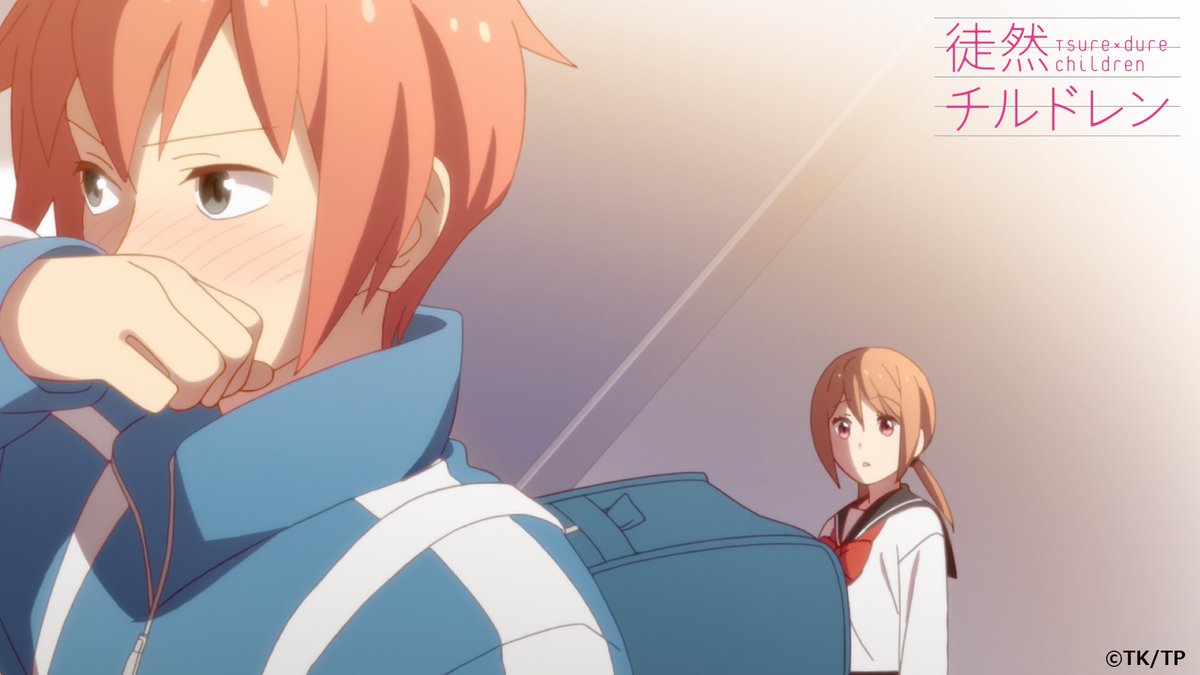 Image Source: アニメ「徒然チルドレン」公式 on Twitter
Tsuredure Children is a series of romance stories revolving around a large number of high school student couples. And when I mean a lot, I mean a lot. There are at least 70 characters in the original manga, with at least nineteen making an appearance in the anime. Here's a guide to help you keep the nine main romances straight.
[This article contains light spoilers for Tsuredure Children.]
---
Takurō Sugawara & Chizuru Takano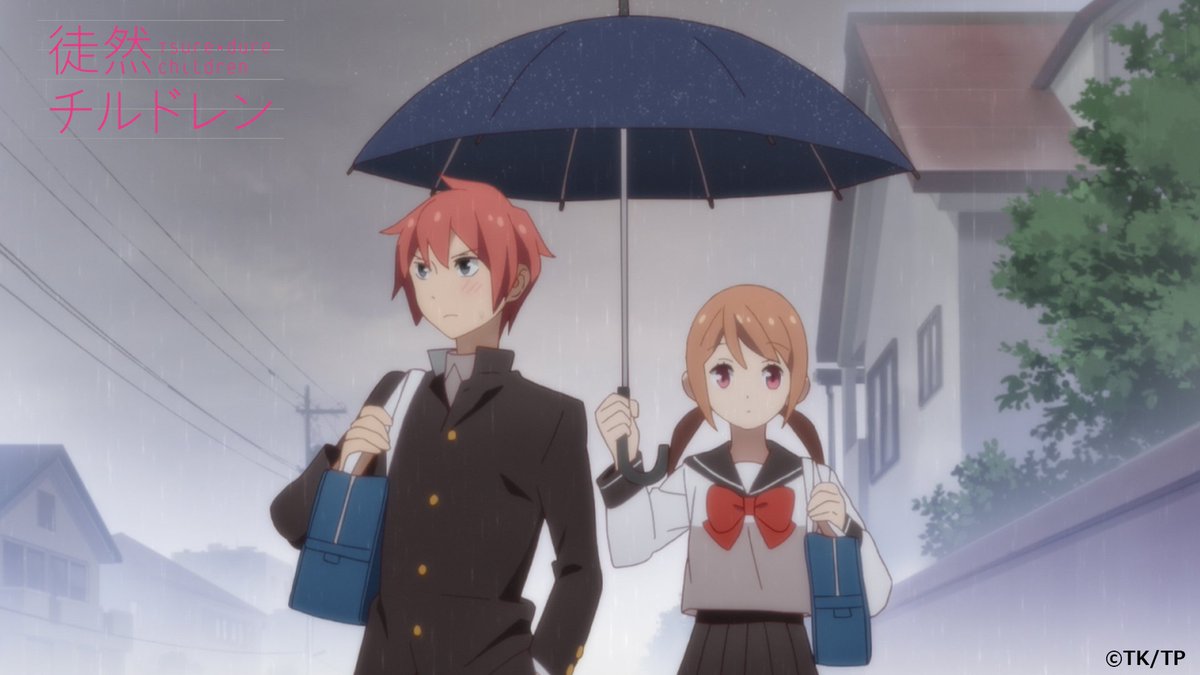 Image Source: アニメ「徒然チルドレン」公式 on Twitter
Takurō and Chizuru are second-year high school students in the same class. Takurō is on the soccer team, while Chizuru is in the wind instrument club. Takurō is a fairly normal boy who is in love with the stoic Chizuru, but because she's so dense, misunderstandings keep happening and his feelings never get across. For example, at one point he tries to confess his love, but she thinks he's talking about cleaning. These kinds of misunderstandings happen over and over again, and you can't help but feel sorry for him.
---
Takeshi Gōda & Ayaka Kamine
Like Takuro and Chizuru, Takeshi and Ayaka have a relationship built on misunderstandings. Although the shy Ayaka has feelings for the tough-looking Takeshi, he thinks that she's avoiding him. It's just that Ayaka is too shy to approach him. It doesn't help that Takeshi has a negative way of thinking–even when she says he's kind, he immediately thinks he's being thought of as a nuisance. It's only when Ayaka is able to say her feelings for him outright that he finally gets the picture.
---
Masafumi Akagi & Ryoko Kaji
They say opposites attract, and that's very true for high school seniors Masafumi and Ryoko. Ryoko is a wannabe delinquent, while Masafumi is the president of the student council. While he should be unfriendly with her due to his position, he finds himself attracted to a girl for the first time (and he's not gay—though he did give the option a try). They begin dating after their first kiss, though Masafumi would at least like her to quit smoking. And while Ryoko was always alone, she starts warming up to her classmates after she starts dating Masafumi.
---
Haruhiko Takase & Saki Kanda
Haruhiko and Saki are classmates in their second year of high school. Haruhiko's in the soccer club while Saki is in the soft tennis club. The strong-willed Saki is determined to confess her love to Haruhiko—something that's obvious to him—but keeps not being able to muster up the courage to do so. While the feelings of affection are mutual, Saki's inability to tell her sweetheart her feelings prevent the two from dating. We'll have to see if Saki will ever realize that Haruhiko already knows how she feels.
---
Jun Furuya & Yuki Minagawa
Second-year high school students Jun and Yuki are not only in the same class, but they're both class officers (basically the leaders of the class). Jun is the president of the broadcasting club while Yuki is a member of the soft tennis club alongside the previously mentioned Saki, who often comes to her for advice. Yuki, a very popular girl with both the males and females in her class, is very upfront with her feelings, not hesitating to tell Jun that she likes him.
Jun, on the other hand, is a very pure boy who feels like he's being teased by her and is not quite ready to get into a relationship with her despite having interest in her. After all, to him, dating is just one step before marriage, so he doesn't want to irresponsibly accept her courtship. It doesn't help that his sister with a brother complex will do anything to separate them. But Yuki doesn't care—she thinks all of it is fun and she's plenty happy just letting things unfold.
---
Chiaki Uchimura & Kana Iijima
High school second-year students Chiaki and Kana have been together since childhood. This makes dating a bit strange. Up until Kana confessed her feelings, the two had always treated each other like siblings. Therefore, while the two are very close, it can be difficult for them to act like a couple. Making it even more difficult is the fact that Chiaki didn't realize for an entire year that Kana thought they were dating due to a misunderstanding.
Even after officially beginning to date, the problem persists, with both acting casually toward each other. However, Chiaki tries to leave his bashfulness behind and do more romantic things with Kana, like kissing. Though, the other people around them might get in the way.
---
Takao Yamane & Chiyo Kurihara
Otaku with a weird face Takao fell in love with member of the cooking club Chiyo long before having a chance to talk to her. He finally was able to spend time with her when he saved her from a pervert. Even when he's on a date with her, though, he lacks confidence and often doubts himself. However, little did he know that Kurihara had been watching him too. The two begin dating when Chiyo asks him out.
---
Hideki Yukawa & Satsuki Sasahara
Satsuki and Hideki were members of the same astronomy club before he graduated and moved to the countryside for college. Satsuki joined the club in order to be near him. For a long time, she would express her affections to him as a joke. This made it difficult for her to finally express her real feelings to her taciturn upperclassman right before he graduated. However, she pulled it off and he accepted. They're currently in a long-distance relationship and Satsuki has taken over as president of the club her boyfriend once lead.
---
Yuki Kaga & Kaoru Nanase
First-year students Yuki and Kaoru are childhood friends who both end up joining the astronomy club. Despite the two being childhood friends and Kaoru being in love with Yuki, the two often end up fighting because of her short temper. Kaoru hates herself for this. However, Yuki fell in love at first sight with astronomy club president Satsuki, making Kaoru's love even more difficult realize. She wishes that he would get rejected, but at the same time doesn't want him to get hurt.
---
Tsuredure Children is streaming with subtitles on Crunchyroll.