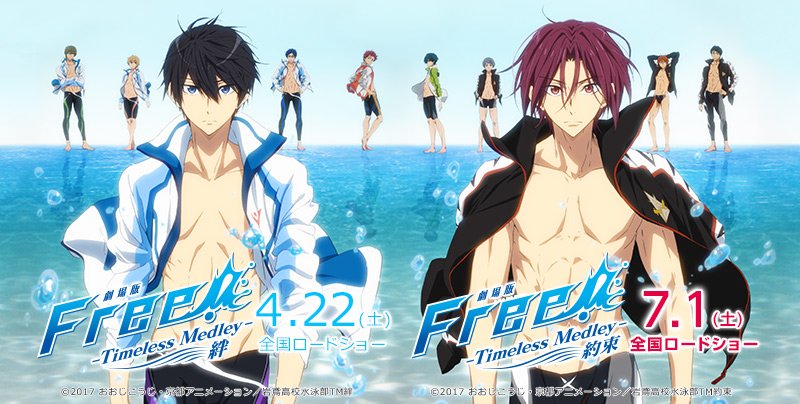 Image Source: 「Free!」シリーズ公式 on Twitter
While it is purely a compilation film to get fans pumped for the upcoming completely-original film this fall, Free! -Timeless Medley- the Promise has one particular newly-animated scene that totally changed what I thought about Rin as a character.
[Note: This article contains spoilers for the Free! Iwatobi Swim Club anime]
In Free!, Rin is a confident high school swimmer with shark-like teeth who is aiming for the top in not just Japan, but in the whole world. We learn that his passion for swimming is from his father, a man who once dreamed of going to the Olympics, but had to give up on his aspirations and become a fisherman instead. (He also has shark teeth, meaning that's probably where Rin got his iconic set of pearly whites.)
What's New and Different in the First Free! Compilation Film
The movie expands on Mr. Matsuoka's bond with his children. First of all, it's obvious to see how much he loved his son Rin and daughter Go. Despite being a busy man, he takes the time to read story books with them on the floor while his wife (who is also depicted this time around!) is taking a break, and even lifts them up into the air just using his biceps. Mr. Matsuoka seems like the perfect father who has left his dreams behind to instead take care of his family.
When Rin finds his father's albums with pictures of him in swimming attire, he brings them to his dad and asks to try swimming. Being reminded of a dream long lost, he makes a pained face but soon smiles at his kids, agreeing to teach them to swim. Rin takes on his father's passion for the sport, even more so than his sister Go who swam alongside him. His father seems to become more and more encouraging of his son's passion, even giving him one of his medals. It's obvious that Mr. Matsuoka has entrusted his dreams to his son.
Rin thought that everything could remain the way it was. However, fate had cruel plans. On a rainy day, Rin's father's ship capsized, killing his father and the other men on board. His usually cheerful mother and sister were left in shambles. Although Rin was also grieving, his face stained with tears, he made his decision: he would become the driving force that keeps his family together. He would continue swimming and fulfill his father's dream not only to keep his father's memory alive but also to give his family hope.
During the show itself, yeah, we learn about Rin's past. But it is done so quickly and without detail that it didn't really resonate with me. It just leaves Rin seeming like kind of an emotional brat who treats his old friends like crap because of his life goals. Just adding these five minutes of animation added the depth to Rin that I needed.
Rin was never just swimming because he wanted to be the very best in the world just because or because he wanted to live up to his father's legacy. He did it to support his family in their hardest time. One scene in a compilation film made me appreciate a character I've known for almost five years and never thought anything of.
Seeing the ending of the film that hints at a reunion with the Free! and High Speed! characters in the present day gets me interested in seeing how Rin will continue to change as he graduates high school and aims for world champion like his father did. But I'll have to wait a few more months for that.
Season 1 and Season 2 of Free! – Iwatobi Swim Club are available on Crunchyroll. There is no word on an English release for the prequel film, the two compilation films, or the new, original film, Take Your Marks, that is scheduled to premiere in Japan on October 28, 2017.