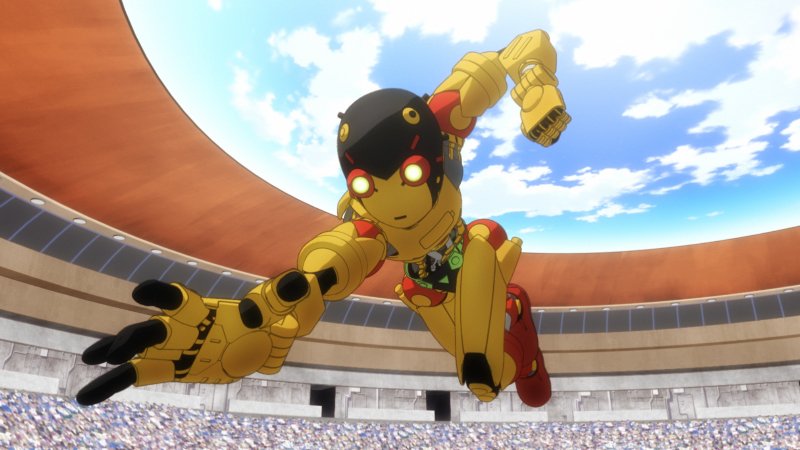 Image source: アニメ『アトム ザ・ビギニング』公式 on Twitter
Want robot versus robot action in your anime?  Want to see metal clash with metal, sparks fly and fuses blow? Well… maybe change the channel, because in Atom The Beginning, we open up our hearts and defeat our opponents with the might of compassion.
Before I explain, I'll begin with an anecdote. At around episode six, a friend of mine had expressed an interesting opinion on Atom The Beginning. "It's a fun enough show," he admitted, before following up with, "But when is it actually going to give us what it promises in the opening?" Perhaps we had different interpretations of the opening sequence. I was enthralled by it simply because its dynamic visuals were spectacularly handled by Austrian animator Bahi JD (Kids on the Slope, Space Dandy), who has been on an exponential rise to fame among sakuga fans.
My friend, on the other hand, claimed that the sequence depicted a lot of action and built up expectations of a more battle-oriented anime, rather than the everyday lives of robotic engineering students. I found this interesting, as I had been enjoying the somewhat subverted premise of a powerful robot with built-in AI making noodles, helping people move house, and handling other mundane tasks.
Nevertheless, there was clearly a disconnect happening here, as we were both watching the same show and yet had different interpretations. Perhaps it is because this is supposed to be the "beginning" of Atom's story, and yet Atom is all but unrecognizable, in both looks and personality?
The original Tetsuwan Atom, while looking innocently cute, was impossibly tough and certainly fought surprisingly hard. He is often seen destroying enemy robots in the name of justice—albeit usually with some degree of remorse, always wondering whether there wasn't some other way.
Atom The Beginning's opening, however (specifically, the latter portion of it), depicts an arena fit for one-on-one robot tournament battles. Finally, after a lot of character building, we have begun to see A106 and the gang in the arena in recent episodes. Yet, the long-awaited robot battles perhaps leave something to be desired?
The anime has taken its time to get to its tournament arc (and so many anime these days seem to have one!), so battle fans watching Atom the Beginning no doubt have high expectations. His all-powerful hydraulic arms must certainly do some amazing damage, right? We simply cannot wait to watch the mecha carnage unfold!
And yet… it seems that none of that happens. While the contemporaneous My Hero Academia shows off some overly spectacular depictions of tiny-bodied supermen and women causing cataclysmic damage to structures and enormous explosions with billowing smoke that engulf the entire stadium, Atom seems content to play a quieter note.
Though the setting is very familiar, complete with a blood(oil?)thirsty audience, A106 doesn't actually destroy his opponents. He barely even fights. Instead, he finds ways to incapacitate them. In the first bout, A106 faces an opponent that bears more than a striking resemblance to Tetsujin 28-gou (Tetsuwan Atom's longtime "rival" vintage franchise—both are manga from the 1950s, both got a TV series in 1963 and again in 1980).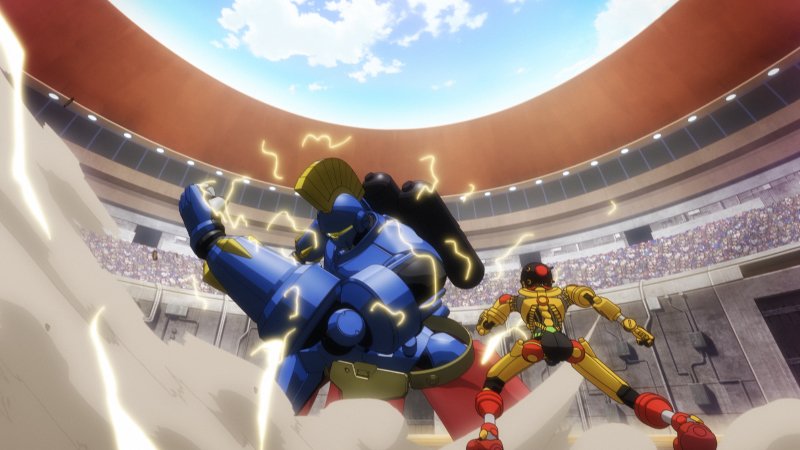 Image source: アニメ『アトム ザ・ビギニング』公式 on Twitter
He is clearly no match in terms of weight and (perhaps?) power, but he analyzes the situation and finds that the crest on his opponent's head is the remote command receptor. Removing it renders the robot inoperable. So he just leaps, grabs it, and pulls it off. End of match. The audience's reaction in the stadium at first is that of disappointment, understandably. They came here to see robot carnage; they expect it or their money back.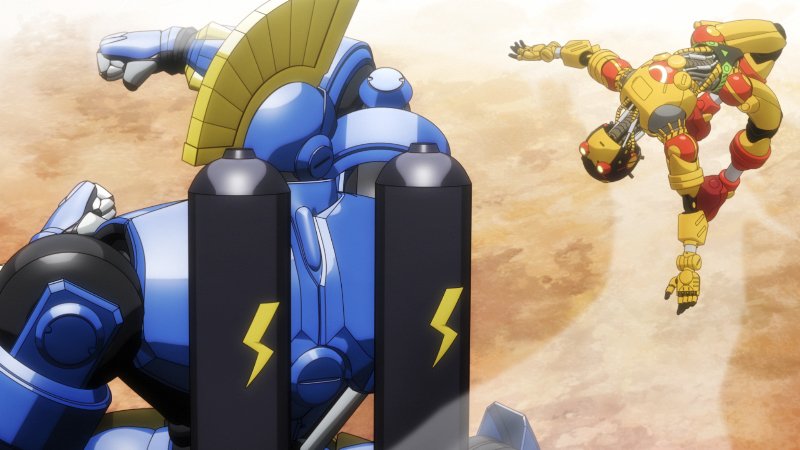 Image source: アニメ『アトム ザ・ビギニング』公式 on Twitter
The people's cries for more excitement and violence are shared even by Umataro, who gets angry at A106 for repeatedly disobeying him—they came here to show the world just how strong A106 is, not how soft he is. At one point, A106 burns out a part that needs to be replaced, but Umataro is willing to send him out into the arena at sub-optimal functional capacity. When Hiroshi warns that A106 could be destroyed, Umataro says it's a risk worth taking—if A106 is destroyed, then it proves he was nothing more than a pile of junk.
All the while, Hiroshi tries to calm Utamaro down. For Hiroshi, the success is in the thinking process that led A106 to realize how to end the "fight" in a victory without anybody getting hurt—and to then follow through with it. The root of this conflict in ideology? One of the two thinks of A106 as human. The other sees him as a mere machine.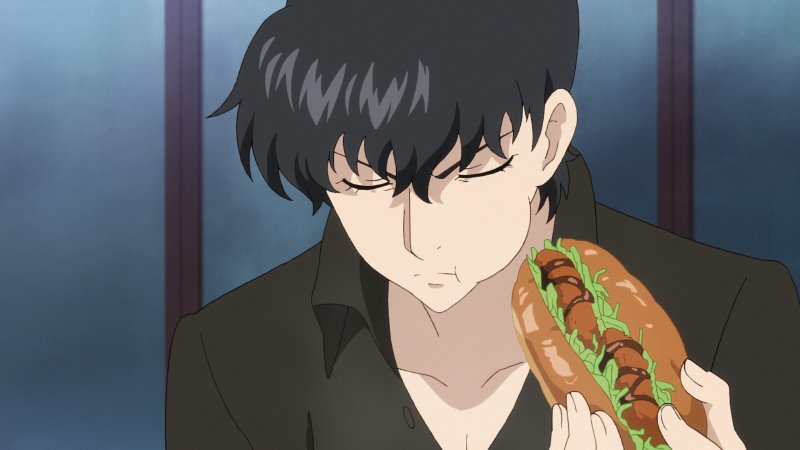 Image source: アニメ『アトム ザ・ビギニング』公式 on Twitter
But for the crowds, at the start at least, A106 does not deliver. I think it is interesting to put the show into a more meta perspective. Are the stadium audience of these robot battles perhaps serving as surrogates for the audience of Atom The Beginning itself? Atom fans may be expecting some cool anime action scenes like in My Hero Academia or suchlike, but instead A106 focuses on the heart of kindness within him, rather than the passion of trying to prove you are the best. Is the latter more relatable to us? If so, what does it say about us as humans? Are we, then, not mere unfeeling machines? And what does it say about a machine with artificial intelligence? How much more human-like can a computer program capable of compassion be?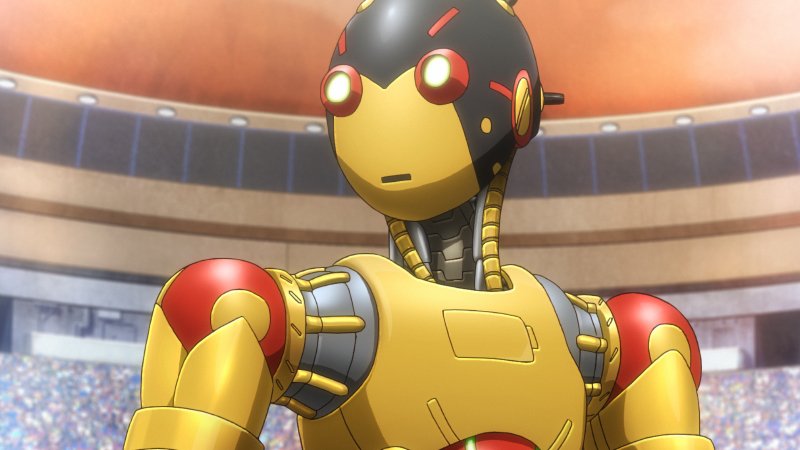 Image source: アニメ『アトム ザ・ビギニング』公式 on Twitter
Atom The Beginning is currently streaming on Amazon Anime Strike, and AnimeLab (AU/NZ).