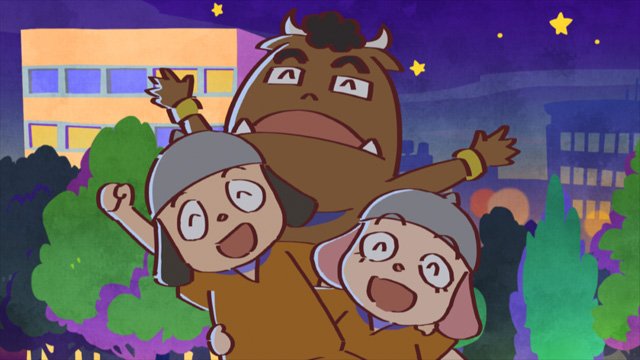 Image source: まけるな!! あくのぐんだん! on Twitter
Makeruna!! Aku no Gundan! is based on a manga. But the big thing that sets the manga apart is that it's written by a professional voice actor who's had roles in popular shows like Robotics;Notes and Love Live!
Makeruna!! Aku no Gundan! is the story of an evil(?) overlord, Don, on a mission to conquer the universe. Arriving on Earth, Don and his minions realize the job won't be as easy as they first assumed. What follows is the daily lives of Don and his minions as they try to adapt to their new environment while also dealing with the frustration that is life among the human race.
The anime is based on a four-panel comic strip written by manga artist, Sora Tokui. If that name seems familiar to some people, that's because in addition to being a manga artist, Tokui is also an established voice actor, having voiced characters like Nero Yuzurizaki from Tantei Opera Milky Holmes, Junna Daitoku from Robotics;Notes, and Niko Yazawa from Love Live!
During a recent special talk show and showing of the first six episodes of Makeruna!! Aku no Gundan!, Anime Now! had a chance to sit down and talk to Tokui about the manga and her rather unique career.
According to Tokui, becoming a voice actor was a childhood dream for her. Said Tokui, "Ever since childhood, I loved anime and manga and I was also very interested in theater, so I joined my school theater club and things like that. So my love of acting and my love of anime pretty much overlapped in voice acting, which made me pursue it."
Similarly, drawing manga was also a personal hobby and being a professional was a personal dream. "With manga, ever since I can remember, I was always drawing manga—it was a hobby of mine as a child. I had a dream that one day I'd become a manga artist. When the magazine I write for, Monthly Bushiroad, was released, I was approached with an offer to do a series."
Tokui still retains her love for both media, noting that she is an avid fan of the manga series Aoi Hono by Kazuhiko Shimamaoto and is currently watching the Twilight Zone-esque series, The Laughing Salesman.
Both manga artistry and voice acting are famously time-consuming occupations. However, Tokui stated that she doesn't give either profession preference, considering herself equally both a voice actor and a manga artist. This is not without its obvious hurdles, however. Tokui noted that there was only really one practical way to balance the demands of her work. "All I can really do is reduce the amount of sleep I get." she said with a laugh. "There are times when I go all night drawing manga until the morning and then go to work [as a voice actor]."
On average, Tokui noted that she gets about four hours of sleep a night. She did add, "But it's all to fulfill my dream of doing what I enjoy, so I'm perfectly all right."
The anime adaptation of her manga, Makeruna!! Aku no Gundan! was a welcome surprise for Tokui. "It's a four-panel comic, and I assumed it wouldn't get an anime adaptation, but at the same time I often said I would like for it to get one." Tokui remarked, "Still, I never assumed that it would. So it was a real surprise."
According to Tokui, while the manga is about an alien attempting to take over the world, it is, in fact, a reflection of her own observations. "I take a lot of my everyday experiences and inject things that I feel for Don and his minions to run into."
Obviously, getting an anime adaptation was a big step for Tokui. For the most part, she has taken a hands-off approach, leaving the decisions regarding the anime's story entirely to the production company and to the anime's director. Still, as a voice actor herself, she couldn't help but be overwhelmed when she learned of the casting of the anime by veteran voice actors like Tesshō Genda for the lead. "They're all huge veterans, so I was really happy. I never thought such amazing people would accept a job voicing something that someone so much younger made. I was blown away."
Having the characters from her manga actually move and speak on screen has also had an influence on Tokui as a manga artist. "By giving them actual voices, I've discovered whole new sides to the characters." she said. "I'm going to end up imagining [Don] speaking in [Tesshō Genda's] voice."
For Tokui, the entire experience has revealed a side of the anime industry that she had never really been aware of before. "The making of this anime was a real learning experience for me." Tokui reflected. "I went every week to Tatsunoko Production and participated in the script meetings and, after recordings, there's the process called 'dubbing' where they add sound effects and background music that I got to observe. So I got to see how an anime is made. It really made me appreciate my job."
It's rare for voice actors to be involved in the production side of anime beyond their own acting, so seeing what goes into making Makeruna!! Aku no Gundan! a reality on screen has given her a new perspective that few other voice actors have. Said Tokui, "Recording the voice actors' performances is probably only about one-fifth of the process. I got to see just how much goes on and how many people put in the time and effort to make an anime. I really learned a lot and appreciated it."
Likewise, Tokui has also gained an interest and an appreciation for what goes on in producing and printing a manga. "I'd like to visit a printing factory sometime." Tokui remarked.
Sora Tokui has succeeded as both a voice actor and as a manga artist. She also has massive experience on stage as both an actor and a singer. Even after such accomplishments, there are still areas she has yet to experience. "Strangely enough, I've never played a male role, like a young boy. I'd like to do it someday," Tokui stated. Also, along with her appreciation in what goes on behind the scenes in production, she expressed an interest in that area. "I really found the production side fascinating. So I'd like to try things like coming up with sounds and backstage things like that."
To her fans outside of Japan, Tokui said, "It's really surprising to find out that people overseas know about me. I'm always happy when people approach me when I visit overseas and talk to me. I hope that I can continue to meet my fans throughout the world to thank them in person and to liven things up together with them."
Makeruna!! Aku no Gundan! can be viewed with English subtitles on Crunchyroll.