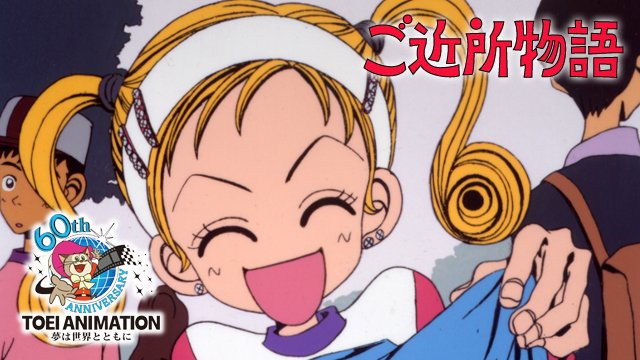 Image Source: 東映アニメーション公式 on Twitter
Rumi Shishido has been the voice of more than a few anime characters: M.O.M.O. in Xenosaga, Lopmon in Digimon Frontier, and Onpu in Ojamajo DoReMi, just to name a few. But that's not all she is. She's also a professional singer—and the rare example of one that has been successful without the backing of an agency.
[Disclosure: Rumi Shishido is a personal friend of mine.]
Born in Fukuoka's Hakata ward in 1973, Shishido moved to Hiroshima at age two with her mother when her parents divorced. She lived a normal life, sometimes watching anime like Candy Candy and Hana no Ko Runrun, until she turned sixteen and moved to Tokyo all on her own. Why? Because she was the winner of an idol audition held by Japanese confectionery company Lotte. Shishido was the single winner chosen out of approximately 85,000 hopefuls.
At the time of the audition, however, Shishido was at a homestay in Seattle and her school wouldn't let her go home alone. Her mother had to fly from Hiroshima to the United States to pick her up and then bring her back to Japan.
"My mother had actually wanted to be an actress in Tokyo when she was young and even appeared in a commercial, but because of the age my mother lived in, she had to give up her dreams due to her family's opposition," she told me, "She told me that she was surprised when I started to say I wanted to do the same thing. 'I guess that's DNA,' she said."
In the West, fans love Shishido for her many voices in anime, but many don't know that she's actually nationally famous in Japan for being an idol when she was younger. Debuting as an idol in 1990 at the age of 16, Shishido traveled the entire country, singing at festivals and performing in variety shows. For two years, Shishido sang and danced in what she described as the "sparkly part of the industry," but despite this, she remembers the harshness of the idol world.
"We were told not to talk to other idols. It was strictly forbidden to talk about our wages or what work we were going to do next. All we could really say to each other was, 'Good weather we're having.' We weren't allowed to make friends."
At the time, music programs on TV were starting to die out, being replaced by variety shows. Even today, variety programs are a big deal in Japan and can be seen on just about every public channel the country has to offer. Variety shows can be a number of things, but usually have talk segments with plenty of reputable guests to talk and react to various news stories, anecdotes, and other crazy things. Although she was put on variety shows on multiple occasions, Shishido felt it difficult to speak without being prompted.
"Even if the program was a one-hour live special, 'Hello. My name is Rumi Shishido' might have been the only thing I said the entire time. But I got scolded afterward when that happened."
Shishido had aimed to become an idol not because she held an admiration for idols, but because she wanted to become someone like actress Etsuko Ichihara. Her way into the same world as Ichihara just happened to be an idol audition. However, because Shishido felt more of an affinity for singing, acting, and creating things, she ended up quitting her job as an idol with Lotte after just two years. At the age of 18, Shishido says she might have become one of the first "underground idols," performing at music clubs—sometimes alongside rock bands—and making and selling her own CDs.
The first CD Shishido produced independently was titled "SET ME FREE," and was created under famous actor Lily Franky's brand new label for indie pop music. Although Shishido was eager to be the first singer to kick off his new label, there was a big price to pay to participate.
"I said, 'I'll do it!' And he told me, 'Then go borrow money from your mom.' And I was like, 'Excuse me??' So I called my mom and said, 'Please lend me 500,000 yen [about USD $4,000 in 1992]! I'll pay you back double!' I brought the money to him and we recorded the album. I borrowed a microphone, got into a closet in the album's composer's house, and recorded."
The cover features an image of the once-pure idol Rumi Shishido with a gag ball in her mouth, which Franky told her would give her impact. Shishido actually had to go buy the gag ball herself from a risque shop in Tokyo's Shinjuku neighborhood, which is famous for its red light district. While Shishido had thought the idea was odd at the time, the impact of this cover lead her to being featured in reporter Neil Strauss' "The Pop Life" New York Times article in 1995 alongside other acts like Pizzicato Five and The Boom. Strauss wrote, "With a ripe melodic voice, Ms. Shishido manages to sound as innocent as Debbie Gibson and as world-weary as Liz Phair…"
"When you're indie, it's hard to get the word out there, so it's all up to the impact of the jacket, Lily-san told me. The physical version sold out completely. Every copy we made was sold."
Even better, Shishido was able to pay back the money she borrowed from her mother. However, it was her "DoReMiFaSoLaTiDo ShiShiDoRuMi" that would lead her to entering the world of voice acting. What set this album apart from the rest was the fact that it had a lot of songs with speaking parts in them, giving fans a taste of her speaking voice. Little did she know, but a man from the anime industry had listened to her album and let Toei producer Hiromi Seki—known for such works as Ojamajo Doremi (Magical DoReMi), Lovely Complex, and Digimon Adventure—listen to it, too. As soon as she heard Shishido's voice, Seki apparently said that she was a perfect fit for Mikako, the protagonist of the upcoming anime adaptation of Ai Yazawa's Gokinjo Monogatari (Neighborhood Story) manga.
"She called me to the audition despite many people being very against it. At the time, I was freelance and had no company to back me, so I was really nervous," she recalled, "A lot of people were against me participating. After all, I would be performing the main theme songs and playing the main lead for a show that was scheduled to run for a year-and-a-half—and I was only 21 at the time."
While Toei had already been holding auditions before Shishido came to try out, they couldn't find the perfect girl. However, Shishido told me she wasn't much better at first—she admitted that her first try-out didn't go well. Apparently, the staff rated her acting performance a measly 20 out of 100 points. Even though those around her were saying "See! We told you so!," Seki insisted that they give her some acting direction and try again, since they had gone through the trouble to call her in. With just a few pointers, Shishido shot up to a 70.
"Seki-san told me that I went up a whole lot of points! She said that I'm not just some girl you'd find anywhere, and that I was the one meant for the part. So, that's how I was picked. It was a complete Cinderella story," she reminisced, "Up until that point, I really didn't have any work, but it was at that moment that I felt grateful to be alive."
One of Shishido's most famous roles might just be Onpu in Ojamajo Doremi, another project from Toei Animation directed by Junichi Sato, known for such animated works as Tamayura, Sailor Moon, and Pretear. While the show was released in North America under the title Magical DoReMi by 4Kids Entertainment, it was dubbed only, and Onpu's name was changed to Ellie Craft. However, to Japanese kids born around the 90's, her voice is synonymous with the character.
Ojamajo Doremi revolves around Doremi Harukaze (known as Dorry Goodwin in the English version), a fairly normal elementary school girl who ends up becoming an apprentice witch in order to change the witch she accidentally transformed into a frog back into a human. Her friends Hazuki (Reanne)—a kind girl from an affluent family—and Aiko (Mirabelle)—an energetic girl from Osaka—end up also becoming apprentices and helping her out in her task.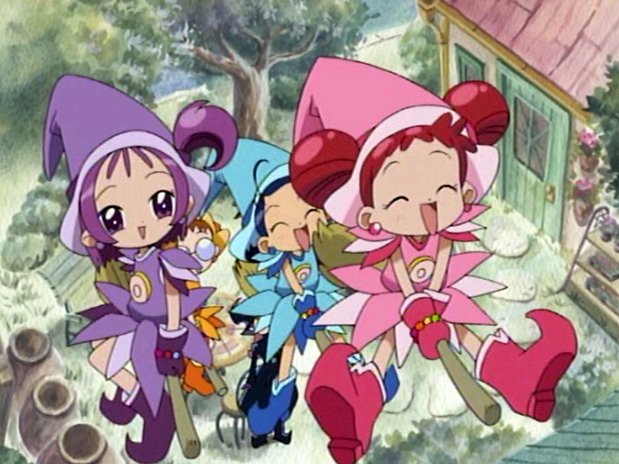 Image Source: おジャ魔女どれみBD-BOX公式 on Twitter
"I tried out for Doremi in Ojamajo Doremi, but they told me I didn't make it. So I was like, 'Oh well, too bad.' But Seki-san said, 'Just wait a little bit. There's a character that will come up later in the show, so just wait.' Apparently, she was thinking about the character Onpu, who was a child idol. It wasn't like I was cast in advance, but it felt like I got a role that fit me perfectly."
Onpu, like Shishido, became a child idol at a young age, but like Doremi and the others, ended up becoming a witch apprentice in order to change back a different witch from frog form. Unlike Doremi, Hazuki, and Aiko, however, Onpu often uses her magic for her own gain. Even after mending her ways, Onpu is still a very cool, calm, and devilish girl who loves teasing people.
Shishido herself told me that she has a personality similar to Onpu's. While Shishido has been able to participate in many shows aimed at children, she says that it's this image given off by Onpu's voice that makes it hard for her to get roles in programs aimed at adults.
"I actually want to do more shows aimed at adults, but I always end up failing at auditions," she told me, "Apparently, I don't really fit the image of 'moé moé.'"
However, in 2009, Shishido got the chance to play Menō Matsuyama in White Album, the anime based on Aquaplus' adult visual novel of the same name about a male college student who gets involved in the darkness of the entertainment industry due to his girlfriend Yuki's debut as an idol. It's a show famous for its large amounts of sex, infidelity, and betrayal. Menō, an anime-original character, is anything but child-friendly. This idol not only gets another girl to sing her songs (and takes credit for them), but also sleeps around and even had an abortion at one point. She is cruel and manipulative but extremely clever.
"The role of Menō was an 'abazure'—do you know what that means? It's a hard word, but basically, it's a bitch," she laughed, "They told me to really bring that out in my acting. And I was like, 'Wait, I don't think I have enough bitch inside me to do this!' But I tried my hardest to really push her bitchiness."
Meno also gave Shishido a chance to sing in anime once again. While she had sung happy tunes as characters like Onpu and Mikako, Shishido's songs as Menō were themed after the music that was popular in 1986, the year in which White Album takes place, and the lyrics written were all about hot, burning love. With lyrics like "My nails are breaking, my hair is falling out, I'm crying all throughout the room" in the song "Dirty Look of Love," it's hard to say that Shishido's character in White Album is anything but sophisticated and adult.
Shishido currently voices Momo Kappa-chan on the long-running anime Hana Kappa, which revolves around a kappa that can change the flower on his head into a number of things, including a cactus, a palm tree, and more. Just like Onpu, Momo Kappa-chan is the idol of her village. Co-starring alongside her is Kappei Yamaguchi (Inuyasha, Ranma 1/2, RIN-NE), the voice of her love interest Tsutomu in Gokinjo Monogatari who played the part twenty years ago. Back then, Shishido didn't know how to read the symbols in a script for anime or write notes. It was Yamaguchi who taught her the ropes when she needed it most. Even now, she sees the effects of him helping her out.
The Voices of RIN-NE Talk about the New Characters and Ongoing Romance in Season Three
"When I looked over at Kappei-san's script during recording for Hana Kappa, I saw that it had the same markings as my own. I guess that's a given, considering he was the one who taught me in the first place. I write my notes the exact same way he does now."
While Shishido told me that she wants to play cute characters like Hana Kappa till the day she dies, she also admitted that she'd like the chance to play the role of a regular woman or mother as well. Because of her love of singing, she told me that voicing a character in a Disney musical movie is her dream.
Besides voice acting, Shishido continues to perform at locales all over the country. To add to this, she even takes fledgling singers and voice actresses under her wing and helps put them in the limelight. In fact, she even featured me as part of her "Seiyū on Finder!" series of interviews where she records the stories of voice actresses, whether they have one or or hundreds of roles. She also gets newbie voice actors and singers to be in her concerts and even her music video (which I was also featured in).
"I guess the reason I take them under my wing is because the girls are around the age of girls who would be my daughters. I want things to go well for them," she explained, "I feel no sense of rivalry because we're not doing the same thing."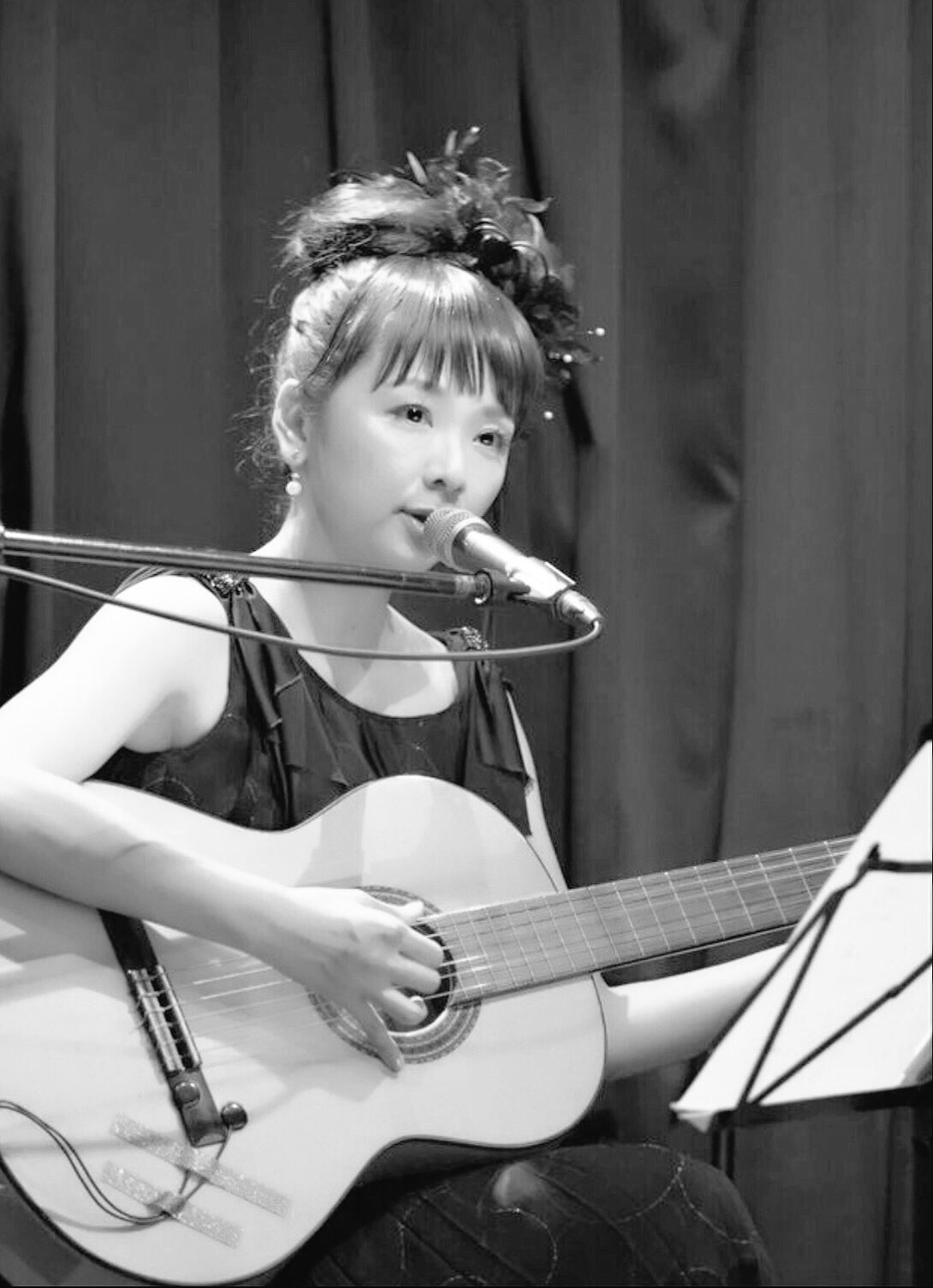 Image Source: 宍戸留美 Rumi Shishido🏉 on Twitter
Even without the backing of an agency to get work, Shishido travels to meet fans, even going to France. She allows photography at her concerts, and even lets fans post pictures of her online—something of a rarity among artists in Japan. However, while social media can be a strong support for her career, it can also be a burden. While it was difficult for Shishido to spread the word about her activities when she was younger due to a lack of internet and not many people having cell phones, now with social media, it's just as difficult due to the giant amount of information circling the web. Sometimes, even if there are fans of hers in the town she goes to, they might not even know in time in order to go to her concerts.
Despite this, Shishido doesn't give up. She keeps trying to improve herself, even teaching herself guitar because she wanted to learn a new skill. Next, she's thinking to learn English.
"What do you imagine yourself doing ten years in the future? What do you want to be doing?" I asked.
"I've never been able to imagine myself years in the future. I'm the kind of person who doesn't really look at what's to come. But I want to continue what I'm doing now and get even better at it," she told me, "I want to improve the quality of everything I do, whether that be singing, playing guitar, or acting."
Rumi Shishido can be heard in a large number of works, including White Album, which is available streaming from Crunchyroll and in North America on home video from FUNimation Entertainment. FUNimation holds the license to Xenosaga: The Animation, and also streams Venus Project -Climax-, which she plays Sei Kuroki in. She can also be heard in Zatch Bell as Reira, which is available in Japanese with subtitles on DVD from VIZ Media. In addition, Shishido plays Enpi-chan and Tsutomu in Ghastly Prince Enma Burning Up, which is available on home video from NIS America. The entirety of Hana Yori Dango (Boys Over Flowers)—the anime in which she played Sakurako in—is available on DVD from Discotek.