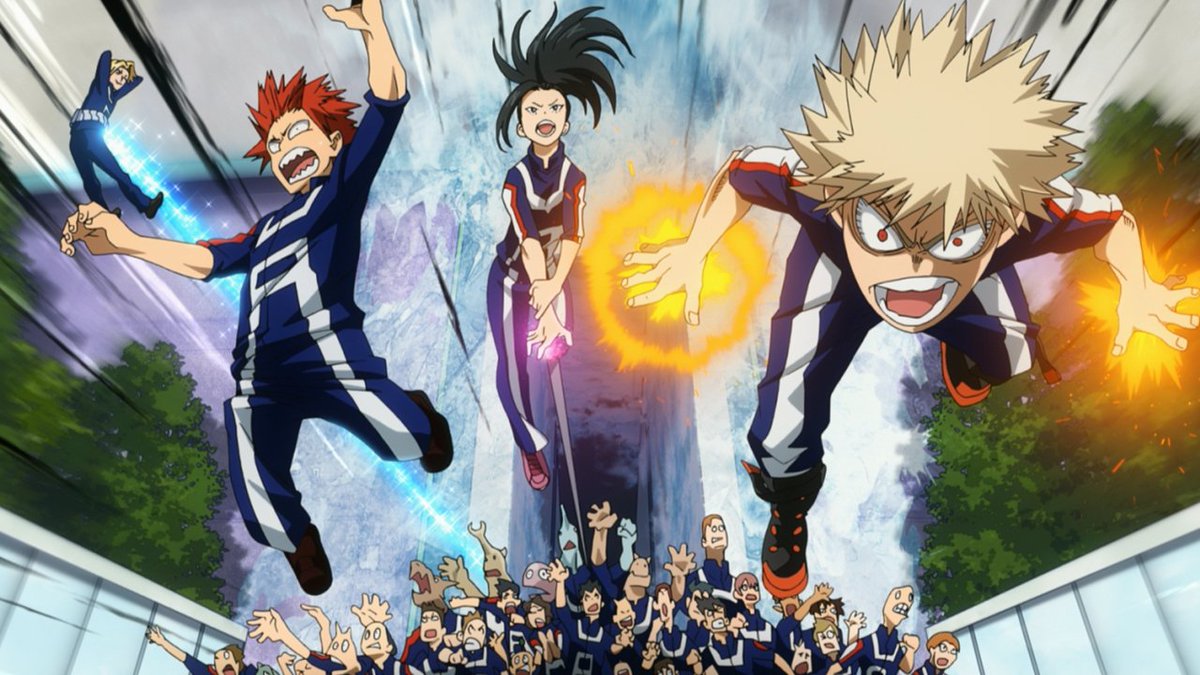 Image source: 僕のヒーローアカデミア_アニメ公式 on Twitter
The U.A. High School Sports Festival in My Hero Academia Season Two is a chance for all the students to show off their superpowers—or "quirks" as they are called—to professional hero agencies. But if you're having trouble keeping all those characters and powers sorted out, we're here to help.
[Note: This article contains minor spoilers for My Hero Academia season 1 and 2.]
---
Class 1-A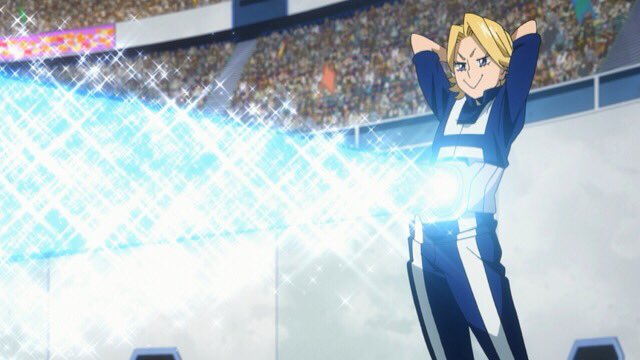 Image source: 僕のヒーローアカデミア_アニメ公式 on Twitter
Yūga Aoyama
The vain Yūga Aoyama has dubbed his quirk "Navel Laser." As the name suggests, he has the ability to shoot a laser beam from his navel. With a specially designed belt, he has even more control over the beam. Unfortunately, he gets an upset stomach if he fires the beam for longer than one second or repeatedly.
---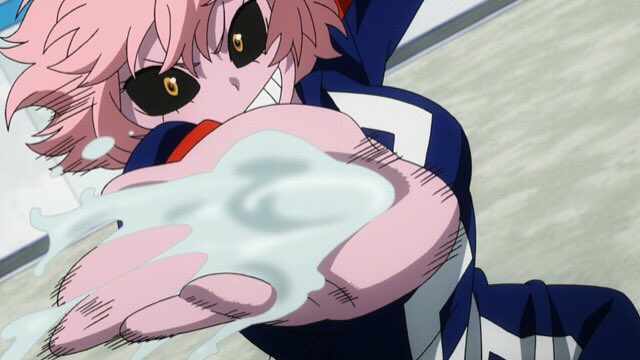 Image source: 僕のヒーローアカデミア_アニメ公式 on Twitter
Mina Ashido
The cheery mood maker of class 1-A, Mina Ashido's quirk is "Acid." She can release acid from her body and control its pH and viscosity.
---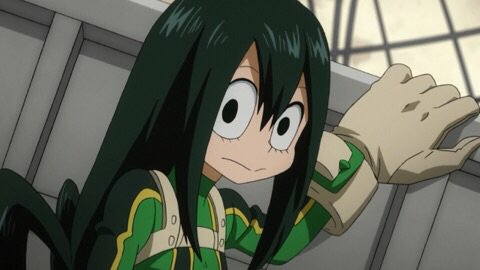 Image source: 僕のヒーローアカデミア_アニメ公式 on Twitter
Tsuyu Asui
A girl who says what's on her mind, Tsuyu Asui's quirk is "Frog." This gives her superior swimming and jumping, a tongue that can stretch up to 20 meters (approx. 66 ft.), the ability to stick to and climb vertical surfaces, a mild numbing venom, and the ability to excrete her stomach and clean it.
---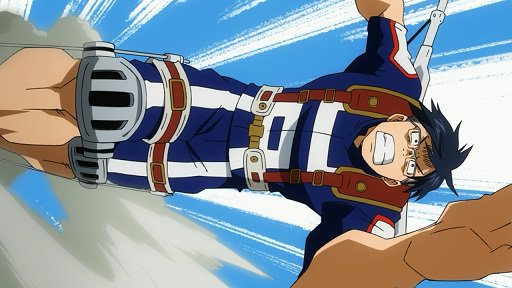 Image source: 僕のヒーローアカデミア_アニメ公式 on Twitter
Tenya Iida
The Class 1-A Class President, Tenya Iida's quirk is "Engine." He has an "engine block" in each calf that gives him super-speed. He can shift the "gears" of his engines between 1, 2, and 3, for more power and speed.
---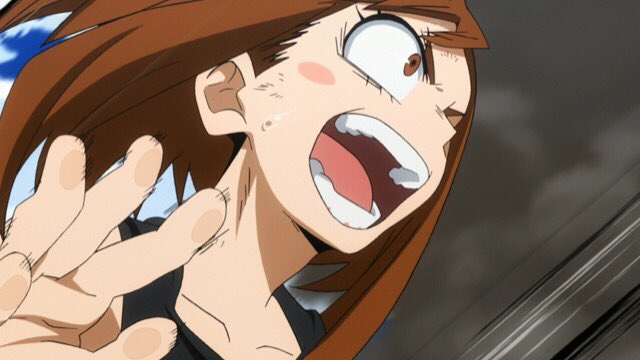 Image source: 僕のヒーローアカデミア_アニメ公式 on Twitter
Ochako Uraraka
A bright girl, Ochako Uraraka named her quirk "Zero Gravity." This gives her the ability to negate the gravitational pull on a person or object for a short period of time. However, she has to touch the person or object with the tips of all five fingers for the power to activate. She also becomes sick to her stomach if she negates the gravitational pull over a certain weight.
---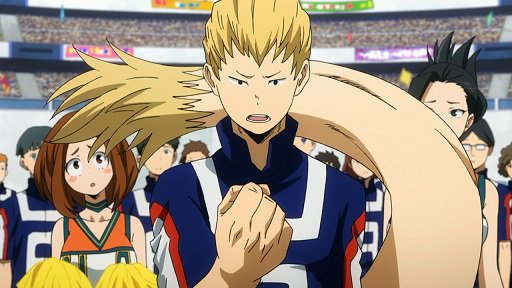 Image source: 僕のヒーローアカデミア_アニメ公式 on Twitter
Mashirao Ojiro
The soft-spoken boy, Mashirao Ojiro's quirk is his mighty tail. As a fifth limb, he can use his tail in combination with is martial prowess for devastating attacks.
---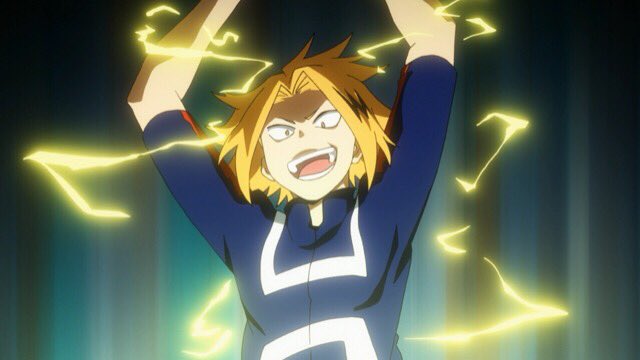 Image source: 僕のヒーローアカデミア_アニメ公式 on Twitter
Denki Kaminari
The playboy of Class 1-A, Denki Kaminari's quirk is "Charge." This allows him to release electrical shocks from his body. Unfortunately, he can't direct the electrical shocks. If he releases too much energy at once, his brain short circuits and he temporally loses higher cognitive functions.
---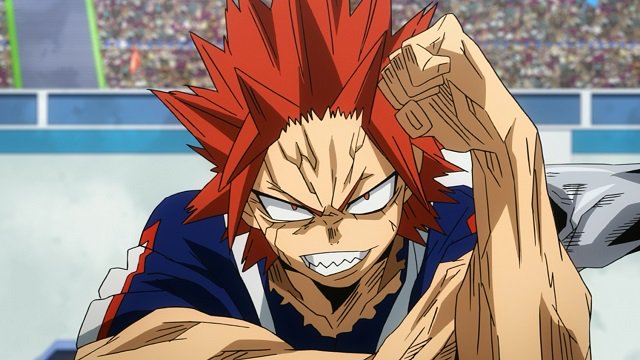 Image source: 僕のヒーローアカデミア_アニメ公式 on Twitter
Eijiro Kirishima
The hot-blooded Eijiro Kirishima's quirk is "Hardening." He can harden his body, making him invulnerable to any damage.
---
Mezō Shōji
A student with four additional arms, Mezō Shōji calls his quirk "Arm Replication." He can replicate any organ at the tip of his four extra limbs. So far he has replicated hands, ears, and mouths.
---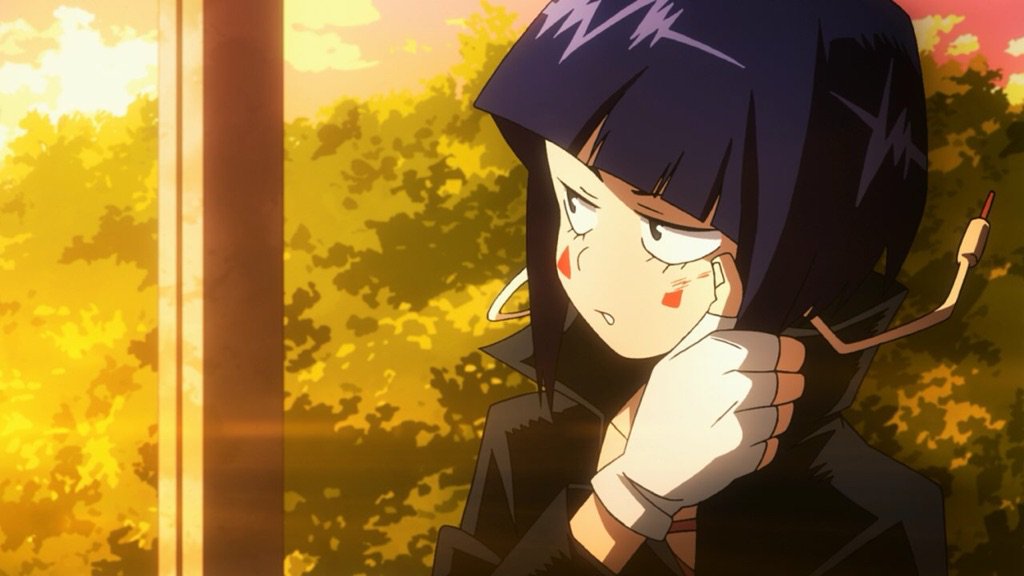 Image source: 僕のヒーローアカデミア_アニメ公式 on Twitter
Kyōka Jirō
The punk-rock costumed girl Kyōka Jirō named her quirk "Headphone Jack." From her headphone jack protrusions on her earlobes she can plug the jacks into any audio socket. This allows her to either listen to music (input) or transmit the sound of her heartbeat (output).
---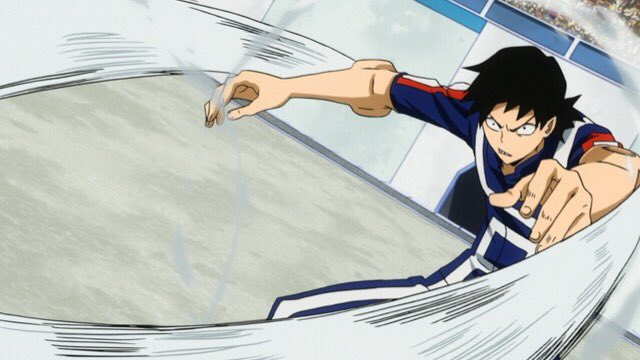 Image source: 僕のヒーローアカデミア_アニメ公式 on Twitter
Hanta Sero
A thin boy, Hanta Sero's quirk is "Tape." He is able to shoot cellophane tape from either elbow. In the third volume of My Hero Academia manga (Japanese volume Page 128), author Kohei Horikoshi said Hanta Sero's quirk is one of his favorites.
---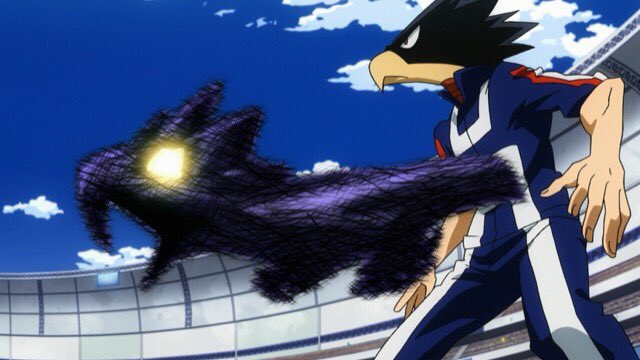 Image source: 僕のヒーローアカデミア_アニメ公式 on Twitter
Fumikage Tokoyami
A cool and level headed student, Fumikage Tokoyami calls his quirk "Dark Shadow." He has control over his corporeal shadow. The strength and amount of control he has on his shadow depends on the amount of light there is. The more light, the weaker the shadow is, but the more control he has. Less light gives the shadow more power, but gives him less control.
---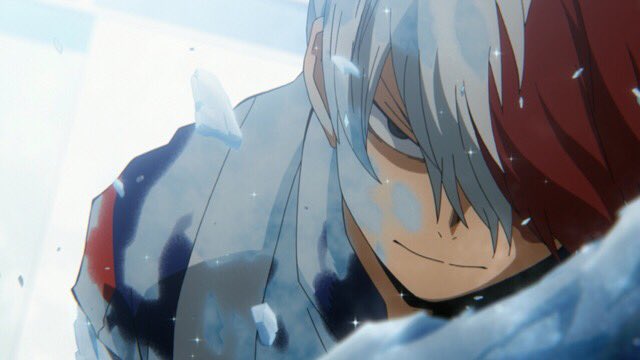 Image source: 僕のヒーローアカデミア_アニメ公式 on Twitter
Shōto Todoroki
The son of the number two hero, Shōto Todoroki has two quirks: "Fire and Ice." The left half of his body is able to produce ice and his right half fire. However, because he resents his father—from who he inherited his fire power—Shōto only uses his left side.
---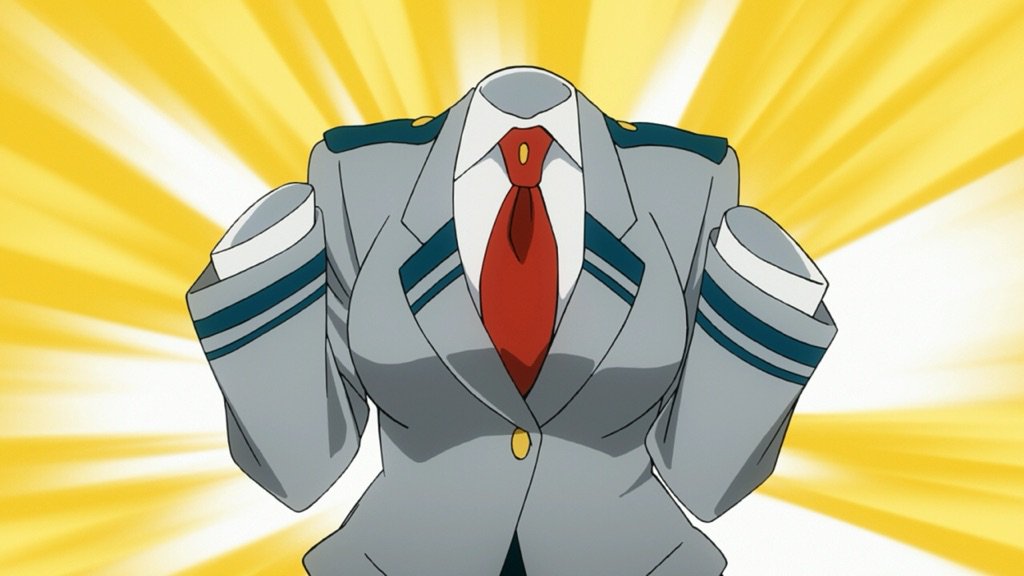 Image source: 僕のヒーローアカデミア_アニメ公式 on Twitter
Tōru Hagakure
The invisible girl, Tōru Hagakure's quirk is "Invisibility." Her quirk is always active making her body invisible. Her hero suit is a pair of gloves and shoes, which means she runs around in her birthday suit.
---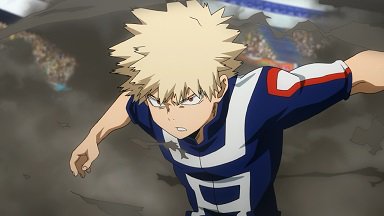 Image source: 僕のヒーローアカデミア_アニメ公式 on Twitter
Katsuki Bakugō
The ever-confident Katsuki Bakugō's quirk is "Explosion." His sweat produces nitroglycerin rather than the normal saline solution. The more he sweats, the more nitroglycerin he produces, making him a dangerous opponent.
---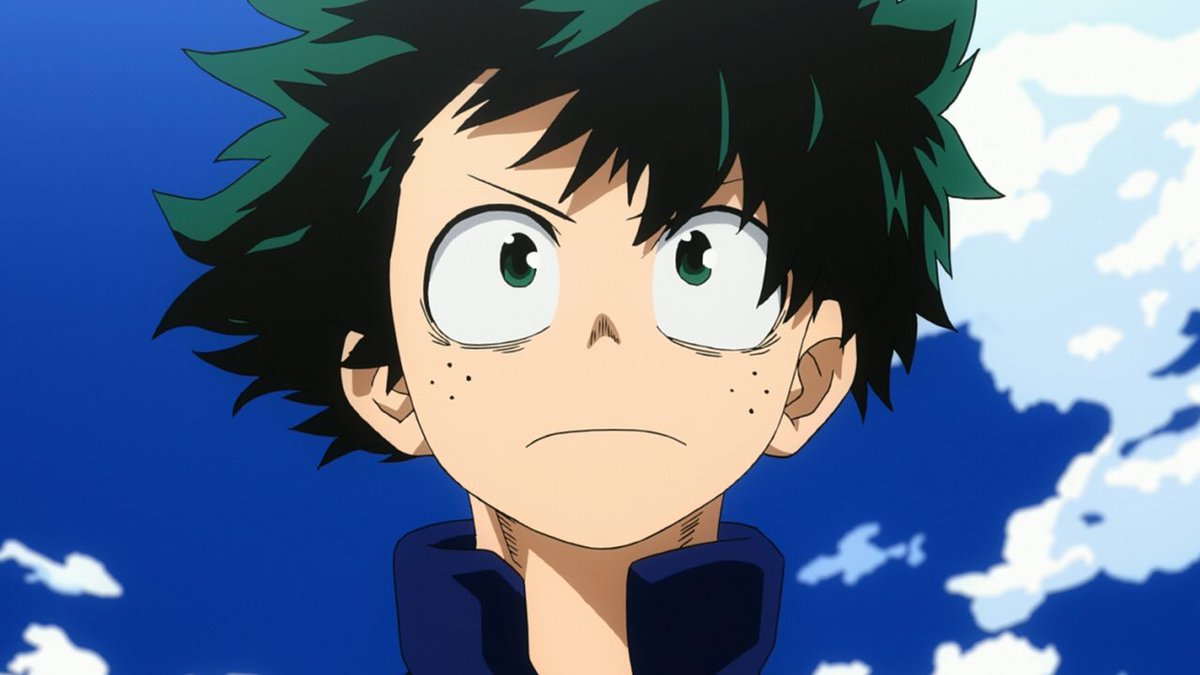 Image source: 僕のヒーローアカデミア_アニメ公式 on Twitter
Izuku Midoriya
Our hero, Izuku Midoriya didn't have a quirk until the number one hero All-Might bestowed onto him "One For All." One For All gives Izuku superhuman strength and speed. Unfortunately, he can't control the power yet. So, Izuku's body is constantly damaged when he uses the power.
---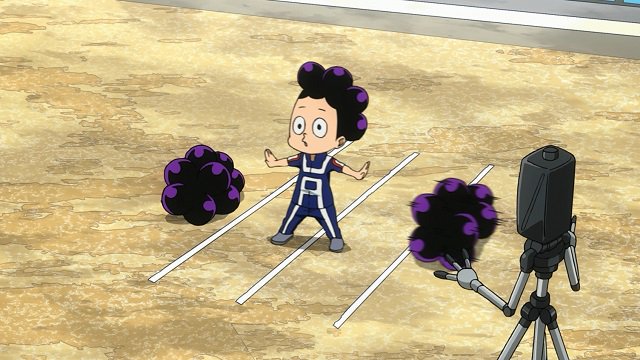 Image source: 僕のヒーローアカデミア_アニメ公式 on Twitter
Minoru Mineta
The lewdest boy of Class 1-A, Minoru Mineta's named his quirk "Super Sticky." The hair on his head grows into super sticky balls. He can remove the balls at will and they instantly grow back. Anyone who touches the balls, other than Minoru, will stick to them. Minoru can use the balls as trampoline thanks to their high elasticity.
---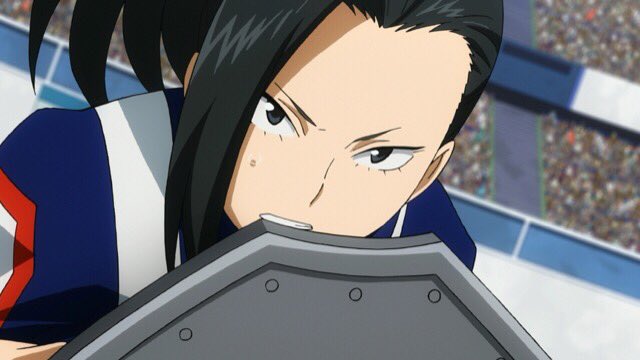 Image source: 僕のヒーローアカデミア_アニメ公式 on Twitter
Momo Yaoyorozu
The Class 1-A Vice Class President, Momo Yaoyorozu's quirk is "Creation." She can create any inorganic object from her body so long as she knows its molecular structure.
---
Class 1-B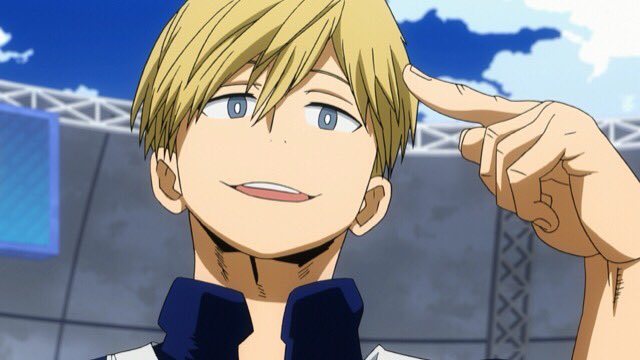 Image source: 僕のヒーローアカデミア_アニメ公式 on Twitter
Neito Monoma
An observant student, Neito Monoma's quirk is "Copy." He is able to copy the quirk of one other person for five minutes.
---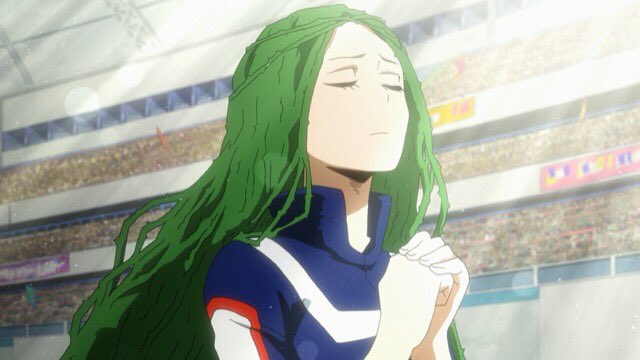 Image source: 僕のヒーローアカデミア_アニメ公式 on Twitter
Ibara Shiozaki
A courteous girl, Ibara Shiozaki's quirk is "Vines." The hair on her head grows like vines and she can use them to attack and defend against her opponents. She can also detach the vines at will. The vines will keep growing if they get enough water and sunlight.
---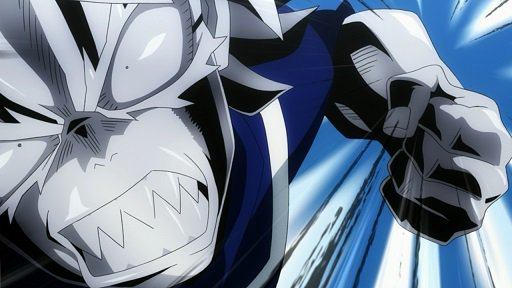 Image source: 僕のヒーローアカデミア_アニメ公式 on Twitter
Tetsutetsu Tetsutetsu
A hot-blooded student, Tetsutetsu Tetsutetsu's quirk is "Steel." He is able to turn his body into steel, making him invulnerable to any damage.
---
Class 1-C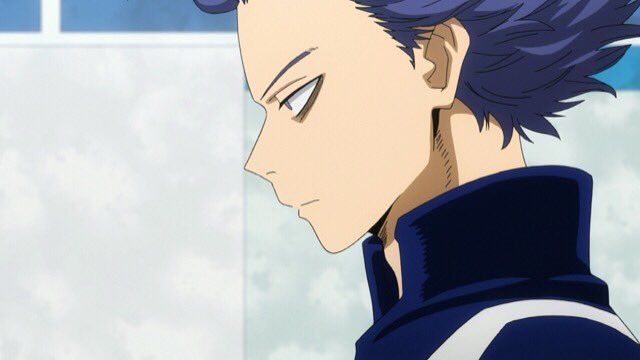 Image source: 僕のヒーローアカデミア_アニメ公式 on Twitter
Hitoshi Shinso
A slightly negative boy, Hitoshi Shinso's quirk is "Brainwashing." This gives him the ability to brainwash anybody who answers a question of his. While this sounds like a quirk made for a villain, it's all about how Hitoshi uses it.
My Hero Academia Shows Superpowers Aren't Inherently Good or Evil
---
Class 1-H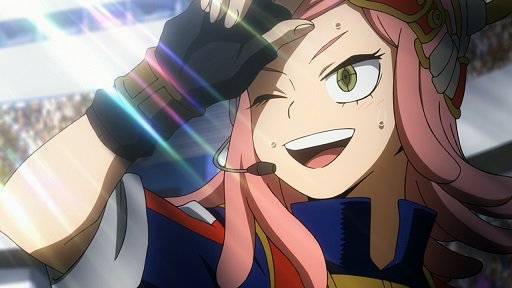 Image source: 僕のヒーローアカデミア_アニメ公式 on Twitter
Mei Hatsume
An energetic inventor, Mei Hatsume's quirk is "Zoom." This allows her to zoom in on objects or people at long distances. If she focuses, she can zoom in on something that's 5 Km (approx. 3 miles) away.
---
There are a lot of quirks in My Hero Academia and we've only scratched the surface. Who knows what sort of fun, dangerous, or heroic quirks will come up as the series progresses?
My Hero Academia is currently streaming on FUNimation, Crunchyroll, and Hulu.