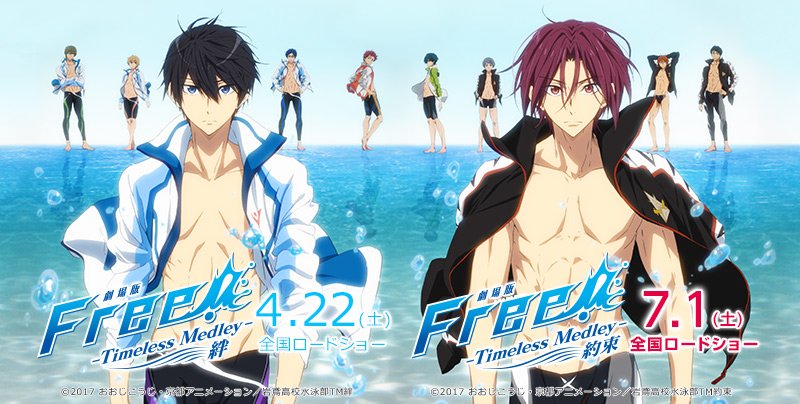 Image Source: 「Free!」シリーズ公式 on Twitter
It's been four years since Kyoto Animation's Free! anime about hot, shirtless boys in a swimming club dealing with their emotional struggles aired. Four years! With a brand new film scheduled to dive into theaters this year, it's the perfect time to catch up with the anime's very first compilation film: Free! -Timeless Medley- the Bond. Don't worry, though—it has enough new tidbits to satisfy fans.
Free! is the story of Haruka Nanase, an aloof boy who doesn't really care for anything else except swimming. He used to swim at school, but due to his best friend and rival Rin Matsuoka (seen above right) leaving to train in Australia—and some other things that happened in middle school—Haruka isn't really in a rush to join his new high school's swimming club. However, with some convincing from his childhood friends, he helps them start the Iwatobi Swim Club and return to swimming competitively.
You're going to need that summary if you're going to watch this movie, because the movie jumps over the entirety of season one and instead covers the events of season 2, also known as Eternal Summer. And that might be for the best. This film mainly focuses on Haruka, and while season 1 is about forming the bonds between the Iwatobi Swim Club members, one of season 2's main plot points is about Haruka's emotional struggles. The events of season one that affected Haruka—including ones that affected his relationship with his close childhood friend Makoto—are simply reviewed in a series of very quick flashbacks accompanied with soothing background music.
Despite being aloof most of the time, in this film, Haruka realizes that he is no longer just swimming for himself and his friends he enjoys swimming alongside, but instead is swimming for high scores and fast times. While swimming used to be a magical experience where he felt, well, free, now the people around him are telling him to get high scores so he can catch the eye of recruiters and go to a prestigious college. While he once had so much love for the sport, the expectations pressing down on him and his lack of an actual dream for the future terrifies him.
Without a doubt, the main focus of this film is on Haruka. Portions about Rin's development with his good friend Sōsuke are completely cut out—in fact, Sōsuke only appears for approximately ten seconds at the very end of the film. While Rin and Sōsuke will get their time to be in the spotlight in the next compilation film—Free! -Timeless Medley- the Promise—this film is edited in a such a way that it becomes a tale of Haruka's crisis.
The focus on Haruka is so strong that the other characters don't come into play unless it's to further Haruka's advancement as a character. The majority of Rei and Nagisa's scenes, for example, are noticeably cut. In their place, however, the film makes multiple nods to the anime's prequel film High Speed, including adding a brand new brief scene with Rei and Asahi that directly connects to the prequel. The newly animated final scene in the movie also features a High Speed character, and seems to not only connect to the next compilation film, but also to the upcoming completely original film, Free! -Take Your Marks-.
Only Free has the balls to let Japanese girls take pictures in the movie theater. pic.twitter.com/hdJDnPpX4R

— Sarah Nelkin (EN) (@S_NelkinEN) May 9, 2017
Speaking of new footage, this film contains a completely new scene at the beginning of the film in which four characters (which change each week the film is screening in theaters) appear and have a little chat before the story starts. It even has a special segment in which fans in the movie theater can take a picture of an original illustration featuring the characters in different costumes (my screening had Rin, Sōsuke, Aiichirō, and Momotarō, seen above).
This film is not for newcomers to the series, but instead serves as a refresher for fans. And that's not a bad thing—It serves its purpose by giving viewers the same emotional story again while adding in new material to tie in what's yet to come.
Season 1 and season 2 of Free! – Iwatobi Swim Club are available on Crunchyroll. There is no word on an English release for the prequel film, two compilation films, or the new, original film Take Your Marks that is scheduled to premiere in Japan later this year.