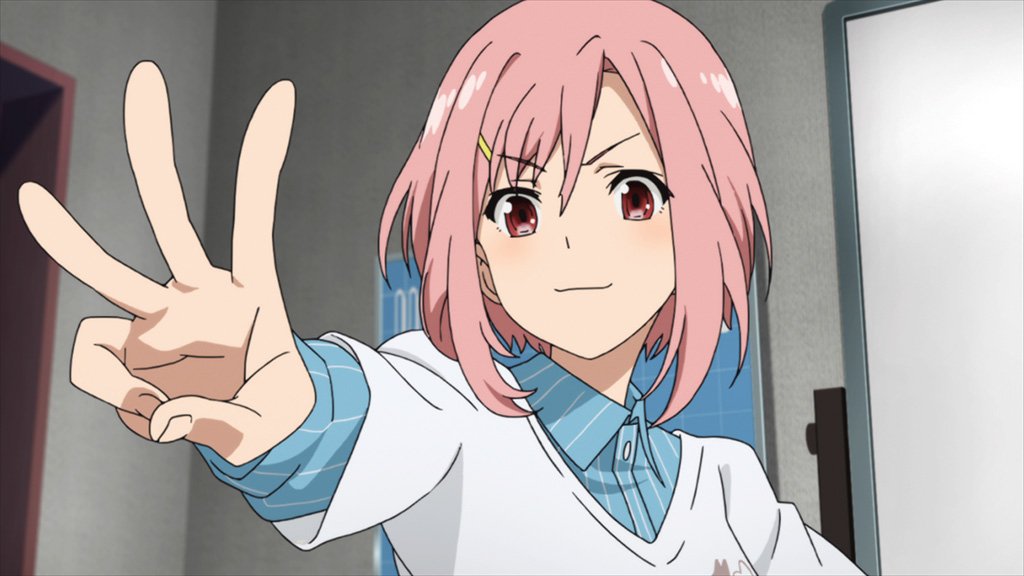 Image source: TVアニメ「サクラクエスト」出勤中! on Twitter
The characters of Sakura Quest have the daunting task ahead of them of revitalizing a slowly dying town. Fortunately, they are not without previous successes that they can look to.
In Sakura Quest, five characters come together to come up with a way to revitalize the rural city of Manoyama. It's a real issue that many rural areas in Japan are currently facing with towns essentially bleeding out due to an aging population and the loss of younger generations who are drawn to the glitz and glamor of the big city. It's so prevalent that the topic of schools being forced to close due to lack of students has become an anime trope at this point.
One way towns, cities, and regions try to fight this slow death is by drawing interest to themselves to help increase tourism. Interest grows, tourism increases, the local economy gets better, the town/city/region becomes more lively and quite possibly seen as a possible place to live and raise a family. It's a good idea on paper, but has proven to be very difficult in practice—as can be seen by the fictional, yet very realistic results depicted in Sakura Quest. However, in Japan, there are examples of places that have successfully done this and put themselves back on the map. Here are a few such places.
The rural town located in the Ibaraki prefecture is one of the few—and probably the most successful—examples of a town that was revitalized through an anime. Originally a town with a fairly robust tourism trade, Ōarai's popularity was heavily damaged by the 2011 earthquake and subsequent Fukushima nuclear power plant disaster.
It was the popular series Girls und Panzer that made Ōarai a location that is now regularly visited by fans. Girls und Panzer is not the first anime series to feature and promote a real location. However, it proved different from other cases in the active and vigorous mutual support between the anime production company and the local population.
Currently, the town of Ōarai is the most visited location in the Ibaraki prefecture, with over 4.44 million visitors a year. This is no small part due to the continued promotion and popularity of Girls und Panzer.
The Town of Ōarai and Girls und Panzer: A Collaborative Success Story
Another rural town that managed to make its mark thanks to anime. Focusing on the trend of anime fans to go on "pilgrimages" to real life locations that appear in popular anime series, the Chichibu government formed a local organization to find a way to utilize this trend for tourism. The first attempt was a collaboration with the series, Galaxy Express 999. However, it was the tie-in with the popular 2011 series, Anohana: The Flower We Saw That Day that really set things in motion. Anohana was a serious famous for moving its fans to tears. The series elevated Chichibu to subculture fame due to the series' popularity, making it a regular pilgrimage spot since.
Initially, the local government was rather reserved in its self-promotion when the series aired. However, it was when they noticed a substantial increase in fans visiting the town that they took charge and more tie-in products and active promotional material began appearing at local shops and landmarks.
Chichibu again appeared in an anime in the 2015 anime film, The Anthem of the Heart, which was from the same staff that worked on Anohana. Chichibu has managed to utilize its increased popularity to promote its local festivals and other tourist attractions as well.
The village of Achi has been designated as the village with the most beautiful night sky in Japan by Japan's Ministry of Environment. A small village with a population of around 6,500 and placed near the top of the list of villages/towns/cities "likely to vanish," Achi managed to utilize its starry sky in a creative way to boost its tourism. Rather than simply set up an observatory—an idea that was initially tossed around—the local government set up its local cable car lift as a tourist attraction.
By incorporating the cable car in a new "Night Tour" attraction, the town was able to simultaneously draw in tourists and create jobs to maintain the attraction, leading to an actual population increase in of the village for the first time in years. Initially, tourism was slow at first with only three visitors on the first day the attraction opened in 2012. However, the number gradually increased, bringing in around 6,500 people the first year. By 2015, the annual number of visitors had increased to around 60,000.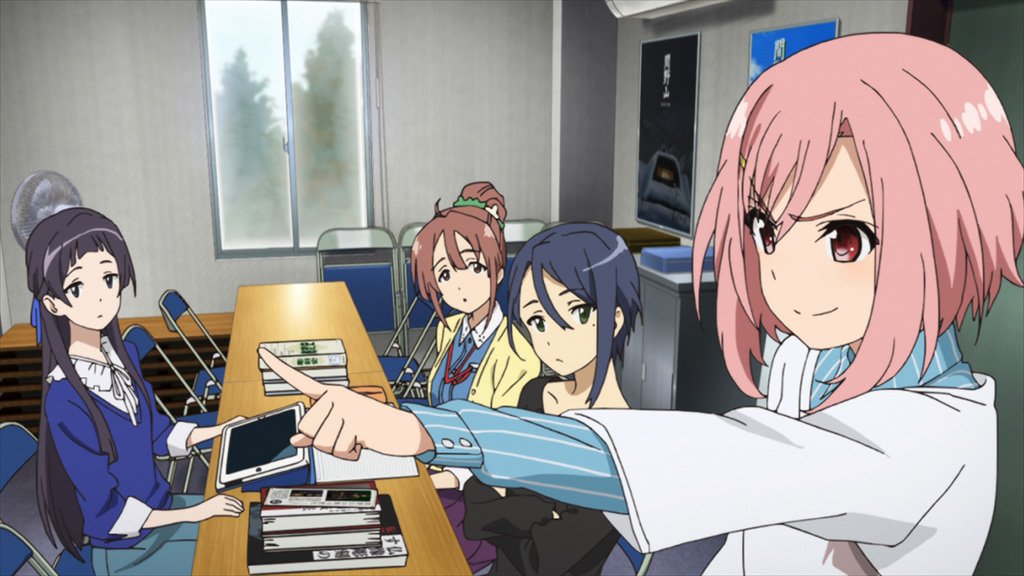 Image source: TVアニメ「サクラクエスト」出勤中! on Twitter
These are only a few examples of successful revitalizations in Japan. And this is from among the various other examples that have had less-than-satisfactory results and are continuing to struggle. The places that have seen successful revitalization only managed to do so after much trial and error and it was never an overnight miracle. That said, while it may be difficult, revitalizing a village/town/city is not an impossible undertaking given the right circumstances and solution or solutions. I look forward to seeing what the characters of Sakura Quest come up for Manoyama and what they can teach other places seeking to do the same.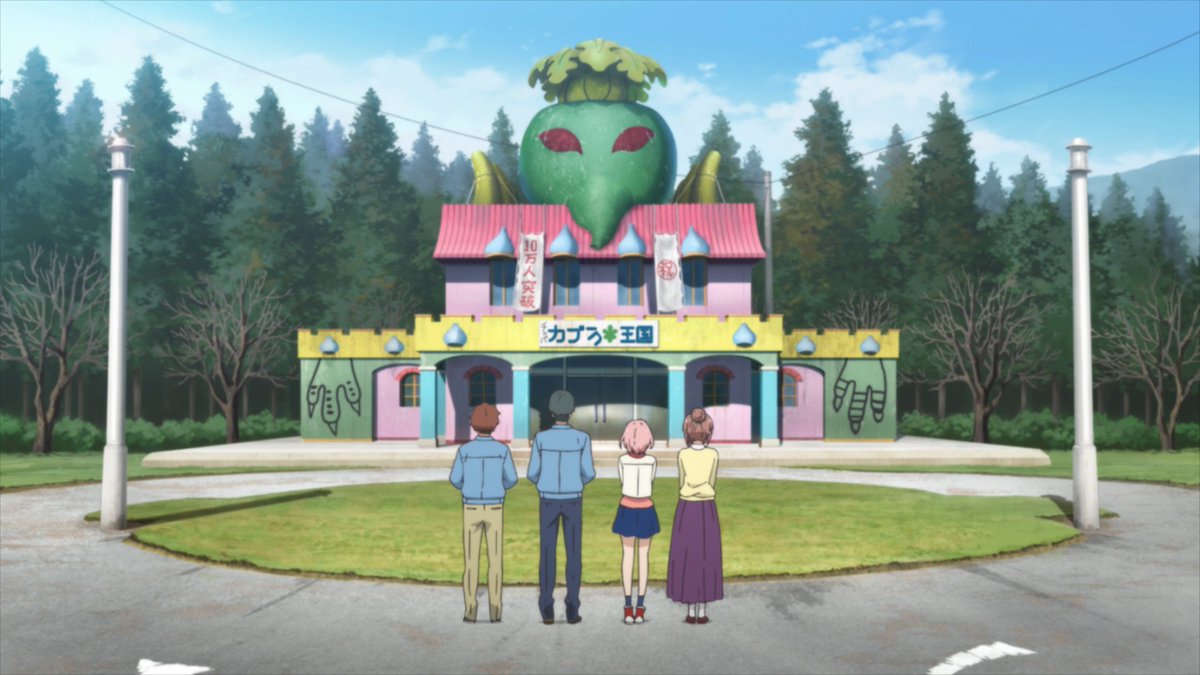 Image source: TVアニメ「サクラクエスト」出勤中! on Twitter
Sakura Quest can be viewed with English subtitles on Crunchyroll and with English dialogue on FUNimation.