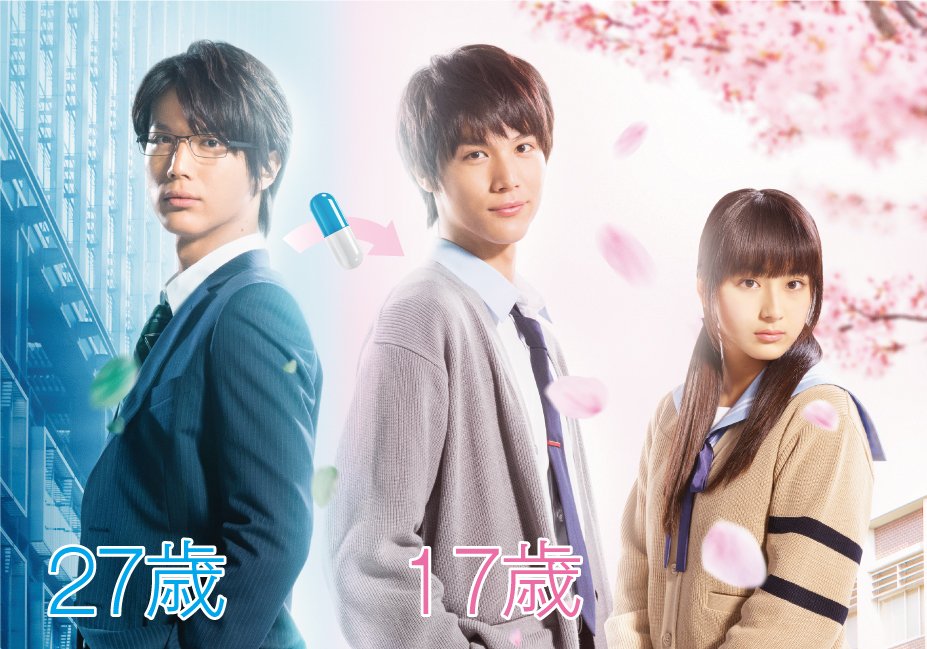 Image Source: 映画『ReLIFE リライフ』 on Twitter
Live-action adaptations of manga or anime are often crapshoot: sometimes they're great, sometimes they're… not. So to be completely honest, as ReLIFE is a manga that I really like, I was a bit afraid going into the movie theater. However, after the movie ended, I had one thought: "That was the best adaptation of the manga I've ever seen."
Now, wait, hold your pitchforks and let me explain.
I've seen the anime and even went to see the play when it was on stage in Tokyo. While both had their merits, I feel like this movie grasps the meaning "adaptation" by the horns, and by doing so, becomes a film that not only works great as a tribute to the source material, but also a stand-alone movie.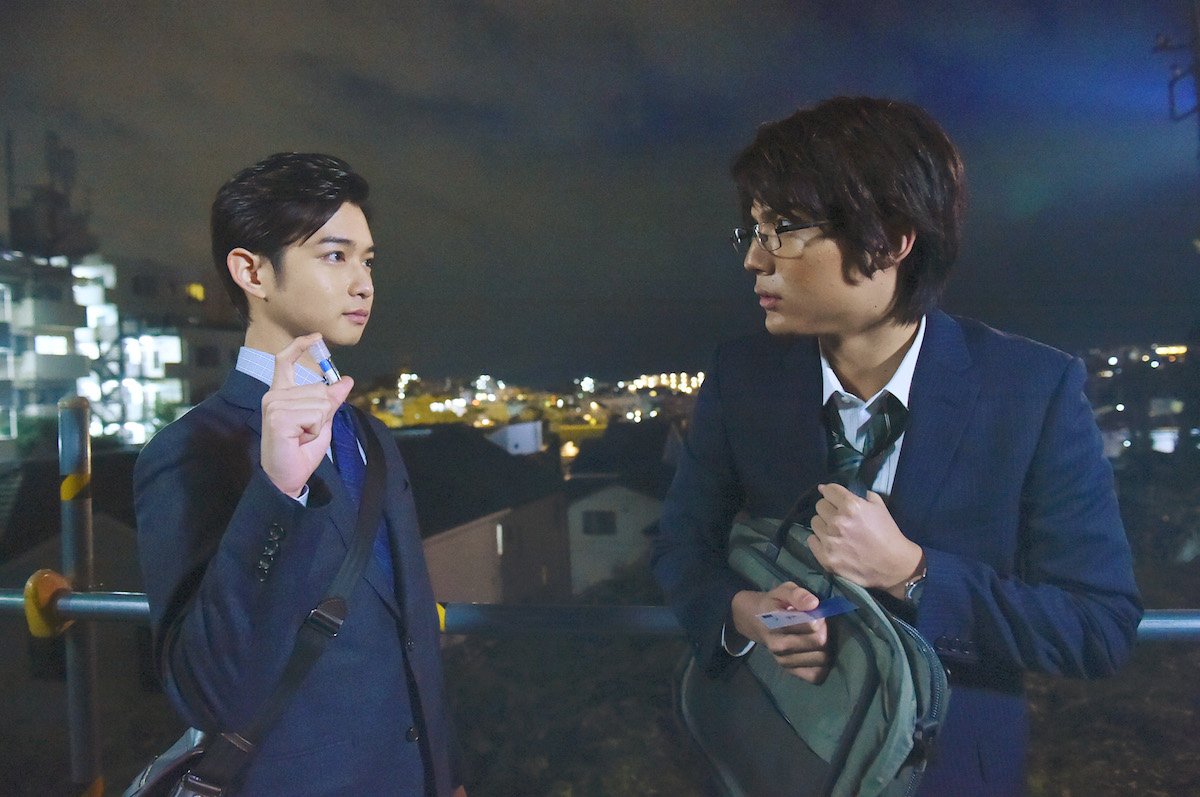 Image Source: 映画『ReLIFE リライフ』 on Twitter
First, let's start with the story. Arata Kaizaki (played by eighteen-year old actor Taishi Nakagawa) is an unemployed 27-year old man with limited money and no girlfriend. He's college educated, but thanks to him quitting the company he was at within five months, no other place wants to hire him. In the lowest point of his life, he is approached by Ryō Yoake (Yudai Chiba), a researcher at the ReLIFE Laboratory. Yoake invites Arata to take part in the ReLIFE experiment, which allows the subject who isn't doing well in adult society to return back to the physical age of 17 with a special pill and rehabilitate themselves by spending one year in high school.
During this time, all the subject's living expenses will be covered by the lab, and after the experiment is complete, the subject will get a job at the company of his or her choice. Tempted by these conditions, Arata bites, takes the pill, and goes back to high school as a 17-year old. There's only one catch: after his one year is over, everyone he encountered during his high school life him will forget that he even existed. While his own memories will remain, they will be erased if it is found out by anyone that he is a ReLIFE subject.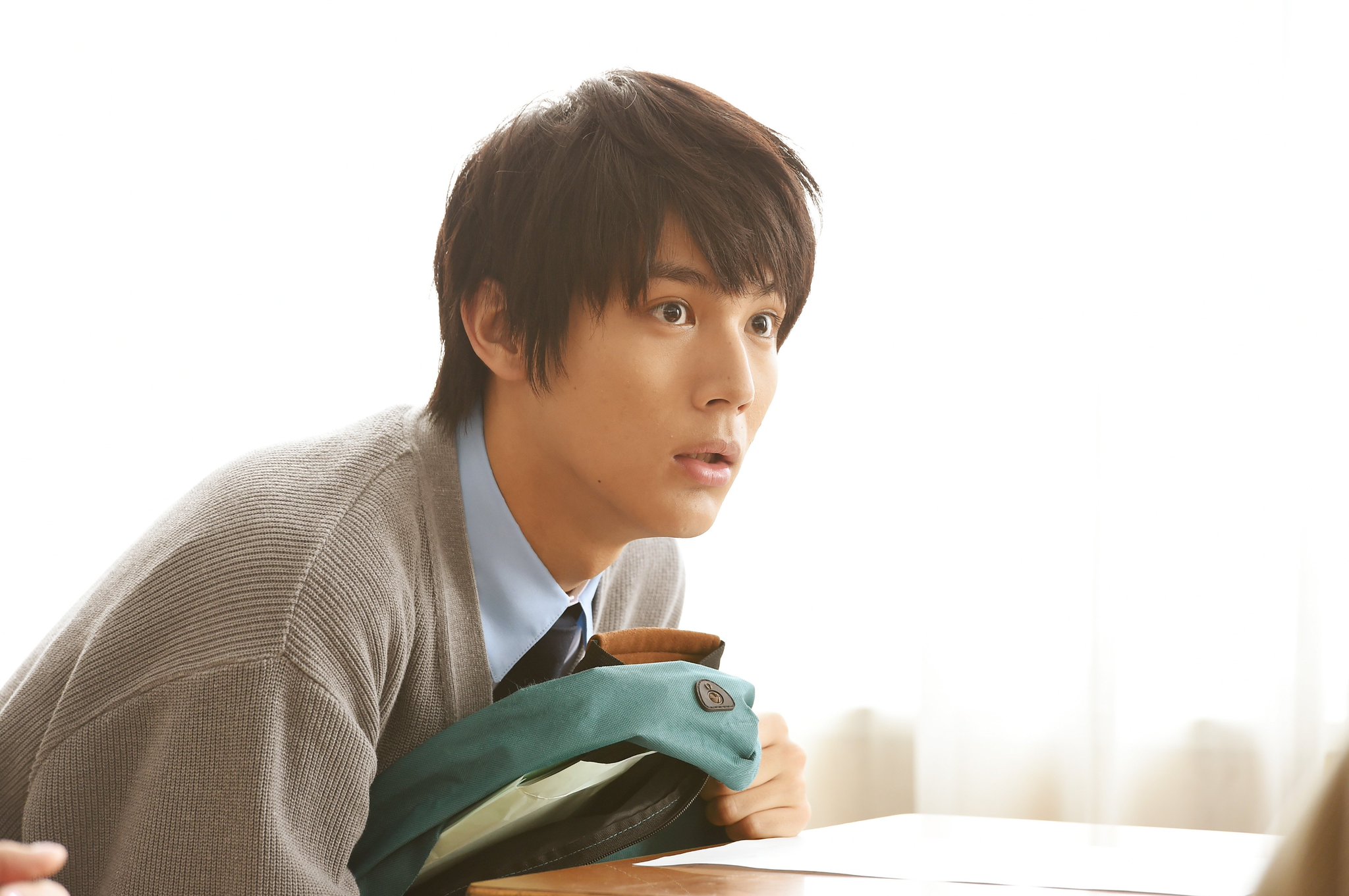 Image Source: 映画『ReLIFE リライフ』 on Twitter
While he thinks that being a high school student again will be an easy ride, he finds himself failing at tests, getting caught by teachers for bringing cigarettes to school, and getting caught up in his classmates' drama.
However, he is able to get along with some of his classmates: the sporty perfectionist Reina Kariu (Elaiza Ikeda), her love interest and honor student Kazuomi Ōga (Mahiru Takasugi, who was also in the P&JK film), the perky and bespectacled An Onoya (Sae Okazaki), and finally, Chizuru Hishiro (Yūna Taira), Arata's quiet female classmate who can't pick up on the feelings of others well, but wants to change.
The P&JK Movie Is Cute, but Doesn't Give Enough Time to the Happy Couple
https://twitter.com/relife_eiga/status/850558612640456704
The first half of the film is fairly loyal to the source material, trying to imitate the feeling of the manga to a tee. This includes anime-like over-the-top reactions from our protagonist inside of his head and cartoon-like camera angles, sound effects, and visual effects. For example, whenever Hishiro tries to smile, the comedic sound of a metal pipe being bent is used.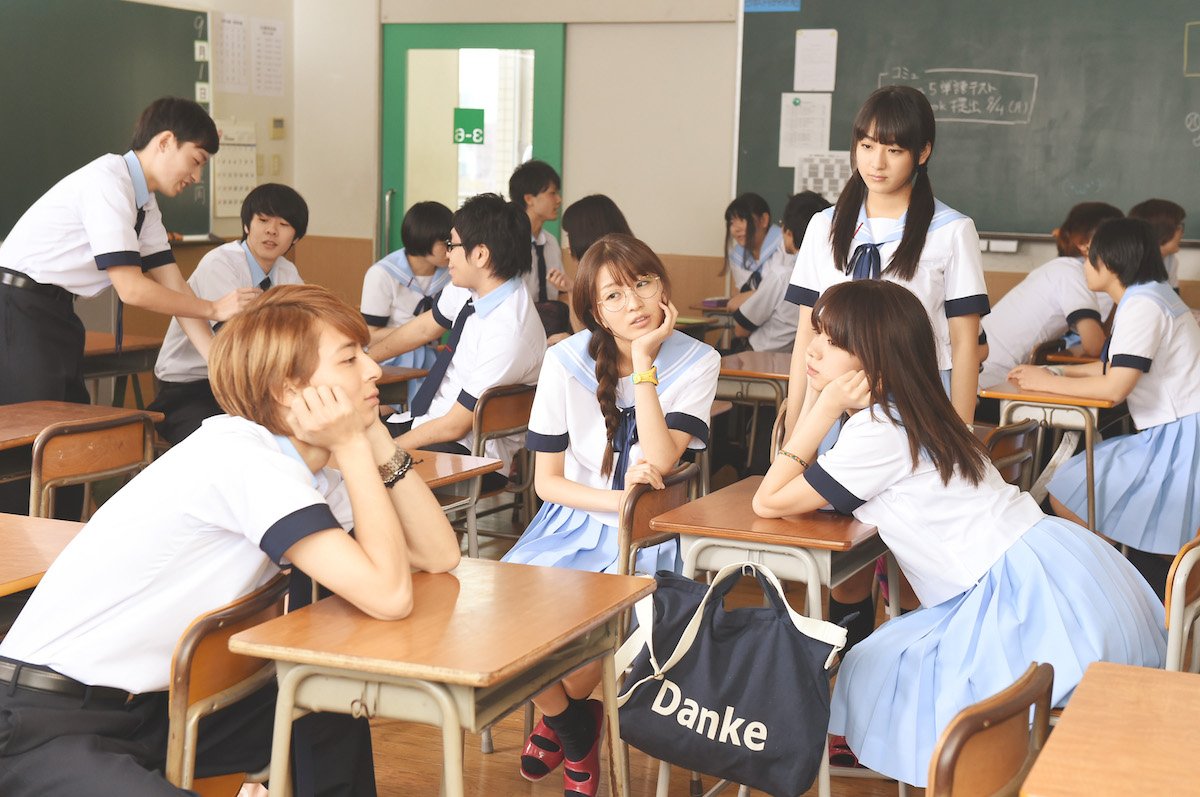 Image Source: 映画『ReLIFE リライフ』 on Twitter
However, when you get to the second half, some of the changes between film and source material become clear. First of all, Reina's friend Honoka and her two male friends do not exist in the adaptation—which basically removes the entire arc about their friendship from the film. In addition, An has a completely different role than she did in the manga, anime, and play.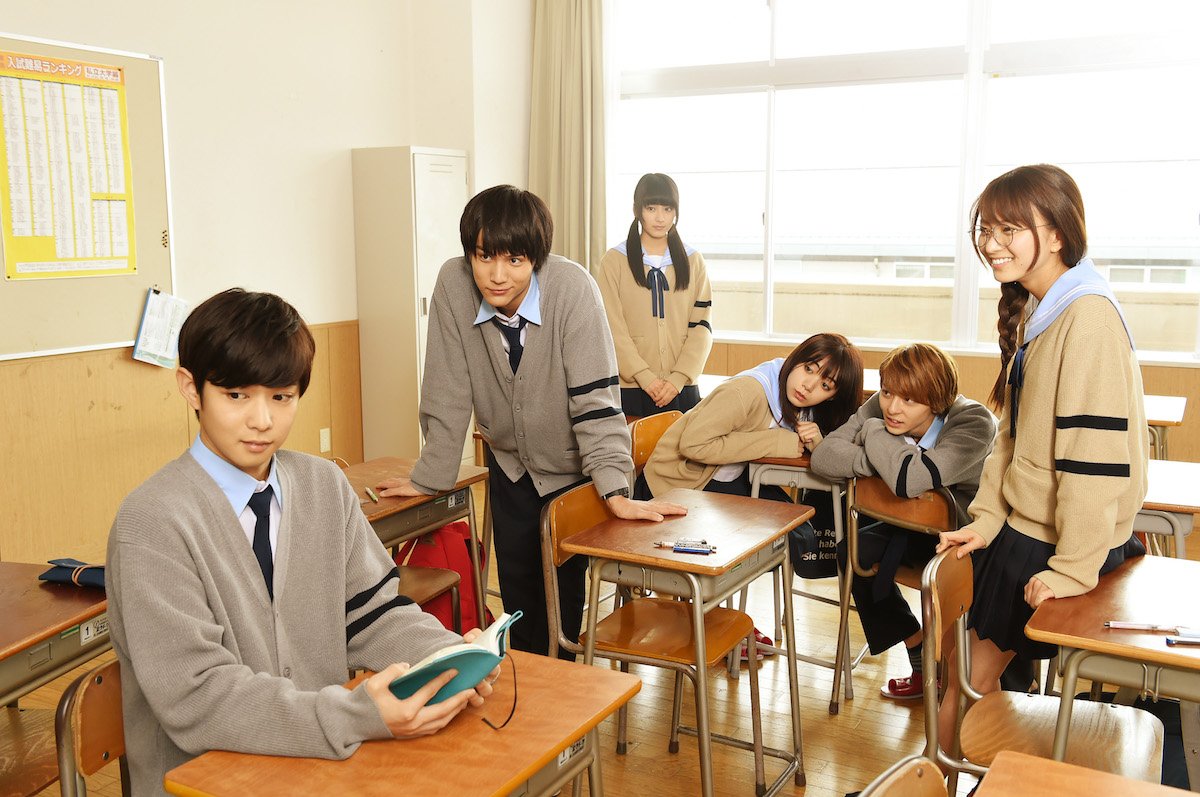 Image Source: 映画『ReLIFE リライフ』 on Twitter
Ryō's importance is also noticeably leveled down in the film, with his amount of appearances being quite small. Although he is part of the main group in all the other media, in this film, he is left out of most of their activities, except for the one at the very end. He interacts so little with the main group at school that when Arata invites him to something, Ōga says, "Wait, were you two friends?"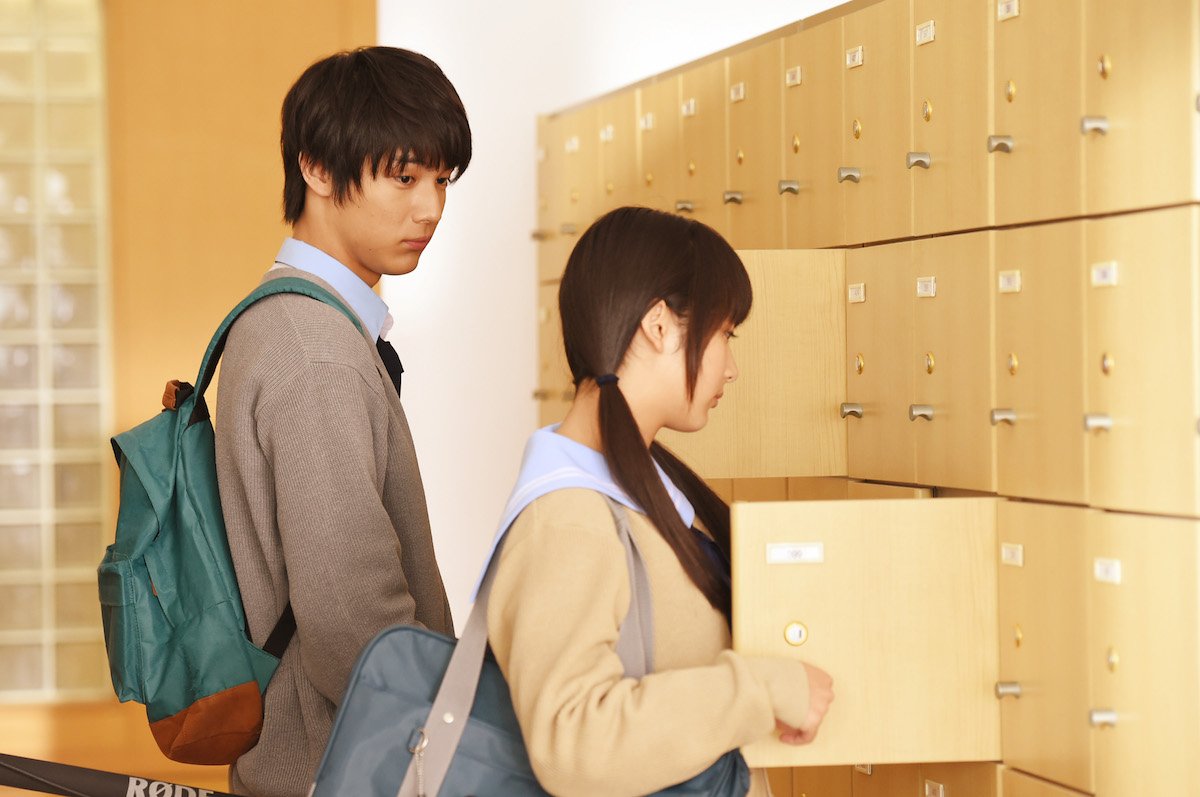 Image Source: 映画『ReLIFE リライフ』 on Twitter
The film takes on an original story in the second half, focusing not mainly on Arata's inner struggles or the struggles of his other friends, but instead on Arata's romantic relationship with Hishiro and how it changes him. Arata is the only person who understands Hishiro, who doesn't express her emotions very well, and tries to give her what she always wanted: friends. While the two find themselves coming closer and closer throughout the film, Arata struggles with the fact that after the year is over, he will be forced to separate from her and she will forget about him forever. Without giving spoilers, Hishiro has her own dilemma that stops her from accepting Kaizaki's feelings, as well as her own.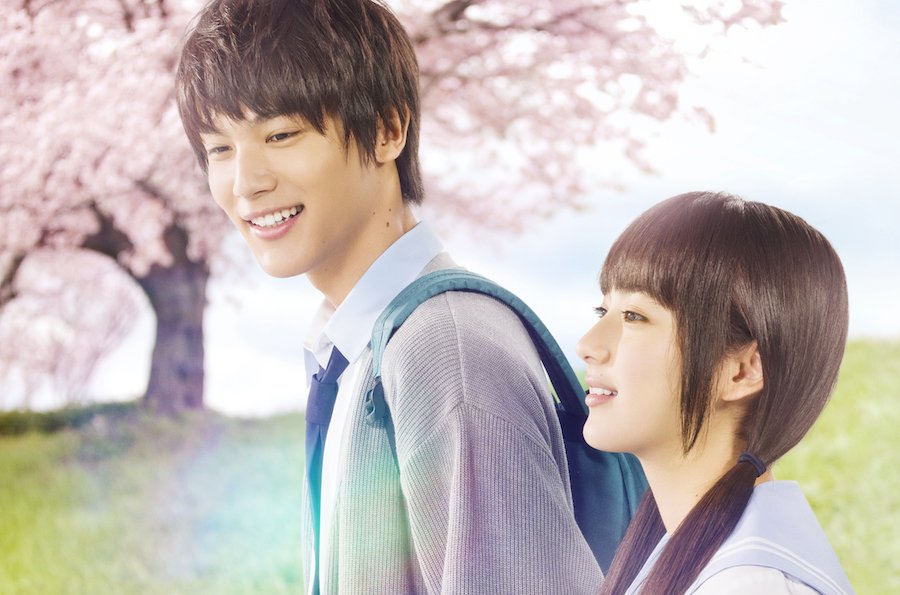 Image Source: 映画『ReLIFE リライフ』 on Twitter
When these two reach the end of the film and their feelings clash, I was crying. Their relationship had been developed so well, their problems stated so clearly that I felt an attachment to them and just wanted them to be happy. Their ending was a bittersweet one, but I felt satisfied and hopeful.
This film does what an adaptation should; it respects the source material by keeping a large amount of the story events that shape the character, but also creates new plot points in order to condense the story for a two-hour runtime and an audience that might not have ever read it. Even with changes and new events, the characters' personalities are kept in tact, and the main goals, morals, and message of the story are properly conveyed. When adapting a work, things have to be lost. If you don't, you'll make the same mistake as the ReLIFE play, which tried to stuff way too much into its time limit. On the other hand, an adaptation has to have enough new material to make it feel like you're not just watching a retread of the source material. Be too loyal, and you might risk boring fans of the source material.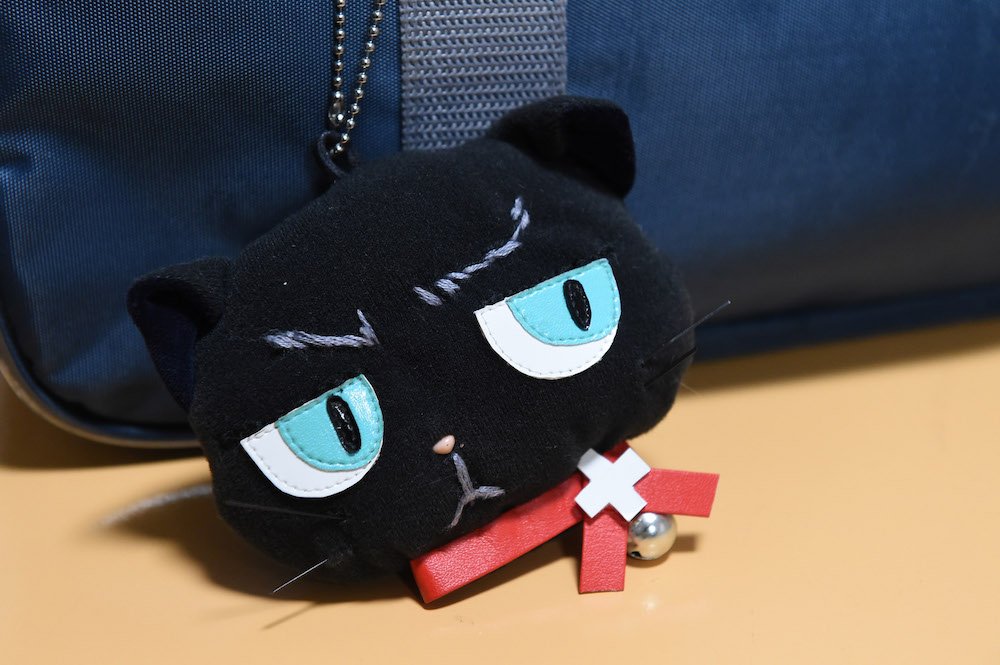 Image Source: 映画『ReLIFE リライフ』 on Twitter
What really impressed me about the film, however, was one particular scene that made more sense than even the source material. There's a scene in all versions of ReLIFE in which Hishiro's bag is stolen by someone, and Arata is able to stop the thief because he recognizes that the bag is is Hishiro's, not the perpetrator's. However, in the manga and anime, the bag doesn't stand out—it seems strange that he would notice this. In the film, however, it is made very clear from the beginning that Hishiro has a giant keychain of Batsuneko, her favorite black kitty mascot. Not only is it big, but it also has a bell, making it easy to recognize. The live-action film managed to not only adapt a scene properly, but even make it better than the original.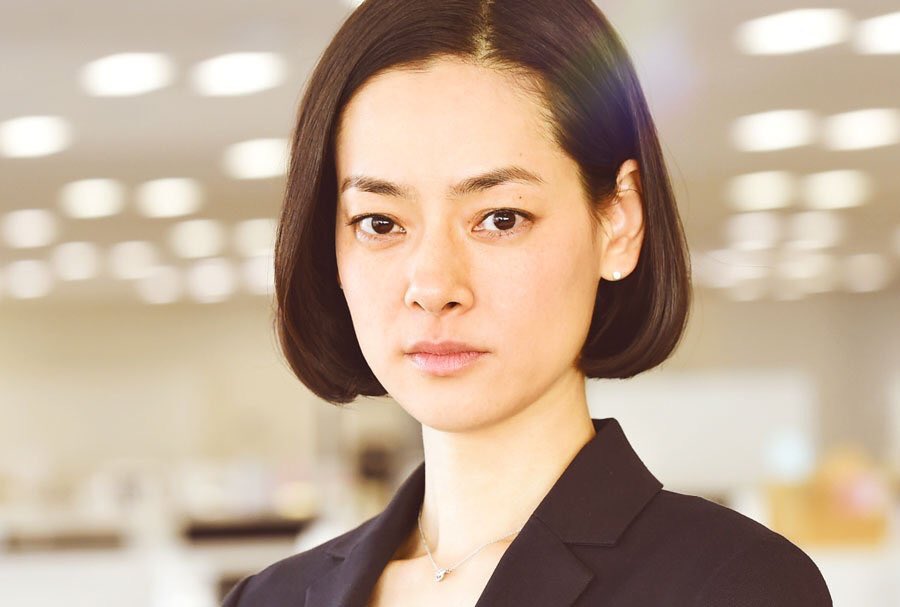 Image Source: 映画『ReLIFE リライフ』 on Twitter
If I had to name one big flaw with this movie, it was the treatment of the event that shaped him as a character in the first place: the loss of his superior from his former company, Michiru Saeki (Mikako Ichikawa). While I hate to refer to the source material, the entire character of Arata is based around this woman and her disappearance from his life. Arata feels guilt about her passing—and will probably feel guilt his whole life. Despite this guilt, in the manga, Arata realizes that he needs to keep moving forward with her life always on his shoulders. It's not something that's going to go away.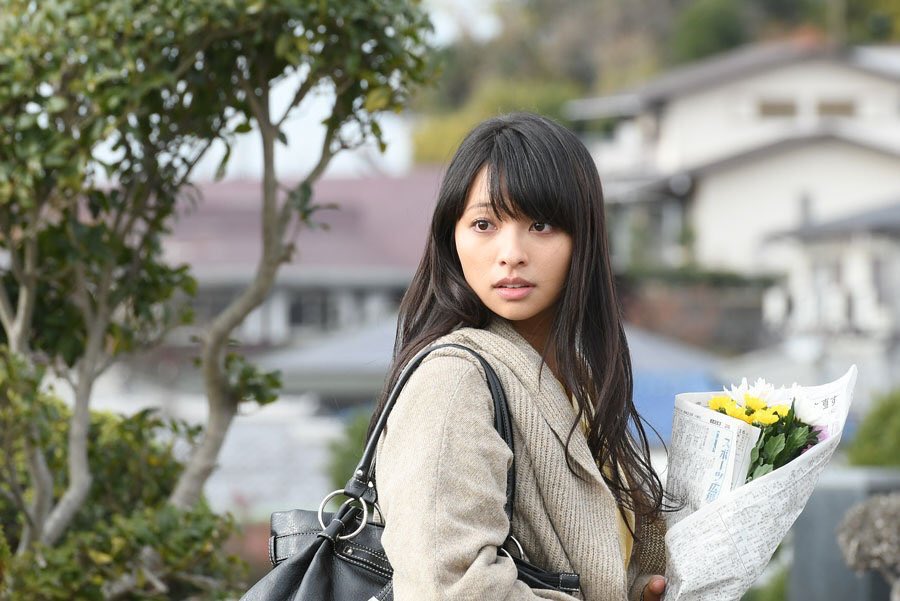 Image Source: 映画『ReLIFE リライフ』 on Twitter
However, in the film, an original character—Michiru's younger sister named Haruka Saeki (Aya Mizusaki)—clears up all Arata's regrets and burdens by just explaining that it was all a misunderstanding and there's no reason for him to worry anymore. He never thinks about her again in the movie. It was a cheap cop-out that could have been avoided by just removing one line of dialogue, and it's an unfortunate blemish on an otherwise great adaptation.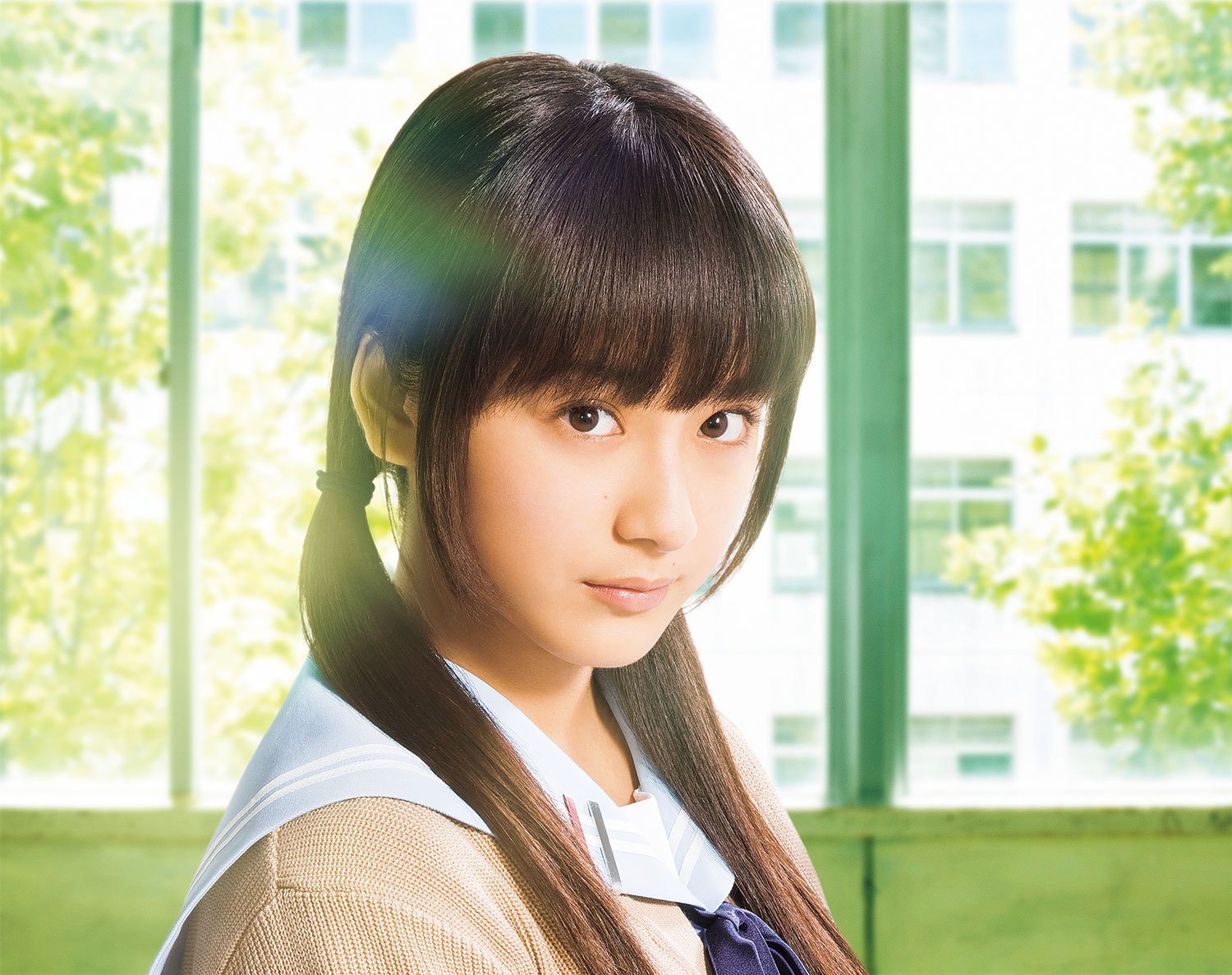 Image Source: 映画『ReLIFE リライフ』 on Twitter
The casting for this film is spectacular. Most characters—with the exception of Ryō Yoake—look almost exactly like their manga/anime counterpart. The majority of the actors play their roles with just the right amount of anime-style fun, but also have the capacity to adapt to more emotional moments. The strongest of the cast is without a doubt Yuna Taira as Hishiro who not only grasps the character's robotic mannerisms, but also is able to subtly show when the character's taciturn personality starts to break. As the film's story progresses, little by little, we are given slivers of quiet but strong and striking emotion. Taira makes her Hishiro into the adorable, beautiful, and slightly awkward high school girl she was meant to be, and I wouldn't choose anyone else for the part.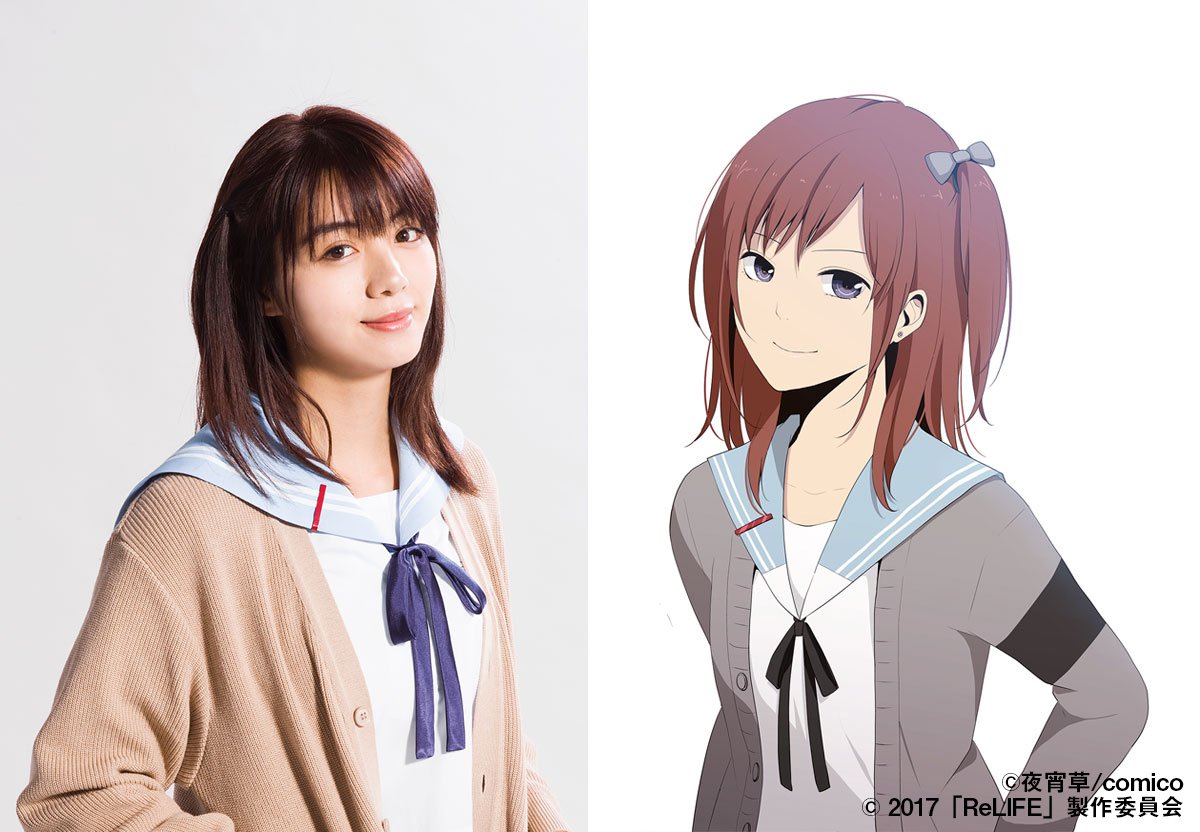 Image Source: 映画『ReLIFE リライフ』 on Twitter
If I were to give one weak link in the cast, it would be Elaiza Ikeda as Kariu. While she tries to play the part of a girl who can't be honest with her feelings, her delivery often feels very flat. She does match the part in terms of appearance, however.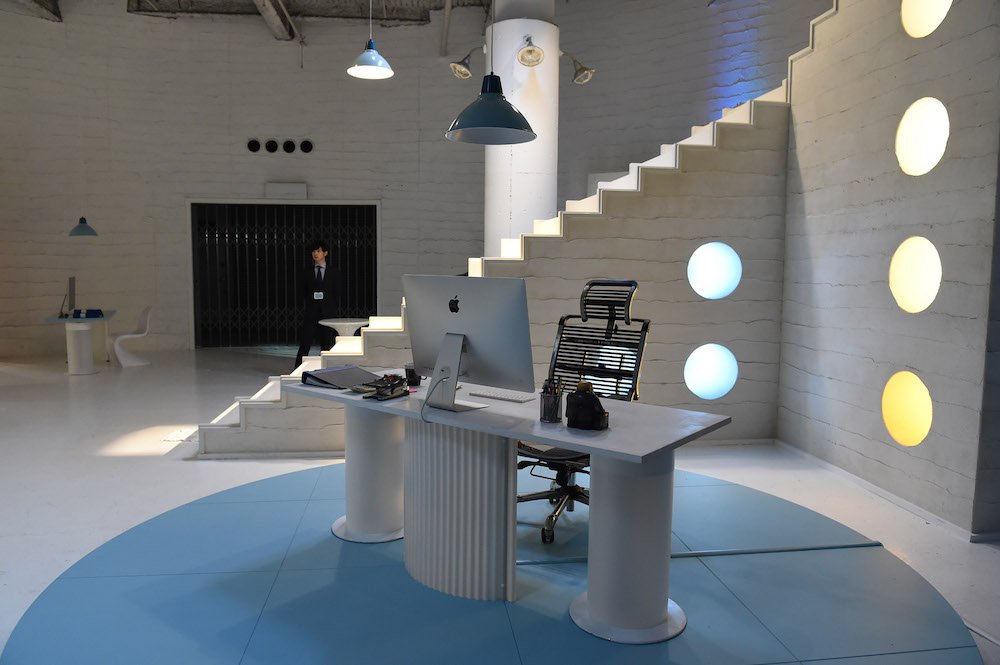 Image Source: 映画『ReLIFE リライフ』 on Twitter
The visuals for the film are very impressive. The color palette is very close to that of the original full-color manga, with many of the locations being themed in blues and whites. The sets for the film are also very creative and have a flair of modernism. For example, in the ReLIFE laboratory where Ryō works, he pulls up to his desk to write his report. He could have just pulled his chair to the desk, but when he arrives at his destination, the desk lights up.
The detail put into the sets is not ignored by the cinematography, which allows viewers to see the beautiful set pieces with creative camera angles, but also gives plenty of time on the characters' faces so we can know what they are thinking.
Also, give an award to the makeup artists on this film—I was doubtful they could turn eighteen-year old actor Nakagawa into a rough 27-year old businessman and 28-year old Chiba into a seventeen-year old, but damn is it convincing.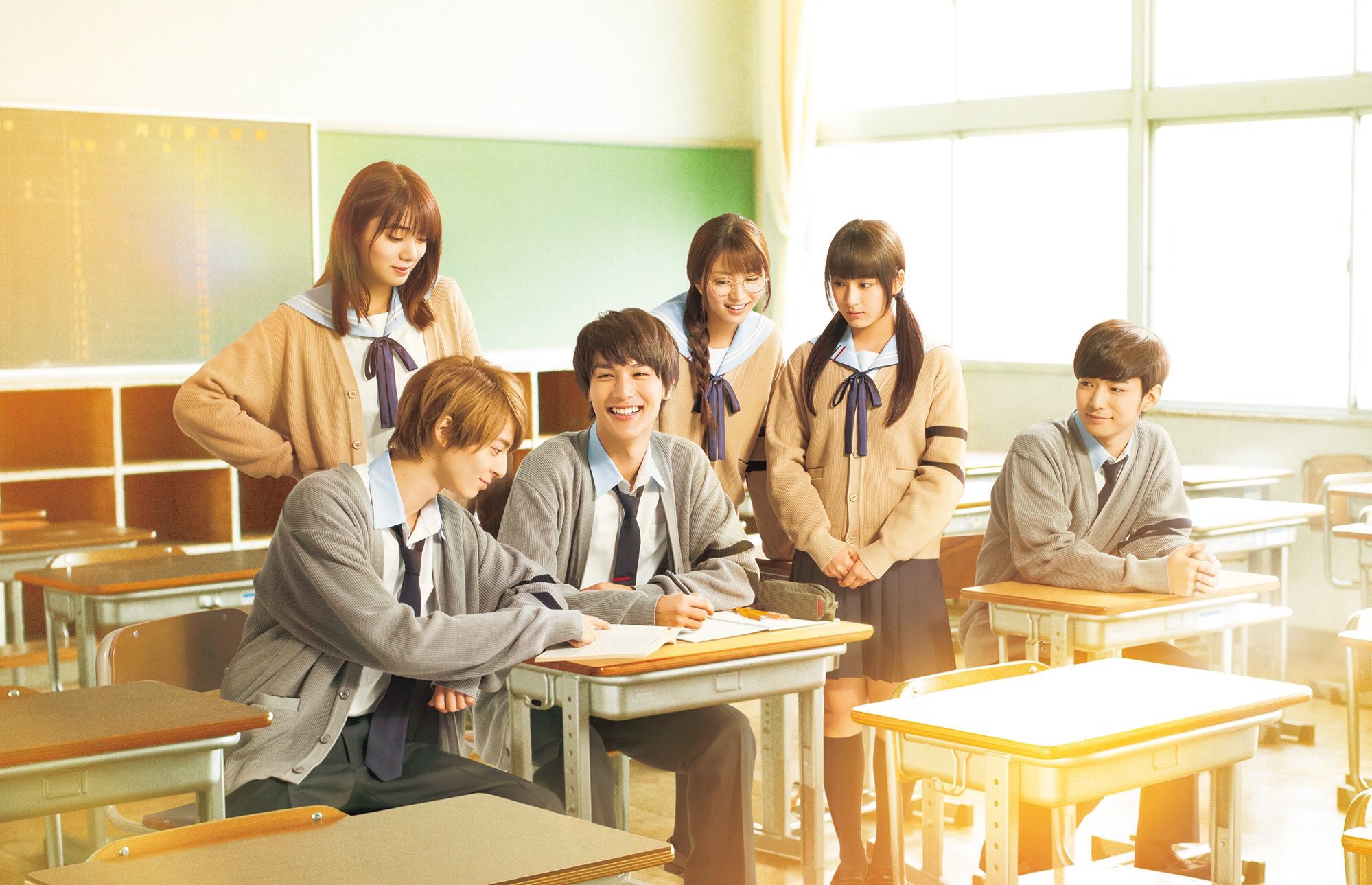 Image Source: 映画『ReLIFE リライフ』 on Twitter
I said at the beginning of this article that the ReLIFE live-action movie might be the best adaptation of the source material I've ever seen. Actually, I'd like to go one step further and say that ReLIFE currently ranks as my favorite live-action movie ever. This is the kind of adaptation other films based on manga and anime should learn from. Overall, ReLIFE, even as a stand-alone film, is strong enough to stand on its own, and is an enjoyable, but touching experience that will have you entertained every minute of its run time.
The live-action ReLIFE film based on Yayoiso's manga premiered in Japan on April 15. There is no word on an English release. The ReLIFE anime is streaming on Crunchyroll with subtitles and on FUNimation with a dub. The manga is available in English digitally on Crunchyroll as well.