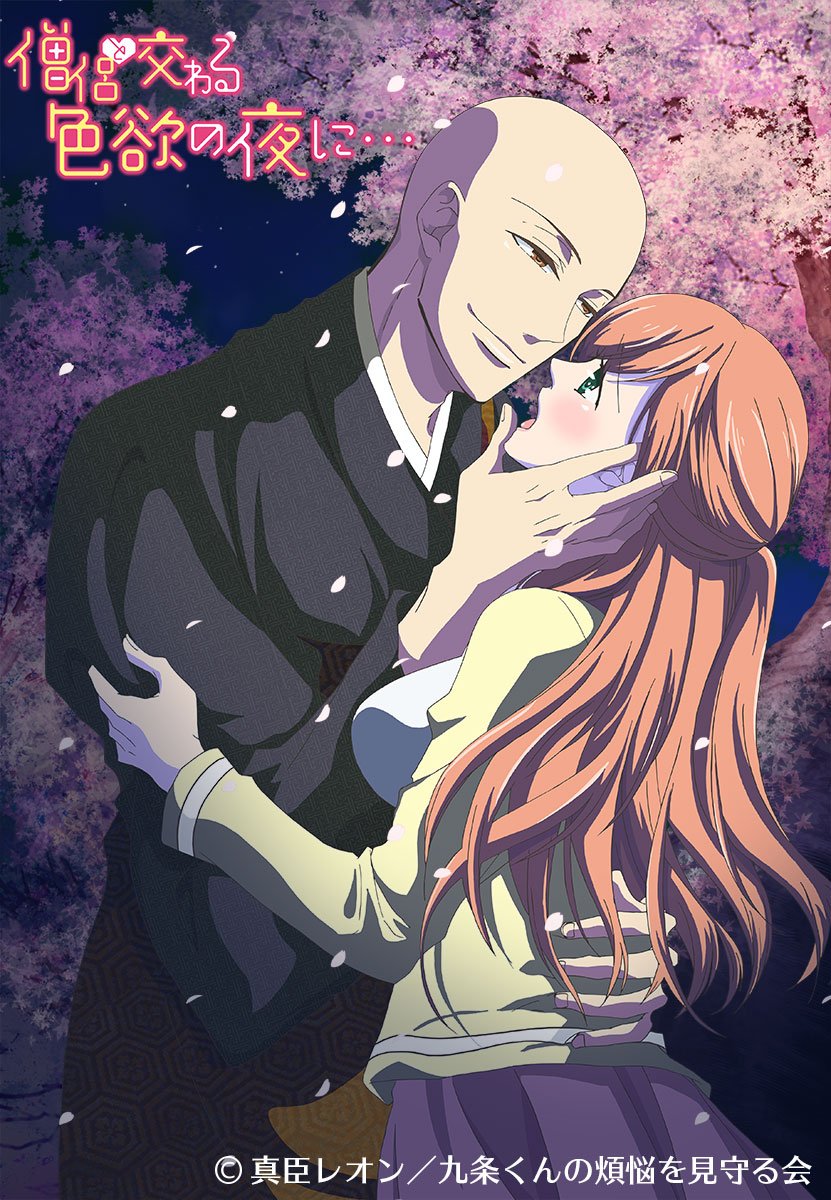 Image Source: アニメ「僧侶と交わる色欲の夜に…」公式 on Twitter
This season's short anime Sōryo to Majiwaru Shikiyoku no Yoru ni… turned some heads when it was announced. The reason? It's based off a TL (teens love) manga—i.e., erotic manga aimed at women.
[This article contains NSFW material.]
Japan is famous for its sex in anime, with many works—including the infamously risque Yosuga no Sora – In solitude where we are least alone—being based off of male-oriented erotic visual novels. There have been hundreds and hundreds of straight-to-home-video releases of "hentai" anime aimed at men released throughout the years, with some of them released overseas. Fan service featuring scantily clad girls is so common in anime that it's just considered a part of the package at this point.
However, behind all this sex targeted at men, there is a market that many forget about: women.
While not nearly as well-known abroad as the male-oriented products, the manga, anime, and visual novel industry also has a large amount of racy products aimed at a female audience. Although the Japanese market categorizes "boys love" (boy on boy love) as "female-oriented products," for the simplicity of this article, I'm only going to be focusing on media aimed at a heterosexual female audience like Sōryo to Majiwaru Shikiyoku no Yoru ni….
On the surface, heterosexual erotic media aimed at women looks similar to its male-aimed counterpart. After all, both have scenes of sexual intercourse between men and women. However, the way these sex scenes—and the relationships surrounding them—are portrayed is often completely different. While some media feature some situations women wouldn't want to experience in real life (e.g., rape), the focus on most of these stories is on kissing, hugging, and sweet nothings. Overall, there is more of an emotional aspect to it.
Similar to the huge library of erotic anime available for men, "hentai" anime for women has existed in the past, technically, though in scarce numbers, and only on home video. Although the adult anime company Anik has a female-oriented label called Primetime, every single title they've produced for women has been boys love. They do have a separate heterosexual adult anime label aimed at women as well called An DerCen, but they've only produced two titles in total: Kuro to Kin no Akanai Kagi. (The Black & Gold Lock That Won't Open) and Trick or Alice. As of writing this article, these are the only heterosexual erotic anime aimed at women that I can find (other than Sōryo to Majiwaru Shikiyoku no Yoru ni…, of course).
Both of the titles mentioned above, lead us into the next type of adult media aimed at women, and that's erotic visual novels. Similar to the erotic visual novels aimed at men like The Fruit of Grisaia and Air (both which inspired anime adaptations), women have their own erotic games, and unlike anime, there is a plenitude of titles.
One of these includes PersonA ~Opera-za no Kaijin~, which as its Japanese title implies, is based off of the characters, story, and setting of the classic novel and musical The Phantom of the Opera with erotic elements. As the heroine, Christine, a beautiful girl aiming to become a prima donna, you can choose to romance one of five handsome suitors (along with a few secret ones), including the Phantom of the Opera. Another title that was popular enough among girls to get a "family friendly" version (promotional video seen above) is Koezaru wa Akai Hana, which follows a gorgeous princess kidnapped by a kingdom of men who need women for wives due to a disease that has killed off a majority of the population of females. Needless to say, no matter what title you choose (as long as it's not the family friendly version), erotic female-oriented visual novels are packed with just as much sex as their male counterparts.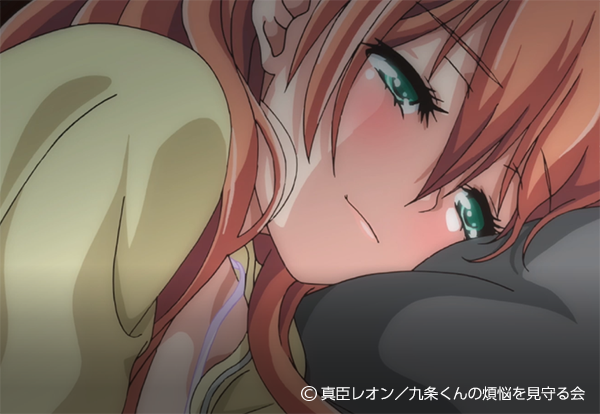 Image Source: アニメ「僧侶と交わる色欲の夜に…」公式 on Twitter
One major thing that sets these games apart from the male-oriented ones is the character the player controls. Male-oriented games often (though no where near always) make the controllable protagonist an average Joe whose face you often never get to see and voice you never get to hear. This is so the player can pretend he is the character in the game.
Female-oriented games, on the other hand, tend to make the heroine a character of her own, with the creators going out of their way to make her very cute and distinctive—and she even often gets a voice. While it is based off a manga, very similar to female-oriented games, the protagonist of Sōryo to Majiwaru Shikiyoku no Yoru ni… has a recognizable and almost erotically cute look herself.
Another pillar of the female targeted adult anime industry are erotic "situation CDs." Situation CDs are audio-only stories usually featuring only one or two voice actors who become the listener's boyfriend. In the case of situation CDs, the heroine is completely erased from the picture so the listener can put themselves in the situation completely.
A majority of these CDs are recorded using a "dummy head mic," a microphone that is literally shaped like a head. If the character is supposed to be whispering sweet nothings into the listener's right ear, the voice actor will speak into the right side of the head mic, and this sound in turn will come out of the right side of the listener's headphones. It's quite the immersive experience—try it for yourself by putting on a pair of headphones and listening to the sample above featuring popular voice actor Nobuhiko Okamoto (Blue Exorcist's Rin, A Certain Magical Index's Accelerator).
While there are fairly innocent CDs that never go past kissing, there is also a market for CDs that recreate situations of sex in audio form. The actors will usually go under strange pseudonyms like "Luminescence Yamada" and "Sakiware Spoon" (lit. spoon with a broken tip), and while you might be able to recognize their voices immediately as someone else, the actor in question will most likely never admit it for personal and/or business reasons (for example, on the male-oriented side, The Fruit of Grisaia's actresses use pseudonyms). However, as long as a fan knows their favorite actor's pseudonym, they can have the sexual fantasy of their choice just with sound. You can try one out here, but be warned—THIS SOUND SAMPLE IS NOT SAFE FOR WORK.
While male situation CDs do exist, just searching for "Situation CD" on Amazon's Japanese branch will bring up page after page after page of female-oriented CDs.
But despite this market of female-oriented erotic media, as Sōryo to Majiwaru Shikiyoku no Yoru ni…'s official marketing states, it is the first TV anime based on a TL manga. It even comes in three versions: the all-ages version, which is what airs on Japanese channel Tokyo MX, the 15+ version, which is a bit more racy and airs on the paid channel ATX, and the 18+ version, which is so steamy that it had to be streamed only (I warn anyone who goes to watch this version—it is basically porn at this point).
Up until now, we've had countless TV anime based on erotic properties aimed at women. With more and more Japanese women becoming powerful consumers (one place to see this is the sales of female-oriented shows like Utano☆Princesama Legend Star constantly topping the charts), maybe this is the turning point where we'll get more anime adaptations of sexy media for women in the future—and this time, not just on home video. Sōryo to Majiwaru Shikiyoku no Yoru ni… may be a short anime, but it's a big step forward for representation of women in the market.
Sōryo to Majiwaru Shikiyoku no Yoru ni… is not currently streaming outside of Japan.