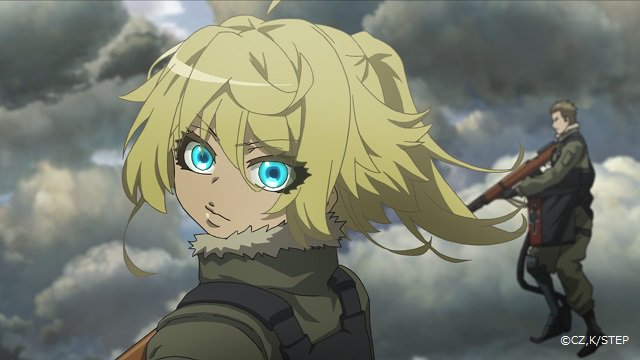 Image source: 「幼女戦記」アニメ公式 on Twitter
Saga of Tanya the Evil is quickly proving to be my personal favorite series this season. Part of what makes up the overall atmosphere of the series is its opening song, JINGO JUNGLE by MYTH & ROID. Anime Now! was fortunate enough to have a chance to sit down with Tom-H@ck, the guitarist, composer, and producer for MYTH & ROID to discuss his career and the creation of their latest impressive piece.
JINGO JUNGLE by MYTH & ROID

Provided courtesy of iTunes
Since their debut song, L.L.L (the ending theme for the series Overlord) MYTH & ROID has gone on to perform the theme songs for BBK/BRNK, Re: Zero –Starting Life in Another World–, and Saga of Tanya the Evil. Before he started to perform on stage as a musician, however, Tom-H@ck initially started his career by making a reputation for himself as a composer and producer.
"My debut was with the series, K-On!, creating the opening theme song, [Cagayake!GIRLS]. I was 23 years old at the time. That was my debut not only as a composer, but in the music industry itself.

I was fortunate in that [K-On!] was a success, so from there I got various offers. At around the same time, I also got an offer to be a producer for visual kei bands and idols, so pretty much from the start I was working not only with anime music, but also about 50-50 with other artists' songs and anime, oh, also movies too. That was the start.

From then, I worked with various idol groups and visual kei bands. When I actually starting working as an [artist], I think, it was something like two or three years ago? Actually, it was about three years ago when I started standing on stage and performing as part of a unit."
Cagayake!GIRLS by The Sakuragaoka High School Light Music Club

Provided courtesy of iTunes
According to Tom-H@ck, he originally entered the music industry with no intention of ever performing himself. For him, working behind the scenes as a composer and producer was far more enjoyable than having to stand on stage in front of an audience.
"I'm not sure why, but during my teen years, if I liked a certain artist, I'd find myself wondering who their producer would be. I'd pay attention to who was doing what behind the scenes and I'd feel a sense of value in what they did. So I didn't want to stand in front of people, but my first job, K-On! became a hit on a massive scale. Because of that and because my name is rather unique—I'd have people see the name 'Tom H@ck' and wonder if I was a foreigner or something—people would tell me I have a lot of potential as an performer."
Not for lack of people trying to convince him to, however.
"Before I debuted, I worked as an apprentice, and my master—when I told him that I wanted to succeed as a career musician—he said that I was probably better as a performer. And he continuously said that while I studied to have my career in the music business.

Even when I joined an agency when I landed the K-On! gig, the president of the agency told me I should definitely be a performer which I refused."
While Tom-H@ck did eventually decide to utilize his performer potential as part of a unit, he believes that holding out was the right choice that allowed him to grow as a musician in ways he could not have done otherwise.
"In retrospect it was the perfect opportunity to brush up my skills. If I hadn't started my career as a producer working behind the scenes, I wouldn't have gained the necessary in-depth knowledge that I have now."
MYTH & ROID was a project that came together through a great deal of planning. After landing the gig for the ending theme of Overlord, they have continued with various other series, the latest being Saga of Tanya the Evil. According to Tom-H@ck, the offer to do the opening song came at the start of production of the series.
"For MYTH & ROID, our music producer comes with offers at a very early period. So the offer for the opening theme for Saga of Tanya the Evil was probably over a year ago… Normally it's about three months before [airing], but with MYTH & ROID we get a lot more time.

In other cases, an artist will create a demo and someone will hear it and like it and then decide to use it in a series. That's not the case with MYTH & ROID.

When producing for other artists, very often I'll be making a song and the agency will negotiate with the production and the song will be chosen during its creation, but with [Saga of Tanya the Evil] the planning was extremely solid, so they told us 'We're making this anime about such-and-such' and we plan out how to approach it and spent a year releasing the single and planning how to present it. It's a project that was built in a very calculated manner."
When making a theme song for a series, Tom-H@ck generally goes to the source material to get an understanding of the general atmosphere so that he can capture it in his music. This is relatively easy to do—'relative' in terms of accessibility and not in terms of the amount of reading—for series like Overlord or Saga of Tanya the Evil that exist in serial novel form. For original anime works like BBK/BRNK, production has to take a different route.
"In those cases, they have a project proposal [for the series] and by the time they bring that [to me], the scenario is almost always completed. So they send the scenario to me and I read that for reference.

Sometimes they'll have a teaser, or if not, they'll have stills where they can show me what the character design will be like. So they have that information. Or sometimes they'll go 'on location' as it were. For example, with a movie I'm working on, the staff went to actual locations that appear in the movie and took pictures that they sent to me and told me 'we want to make it feel like this.' So basically, they send me whatever information they can."
AT the early stage, the production side would make numerous requests on the content of the music Tom-H@ck would compose. However, by the time the offer for the theme song of Saga of Tanya the Evil came, MYTH & ROID had a well-developed reputation of trust and dependability.
"As [MYTH & ROID] has come along with various releases, the production requests have become more open-ended so by the time JINGO JUNGLE came around, they hardly said anything. It was pretty much, 'This is the anime. The rest is up to you.'"
Asked how he feels when essentially being the flagbearer for an entire anime series with his music, Tom-H@ck expressed relative comfort in doing what he does best.
"For live performances, standing on stage, I never get nervous. It doesn't matter if it's for a handful of audience or tens of thousands. So when I make music, I don't feel pressure at all. I often wonder why I'm this way. I suppose it's because my first job was with K-On! and because it was a hit.

I wouldn't call it 'confidence.' It's more a 'sense of security.' I got the sort of sense that 'oh, this is how you do it. This is how it's done.' So even when making a song that's going to serve as the face of an anime series, I don't feel any pressure."
As for the work he's done so far, Tom-H@ck noted that he always makes a point to watch every series he's involved with at least once. Looking at what he's done so far and asked to name his favorite song and series, he answered,
"This isn't meant negatively at all, but while I enjoy my own music, I also feel I've still got a long way to go. So, when I am asked which of my songs is my favorite, and to be honest, I don't have one.

While I do honestly enjoy all the series I've been involved with, if I were to choose, I suppose it would be MYTH & ROID's debut, Overlord. I enjoyed the original novel series so much I ended up buying all of them."
Tom-H@ck is currently working on the next stage of MYTH & ROID—but we'll have more on that at a later date. In the meantime, he had this to say to fellow musicians out there hoping to break into the anime music industry,
"If you can find enjoyment in creation, I believe the pathway will present itself. It's the same with anime music and producing for artists. You should find something that makes you happy in what you make."