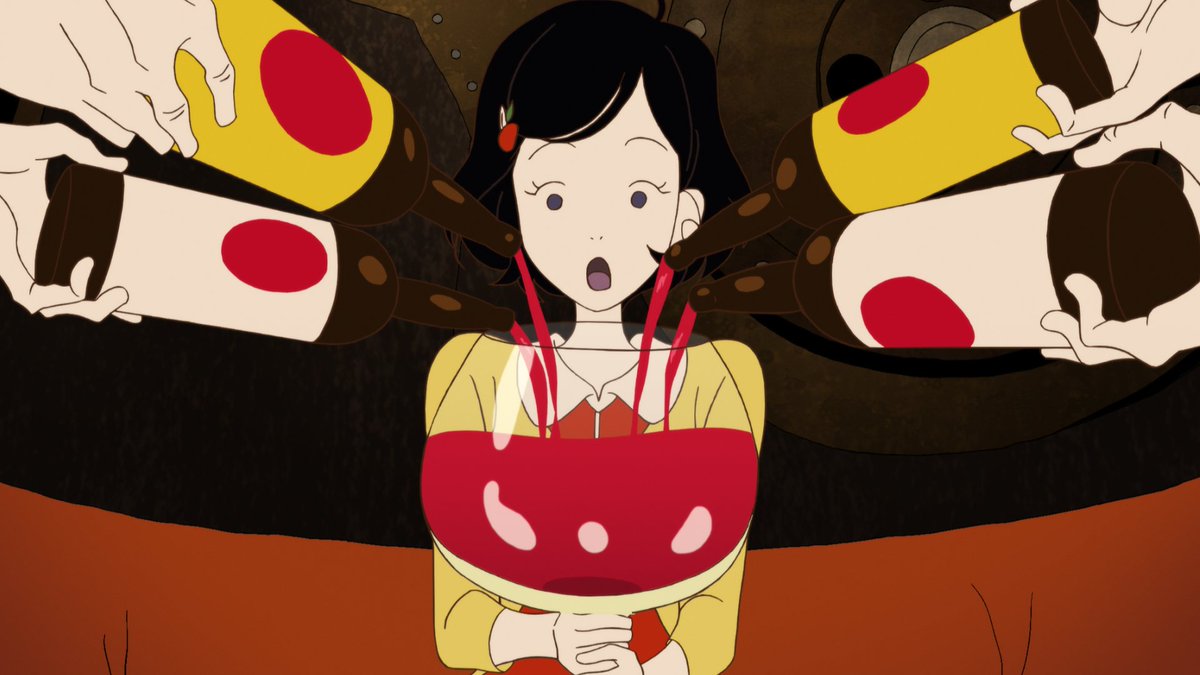 Image source: 映画『夜は短し歩けよ乙女』 on Twitter
If you ever needed more of excellent anime The Tatami Galaxy, then this film created by the same people and set in the same world will hit the spot perfectly.
Night Is Short, Walk on Girl is the story of the titular girl known only as "Otome" and her insanely long night of partying and drinking—complete with a book fair, festival, and many adventures in between. It is also the story of "Senpai," her upper classman who has been attempting to get closer to her by "coincidentally" running into her again and again. However, on this night, meeting up with her may be the greatest challenge of his life.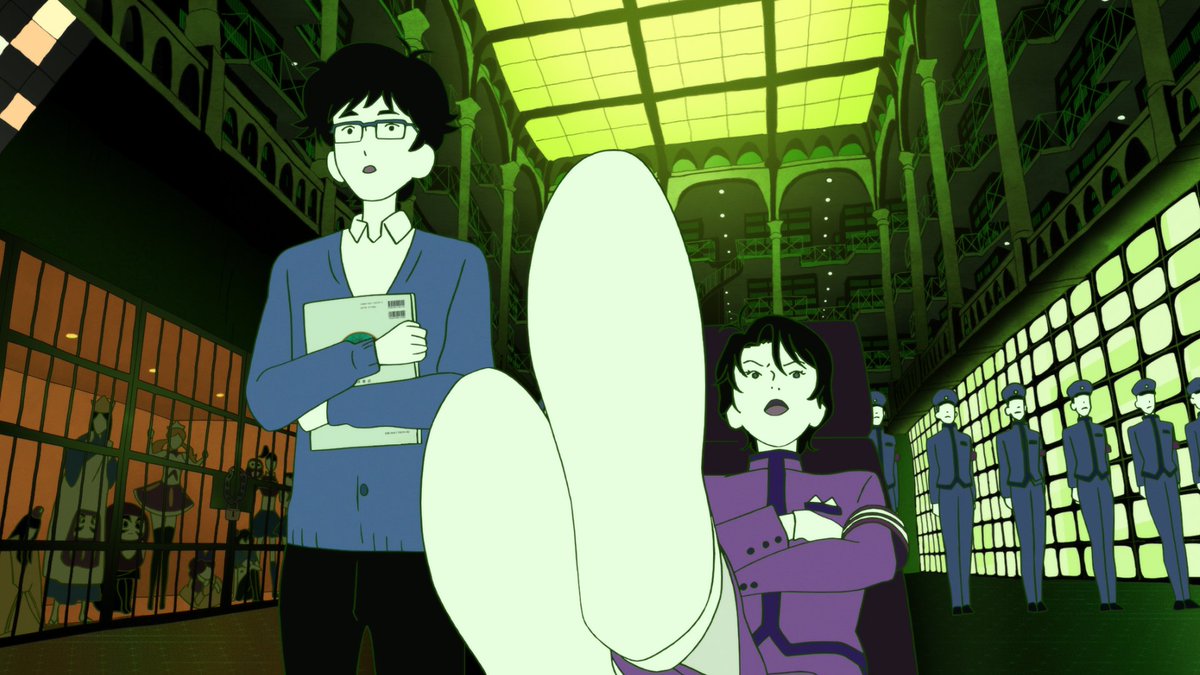 Image source: 映画『夜は短し歩けよ乙女』 on Twitter
But as much as it is their story, it is also the story of those they encounter. There is Rihaku, an old money lender who enjoys throwing his wealth around to make others suffer; Don Underwear, a college student writing an unauthorized play who refuses to change his underpants until the day he once again encounters the girl he met on the first day of school; and Mr. Todo, a man who runs a carp farm and is trying to pay off his debts by selling antique erotic pictures. There is even a young boy terrorizing a book fair who insists he is "The God of Old Books."
Over the long night, Otome and Sempai encounter these characters, crossing in and out of their stories at different times. And it doesn't take long to discover that everyone is far more interconnected than they seem at first glance—and not just with the characters from Night Is Short, Walk on Girl.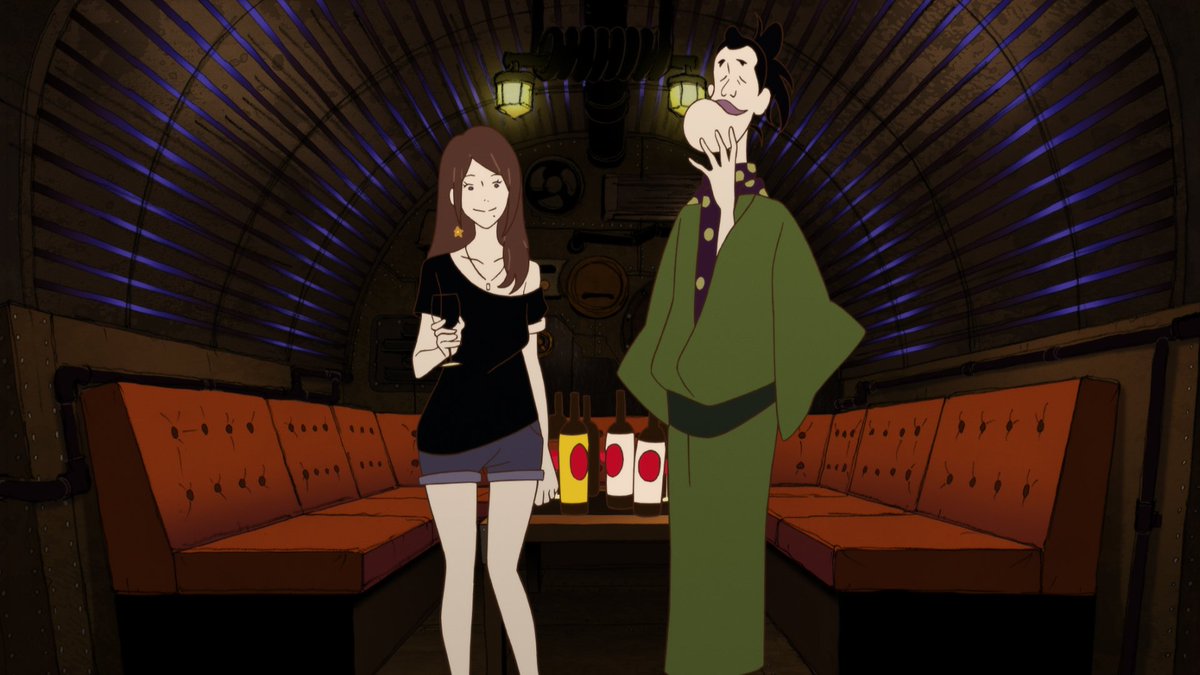 Image source: 映画『夜は短し歩けよ乙女』 on Twitter
Night Is Short, Walk on Girl is set in the same world as 2010 anime The Tatami Galaxy—with which it also shares an author, director, and animation studio. Not only does it take place at the same university in Kyoto, but several of The Tatami Galaxy characters have major roles in the film—namely Ms. Hanuki and Master Higuchi. The wise slacker and dental hygienist serve as Otome's drinking buddies—always ready and willing to crash parties with her for the free booze. But of course, they have their hands in several of the other character's stories as well—though neither Otome nor Senpai realize this at first.
There are also several other The Tatami Galaxy cameos—including Masaki, Kaori, and everyone's favorite anthropomorphic personification of the male sex drive, Johnny the Cowboy. Because of the interconnectedness of the two works, those who have seen The Tatami Galaxy will find another whole level of enjoyment in Night Is Short, Walk on Girl.
Also like The Tatami Galaxy, there is a far deeper philosophical message running through the pair's surreal love story.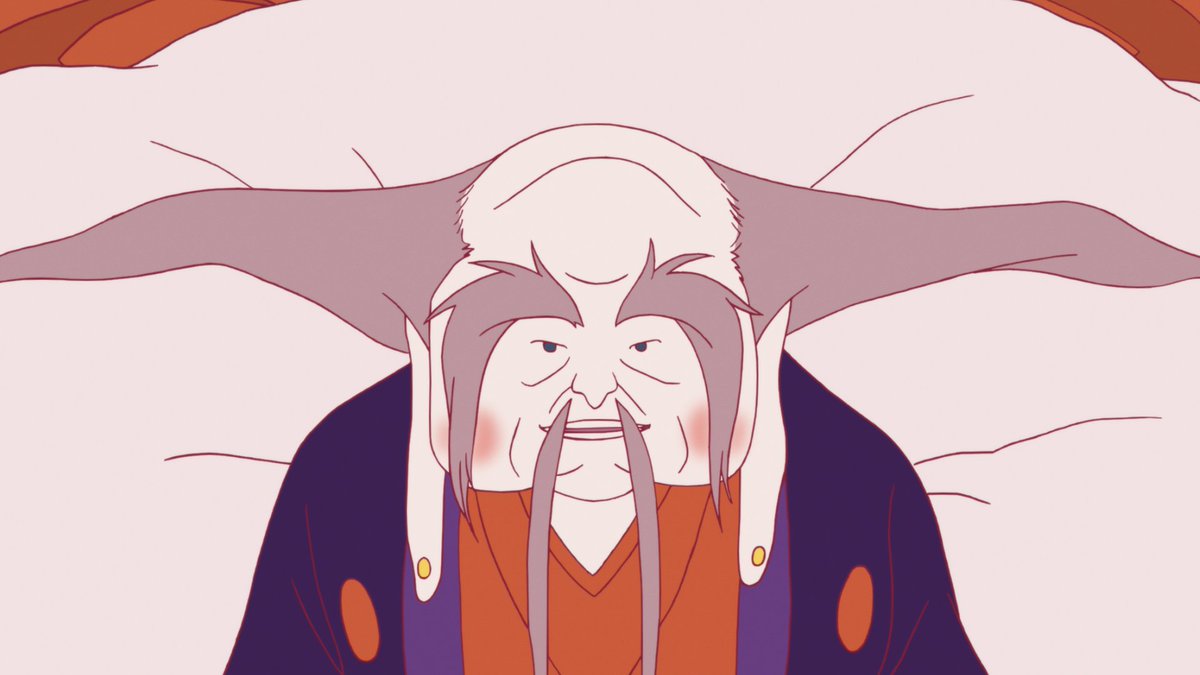 Image source: 映画『夜は短し歩けよ乙女』 on Twitter
Thematically, Night Is Short, Walk on Girl is a story about how we, as humans, view time. Clocks and watches appear numerous times throughout the plot. The speed at which the hands move is directly related to the character connected to the clock. For the most part, the older the person is, the faster the hands spin. After all, these are people in the later half of their life who are more aware that time is running out—that there is never enough time to get everything done.
Otome, on the other hand, sits at the opposite extreme. Her watch barely moves at all. She is so completely focused on the moment that time seems infinite.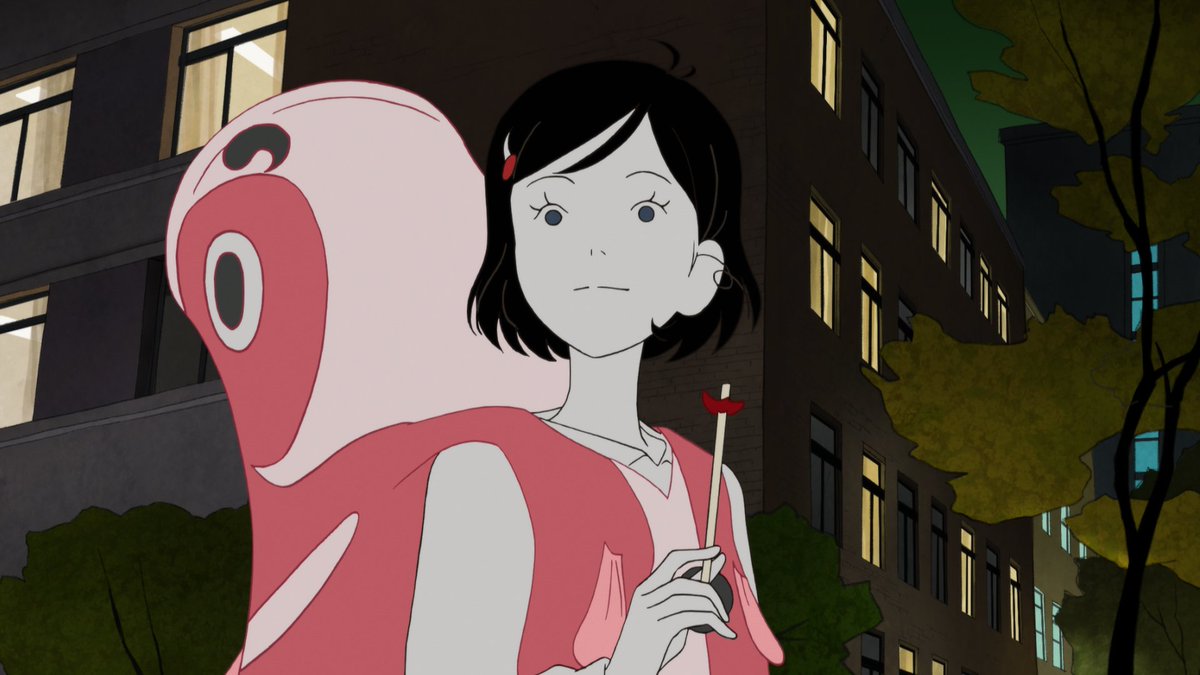 Image source: 映画『夜は短し歩けよ乙女』 on Twitter
The whole movie is built around this fact, after all. While the story ostensibly takes place over a single night, this is obviously not the case when you step back and think about it: There is no possible way a wedding, hours of bar hopping, a drinking contest, a book fair, a school festival (complete with several hilarious musical numbers), and a massive storm could happen in a single night.
However, it appears as one because we see the film through Otome's viewpoint—her entire life is, in her mind, one never ending night of drinking, meeting people, and having odd adventures one after another. The days inbetween are so unimportant as to not be worth thinking about.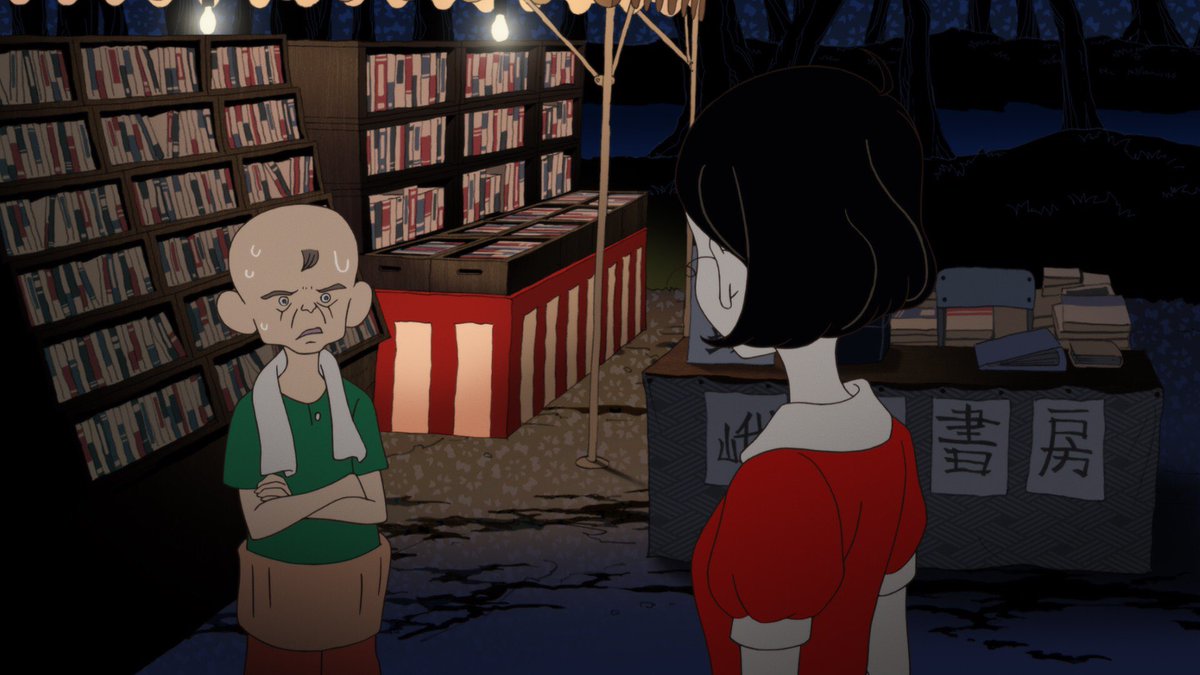 Image source: 映画『夜は短し歩けよ乙女』 on Twitter
This also speaks to who Otome is as a person. She is so focused on herself and her fun that she doesn't really notice the people chasing after her—namely Senpai. Rather, she only cares about those she is with at any given moment.
The second she is bored, she strikes out on her own path and walks on—blazing off to her next adventure. Those in her life, like Ms. Hanuki and Master Higuchi, are the ones she stumbles across most frequently. She goes in and out of other people's stories. But no one comes into hers—no one can catch her.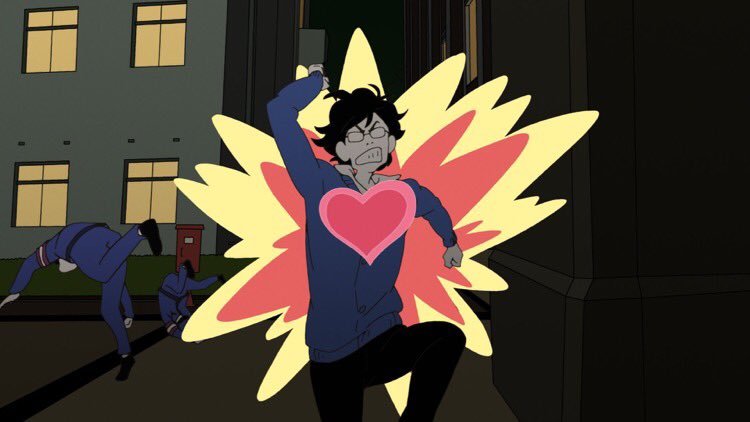 Image source: 映画『夜は短し歩けよ乙女』 on Twitter
Senpai, on the other hand, starts the film believing that their "coincidental"—read: "totally not coincidental"—meetings will eventually transform into a relationship. But soon he realizes that falling in love is something that takes work. He's going to have to be obvious about his feelings in a big way if he hopes to get her interested enough in him to see him as anything beyond a stranger passing in the night.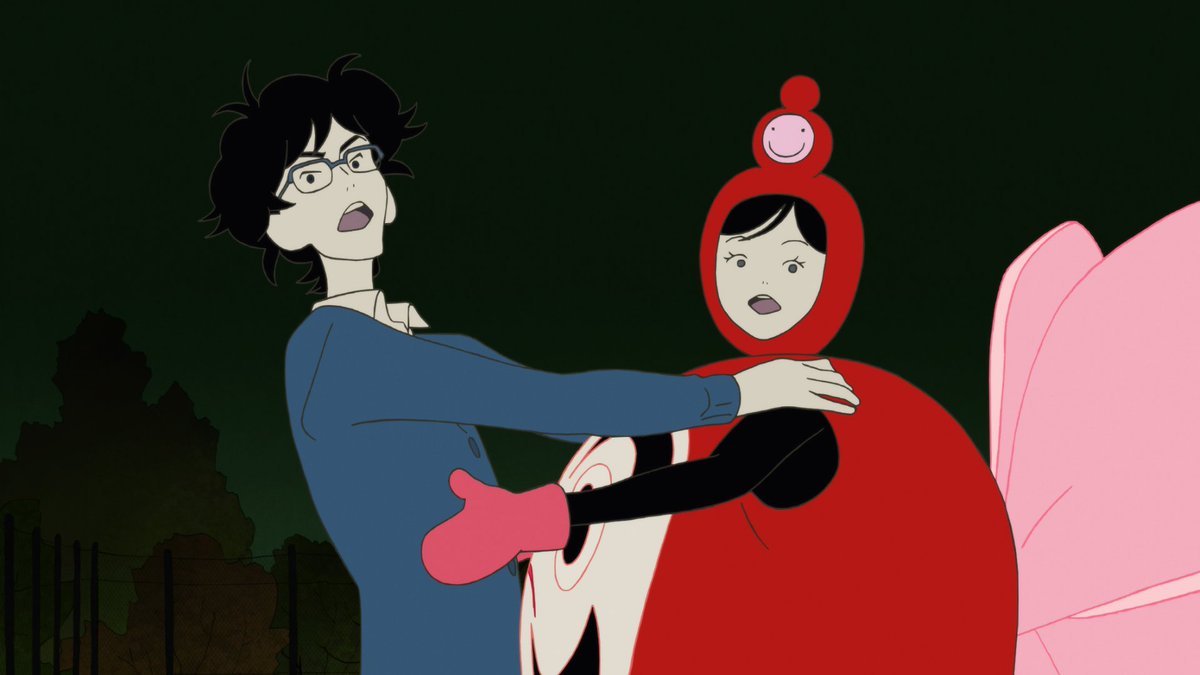 Image source: 映画『夜は短し歩けよ乙女』 on Twitter
Night Is Short, Walk on Girl is a fantastic anime film that explores the nature of life, love, and human existence through the surreal nightlife of Japan's cultural capital. If you're looking for a romantic comedy film that is equal parts hilarious and philosophical—or simply just want more anime like The Tatami Galaxy in your life—there's no better choice out there than Night Is Short, Walk on Girl.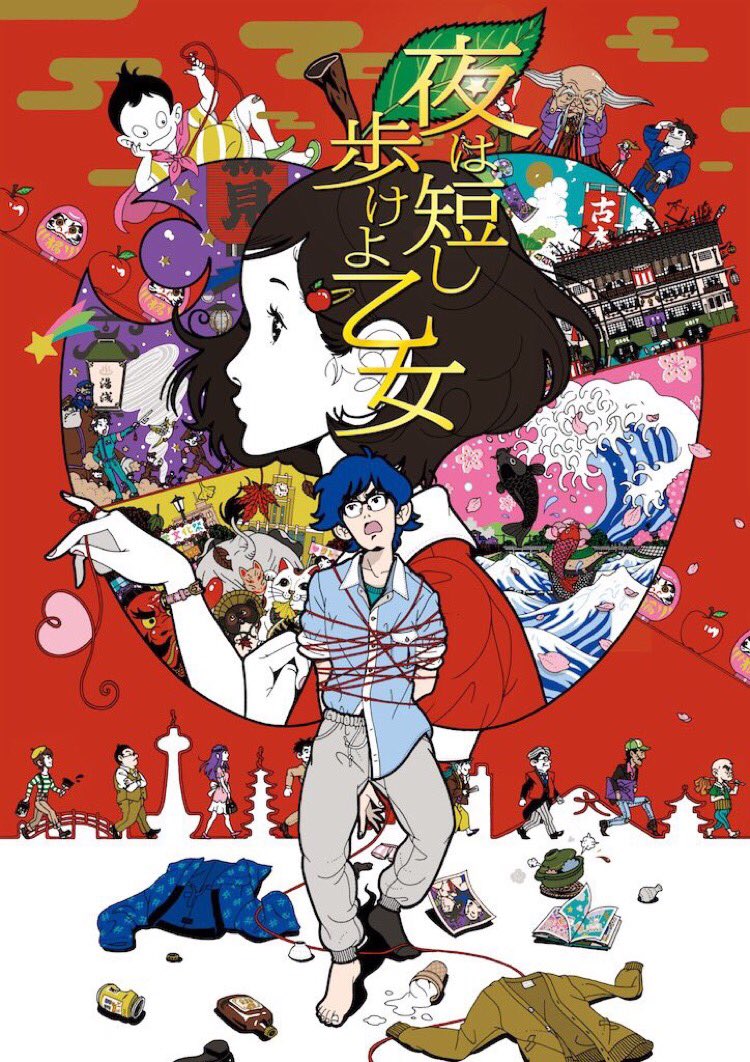 Image source: 映画『夜は短し歩けよ乙女』 on Twitter
Night Is Short, Walk on Girl was released in Japanese theaters on April 7, 2017. There is currently no word on a Western release.