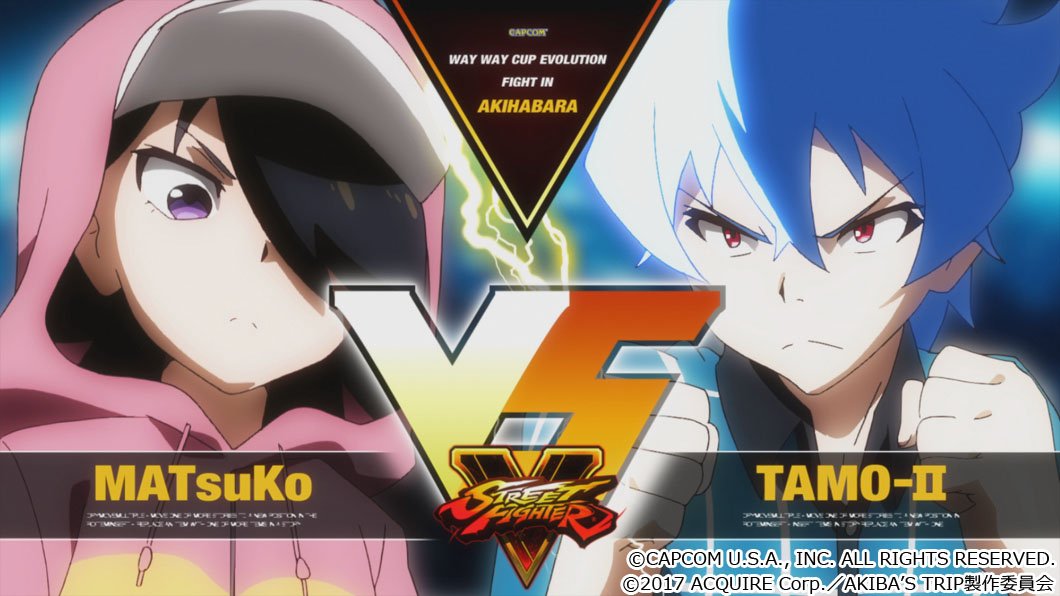 Image source: 「アキバズトリップ」アニメ公式 on Twitter
Finding something new to watch during a season that's winding down is a bit of a feat, and that's what I've found myself doing more and more of lately.
After searching through what was left of the season to tinker with, Akiba's Trip The Animation called out to me with its neon hues and ties to the game series I already enjoyed, Akiba's Trip: Undead & Undressed. I enjoyed the first few episodes enough, but it wasn't until I reached the fifth episode that I realized how much of a loving tribute to the video game community it was.
Yes, the fifth episode of Akiba's Trip The Animation, which I viewed the FUNimation dub version of, is called "No Reason I'd Lose," and it spoke to me (and no doubt other hardcore gamers out there watching) for a very good reason: It was all about Street Fighter.
The episode itself kicks off with protagonist Tamotsu spending time at a local arcade. He finds himself enamored with an old Super Street Fighter II Turbo machine, reminded of playing at the grocery store instead of helping his family shop. It's a memory many of us can relate to, playing the classic fighter in our younger days. It already hooked me there with a nostalgic nod to my own Street Fighter II Turbo days.
When a random girl sits down and challenges him as Ryu versus Tamotsu's Chun-Li and totally trounces him, the episode takes a turn to focus on Pink Hoodie girl, later revealed as "Matsuko," a popular professional video game player. She ends up kidnapping Tamotsu's sister and forces him to compete against her in an upcoming tournament—but not just any tournament. A Street Fighter V tournament. And this isn't relegated to an image or picture of the game. It's a full-on depiction of the tournament with Tamotsu losing in his very first round.
But the gaming madness doesn't stop there. You get to see anime reproductions of professional gamers like GODSGARDEN Pro's Kazunoko and Razer's Fuudo, drawn faithfully as their normal selves. Most importantly, the entirety of the infamous Evo Moment #37 is featured in the episode as a character streams it on her tablet. The "Daigo Parry" is a momentous part of a Street Fighter III: 3rd Strike match during the Evolution Championship Series 2004 between professional Street Fighter players Daigo Umehara and Justin Wong.
Essentially, it's an extremely impressive and shocking moment that found Umehara making a comeback with all the odds stacked against him during the match by parrying fifteen hits from Wong's onslaught of "Super Art" moves with one sliver of health left. It's an iconic moment that the fighting game community won't soon forget, and now it's even been immortalized in this anime episode.Most anime series are usually content to make small references to popular media in the form of errant remarks, quick animated gags, and other silly nods, but this episode blew me away in terms of its dedication and obvious respect for Street Fighter as a series and the professional players who know their stuff.
It was truly meant as a love letter of sorts to a fanbase that undoubtedly soaked up everything about the Akiba's Trip games in the first place, and seeing these types of references come together in an episode of the anime really impressed and surprised me. I'm going to be on the lookout for more of these fun Easter Eggs soon. I'm just disappointed that it took me this long to jump on board the Akiba's Trip train.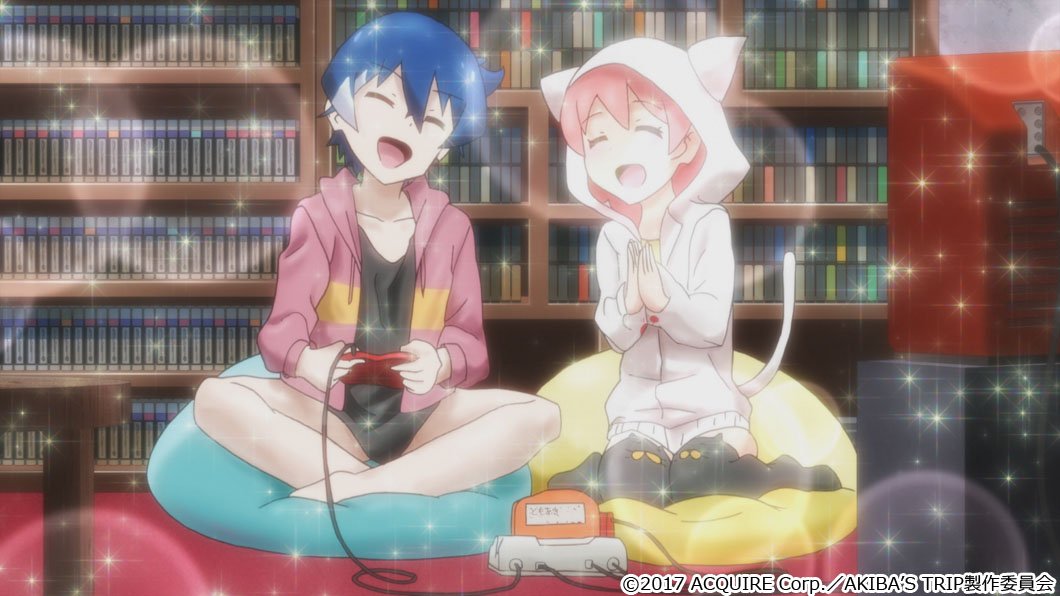 Image source: 「アキバズトリップ」アニメ公式 on Twitter
Akiba's Trip The Animation is streaming with subtitles on Crunchyroll. It is available with an English dub on FUNimation's website.