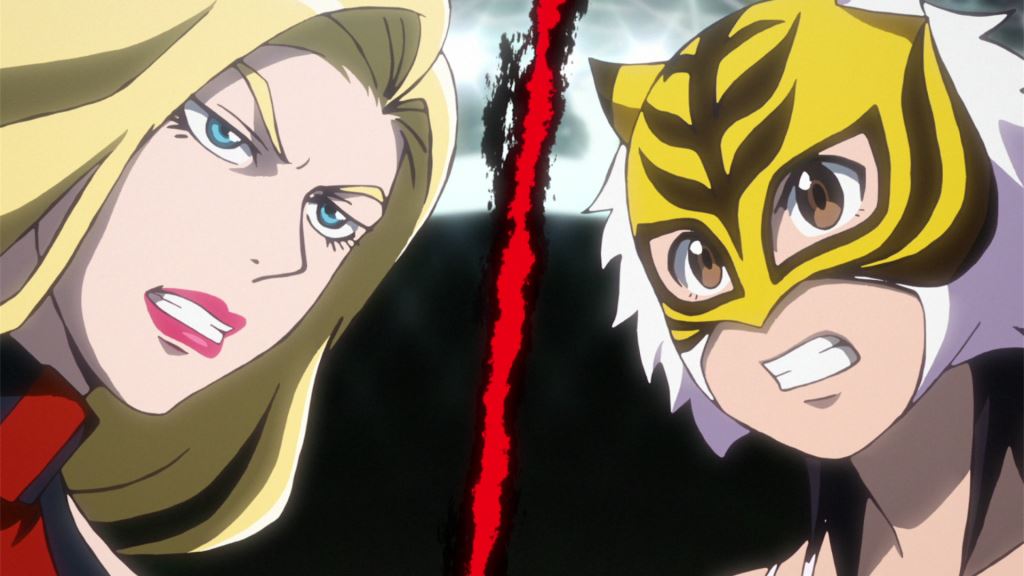 Image source: アニメ「タイガーマスクW」公式 on Twitter
Tiger Mask W continues going from strength to strength, keeping a steady pace that is not afraid to take time out from following its titular hero, to flesh out some of the supporting cast. We have seen how Naoto and Takuma—the "double" Tigers that the "W" of the show's title represents—have a bond that goes back to early training days. But when the masks come on, it turns into a bitter rivalry, accentuated by a shared longing for payback towards the Yellow Devil, who all but destroyed their wrestling organization. Such a long series (it is currently planned as a three-hour series, unusually long for today's productions) often needs to take a breather between rounds.
Recently, it has been Haruna's time to shine—and in rather surprising ways.
The structure of the Tiger Mask W narrative is an interesting one in that it manages to keep a fine balance between brutal action inside the ring—with sporadic, spontaneous, viscerally-shocking acts of violence—and outside the ring—with domestic squabbles between Haruna and Naoto about money or merchandising. Every so often, the wise old Kentaro pops in between to break up the two with the authority of the elder, experienced teacher.
We have seen Haruna playing many roles: At the ringside, she supports Tiger Mask, calling out to him with the rest of the fans. In between the fights, she is positioned in the lobby of the stadium, selling Tiger Mask merchandise she designed and arranged to be produced herself. And at home, she acts as both accountant and manager as she organizes the schedule for Tiger Mask, arranges his appearances, negotiates guarantee payments and other contract clauses with rival managers (like the mysterious Miss X), and calculates whether or not they made a profit each time. She even often drives the van! For her slight figure, she is already a living, breathing dynamo. She is young, bright, smart, and good-humored, but also a little shy sometimes.
And yet, Tiger Mask W knows how to keep a surprise on the down low, because recently it was revealed (to the viewers, at least) that this human ball of energy somehow found the time to do actual training herself—and all of a sudden, she seems to have developed some very impressive abdominal muscles!
Episode eighteen is titled, "Spring Tiger is Born!" (The haru in Haruna means "spring," in case you didn't know!). In it, Haruna shocks everybody by becoming a wrestler herself. It has now been a few weeks since this monumental episode and we have had a few character moments dealing with the fallout. It is interesting to look at this rise to a whole new identity from the outside and see it as a myriad of influences blooming inside her—the spring metaphor is therefore perfect.
Let us explore Haruna's backstory a little to trace how she came to travel this trajectory. Early episodes show that Haruna's dream was to be a mechanic, as Kentaro, her uncle, ran the Takaoka Motors shop. She had had her sights on working there after graduating from high school. Upon hearing that the shop was closing right around this time, Haruna was devastated. Naoto explained to her that he was leaving to become a Tiger… But that may not have meant much to her then.
However, she eventually became a tiger in her own right, learning the administration skills all on her own in order to manage Naoto's return as Tiger Mask. She is the main pillar of support and driving force behind the success of Tiger Mask.
Then, she was inspired by the female wrestler team Candy Pair, who are made up of two Japanese girls known as Milk and Mint. Before their match in episode fifteen, Haruna stopped by their dressing room and found that they are very down-to-earth young women near her age, but already experienced wrestlers. Even though in the end they lost to foreign wrestlers Payne and Queen, Haruna, along with the rest of the spectators, were moved by their performance.
Haruna is inspired by them enough that when their next fight comes around, she steps into the ring wearing her own tiger mask to replace the injured Milk. Suddenly, without warning, Spring Tiger is born! She proceeds to come up against her nemesis, Miss X, who goes under the guise of "X-Woman" inside the ring.
Surprisingly, this match is not only very close until the end, but it shows that what Haruna lacks in sheer power compared to Miss X, she makes up for in spades with resilience and technique. The commentator points out that Spring Tiger uses a fighting style not seen since the 80s, hinting that Haruna has secretly studied old films from back in the day.
Now the challenge she faces is how much longer can she keep this identity a secret? She has already revealed herself to Mint, Milk, and of course, Miss X. Even Fujiwara Mask now knows her true guise. However, the people closest to her do not seem to have a clue. Naoto has other matters to deal with but Takaoka still sees her as a child. He promised her mother that he would never let her be a wrestler, so expect to see some tensions building up soon.
In a way, Haruna, Naoto and even Takuma are as different as you can get, yet they both strive to become tigers, fierce and determined. Naoto had his goal set in his mind and is on a one-way path towards it—finding time for a bit of fun on the way but never losing sight of his objective. Takuma is so blinded by revenge that his pursuit of his target comes at the expense and sacrifice of virtually everything else in his life. Haruna, however, has been through one setback after another and has learnt from her mistakes and life experiences in a variety of environments. Whether it is the PR business, her physical training, or her managerial abilities, she has honed her skills and adapted them to keep updating her goals. She is very much taking advantage of her malleability to tackle opponents head on, whether in a suit or in a costume, as a result of having learned to quickly move on to a new challenge all the time.
Thus, Haruna is a great example of a passion-driven individual who is also able to balance that raw energy with a carefully calculated approach that matches with these fast-changing modern times. If the entire pro-wrestling industry collapsed tomorrow, you can bet Spring Tiger would be reborn the day after, to start a new business afresh.
Tiger Mask W can be viewed with English subtitles on Crunchyroll.