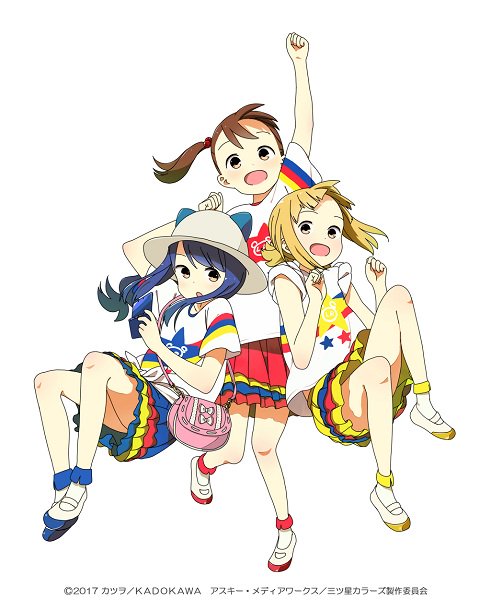 Image Source: アニメ「三ツ星カラーズ」 on Twitter
Mitsuboshi Colors, the manga series about three elementary school girls who are part of a organization that fights for justice, is getting an anime. The announcement was made at the Game no Dengeki Kanshasai 2017 & Dengeki Bunko Haru no Saiten 2017 & Dengeki Comic-sai 2017 event in Tokyo's Akihabara district.
The anime will star Yūki Takada (New Game!'s Aoba), Marika Kōno (Akiba's Trip's Matome), and Natsumi Hioka (Kumamiko – Girl meets Bear's Machi) as the heroines Yui, Sacchan, and Kotona, respectively. Tomoyuki Kawamura (Kamigami no Asobi: Ludere deorum, Good Luck Girl!) will direct the anime at SILVER LINK. (Dusk Maiden of Amnesia, Chaos;Child) with character designs by Takumi Yokota (Pupipō!) and series composition by Shōgo Yasukawa (Food Wars! Shokugeki no Soma, Chivalry of a Failed Knight). The format of the anime—whether that be a TV series, movie, etc—was not announced.
In Mitsuboshi Colors' story, three elementary school girls form the peacekeeping organization Mitsuboshi Colors. With their headquarters at the edge of Tokyo's Ueno Park, they solve any incident that comes their way. They'll do whatever it takes to protect the peace of Ueno!
The manga is written by manga creator Katsuo, and has been running in Kadokawa's Monthly Dengeki Daioh magazine since 2014.