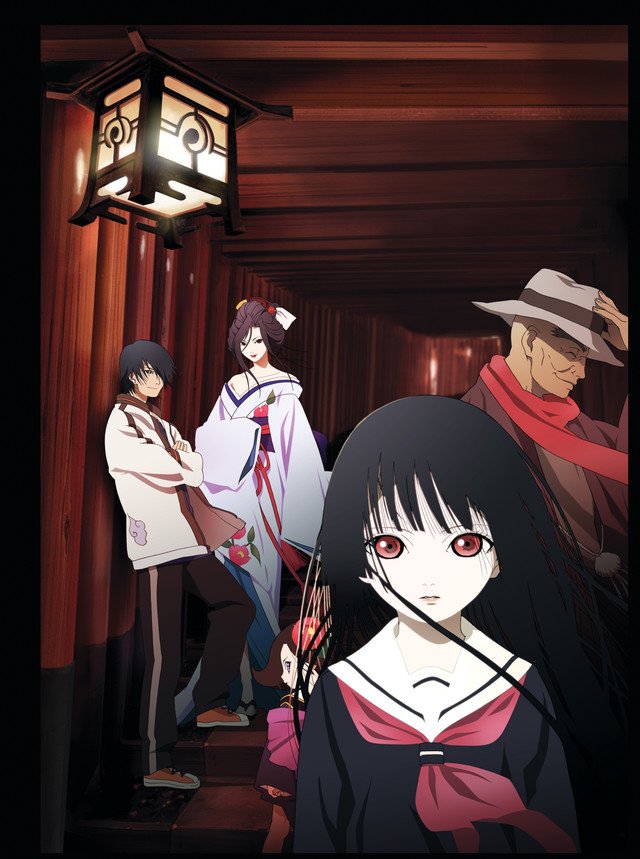 Image source: ステージナタリー on Twitter
Hell Girl is one of the few horror anime series that's really stuck with me over the past few years. Dealing with themes of revenge and damnation, it revolves around individuals who have been wronged in certain ways, seeking revenge on the very person or group of people who wronged them. Enma Ai, the titular Hell Girl, will appear (along with her assistants) to ensure the requested party's soul is taken straight to Hell. The only thing you need to give up in return? Your eternal soul.
The original three seasons were absolutely excellent, and now the beans have been spilled on an upcoming fourth season to start airing in July 2017. If you've never seen the previous three seasons, you should absolutely make it a priority to get through at least a couple of them before the new season begins. With that said, I've chosen some of the most satisfying revenge stories from the previous three seasons.
[This article contains spoilers for Hell Girl.]
---
Season 1, Episode 4: "Silent Cries"
This episode follows young Junko Kanno, whose dog falls ill. She eventually has to take her pet to a veterinarian named Yoshiyuki Honjo to nurse him back to health. Honjo takes the dog from Kanno and assures her it will be well taken care of, but the dog dies while in Honjo's care. Kanno investigates the crooked veterinarian to discover if it was an accident or if something more sinister was going on.
This episode tugged at my heartstrings like no other, because there's no greater pain I feel than when I see animals, even fictional ones, in danger of being mistreated or outright harmed.
---
Season 1, Episode 7, "Cracked Mask"
An actress named Ayaka Kurenai is plotting against her rival Kaoruko Kurushima after Kurushima performs well in their theater company together. Kurenai makes Kaoruko drink some special concoction that damages her voice out of retaliation—and also because she's human garbage. Next in her sights is her own adopted mother—and she's not afraid to get a little supernatural help to get the revenge she longs for.
---
Season 1, Episode 8, "Bound Girl"
Another episode that deals with animal cruelty in part, this tale follows a girl named Miki Kawakami, who becomes the slave of a bizarre rich woman named Meiko Shimono. Not only Miki, but her two pet corgis find themselves under Shimono's rule as well because the dogs bit Shimono. Shimono threatens to harm the dogs unless Miki acts as her slave—and she's not afraid carry through on her threats.
---
Season 2, Episode 1, "Girl in the Dark"
A girl named Maki Onda finds herself the target of some pretty severe bullying at school. She doesn't know what to do, so she spends a lot of her time every night trying to figure out who is bullying her, typing classmate names into the Hotline to Hell search engine that summons the Hell Girl.
---
Season 3, Episode 18, "That Person's Memory"
This one's a little more complicated, but it's well worth watching to the very end. One day, a girl comes home to see that her mother, who left her and her father when she was very young, has suddenly returned. Only she's extremely sick and needs care that's round-the-clock and extremely difficult for the girl to keep up with when her father expects her to dote on her mother at all times. This is just the first in a series of shocking turns that make her learn that her life is far different from what it had seemed.
---
Hell Girl can be seen with English subtitles on Amazon Video. Hell Girl: Two Mirriors can be seen with English subtitles on DVD. Hell Girl: Three Vessels can be seen with English subtitles on DVD.