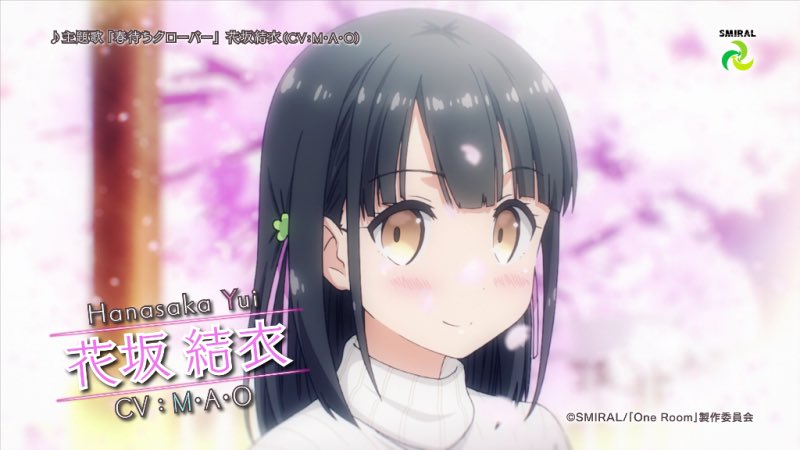 Image source: TVアニメ「One Room」公式 on Twitter
The doorbell rings. You open the door to find a young girl who has just moved in next door. Your story of One Room starts from there.
[Note: This article contains minor spoilers for One Room.]
One Room is a short form anime with only three characters, each with their own multi-episode arc–the first of which has just ended. The concept is simple: The viewer takes on the role of a male character and the screen becomes his mostly first-person view of the world in the show. The viewer character remains mostly passive while the female character on screen talks and moves about and generally progresses the story. The story is overall short and very contained, creating its own space–or "room," if you will–of comfort.
The first arc of One Room centers on the character of Yui Hanasaka, a high school senior who has just moved into the next door apartment with her sister. Yui hopes to go to a nearby college and has moved to the city to focus on her entrance exam studies. It turns out that the viewer character is a student at the college Yui is aiming for, so she enlists his/your aid as her tutor in hopes of improving her grades.
Through the course of just a few five-minute episodes, One Room does a good job of giving various hints as to the character of Yui and even to the viewer character himself. Yui's words and actions and the viewer character's room itself reveal enough to give the anime a sort of "livable" atmosphere while letting the viewer's imagination fill out the rest. Very little attention is paid to any surrounding characters in the protagonists' lives–Yui's sister is mentioned but might as well not exist–making it a very cozy fantasy that allows the viewer to overlay themselves onto the viewer character.
Overall, One Room offers a brief, heartwarming escape from one's everyday life. The first-person view adds a personal immersiveness much in the vein of makuranodanshi or Anime De Training! Ex. For the female viewers who might feel left out by the obviously male viewer character, a second series, Room Mate ~One Room side M~ featuring male characters is scheduled to begin airing this upcoming April.
One Room can be viewed with English subtitles on Crunchyroll.