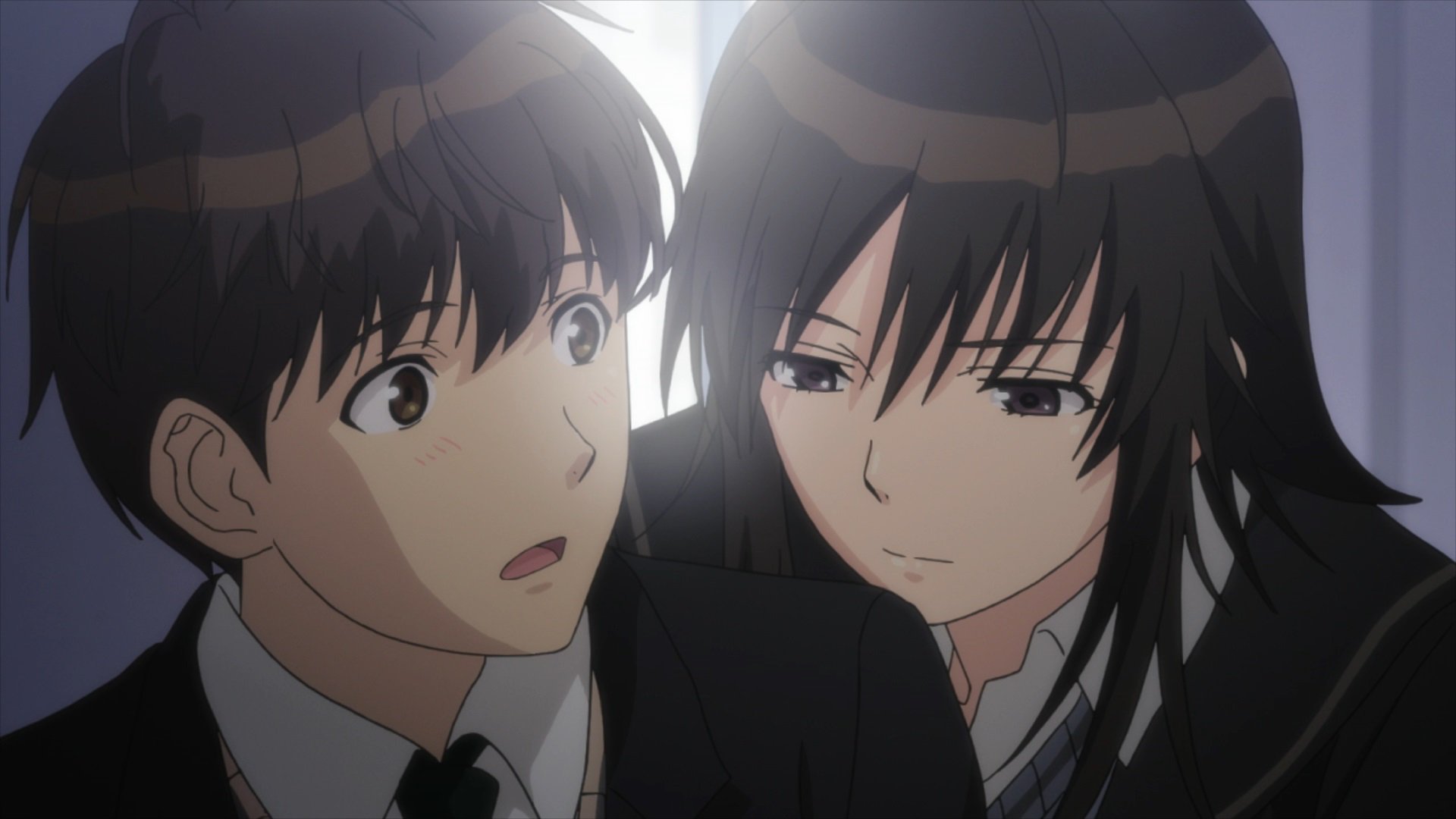 Image source: セイレン on Twitter
After a teen romance between protagonist Shouichi and the girl-next-door Hikari, Seiren now brings us to an alternate timeline where Shouichi is instead romancing gamer girl Toru. The two have one major point in common: They both play the deer-raising simulator/RPG Shika Daisuki (lit. We Love Deer).
Shika Daisuki is the newest, hottest game on the market, and Shouichi and his friends–including his furry-loving friend who is still popular with the ladies for some reason–play it constantly, hunkering down in the school staircase to play a multi-player session during lunch time. When the beautiful gamer girl Toru sees that Shouichi has obtained the super rare "Pure Deer Hoof," she is intrigued and begins interacting with him.
The first thing to mention about this Shika Daisuki game is that it's not just a simulation game and it's not just an RPG. By brushing and feeding and taking care of your deer, it will grow and be able to fight with enemies, who are mostly poachers wanting to take your deer friend down. But players have to be careful when brushing their deer around other players–apparently, its cry of joy when it is being groomed sounds rather… sexual. I've never heard a deer "cry in joy," so I'm not quite sure what that sounds like in real life, but now I want to find out. Yes. Apparently, Seiren has made me want to play a "deer-raising simulation/RPG."
Depending on how well you've raised your deer, the size of the deer will change. For example, Toru's deer is far, FAR larger in size than Shouichi's despite him having been playing since the day the game was released. But size isn't the only way a deer is customizable; players can decorate their deer with useful equipment. Although Shouichi begins with only "Deer Polish" on his deer, Toru teaches him that he can equip items like "Nightscope Goggles" in order to make his animal more adept at night combat. Wait, so this game even has day/night cycles? Sold!
Since every player's deer seems to vary depending on play style, I have to wonder: could there be different breeds of deer? What kind of growth options besides size are there? Are there any romance and/or breeding options? What is the story behind the poachers? Is there some kind of deep, dark backstory behind these deer that motivate them to fight back? The possibilities are endless!
While I'd love to learn more about Shika Daisuki, it doesn't look like we'll be seeing it again soon–Shouichi and his friends have moved on to MilliUsa (a portmanteau on the words "military" and "rabbit"), a dungeon-crawler featuring tiny foxes, giant bears, and over-sexualized rabbits as player characters. Farewell, dear deer. You have met the fate of many a game, left in the dust on the shelf by the newer titles.
Seiren can be viewed with English subtitles on Crunchyroll.