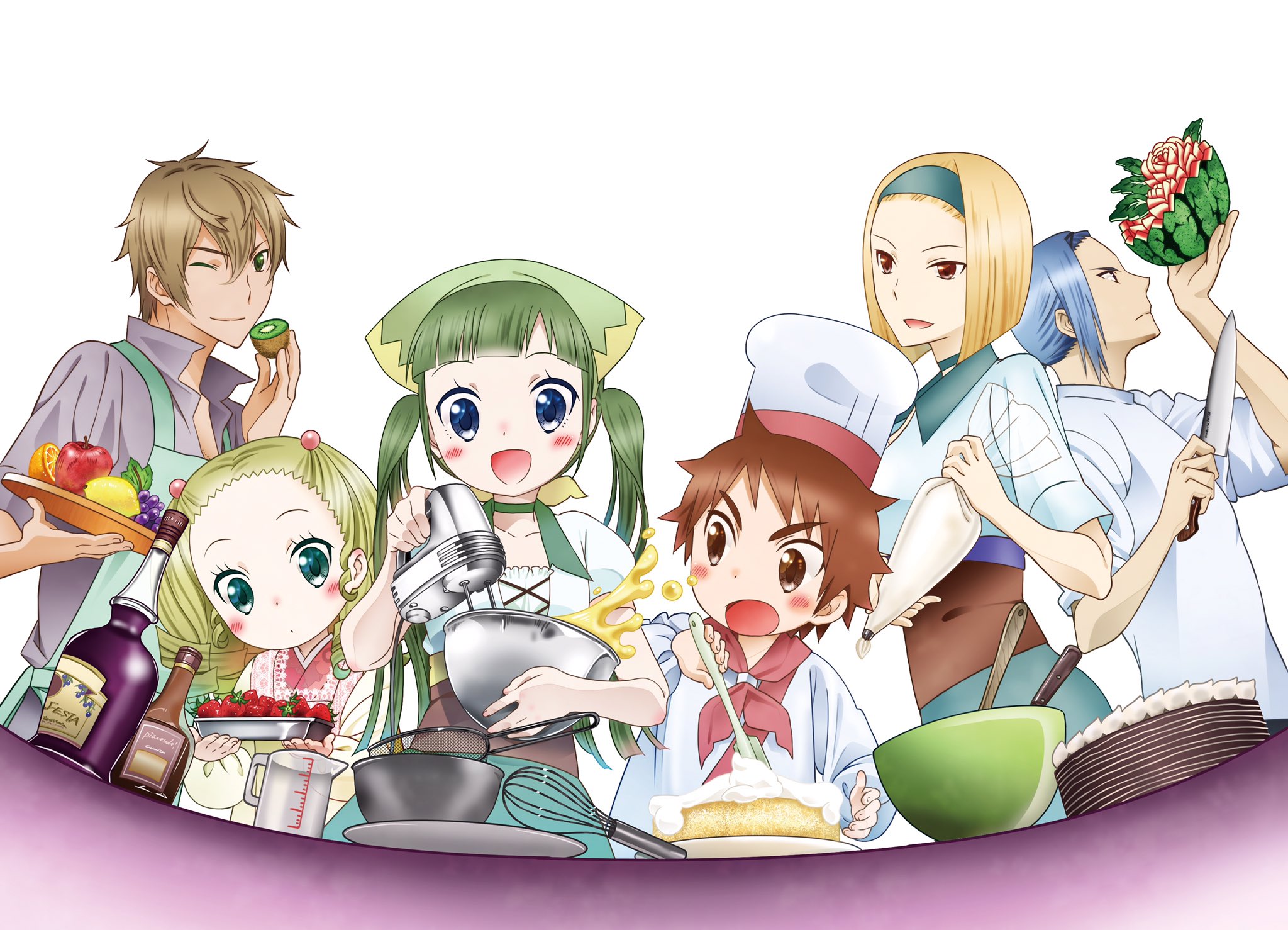 Image Source: アニメ「ピアシェ〜私のイタリアン〜」公式 on Twitter
Well, you knew this one was coming.
Despite being a short-form show, Piacevole is an anime I have to watch live on TV each week. Not only are the characters adorable (have you looked at the genius elementary schooler chef Mallow lately?), but the food is drawn with such care and detail that I get hungry just watching.
Luckily for me, the official Twitter for the Piacevole anime posts recipe videos for each episode's main dish, so I've been eagerly hitting up the kitchen.
【ピアシェスタッフによる、夜の飯テロ動画】TVアニメ「ピアシェ~私のイタリアン~」第1話にも出てきました「イベリコ豚のセージ風味ポワレ」にスタッフが挑戦!皆さんもこの動画を見て、是非ご自宅で作ってみて下さいね! #ピアシェ #飯テロ pic.twitter.com/RFmf9b0Sho

— アニメ「ピアシェ〜私のイタリアン〜」公式 (@piace_anime) January 12, 2017
Episode 1's "Sage Ibérico Pork Poêlé" was the most daunting. I didn't know what half of those words meant.
Image Source: Anime PONY CANYON on YouTube
However, after watching Yūki Yonai (seen above)–the voice actor for Mallow–skillfully cook the dish with no problem at all in a live-action video promoting the anime (region-locked to Japan, sadly), I felt like my skills as a chef were being challenged. Well, Mr. Yonai–CHALLENGE ACCEPTED.
With much care, I boiled the tomatoes in the microwave. OK, this might have not been a good idea, because they kind of exploded. But I soldiered on and managed to make pork cooked in salt, pepper, and sage butter.
After that, all that was left was to throw in some wine, lemon juice, and anchovies into the same skillet with the tomatoes to make the sauce. And since a meal of just pork isn't exactly the most healthy meal, I used the sauce to steam some green beans as well. So maybe it doesn't look as good as the one that the staff made in the Twitter video, but it tasted damn good.
Would I make it again?: Hell yes.
---
【ピアシェスタッフによる、夜の飯テロ動画③】本日は、TVアニメ「ピアシェ~私のイタリアン~」第3話にも出てきました「ティラミス」にスタッフが挑戦です!ココアパウダーでむせないように気をつけて下さいね!ゲフンゲフン!! #ピアシェ #飯テロ pic.twitter.com/GNA9oF9Xb3

— アニメ「ピアシェ〜私のイタリアン〜」公式 (@piace_anime) January 26, 2017
In episode 3, a dish that often appears in Japanese convenience stores and restaurants made its debut: the tiramisu. Made by whipping egg yolks and whites with sugar and mascarpone cheese and dripping it over coffee-soaked cookies, this dessert is the perfect pick-me-up.
Through my independent research, however, I found that Japanese tiramisu often uses sponge cake, not cookies for its dessert. "Oh, HELL no!" said Sarah one week ago, "If I'm cooking Italian, I'm doing this shit Italian-style!" So I went and ordered Italian lady finger cookies. It even says "How to make the Perfect Tiramisu" on the package! What could go wrong?
Lady Fingers taste like shit, that's what.
I can kind of understand why the Japanese use cake. Ugh. Those cookies are nasty.
So, after about an hour of whipping eggs, dirtying around ten dishes for different sauces, I decided that I didn't just want to make a normal tiramisu; you can just buy that at the store. Instead, I decided to take inspiration from the show's hero Mallow and make a "marshmallow" tiramisu. Although my first attempt at melting marshmallows was a failure (don't try to melt marshmallows in a pot, kid), toasting them in the toaster and then mixing them in while hot worked perfectly.
Then, I just dipped the cookies in coffee and layered on the custard, putting one final toasted marshmallow on top. It kind of looked like Mallow's chef hat, so I'm just going to lie and say that I totally intended to do that.
Would I make it again?: No way. The amount of mess this thing makes it not worth it. Maybe if I had someone else to serve it to, but for just myself, I'd rather make something that's going make my kitchen not look like a war zone.
---
【ピアシェスタッフによる、夜の飯テロ動画⑤】今週は、TVアニメ「ピアシェ~私のイタリアン~」第5話にも出てきました「サングリア」にスタッフが挑戦です!「サングリア」は元々スペインの飲み物ですが、そこから伝わって今ではイタリアでも飲まれているそうですよ☆甘くても飲み過ぎ注意です♪ pic.twitter.com/AeWZ96AvLE

— アニメ「ピアシェ〜私のイタリアン〜」公式 (@piace_anime) February 9, 2017
Sangria is an interesting beast. While the sangria featured in Piacevole's fifth episode is clearly cooked with fruit and cinnamon, there are many variations of this beverage, including cold sangria, which the staff on the official Twitter made. My favorite version of sangria is made not with red wine, but instead with rosé, a pink wine. I put lemon juice, oranges, and raspberries in my blend, poured in some sparkling water, and then left it to sit in the fridge for a few hours so the fruit could really soak in the flavor.
Would I make it again?: If I'm in the mood for booze, then sure, why not? It's a simple, refreshing drink that can be made in a variety of ways with different flavors and temperatures.
You can check out the show's official Twitter account for the other recipe videos they have.
Piacevole ~My Italian Cooking~ began airing in Japan on January 11, and Crunchyroll is streaming it with subtitles. Crunchyroll also offers the original Piacevole ~My Italian Cooking~ manga on its website with an English translation.