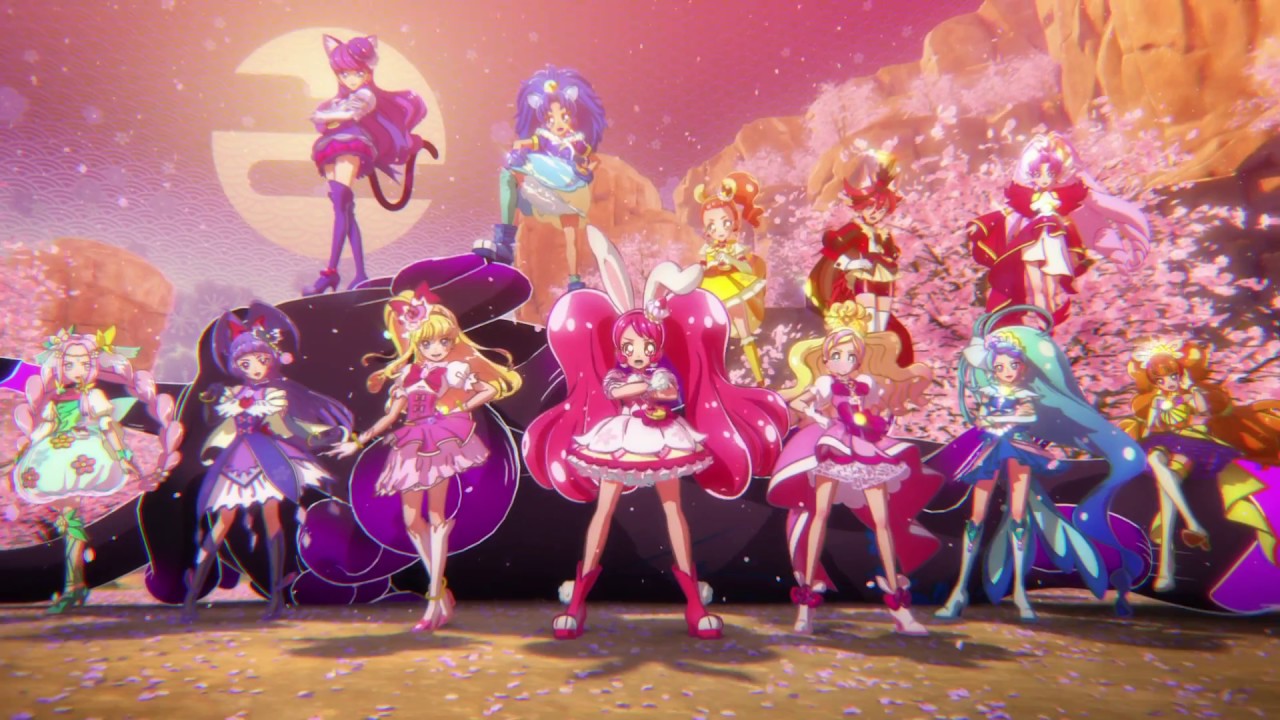 Image source: 東映映画チャンネル on YouTube
Pretty Cure is one of the most popular magical girl anime franchises of all time in Japan, and it has spawned several series with a brand new motif and characters each time. It's also responsible for putting together several crossover films that bring together PreCure characters from the various anime series.
Pretty Cure Dream Stars is the first film in the upcoming Dream Stars series, which is meant to replace the previous Pretty Cure All Stars crossover movies–the aforementioned series of films with characters from current and previous Pretty Cure series. Pretty Cure Dream Stars will hit Japanese theaters on March 18, 2017, but if you need a refresher as to which Cures will be appearing from which series, we've got you covered here!
Kirakira PreCure a la Mode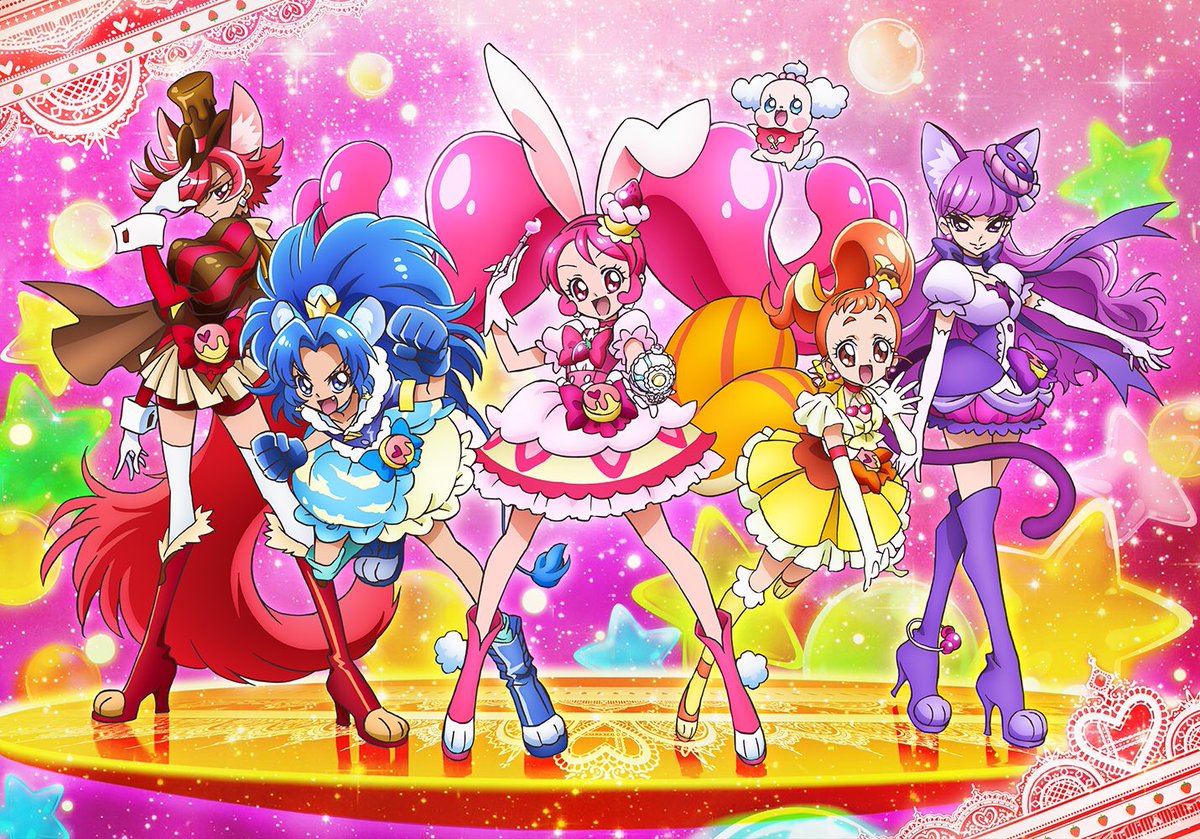 Image source: 東映アニメーション公式 on Twitter
The fourteenth Pretty Cure series, Kirakira PreCure a la Mode is centered around cakes, sweets, and delicious treats you can eat with the catchphrase of "Make! Eat! Fight! Let's La Mix all our Energy and Smiles!" It features five main Cures, as listed below, and it centers around happiness as well as animals and desserts. Monsters called Henteko have been stealing "Kirakiraru," or the energy in delicious snacks. Main character Cure Whip is tasked with saving this energy and helping people in need.
Ichika Usami | Cure Whip
Ichika loves sweets and is a cheerful young middle school student whose family are all a bunch of famous Patisseries. It's in her blood to make delicious treats, and she turns into Cure Whip. She sports a pair of adorable bunny ears.
Himari Arisugawa | Cure Custard
Himari is a second year middle school student who's also known as the Sweets Professor. She's shy, though intelligent and courageous, and always has your back in a pinch. She's actually Cure Custard, with a pudding and squirrel theme.
Aoi Tategami | Cure Gelato
Aoi actually happens to be a singer in a rock band, though she's in middle school as well. She's passionate and brave, and she represents freedom as Cure Gelato.
Yukari Kotozume | Cure Macaron
This beautiful second year high school student can be a little vain and selfish, but when she's Cure Macaron, she represents everything beauty and excitement and has a special cat and macaron motif.
Akira Kenjo | Cure Chocolat
Akira is a second year high school student who believes firmly in justice. She's a little boyish in comparison to the rest of the Cures, and transforms into Cure Chocolat–where she has a special dog and chocolate theme.
Maho Girls PreCure!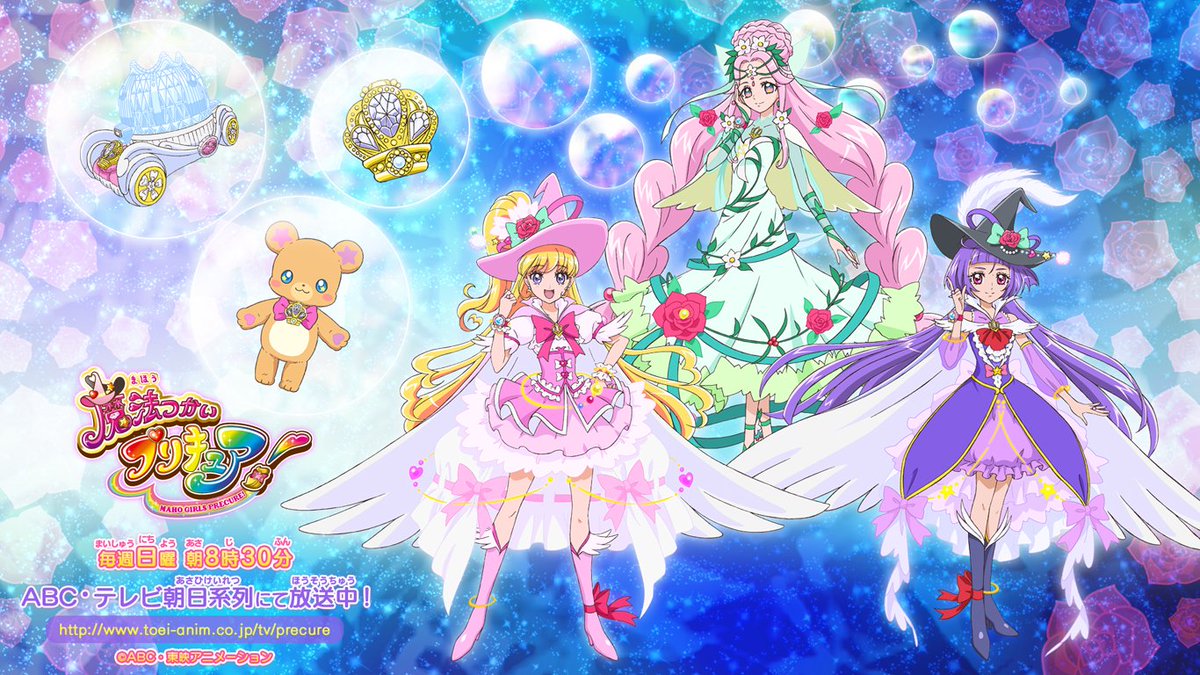 Image source: 東映アニメーション公式 on Twitter
One day, thirteen-year-old Mirai Asahina takes a walk with her stuffed bear to see about a mysterious object that fell from the sky. When she reaches the object, she meets a magician named Liko, who's looking for the Linkle Stone Emerald. The malevolent Dokuroxy come looking for the Linkle Stone Emerald, and Mirai and Liko must team up and transform into the legendary magicians Pretty Cures to fight them off. Shortly after, they begin attending Magic School together.
Mirai Asahina | Cure Miracle
Mirai is a middle school student who lives in the human realm of Tsunami, which magicians refer to as the No Magic Realm. She doesn't really have any friends, but her family owns an accessory and jewelry shop. She's very much into magicians and witches, and eventually becomes Cure Miracle.
Liko Izayoi | Cure Magical
Liko is a young girl who actually comes from the Magic World and is already attending Magic School. She's not so great at casting magic spells and often has issues riding her broom. She has an older sister named Liz, and it's one of her greatest goals to be a better, more talented witch than her sister. She becomes Cure Magical.
Kotoha Hanami | Cure Felice
Ha-chan, or Kotoha Hanami, is initially a baby fairy. She rapidly ages until she finally ends up rescuing the Cures as Cure Felice, the Cure of Happiness. She resembles a beautiful flower of sorts and she has several hidden powers.
Go! Princess PreCure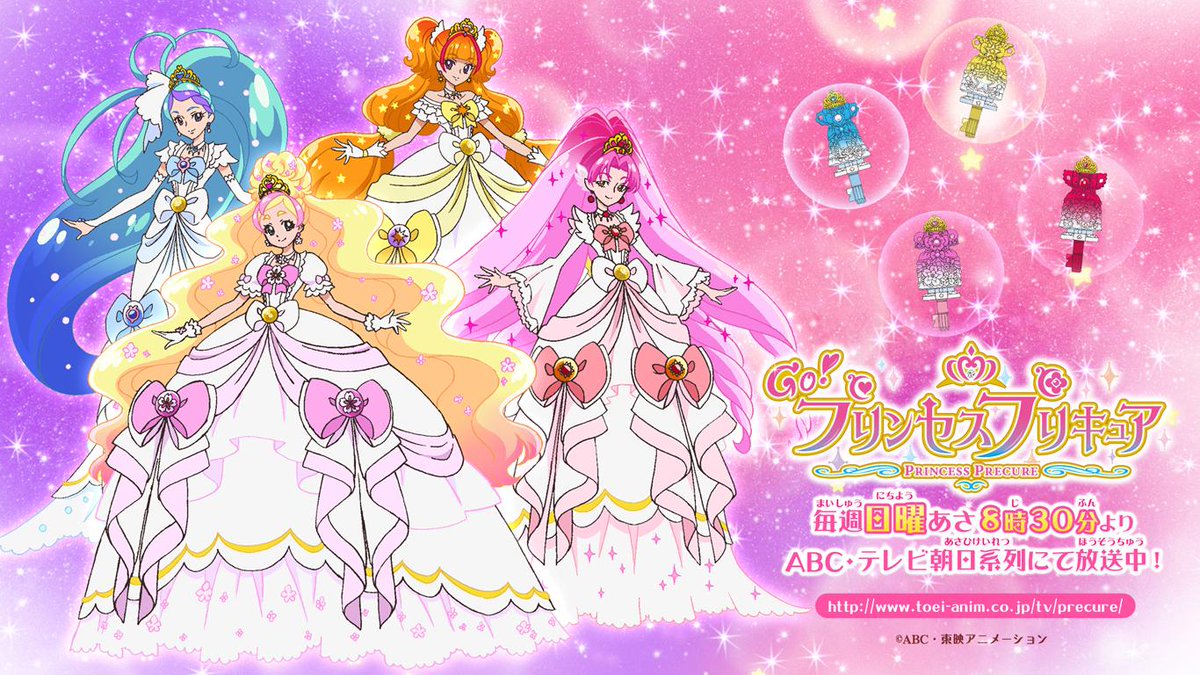 Image source: 東映アニメーション公式 on Twitter
The twelfth main PreCure installment, this series follows a young girl named Haruka Haruno, who's always wanted to be a princess since she was a little girl. After having met a boy named Kanata who gave her a charm and advised her to never give up on her dreams, she grew up and attended boarding school, all the while hoping to become a princess. One day, she meets two fairies: Pafu and Aroma, who need her help escaping a man named Close, who works for Dys Dark–an organization led by the evil Dyspear, a witch who wants to make the world a miserable place. She ends up making plenty of new friends who fight alongside her, each with their own sets of Dress Up Keys that collected throughout the series.
Once enough are amassed, the Gate of Dreams will be opened, which will help aid the Pretty Cures in protecting humanity's collective dreams. They come in various themes and colors which represent the outfits the Cures will change into. The names of the Keys, like Ice or Sango, refer to the outfits' themes and colors, of which the Cures get several.
Haruka Haruno | Cure Flora
Haruka, like nearly every other PreCure heroine, is energetic, cheerful, and carefree. She loves to refer to things as being in "full bloom," and dreams of becoming a princess. She receives special Dress Up Keys to the tune of Flora, Primavera, Rose, Lily, Sakura, Pumpkin, and Royal, and transforms into Cure Flora.
Minami Kaido | Cure Mermaid
Minami is the quieter one out of the heroines, and is a freshman at the Noble Academy. She's a bookworm who's always referred to as the Academy Princess. Many of the students look up to her as an older sister. Her Dress Up Keys are Mermaid, Primavera, Ice, Bubble, Sango (Coral), and Pumpkin. She transforms into Cure Mermaid.
Kirara Amanogawa | Cure Twinkle
Kirara is much flashier than the other characters. She works as a part time junior model and is extremely busy. She wants to further her modeling career and has special Dress Up Keys as Twinkle, Primavera, Luna, Shooting Star, Ginga, and Pumpkin. She transforms into Cure Mermaid.
Towa Akagi | Cure Scarlet
Cure Scarlet has a bit of a secret that I won't reveal here, but she is by far the most unique in the series, with secrets that are revealed later on in the show. Just know that she's revealed as a very important part of the show that you won't want spoiled for you.
Which Pretty Cure series is your favorite, and which Cure is your favorite? Let us know!
Pretty Cure Dream Stars will be released in Japanese theaters on March 18, 2017. There is currently no word on a Western release.