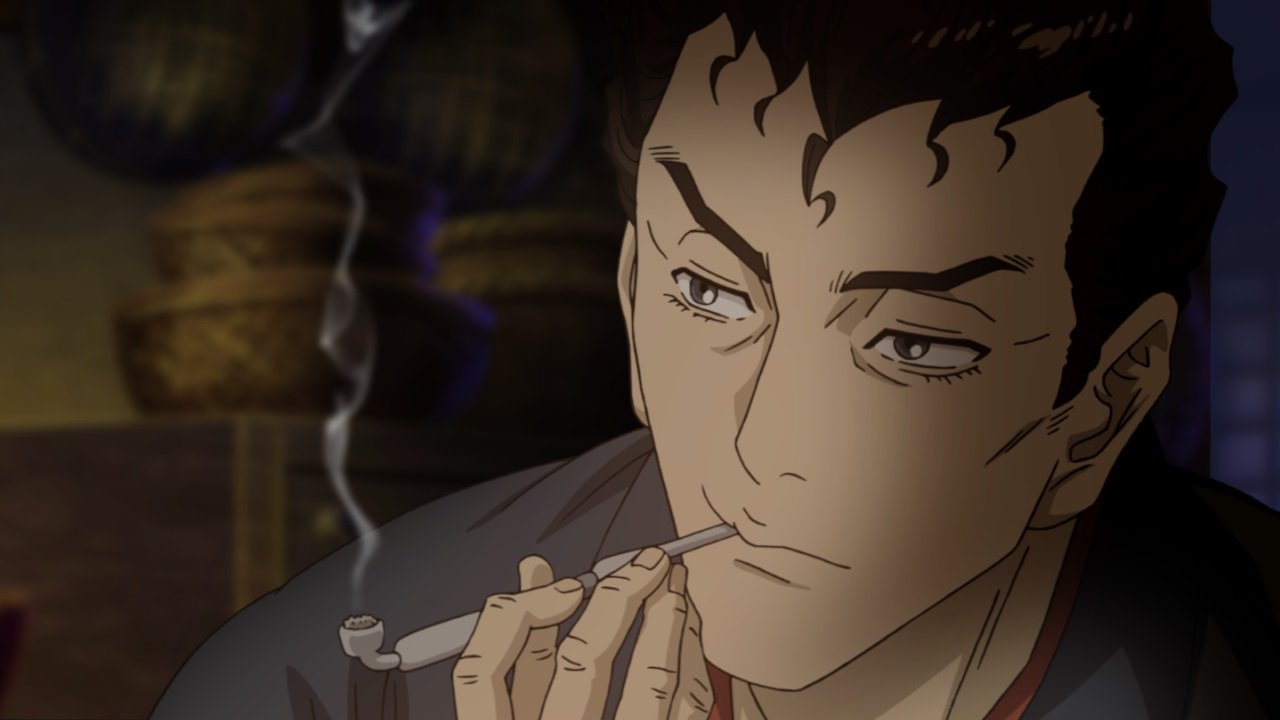 Image source: アニメ「鬼平」 on Twitter
A new anime series known as Onihei has just started airing, and it blends violent action, human drama, and suspense within a samurai setting.
It follows the character of Heizō Hasegawa, nicknamed "Onihei," a chief of the arson-robbery division of the Edo police as he relentlessly and ruthlessly goes after the bad guys.
The Onihei Hankachō character began life in December 1967 in his first adventure of a long-running series of novels written by Shōtarō Ikenami, and published by Bungei-Shunjū. The series numbered 135 episodes by 1990; the accumulated sales of the novels today totals an astounding 27 million copies. So you can say that the name is now something of a national institution in Japan today, its mainstream recognition in large part due to the live-action television series that has been running in various incarnations, starting in 1969. The series is one of those classic jidaigeki shows–in other words, samurai dramas–a staple particularly popular in the 1970s. These days, public TV network NHK still produces regular jidaigeki series, such as so-called "Taiga dramas," but the genre as a whole is in quite a recession, as production costs are high and, in the current climate, they do not produce the ratings they used to. It is a safer bet to invest in variety shows and slice-of-life drama series. Additionally, as a whole, young people are not as interested as the older generations in jidaigeki.
However, along comes a certain institution with a cunning plan to turn this whole situation right around. It is none other than the Jidaigeki Senmon Channel, a special satellite channel that normally caters exclusively to the jidaigeki fan and shows nothing but good old fashioned Japanese period dramas every day of the week.
Now, marking the fiftieth anniversary of the character this year, the Jidaigeki Senmon Channel has collaborated with Masao Maruyama, co-founder of anime studio Madhouse, to bring us a newer, cooler, sharper version of the character. Of course, Madhouse is no stranger to samurai action, either, and Maruyama's production staff (at Studio M2 and TMS Entertainment) infuse some beautiful imagery of life in Edo with quick, dynamic, explosively-violent choreography as Onihei gets down and dirty.
And what a great treat it is, indeed! The art, designs, music, frame composition, and voice performances are all top-notch.
One thing that stands out is the fairly hardcore, gruesome violence right from the start, which sets the tone for the series. This is not your father's Onihei Hankachō, nor is this your typical brightly-colored fantasy anime. The opening title sequence has a highly-stylized look with mysterious silhouettes, bleeding ink-work, bright, glaring sword edges, and popping film grain. This all plays against an instrumental funky opening with roaring horns and a cool beat that makes you feel that you are in the 70s, with some shakuhachi and hyoshigi to give a traditional Japanese accent to the groove.
Looking a little deeper, you can start to see some of the ties that bind this unique patchwork together.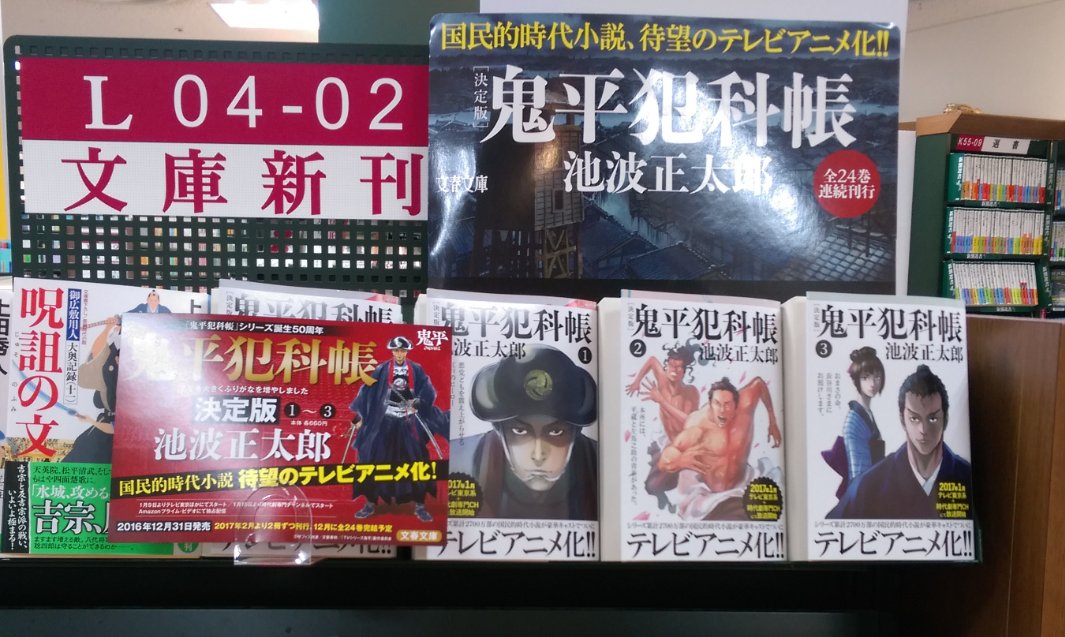 Image source: アニメ「鬼平」 on Twitter
Most anime these days are the product of a committee of various companies that have a chip-in style approach to investment in a media property. That is, they are often used to promote some other product or event. As mentioned earlier, the anime is sponsored by the Jidaigeki Senmon Channel, and the commercials running during the broadcast make it clear precisely what demographic they are targeting with their advertising strategy. One of the ads assumes the viewer laments that "'real' men are just not enough." Another commercial says that you are probably thinking, "I'm tired of the real world. 2D is the best!" What could this mean? Well, it would be a fair guess to say that this refers to the trend of young people being more interested in anime "fantasy" as opposed to live-action adventures ("real"). But the commercial assures us that "cool, real men are alive" in the world of jidaigeki, and that your fantasies are realized here at the Jidaigeki Channel.
So the assumption is that young people are most likely tired of live-action dramas because they cannot offer the excitement and escapism of anime–however, the Jidaigeki Senmon Channel is trying to change that view by promoting jidaigeki as something which is just as wild and exciting as anime–you just never had the opportunity to watch it properly.
In a sense, therefore, Onihei is a gateway opportunity for a potential influx of young subscribers to the channel and a wider popularity of the jidaigeki genre.
The response online, also, from what we can tell so far, has been overwhelmingly positive, with many praising the mature content and even calling it straight-up jidaigeki before "anime."
As an aside, the other sponsors of the show are Bungei-Shunjū and TMS Entertainment themselves, in a typical "if you liked this, then you'll LOVE…" sort of quick-fire selling strategy. Bun-shun is making sure you check out the original novels, and they even offer one as a packing when you buy the Onihei OVA Blu-ray, while TMS is taking advantage of the traditional Japanese swordman link to promote their other samurai-themed upcoming work, the Lupin III feature, Chikemuri no Ishikawa Goemon (Lupin the Third: Goemon Ishikawa's Spray of Blood).
Two episodes in, and the series itself seems to be full of standalone episodes featuring the same main character. It's very easy to get into even if you do not know the original, with each story featuring intriguing characters and great performances, such as guest star Megumi Hayashibara playing the role of "Ofusa." Let us hope it succeeds in its apparent aim to bring a whole new audience into the world of jidaigeki!
Onihei is currently streaming on Amazon.