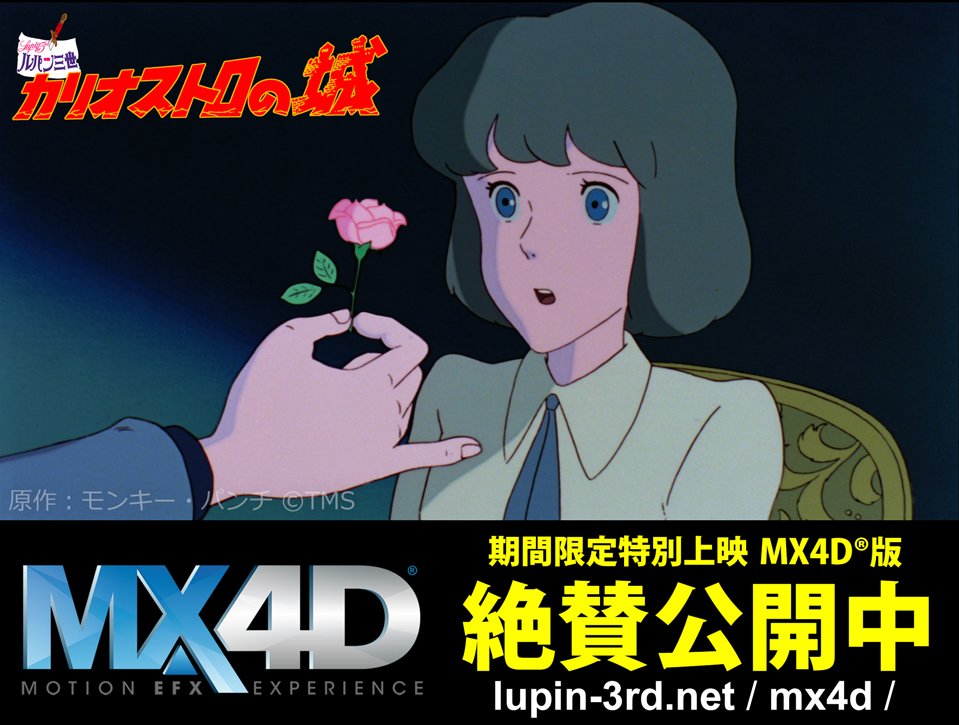 Image source: アニメ「ルパン三世」公式 on Twitter
January 20 saw the re-release of 1979's seminal Hayao Miyazaki movie, Lupin III: The Castle of Cagliostro, in Japanese theaters. But it is not exactly as you remember it–this time, it is the MX4D edition!
"MX4D" is a special system of immersive cinema, the brainchild of Los Angeles-based MediaMation. In Japan, their wares are handled by Sony Business Solutions. In recent years, many gimmicks have been added to films in order to maximize the movie-going experience. 3D editions of movies have come out simultaneously to regular versions and some classics have had 3D versions produced retroactively to bring back audiences. The 4D system goes beyond that and gives movies–in particular action blockbusters–a greater sense of "being there." It features wildly-swaying seats, popping seat-backs, water-spray effects, strobe lighting, and many other gimmicks. This has been used to great effect in particular as attractions at theme parks such as Universal Studios Japan in Osaka. USJ is home to many 4D "rides," some of which are available only for a limited time and feature exclusive content of fan-favorite Japanese properties such as Attack on Titan, Evangelion and, very soon, Shin Godzilla.
4D has actually been around for a while, but according to the TMS Entertainment, Castle of Cagliostro is the first decades-old movie that has been re-worked to be given the MX4D treatment. It is a timely release, as it comes just as Lupin III is celebrating its fiftieth anniversary.
The movie itself is a noteworthy milestone for the history of Japanese animation as it marks the first full-length animated feature directed by Hayao Miyazaki–and one can spot many of his signature themes and touches within it. It manages a delicate balance between picturesque, serene calmness bordering on the melancholic, and comical, kinetically-charged chases. This is a marked difference from the more wild and frenetic 1978's Lupin Vs. Clone (a.k.a. The Secret of Mamo/The Mystery of Mamo), Lupin's first animated theatrical outing. If you have not seen Cagliostro yet, you owe it to yourself to do so.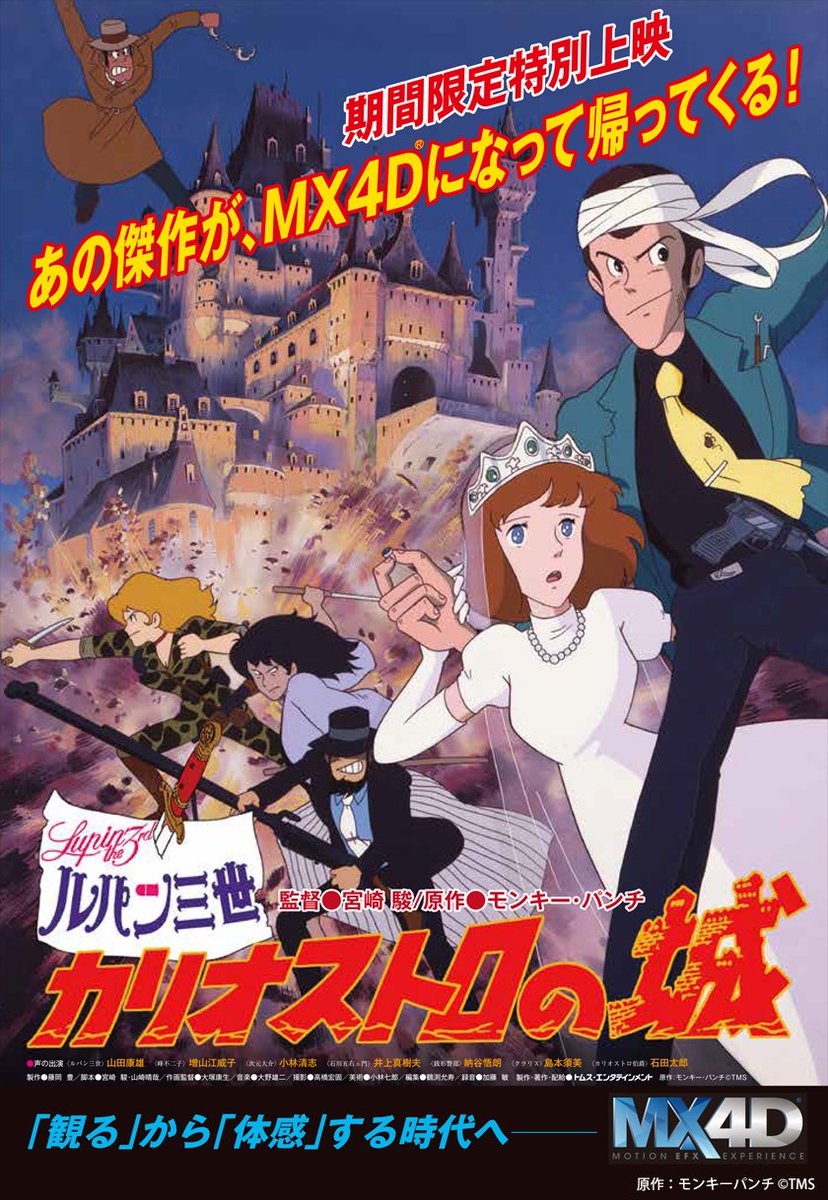 Image source: アニメ「ルパン三世」公式 on Twitter
But what the MX4D experience added is a brand new way to enjoy the old classic–even if one knows the movie beat-by-beat, as I am sure many did, the clever mechanical trickery this edition pulled off surprised the viewer at every turn. Blasts of wind to the face during the famous Citroen and Fiat car chase scene put you there right on the cliff-edge roadside, you got vertigo induced upon you during the long pans down from the top of the clock tower, and you even felt every bullet in your back during the gunfights. Even smoke effects appeared in front of the screen at certain times. (I am going to assume that was clean, pure water that got sprayed in my face during all those scenes in the moat surrounding the castle.)
Animate Times a few days ago published an online interview with key animator Kazuhide Tomonaga–also the chief director of the Lupin The Third Part IV (a.k.a. The Italian Adventures) television series–as well as Sumi Shimamoto (the voice of Clarise) who both were treated to a special preview of a couple of scenes just before the release. (You can learn more about Tomonaga's Part IV in a previous Anime Now! article here.)
Lupin the Third Part IV Is the Perfect Gateway to the Forty-year-old Franchise
Shimamoto was highly impressed with the whole effect of immersion, especially during the car chase, but she warned viewers to try to keep their mouths closed, lest they be subject to a startling burst of water on the tongue! Meanwhile, Tomonaga was initially watching with a touch of caution, but he too was amazed by the illusion of being at the scene. In particular, he liked the sharp movements, and pondered the possibility that films would now be designed with this system in mind going forward. Also, he noted that the while the "camera" in Cagliostro is usually still, recent anime has a lot of shaky camerawork, so he thought it would be interesting if that were to be incorporated into the MX4D system, too.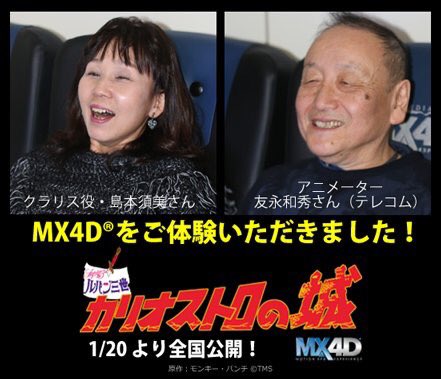 Image source:テレコムアニメーションフィルム公式 on Twitter
Movie news website "dmenu-Eiga" reported that we have likely not seen the last of this kind of retrofit movie event. This MX4D edition of Castle of Cagliostro was produced by Dynamo Amusement, who collaborated with animation production giant TMS Entertainment to program all the movements and effects to synch perfectly to the onscreen action. Dynamo's head of planning and sales department, Naoki Ogawa, is quoted as saying that many people have already seen Cagliostro, and are anxiously awaiting the 4D edition. It is interesting because it means that you can now get new life out of vintage, sure-fire hit contents.
The article implies that the success of Cagliostro MX4D could hopefully bring about more classic anime being given the 4D treatment. None were suggested, but it's fun to speculate. Nausicäa, Laputa… Maybe even Crusher Joe (it did after all just receive a limited, glorious 4K screening from November to December, 2016)! What would you want to experience?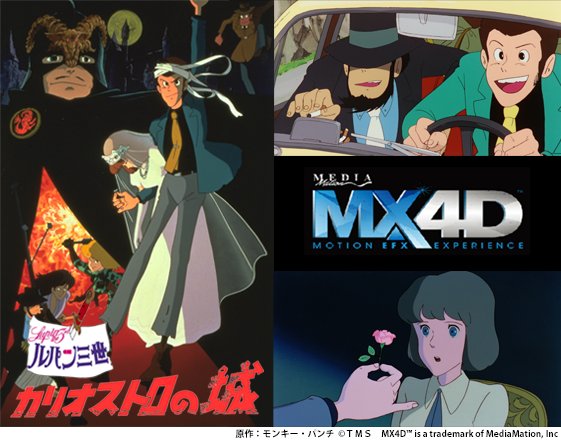 Image source: TOHOシネマズマガジン編集室 on Twitter
Lupin III: Castle of Cagliostro MX4D Edition is currently showing at Toho Cinemas for a limited time throughout Japan. It is priced reasonably at 2,200 yen, as opposed to the regular price of 3,000 yen for a typical MX4D experience. You even get a free postcard (while stocks last)!