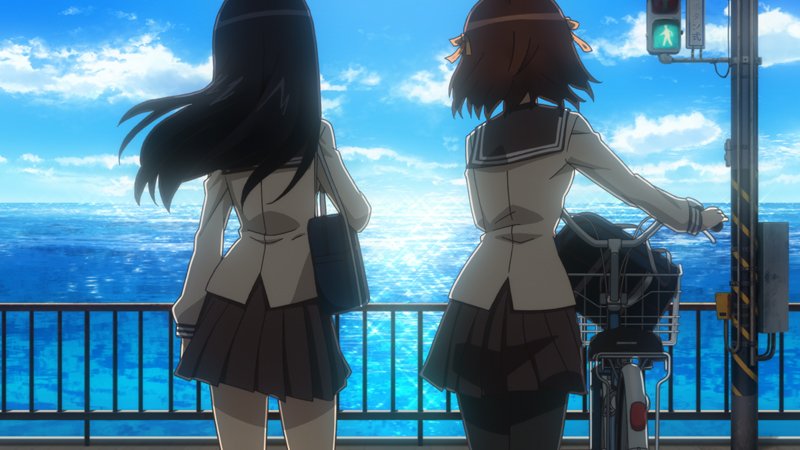 Image source: TVアニメ『南鎌倉高校女子自転車部』公式 on Twitter
This season, two anime series are starting, both following a group of young schoolkids on racing bikes trying to strive for self-improvement, friendship, and glory. I am referring to Yowamushi Pedal: New Generation, and Minami Kamakura High School Girls Cycling Club (Minami Kamakura Kōkō Joshi Jitensha-bu). The former is about boys, the latter, about… well, what else… girls!
Intriguingly, the two series share in common much more than the topic of bicycle racing: They are both written by one Kurasumi Sunayama.
Sunayama is no stranger to the explosively-popular and ever-growing Yowamushi Pedal franchise, having written many individual episodes up to now. But now as head writer, it will be interesting to see the direction in which the story and themes head.
Although Yowamushi Pedal has had quite a head start, with several series and adaptations already in the bag, while Minami Kamakura has just begun its run, we can already pick up some interesting points of comparison.
Both start off with protagonists who are entering high school but have some self-esteem issues, thus both are somewhat coming-of-age stories. While in Yowamushi Pedal our "hero" is an anime otaku who is originally just looking for friends who share his hobby, in Minami Kamakura, the "heroine" is struggling to fit in, in a completely new environment, afraid that she will not be able to make any friends at all. Her confidence is lowered a couple of bars when she finds, to her own surprise, that she cannot even ride a bicycle–thus she has to start from the very beginning if she wants to even just be able to simply commute to school. She then extends her aspirations to then go even further, trying to challenge some long-distance cycling so she can see some other sights in this new region. In Yowamushi, also, the confidence of the protagonist builds up through self-improvement, but in this case it is because of the appearance of a rival who challenged him directly. It is an interesting twist, implying that even though the themes seem very close, they are not presented as a simple, paint-by-numbers gender-swap.
Minami Kamakura is also notable for the amount of focus it concentrates on the picturesque scenery of its setting, which is, of course, the city of Kamakura. It takes its time to show us its portrayals of popular island Enoshima and the sights that surround it.
So in many ways, it plays up the aspects of regional promotion and it is easy to predict some pilgrimages to various locations in the region in the forthcoming weeks. Incidentally, the concept of the anime "sacred-spot pilgrimage" (聖地巡礼, seichi junrei) is a topic I touched upon a few months ago when writing about Nazotokine.
Yowamushi Pedal has seen a steady stream of fans pouring into the city of Sakura in Chiba Prefecture, the town which served as the model location for where the fictional Sohoku High School is supposedly situated. The Nikkei reported back in 2014 that 1,500 people came to visit the town on March 7, the birthday of the main character, adding that 90% were female fans. It remains to be seen whether we will see a similar phenomenon with Minami Kamakura, but certainly there is a precedent set.
There is even a line that Hiromi utters in the first episode describing the similarity between Kamakura and Nagasaki, where she just moved from. She says that "there are so many slopes, and once you come down from the hills, you're faced with the ocean." In this last point, I find it amusing that the word for slope is "sakamichi," which also happens to be the name of the main character in Yowamushi Pedal, Sakamichi Onoda. Now, of course, I may be clutching at straws, but it certainly seems tongue in cheek, and may even be an inside joke!
It is still the early days for Minami Kamakura, of course. With Long Riders! still fresh in our memory, you might think, aren't we getting a little swamped with cycling anime? You would be forgiven for thinking that there might be a danger that we're running out of ideas and just recycling the same old themes, only gender-swapping from time to time. However, I think there are many more possibilities for similarly-themed anime.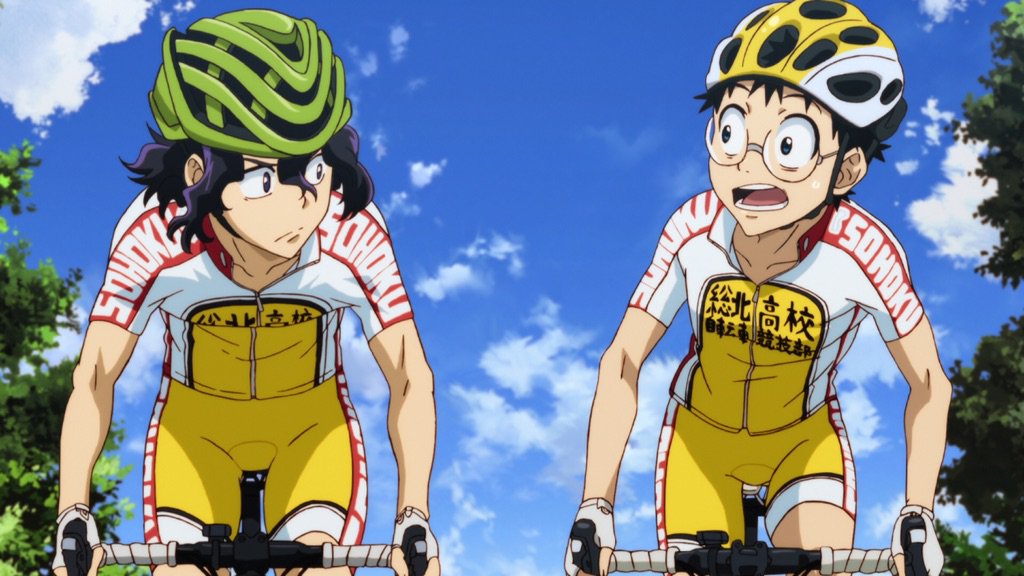 Image source: 弱虫ペダル_アニメ on Twitter
At the end of the day, bicycles may prove to be as much a mainstay in anime as giant robots and magical girls: With enough variables to shift around within the set frameworks, anything is possible!
Yowamushi Pedal: New Generation is currently streaming on Crunchyroll here, while Minami Kamakura High School Girls Cycling Club is here.