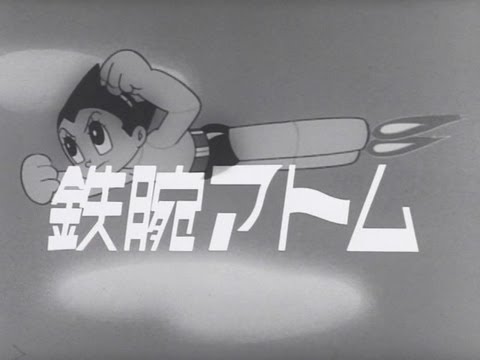 Happy New Year 2017! This is sure to be a significant year for anime–especially because it is the 100th anniversary of the birth of Japanese animation.
We often hear that Astroboy/Mighty Atom/Tetsuwan Atomu is a pioneering work, and for good reason: It was the very first serialized thirty-minute weekly, Japanese-produced, animated program on television in 1963. But it certainly was not the first example of the first Japanese animation.
Momotaro's Divine Sea Warriors, from 1945, was the first feature-length animation produced in Japan. And there were plenty of shorts before that. But which is the first?
Now, technically, it is very hard to pin these things down, because new discoveries will always be made. But in truth, the earliest year on record for animated film productions in Japan is 1917. There may have been earlier ones, but the 1923 Great Kanto Earthquake destroyed a large portion of Tokyo's film output prior to that.
In fact, a recent discovery in Kansai has thrown even the 1917 date into dispute, as an extremely short film, simply titled Katsudō Shashin, seems to go even further back.
Katsudō Shashin (活動写真) as a title is closer to a description of the medium, literally meaning "active photo"–in other words, a moving picture. It appears to be a series of images stenciled directly onto the frames of the film, rather than photographing an object like an animation cel.
It was discovered in Kyoto in 2005 by Naoki Matsumoto of Osaka University of Arts, and was reported in the same year by the Mainichi Shimbun in August 2005.
However, the precise date, author, and artist remain unknown. It is estimated to originate from around 1915, though some claim 1907 or earlier. This would predate even early experimental animations like those of Winsor McCay.
Helen McCarthy has written about how many dates were thrown around for this film, 1915, 1907, etc., but quoted animation historian Frederick Litten as saying that it is "unlikely to have been made 'before 1905 or after 1912'." He and the aforementioned Matsumoto both agree on a date at the end of the Meiji period.
McCarthy claimed that the first example of "animation" was J. Stuart Blackton's  Humorous Phases of Funny Faces in 1906, and the first screening of a foreign animated film in Japan was 1907, so anything before 1907 would allow Japan to claim to be the global pioneer of animation! Thus, its significance is that it shows a possible animation technique developed independently by Japan.
However, Litten claims that the techniques in the film were "highly likely inspired by similar German printed animation made since about 1899" (see his paper here) and there was already animation work before in France and Britain, so that the assertion that Japan would have been an animation pioneer is false.
More is known about what happened a little later. The "Tennenshoku Katsudō Shashin Kabushiki Gaisha" (Natural Color Moving Picture Company/Tenkatsu) in 1917 hired Oten Shimokawa, a young editorial assistant and illustrator for the satirical publication Tokyo Puck. That same year, Shimokawa produced a number of short animated films, making him one of the founding fathers of anime today. Unfortunately, no prints of these early anime appear to have survived to this day.
However, among them was The Story of the Concierge Mukuzo Imokawa (芋川椋三玄関番之巻 Imokawa Mukuzō Genkanban no Maki). Until very recently, the consensus was that this was the first theatrically-screened animated film in Japan, in January 1917, at Kinema Kurabu in Asakusa, Tokyo—even Shimokawa himself is on record as saying it is "the first."
However, this has now been thrown into dispute, with Litten's finding that it was an April screening  not January. (Source also available including videos at Cartoon Brew). It is confirmed within Kinema Record that Dekobou Shin-gachou: Meian no Shippai (凸坊新画帖 名案の失敗) was screened in February that year, thus flipping around the traditionally-accepted order.
In spite of this, however, Genkaban no Maki persists in the popular consciousness as "the first anime," and the academic research for a clearer timeline continues.
Early anime production was different from how we think of anime production today. It is basically what we now call "chalkboard animation" where one drawing on the board is photographed, erased, and a new "frame" drawn–repeating the cycle ad infinitum. It is still a somewhat popular form of animation in Japan, often seen in YouTube videos produced by creative schoolchildren.
After The Story of the Concierge Mukuzo Imokawa, interest in animation skyrocketed. Former Tenkatsu employees formed "Kobayashi Shokai" and hired another Tokyo Puck illustrator, Junichi Kouchi, to make animations. So while no prints remain of Shimokawa's works, the same year of 1917 is still significant because of the animation Namakura Gatana. Produced by Junichi Kouchi, this one is important as a print was found in 2008 (also discovered by the aforementioned animation scholar Matsumoto). As a result, it is the oldest Japanese animation film in existence to date.
Kouchi produced three animated movies in this pivotal year of 1917: Namakura Gatana, Chamebō Kūkijū no Maki, and Hanawa Hekonai Kappa Matsuri.
While all this was going on, an enthusiast known as Seitaro Kitayama approached Nikkatsu, a major film company with a long history, to create animations. His output was The Monkey and the Crab (1917), Momotaro (1917), and Taro the Guardsman (1918).
As you can see, it certainly was a busy year!
Now a century later, it is no wonder that there are a number of groups seeking to commemorate this occasion in the form of events and projects. Anime NEXT 100 is one such project. Its aim is to use this opportunity to foster the next 100 years of the industry and focus on developing an infrastructure for archiving past production materials, raising new generations of animators and creators and also focusing on expanding the role of animation as a valuable Japanese export to bring more people to Japan.
National broadcaster NHK is also marking the occasion by having an open vote for the "Best 100 Anime Ever" out of 10,000 titles, as well as "Best Anime Song Ever." There is also a wide selection of special programs planned on various topics on the subject of 100 years of anime. They also held a panel at Anime Expo in Los Angeles in July 2016.
Lastly, on the historical film preservation front, Imagica has also been working on restoring to high definition some of the more significant works such as Momotaro's Divine Sea Warriors and Dull Sword as part of their efforts to archive Japanese historical films.
As 2017 unfolds, keep an eye out for more 100th anniversary celebratory projects; it is certainly going to be another busy year for anime, perhaps even more so than 1917!
(Anyone wanting further reading on the topic of early anime in English should look at The Anime Encyclopedia by Helen McCarthy and Jonathan Clements, and Anime: A History, by Jonathan Clements. Also, German readers, be sure to get a hold of Animationsfilm in Japan bis 1917. Die Anfaenge des Anime und seine westlichen Wurzeln by Frederick S. Litten.)
[Update: This article has been updated with new information provided by early Japanese film expert Professor Frederick S. Litten. We thank him for his input.]