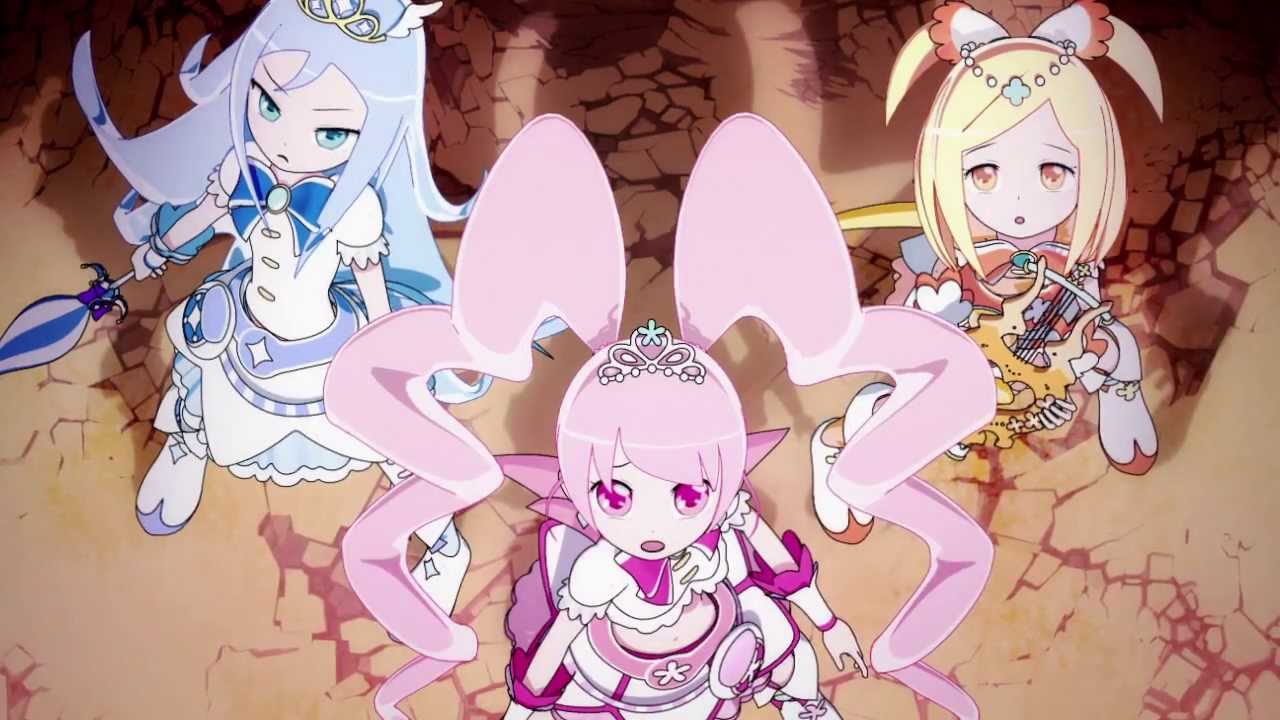 Sometimes, a troubled production gives us some insight into just how difficult it is for an anime to see the light of day.
6HP (short for Six Hearts Princess) is a magical girl anime project headed by the renowned contemporary artist Takashi Murakami. If you have, you may also have heard that it has been plagued by problems. Specifically, just a few days before the airing, it was reported that only about half of the full hour episode had been completed. However it would still air with the remainder of the broadcast being a "making of" feature with Murakami and his staff.
True enough, when the day came, after the 27 minute mark, the "episode" itself ended with an onscreen written message from Murakami himself, which reads "What moves people about art, is the feeling of great empathy with hard work and failure." There then follows a video address by Murakami in person where he literally apologizes for having shown the work in an incomplete version.
It's important to understand that this is a unique look into the hardships of anime production, and how a project can take various shapes, and can fall apart at any stage.
First of all, let us get acquainted with Takashi Murakami, if we are not already. Murakami is famous around the world as a painter and sculptor who has appropriated aspects of Japanese popular culture and infused them into modern art, elevating certain motifs of "disposable" culture into the realm of "high art." Most exemplary, perhaps, are his collaborations with bishōjo figure sculptor Bome, which cross the border from mass-produced items to high art pieces.
The way that Murakami works is that he usually oversees the production of an art piece, whether it is a sculpture, mural, or installation, handled by a specific team of talented individuals.The name of his company is Kaikai Kiki, and it serves as an art studio, with him as managing director, essentially. Such a structure sounds very similar to the chain of command in the animation industry, where the director is essentially a managing producer making sure that everyone in the studio is doing their job on the particular project. And Murakami is certainly involved in a variety of projects over the years: He even directed a live-action movie with CG character elements (and has announced a sequel), Jellyfish Eyes.
6HP itself is a project that has a long history, having been in various stages of development for around seven years. It was originally simply a cosplay photoshoot featuring members of idol group AKB48. Murakami then paired together with an artist known as "Mebae," who was tasked with developing it for the medium of animation. Mebae, not wanting to leave Sapporo, established an offshoot studio called "Poncotan" there, which is the center of the production of the pilot produced in 2010, and screened in the prestigious Palace of Versailles. At the time, the title changed from Majocko Princess (not to be confused with another Murakami project starring Kirsten Dunst at around the same time) to the more playful Six ♡ Princess. According to the documentary, the animation was done completely in 3DCG, as opposed to hand-drawn 2D, because it was hard to find 2D animators while CG was at the time becoming increasingly affordable.
Another trailer was produced in 2013, with heavy redesigns:
As you can see, the clip again featured 3DCG visuals prominently. However, Murakami is of the generation brought up in the 60s, with 2D cel anime, and wanted to replicate that. As a result, he changed his mind and put a stop to the production–at least until they found a new approach. The documentary explains that this was a heavy blow, which drove away a lot of production staff members that had worked very hard for two years to produce the pilot.
After this setback, Murakami's staff worked on a somewhat experimental music video featuring the character of Hatsune Miku, which served as a testbed for animating 2D and 3D blended characters that looked more hand-drawn:
Mebae states in the documentary that this would essentially be the final test of fate for Poncotan to prove its worth, and if it failed, then it would be time to close up shop and move on to something else.
Luckily, it proved a hit, which paved the way for the 6HP project to take yet another new form when a collaboration with cosmetics brand Shu Uemura was realized as another animated music video. This way, the 6HP characters were given a new lease of life which could pave the way for a TV series.
Yet some animators were frustrated because they signed up for a series to begin with, and were not interested in simply making sporadic music videos, resulting in even more departures from the studio. So the remaining members gave it their all, and produced this:
After witnessing these different pilots and shorts in an apparent exercise in trial-and-error of animation endeavors for Murakami for seven years, a television miniseries was finally greenlit. By this point, of course, the dark spin that the show was meant to put on the magical girl concept had already been exploited by the phenomenally successful Puella Magi Madoka Magica. So it was back to the drawing board.
Soon new people were brought on board to reimagine the concept of the show from the ground up. Writer, critic, and videogame historian Daichi Nakagawa, along with designer and illustrator JNTHED, were brought in to give a new angle to the work. Nakagawa devised a scheme were the intellectual property would be marketed not through tie-in with advertising agencies as is tradition, but through underground fandom events, primarily cosplayer performances. Noted for his work on the Metal Gear Solid franchise, JNTHED provided a whole new sense of aesthetics to the world the characters inhabit, with interesting mecha such as shrines with robot legs.
By now, however, so many had deserted that there were not enough staff to continue production for a full TV series in Sapporo, and the production was moved to Tokyo, where Pocotan Nakano was established. Here, all major stages of the anime production process could be done: hand-drawn frames, 3DCG, background art and compositing. But, again, the problem was the understaffing. Because Pocotan had little recognition and had no connections to the established network of Tokyo studios, they still were lacking manpower, and Murakami had to resort to gathering some of the old crew from his Jellyfish Eyes movie production team.
The lack of people led to more chronic delays, not helped by the fact that Murakami exacerbated the situation by calling for retakes, rewrites and storyboard changes–affecting the entire rest of the production assembly line. (Check out the "anime about making anime" Shirobako for a clearer example of this.) The stress on the part of his staff members was palpable–the documentary clearly shows them complaining about his fickle changes on a whim. This continued until they were so far behind schedule that many of the shots and CG elements remained incomplete, and the decision to broadcast only what was finished was mad. We are left with only hints as to what was supposed to be.
And yet, the hour special was indeed broadcast. Yes, less than half was the actual anime, but the whole hour gave us a unique insight into the production, and it sort of works as a show in that way.
In chronicling the hardships, negotiating the broadcast of the incomplete edition, and showing the bare bones of what goes into an anime production in a candid way, Murakami is again blurring some of the boundaries between the work as a "product" and as a "piece," as he usually does with the nature of his artwork.
When we, as fans, think of anime, we think of the excitement and emotion of the narrative, the craftsmanship in design work and directorial skill, which can all be seen as elements of appreciation of the work as a piece of art in and of itself, be it high class or not. But we must not forget that this is an industry and these are certainly mass produced items that have to recoup a cost and garner a profit margin. Essentially, producers are attempting to translate this "art appreciation" into a commodity for consumption–and it does not always work.
There are many anime series and movies that have been pitched and had the plug pulled on them at various stages. Some do not get past the planning stage, even though they have potential. Some are axed in the middle of their run, with an ending forced upon them. Some are fully completed, ready to go, but have a distributor pull out of the committee at the last minute and are left in storage, locked up without any release in sight. Any number of things can go wrong and stop the whole flow, and we would never know about it. We only see the successful productions–that is, the ones that managed to run that gauntlet and actually get made. It's a sobering thought that urges us as consumers to play a more supportive role.
It remains to be seen where 6HP will go from here, but so far it has been fascinating in terms of the light it has shed on the things we take for granted in the Japanese animation industry.
6HP is currently unlicensed and not streaming on any platform, but the broadcast emphasized that the production of the first few episodes is planned to continue into 2017.