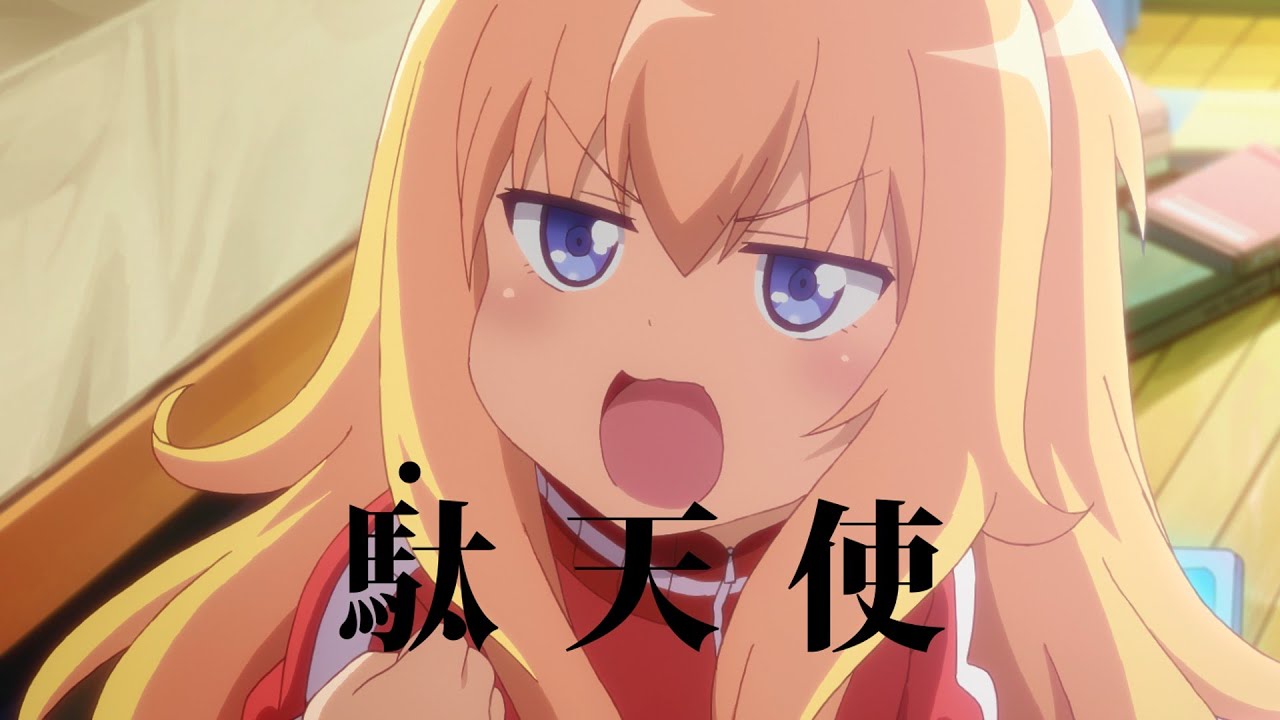 The top of her class, Gabriel is the angel that other angels want to be like–but even she is unprepared for the addictiveness of online gaming.
Gabriel DropOut (which I viewed at a sneak preview showing this past Sunday) follows the titular angel as she comes down from heaven, eager to help out those in need as she masquerades as a normal highschool girl. At first, it all looks good. She cleans her local park, plays with kids, and keeps her own small apartment spic and span.
Then she hears a voice calling for help–a voice from an online MMORPG. She joins the game as a healer and basks in the glow of helping the other players until the fateful moment she runs out of magic. As the other players begin to die around her, begging for her help, she is prompted by the game to buy a new wand with real world cash to continue healing people.
Unfortunately, Gabriel doesn't have the money needed unless she irresponsibly dives into her living expenses. Unable to stand by and do nothing in the face of suffering, she does the wrong thing for the first time in her life and buys the wand–and inadvertently puts priority on the game world over the real one.
The next time we see Gabriel, she has become a lazy, dirty, selfish person–only concerned with playing her games.
This is the setup for the comedy that is Gabriel DropOut. Now irresponsible in all ways, the only thing that motivates Gabriel at all is that if she can't at least keep up the facade of being a student, she'll have to return to heaven–though she would likely fail out anyway if it weren't for Vignette.
A demon posing as a student at Gabriel's school, Vignette has the problem of, while being supposedly evil by nature, she just can't help but get involved with people–especially those needing her help. So, of course, she spends most of her time trying to rehabilitate Gabriel rather than doing evil.
The other devil at the school, Satanichia, has the ego of an empress and thinks herself to be far more evil than she is. The most evil thing she does in the first episode is recycle a plastic bottle… WITH THE CAP ON! In fact, the main recurring gag in Gabriel DropOut is that the devils are far less evil when trying their hardest than Gabriel is out of pure laziness.
The other angel attending the school also fits this pattern. While she appears prim and proper on the outside, she finds the world boring. The only thing that gives her real pleasure is tormenting others. By playing on Satanichi's ego, she tricks the devil into any number of embarrassing situations, laughing all the while.
All in all, the first episode of Gabriel DropOut is exactly what you'd expect from the premise: a series of short comical scenes revolving around this group of angels and devils. There is no continuing plot beyond the main setup, but if you're looking for a good laugh from this group of eccentric characters, it certainly delivers.
Gabriel DropOut will begin airing in Japan on January 9, 2017. No simulcast information has been announced at this time.