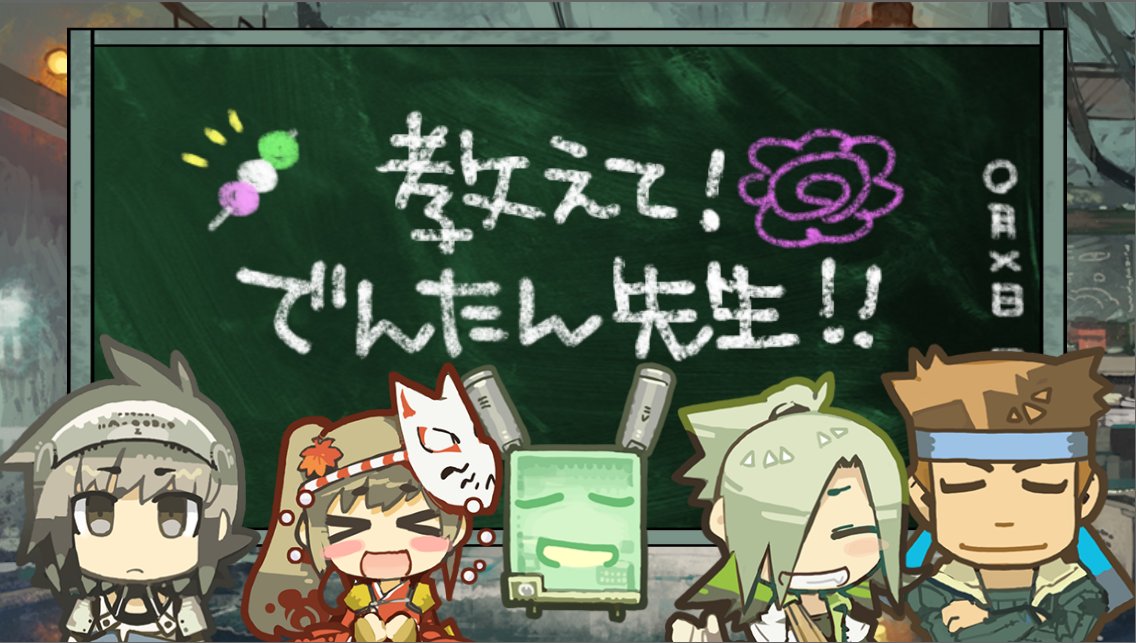 Hagane Orchestra certainly doesn't look the part, but it's actually a series of anime shorts created specifically to promote the smartphone game it spun off from. Its sole purpose is to get you to check out the game and get hooked on it. It's very meta in both theory and execution. You might feel a little cheated when you start watching for that reason, but by the same token, you might also be intrigued. How could this possibly work? By being the most brazen and shameless promotional anime it possibly can, of course. Hey, if your anime series only exists to push people to buy a certain product, might as well go ahead and live it up, right?
The cast of Hagane Orchestra certainly does, hatching a plan to figure out how to sell the game at an impromptu meeting around the table each time the show opens. The opening animation doesn't give you any clue as to what you're about to see, however. It's as serious as it can be, showcasing heated tank battles and a stark soundtrack. It isn't until it breaks into the colorful, almost rainbow-hued anime portion that you realize what you've gotten into.
Discussing bonuses, collectible photos, sending ambassadors out into the world to advertise the game, and even whether or not this series will make a "proper" anime are regular parts of each episode. The cast of characters can be seen debating on how to raise the game's ranking, as the series itself is continually interspersed with footage from the actual game. If you're an English-speaking gamer with little or no Japanese familiarity, you probably won't get much use out of the actual game, but for some reason, that makes this weird ride even more interesting.
Oddly enough, there's also an entire episode dedicated to leaving fake reviews on the game's review page, with sly quips from the characters that "every developer does it," so it must be okay, speaking on the tenuous and somewhat bizarre climate of the mobile game business these days. Beyond that, the episodes tackle topics like how difficult it can be to navigate the industry if you're looking to be a part of it as a writer or creator–or even how difficult it can be to keep a mobile game's servers online in the midst of lower-than-projected sales or lackluster customer outreach.
In keeping with traditional anime tropes, however, the characters must take a break from advertising Hagane Orchestra while relaxing at a hot spring, hilariously tying steam covering the girls' bodies to the number of downloads the game gets. The announcer goads the viewers and even the male characters to download as fast their little fingers can take them so that they might get a glimpse of the voluptuous bodies on display. It's a system that you could see working and actually implemented for this kind of game (I could see it happening 100%) and a really funny in-joke nestled amongst the rest of the silliness. If all that's not enough, there are even a couple Vocaloid-esque characters that somehow get mixed up with the rest of the crew.
Weirdly enough, however, there's very little footage or discussion of the game beyond the first couple of episodes, and that's only meant for a passing mechanical explanation. Obviously, there's mech piloting involved, but perhaps the biggest joke of all is the fact that you don't actually learn enough about the game while watching its promotional anime. Heck, you may not even want to go download and play it since it doesn't offer more than a few cursory bits of information as to what it's all about. Maybe that's the creators having the last laugh on us.
Hagane Orchestra is by and large one of the most meta shorts out there when it comes to advertisiing a product, and I'm glad it's not afraid to go all out. I'd also very much like to check out the game after all…if I were able to read it.
Top Image Credit: Twitter